AC Milan kicked off their 2023-24 Champions League campaign with a goalless draw at home to Newcastle United.
In what is being referred to as a 'Group of Death', the Rossoneri will likely feel this was two points dropped as opposed to one point gained due to the volume and quality of chances they created.
According to @acmilandata, Milan generated 2.08 expected goals (xG) from 25 shots – their most in a Champions League game without scoring since their 27 attempts against PSV in October 2005.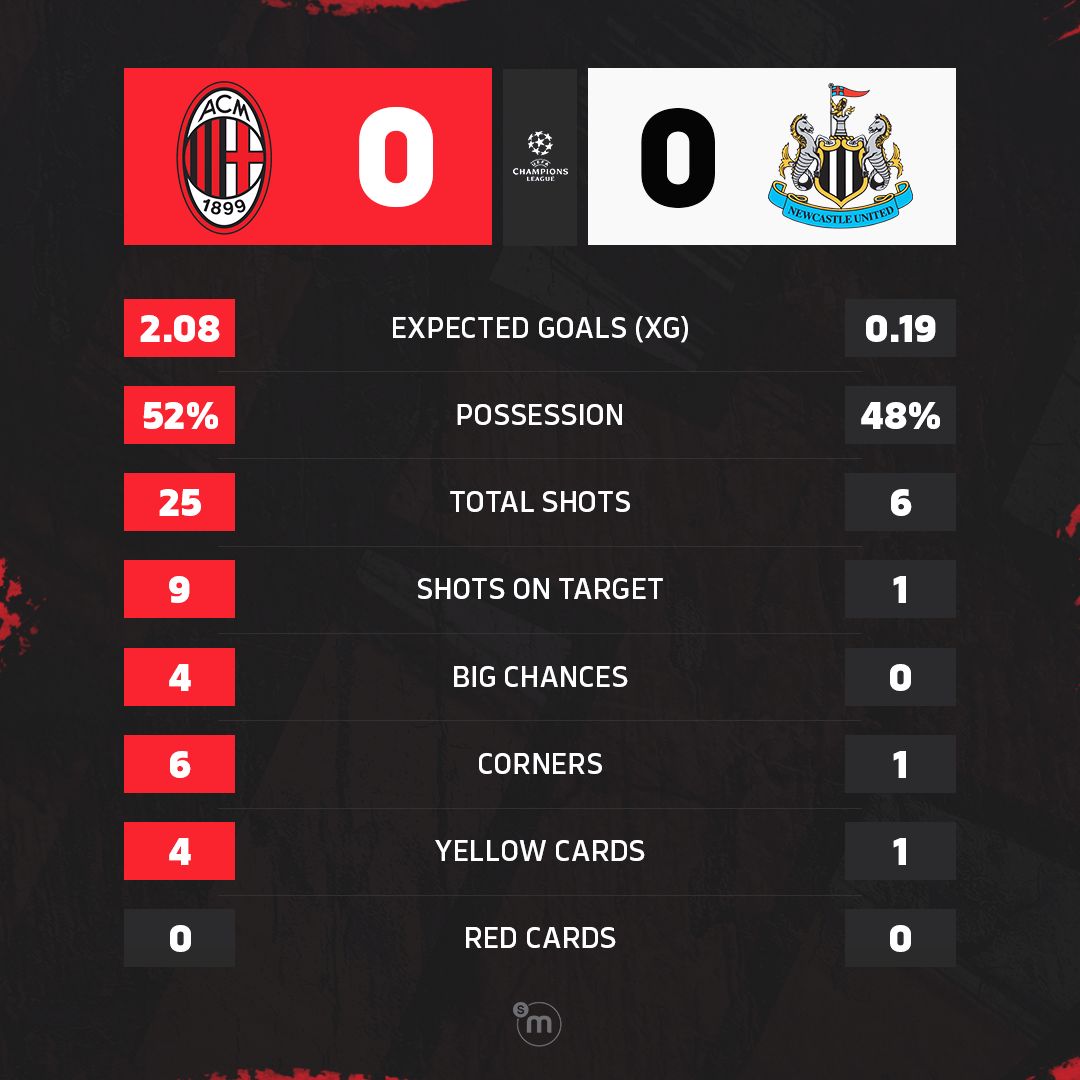 The majority of Milan's shots, and chances with the highest quality xG, came in the first half.
With a standout moment being Rafael Leão evading multiple Newcastle defenders inside the opposition penalty area but refusing to shoot. After an overly-ambitious back-heel attempt resulted in an air-shot from the Portuguese attacker, the ball eventually ended up with Tommaso Pobega whose shot was cleared off-the-line.
The attacking threat continued in the second half with Milan forcing various saves and blocks, as well as failing to capitalise on multiple promising attacking opportunities.
Over the course of the ninety minutes, the home side limited the visitors to 6 shots and a total xG of 0.19, so despite failing to find the net themselves, they never looked likely to concede either.
Therefore, whilst still a frustrating result, it was a much improved performance compared to the derby against Inter. Here's some of @Tactics_Tweets tactical observations from the game.
Set-ups
Stefano Pioli made three changes from the league loss on the weekend. Fikayo Tomori returned following suspension to replace Simon Kjær, and Pobega and Samuel Chukwueze replaced Tijjani Reijnders and Christian Pulisic respectively.
But it was not only personnel changes that Pioli made, with tweaks also occurring in Milan's in possession build-up structure. More on this shortly.
For Newcastle, Eddie Howe lined up his side in a 4-3-3 with the ball which dropped into a 4-5-1 when without.
Newcastle target the left
As is becoming a recurring theme for Milan – and these tactical analysis articles – the opposition targeted their left-hand side when attacking.
The below Wyscout graphic shows how the majority of Newcastle's attacks came from their right-hand side (14).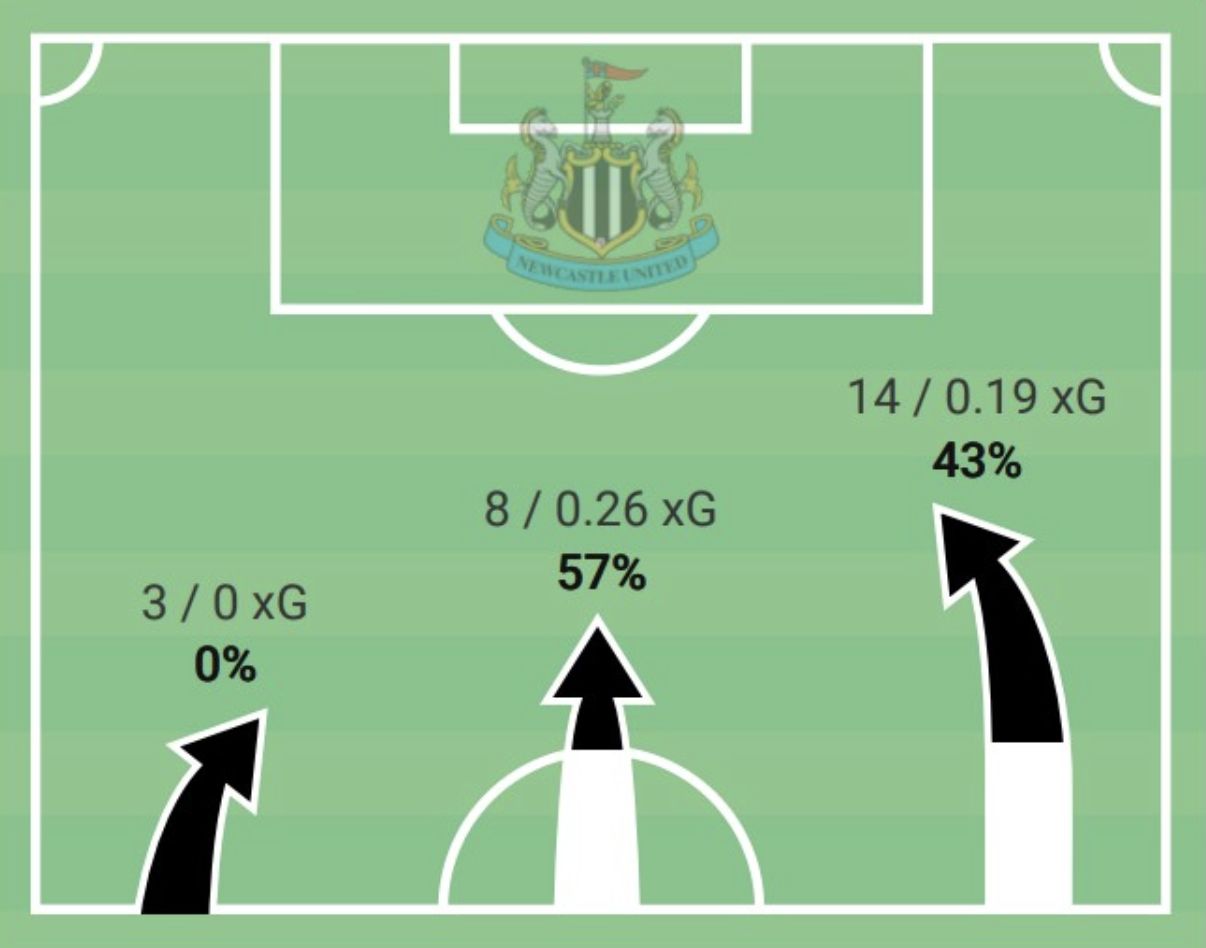 In Newcastle's case, their tactics involved trying to manufacture overloads on their right wing and also force Theo Hernández into jumping and then exploiting the space in behind.
However, on the whole, Milan's 4-2-3-1 out of possession approach which had elements of player-orientated marking managed to deal with the majority of this threat, as is expertly described in Ahmed Walid's article on The Athletic.
But in a game in which the hosts had the majority of possession and created a large number of shooting opportunities, this article will focus on Milan in possession.
Tweaked build-up structure
A major feature of Milan's possession play so far this season has been Davide Calabria moving infield alongside Rade Krunić to create a situational double pivot and a 3-2 (with five more advanced players) build-up structure.
However, in the opening minutes of this game, there was a noticeable tweak to Milan's build-up, with Calabria staying wider, in a more traditional right-back position. This left Krunić as the single midfield pivot and gave Milan a 4-1 structure (with five more advanced players) which can be seen below.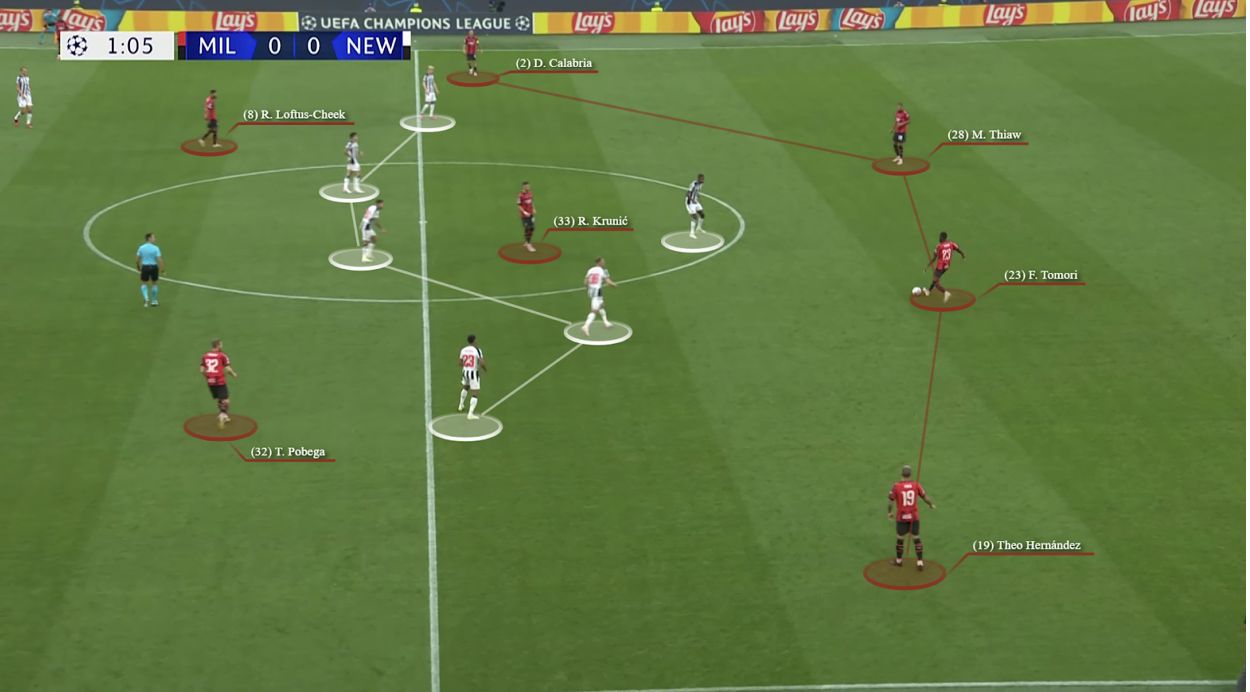 Now, the rationale behind this tactical tweak can only be hypothesized by outsiders. Some may argue that it was more weighted towards being a reaction to the lackluster in possession performance against Inter.
And whilst there were possibly some elements of truth to this point of view, there was stronger evidence of this more likely being part of a specific game-plan for Newcastle, both with and without the ball.
A consideration of the latter being ensuring Calabria was in better positions – and with less distance to cover – to protect the spaces in which Anthony Gordon could potentially counterattack into.
But the majority of upsides this tweak afforded Milan were in possession. Pioli and his staff had clearly done their homework on Howe's side, as this adjustment to their shape, amongst other coordinated details, regularly found ways of exploiting the visitors out of possession structure and pressing scheme.
All of which led to Milan's effective approach play that regularly allowed them to access the final third and helped contribute to their overall 25 shots on the Newcastle goal.
Effective approach play
In theory, Milan's tactical tweak of positioning Calabria wider offered them the opportunity to stretch the Newcastle midfield line, thus potentially creating gaps to exploit between them.
It also allowed Ruben Loftus-Cheek, in particular, to stay more central and in the half-spaces to receive the ball between the visitors midfield and defensive lines. Therefore, not having to roam as wide to help Milan progress the ball upfield.
And in the first minute of play there was an example of Milan putting this theory into practice, with Calabria's wider positioning helping manipulate and exploit Newcastle's defensive structure and pressing scheme.
Krunić has possession and Newcastle are set in their 4-5-1 block. Milan passed backwards to trigger the visitors' press…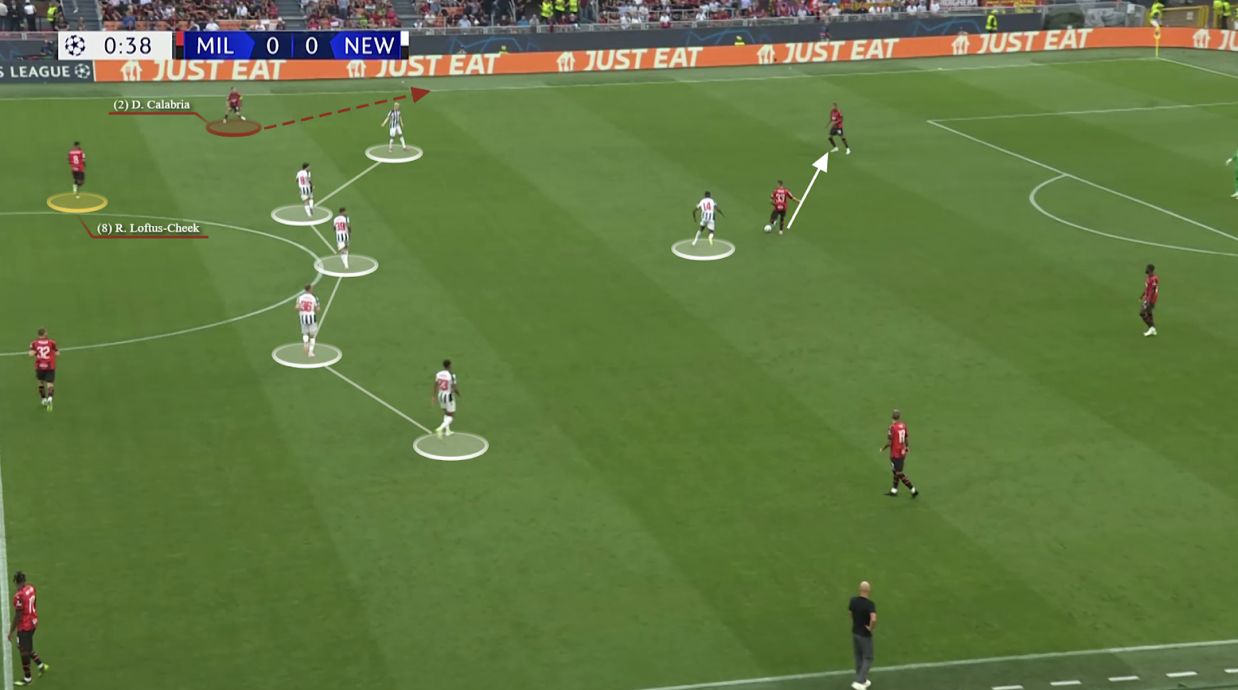 …which involved Gordon pressing from out-to-in towards the near-side Milan central defender (Malick Thiaw) and ensuring his cover shadow blocked a pass out wide to the right-back.
Calabria's wider positioning and dropping lower forced Gordon higher and created a (albeit tight) passing lane into Loftus-Cheek, in behind the Newcastle midfield, which Thiaw expertly executed.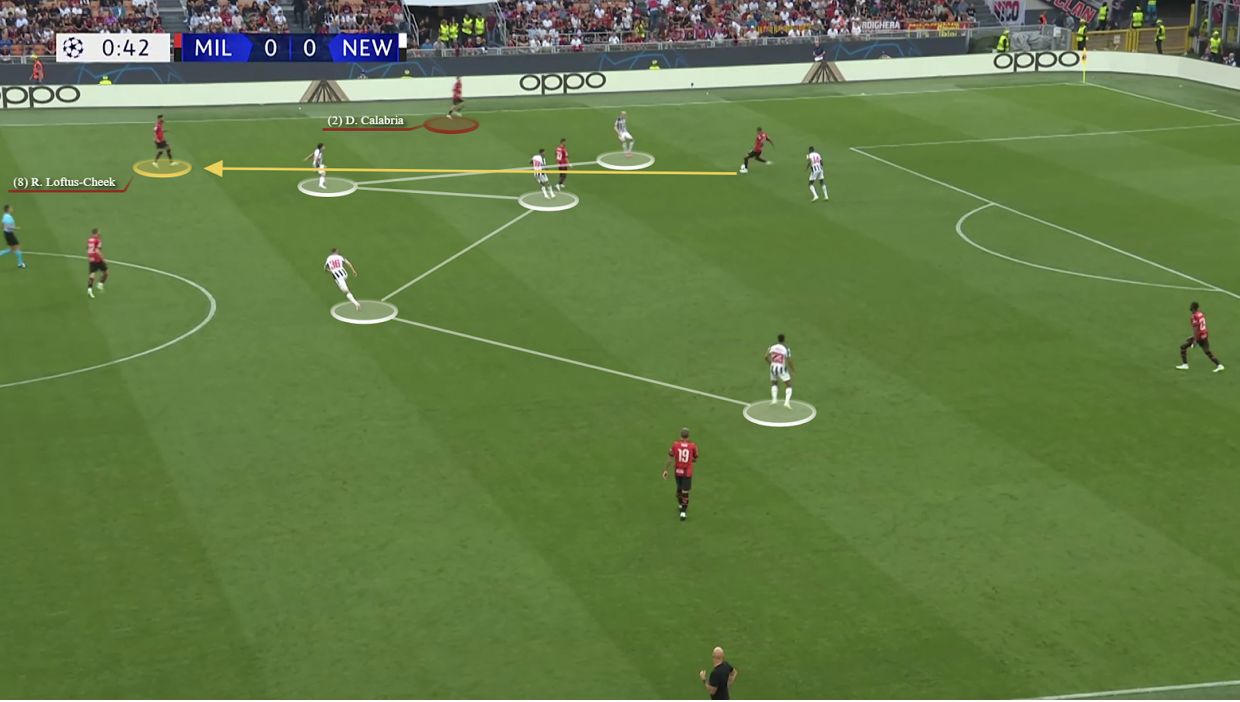 The outcome, Loftus-Cheek receives the ball with space ahead to run into and in this scenario, forced Sandro Tonali into conceding a foul.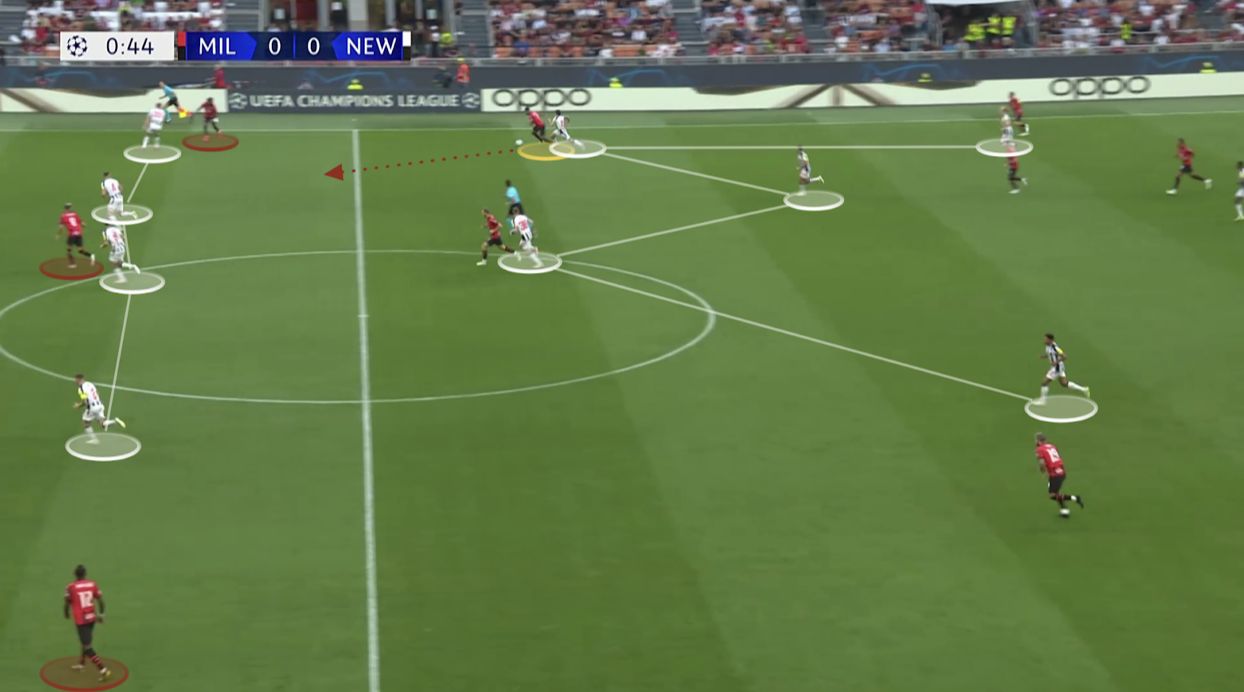 In the 13th minute there was another example. Thiaw has possession on the halfway line against the Newcastle 4-5-1 block.
Despite their appearing to be a passing lane available in between Gordon and Tonali into Loftus-Cheek (see his arms lifted, calling for the ball), the Milan defender opted to direct play towards their left-hand side, perhaps as he sensed an overload opportunity with the visitors midfield so narrow or to shift the Newcastle block across.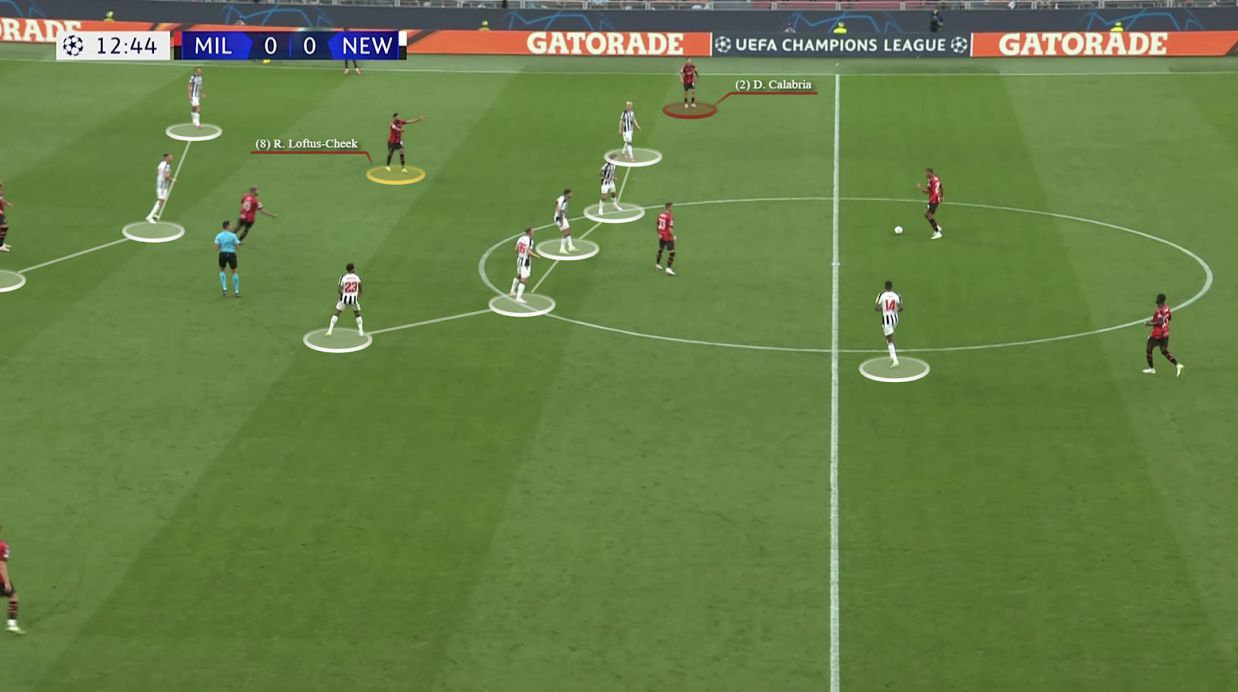 As you can see below, play actually worked its way back infield and returned to Thiaw. On this occasion, Calabria moved infield to pin Gordon, presumably to create a passing lane out wide into Chukwueze.
However, due to Loftus-Cheek's position in the right half-space between the lines (afforded by the fact, this shape tweak has enabled him to stay centrally more often), Thiaw executes another line breaking pass into him…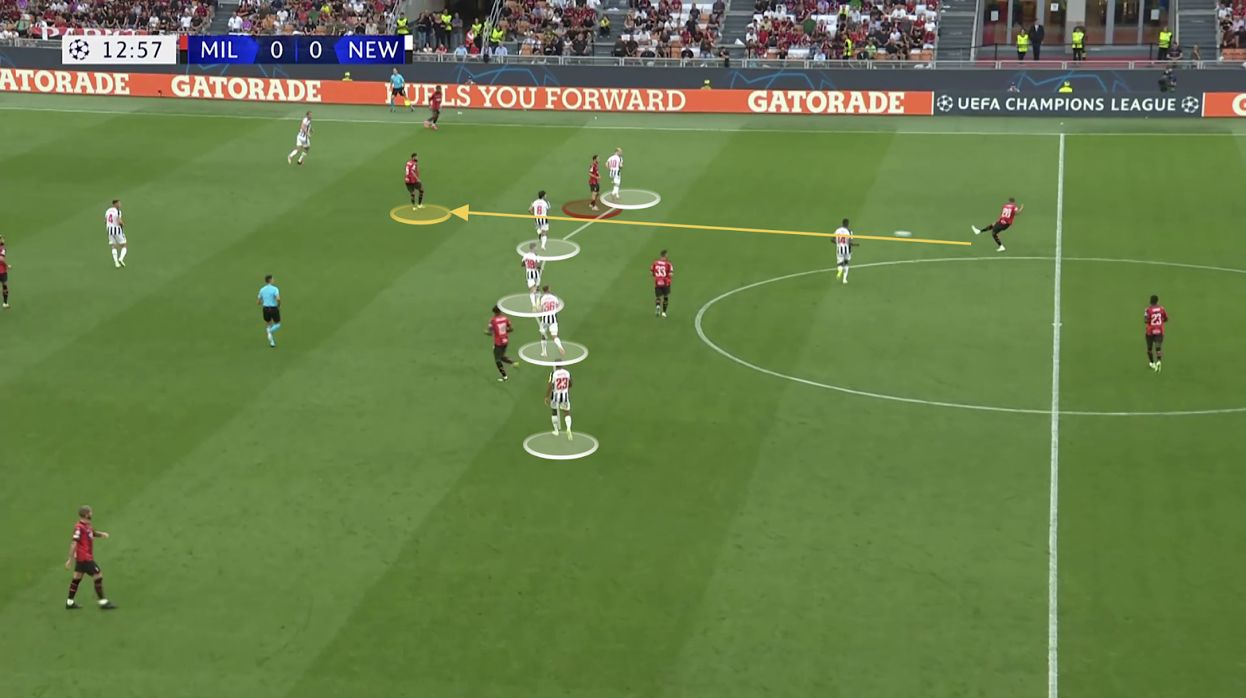 …and the benefit of this can be seen below. As when the midfielder received the ball, he was in closer proximity to attack the box.
In this passage of play, however, despite entering the opposition's area, his cutback was more directed into space as opposed to Leão who was free. As a result, Newcastle were able to clear the danger.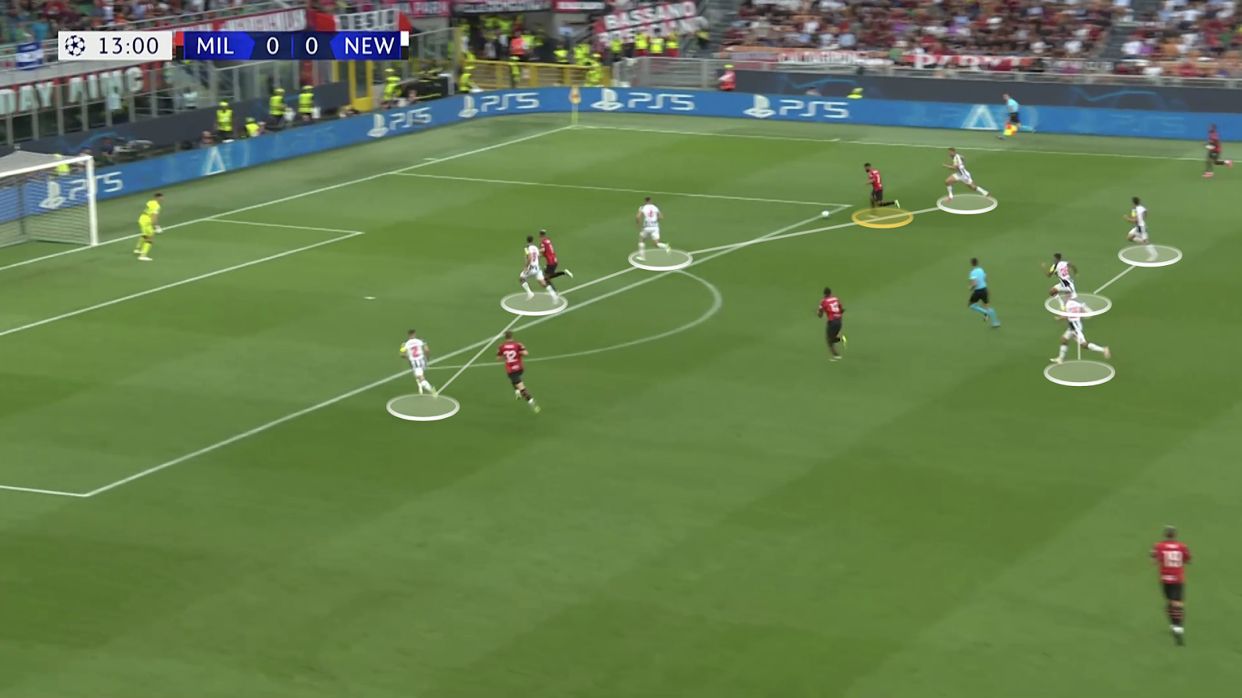 In this next example we can see how Calabria could time his release from his initial wider starting position to make an infield movement on the blindside of opponents during or in between Newcastle's press.
Below, Milan just had the ball on their right-hand side which caused Gordon to press from out-to-in. A pass is made to Tomori and as you can see, Milan are in their 4-1 structure with Calabria wide (just above the scoreline)…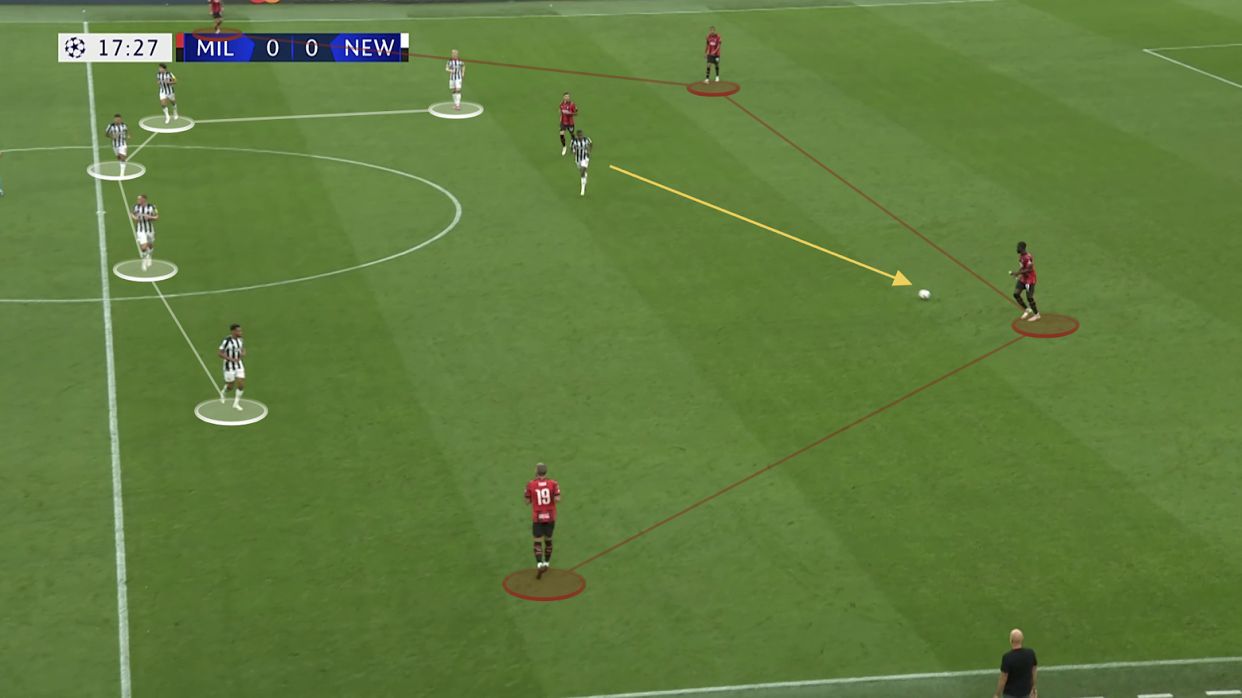 …as play comes back infield, and as Gordon has stayed high so able to press Thiaw in case needed, Calabria (yellow circle) has timed his movement infield to exploit the now gap between Gordon and Tonali.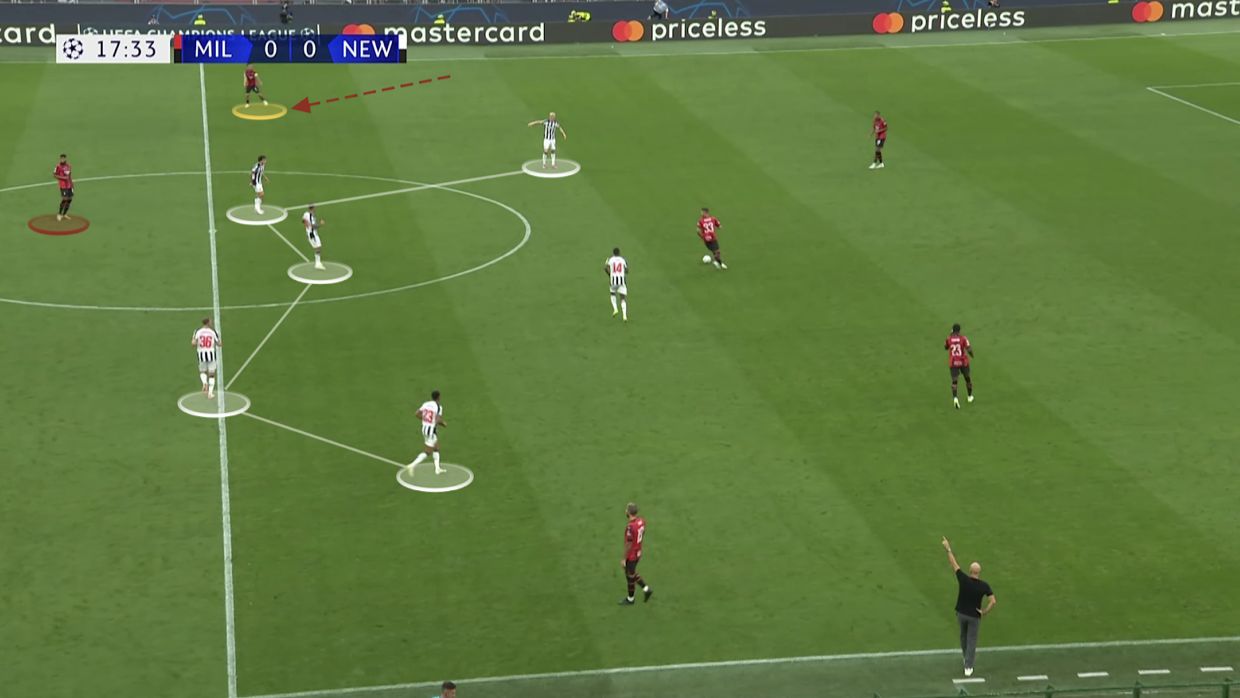 Other notable aspects in the image above are Loftus-Cheek's central position behind the Newcastle midfield. This positioning will have helped draw Tonali narrower in an attempt to block a vertical pass through the lines.
But instead, it helped open up a diagonal pass through the lines into Calabria which as you can see at the bottom of the picture, Pioli is pointing towards.
In the final image of this sequence, you can see below Calabria receiving the ball in space before passing onto Chukwueze who is 1v1 against his full-back.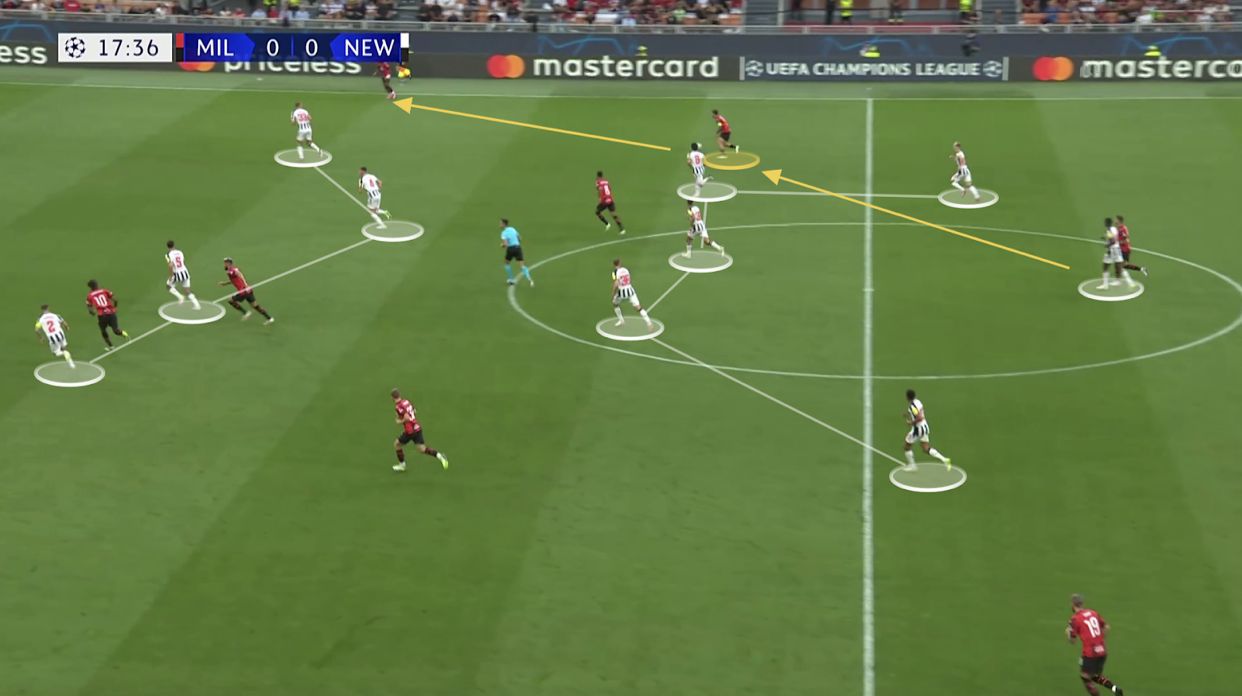 The above attack concluded with a cross towards the far post (another recurring tactic, with Milan appearing to try to exploit a height advantage against Trippier) that was cleared before a long range Krunić shot was tipped over the bar.
At half-time, Calabria was replaced by Alessandro Florenzi but in the second half similar patterns continued to occur.
Five minutes after the restart, Milan had deep possession so formed their 4-1 structure with Florenzi staying wider and again faced the Newcastle 4-5-1 block…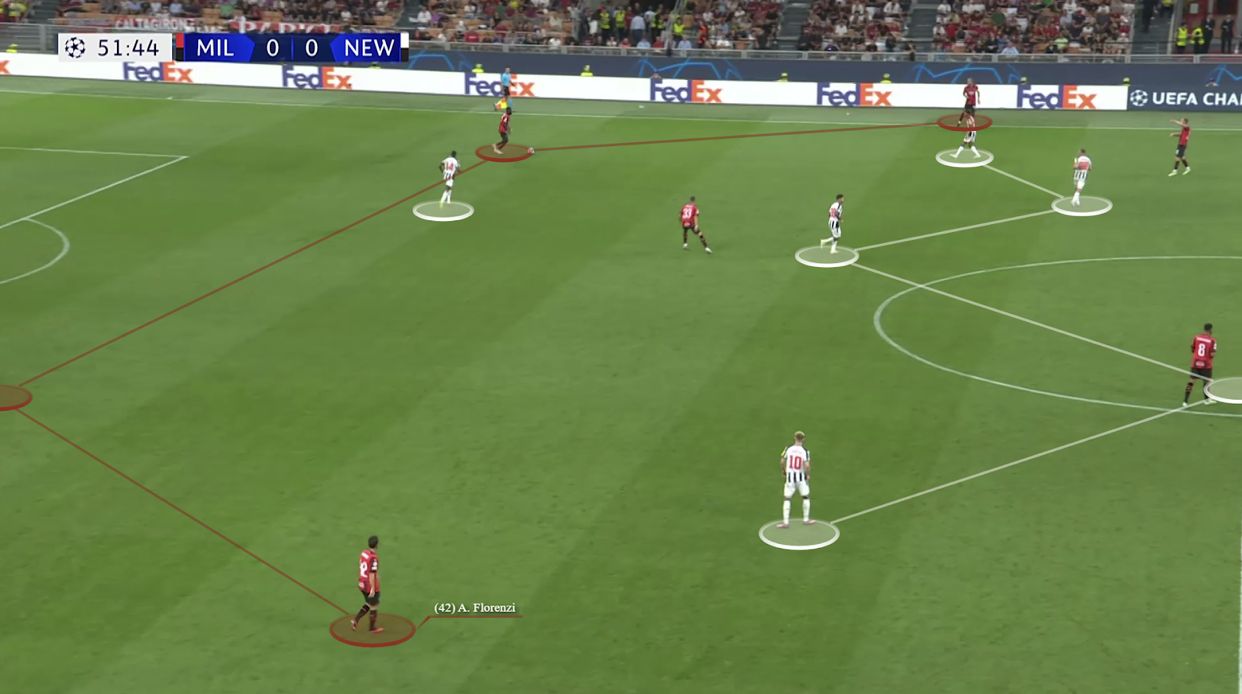 …in this sequence, Loftus-Cheek intentionally drops lower to draw up Tonali and vacate space between the lines. Florenzi sees (and likely anticipated) this…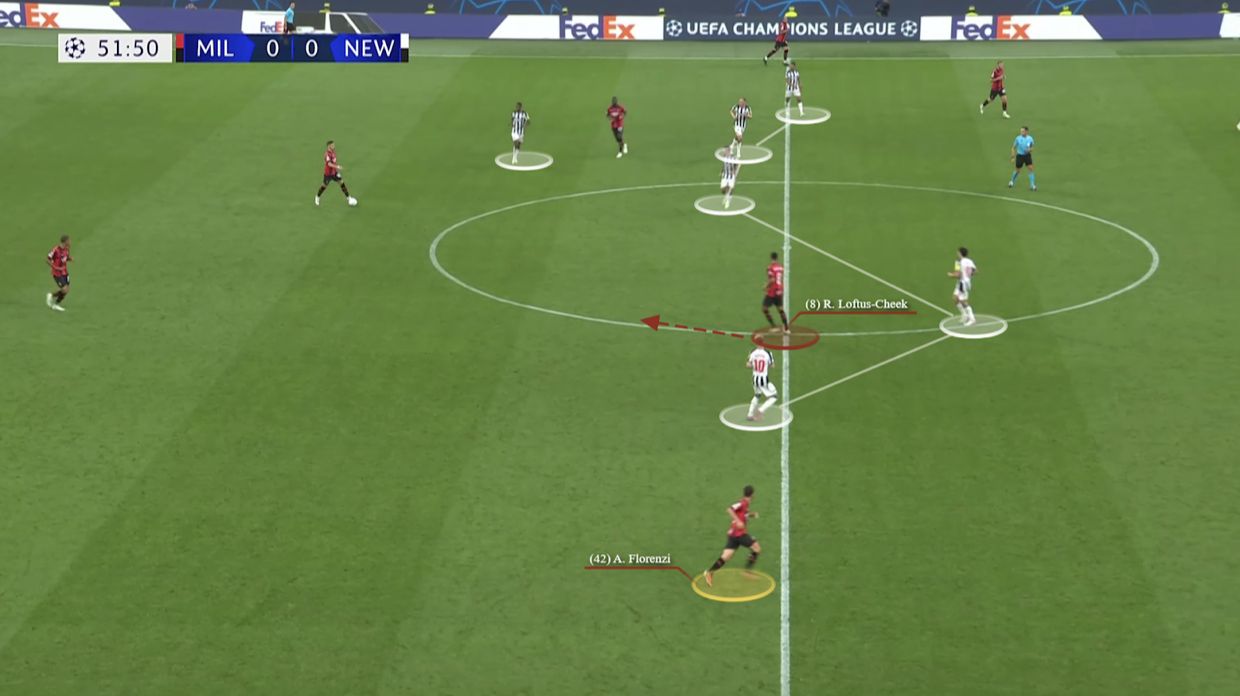 …and then makes a blindside out-to-in diagonal run to receive the line breaking pass from Krunić…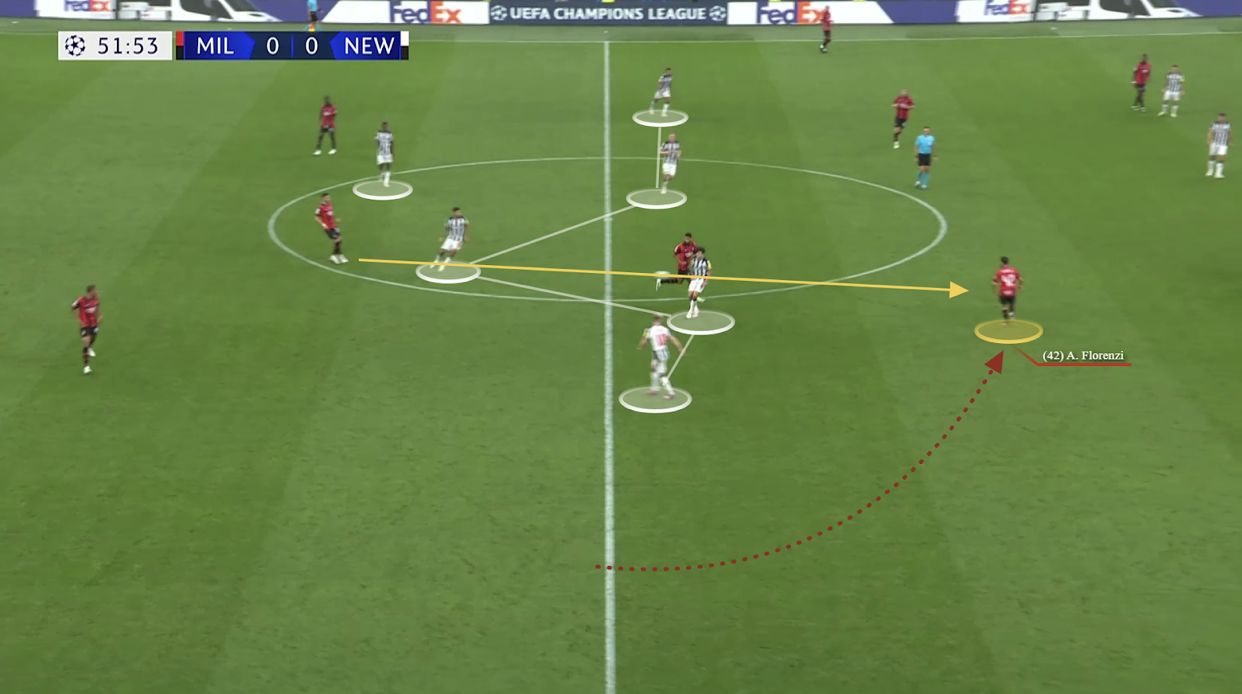 …in space and proceeded to carry towards the Newcastle box but opted to (tamely) shoot when a pass out wide for a potential overload opportunity was likely the better decision.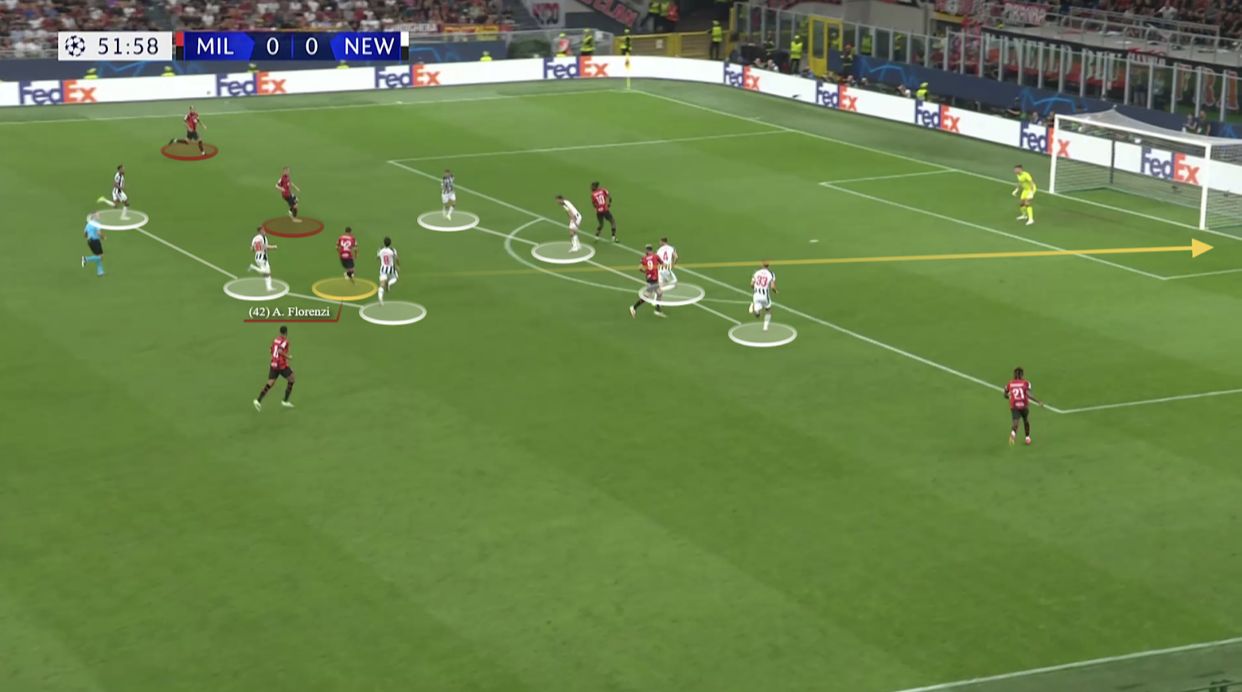 In addition to making these blindside out-to-in diagonal movements infield, Florenzi also appeared to be instructed to help Milan create more 1v1 opportunities for Chukwueze on the right-wing. This was something Milan hinted at in the first-half but failed to manufacture on too many occasions.
In the 59th minute, Milan were in their usual 4-1 deep possession structure with Florenzi wide. However, as play got switched to the left wing and progressed into the middle third of the pitch (or second phase of build-up, as it's often called)…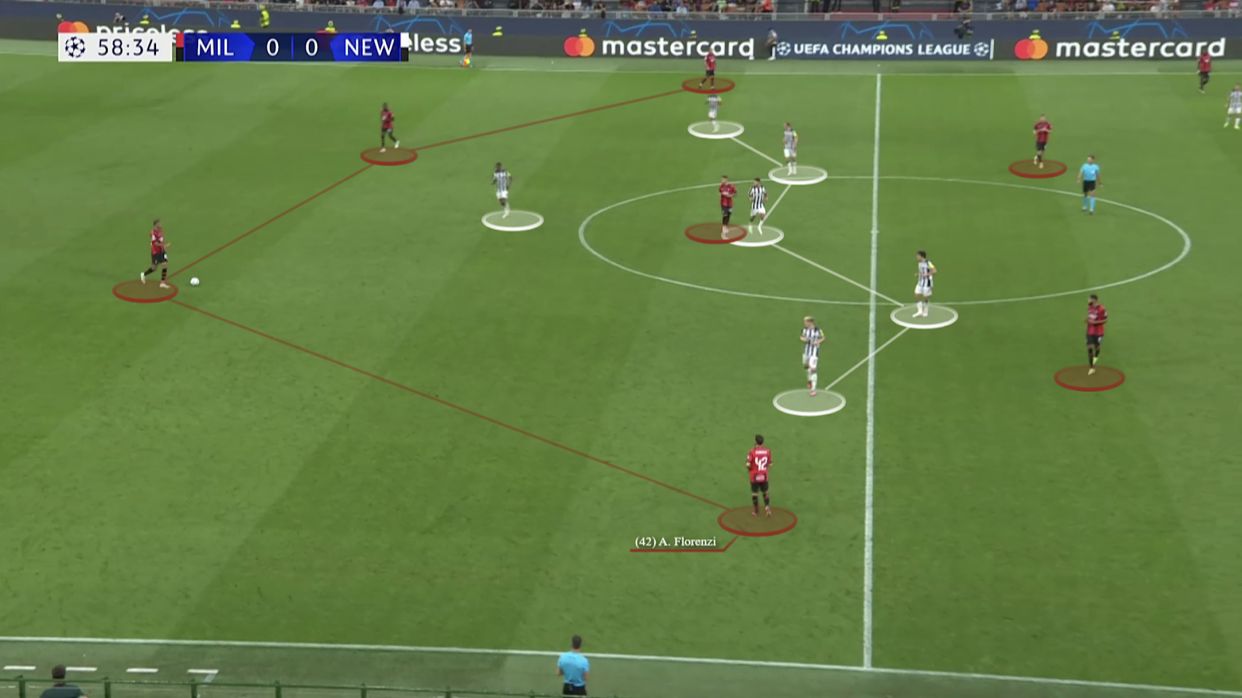 …you can see that Florenzi began to make a movement infield. The reason for this, is that his (and his teammates) positioning could help pin Newcastle to become narrower and more skewed to their (Newcastle's) right-hand side…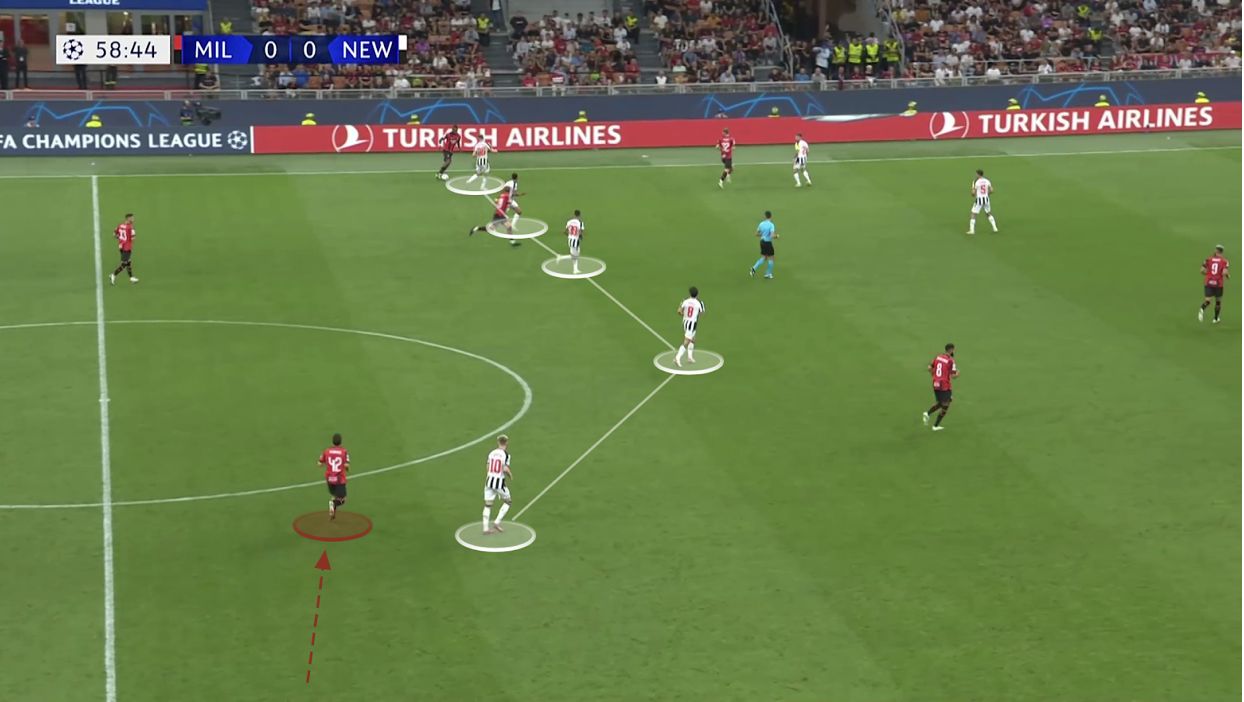 …which as you can see below, results in an opportunity to switch play to Milan's right wing…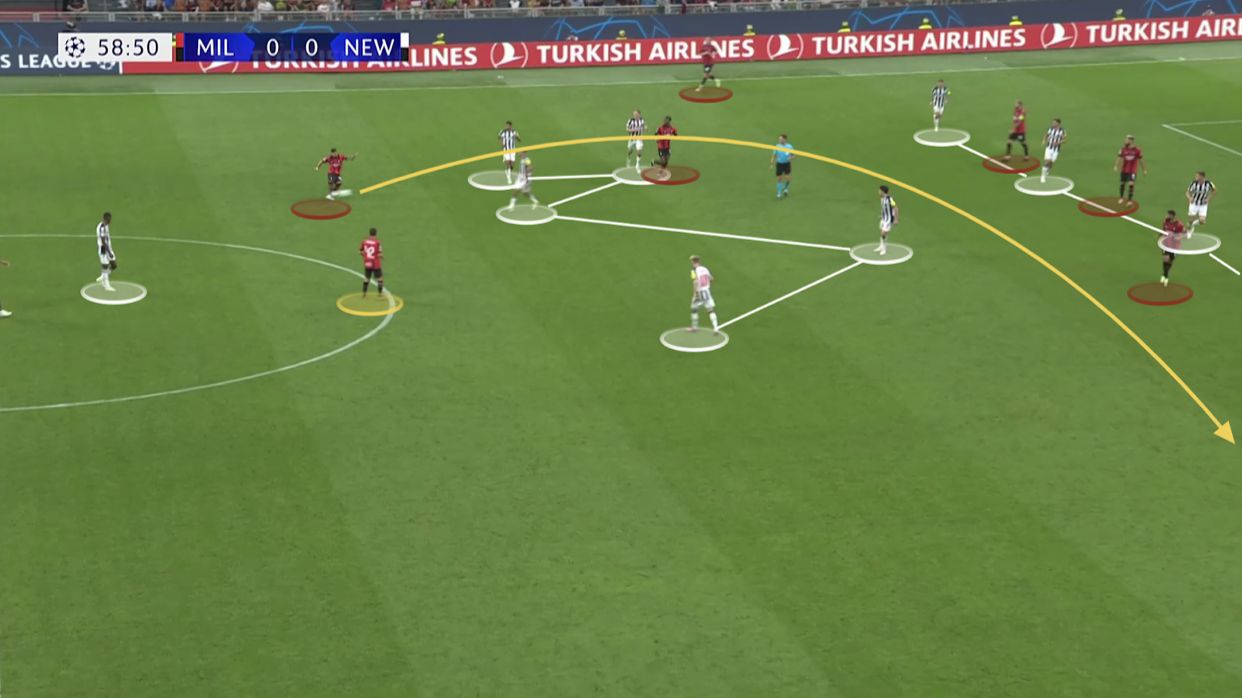 …where Chukwueze is 1v1 against Burn. On this occasion, the Nigerian attacker (who did not have the most effective game) chose to come infield, into the congestion, and the attack eventually got dealt with.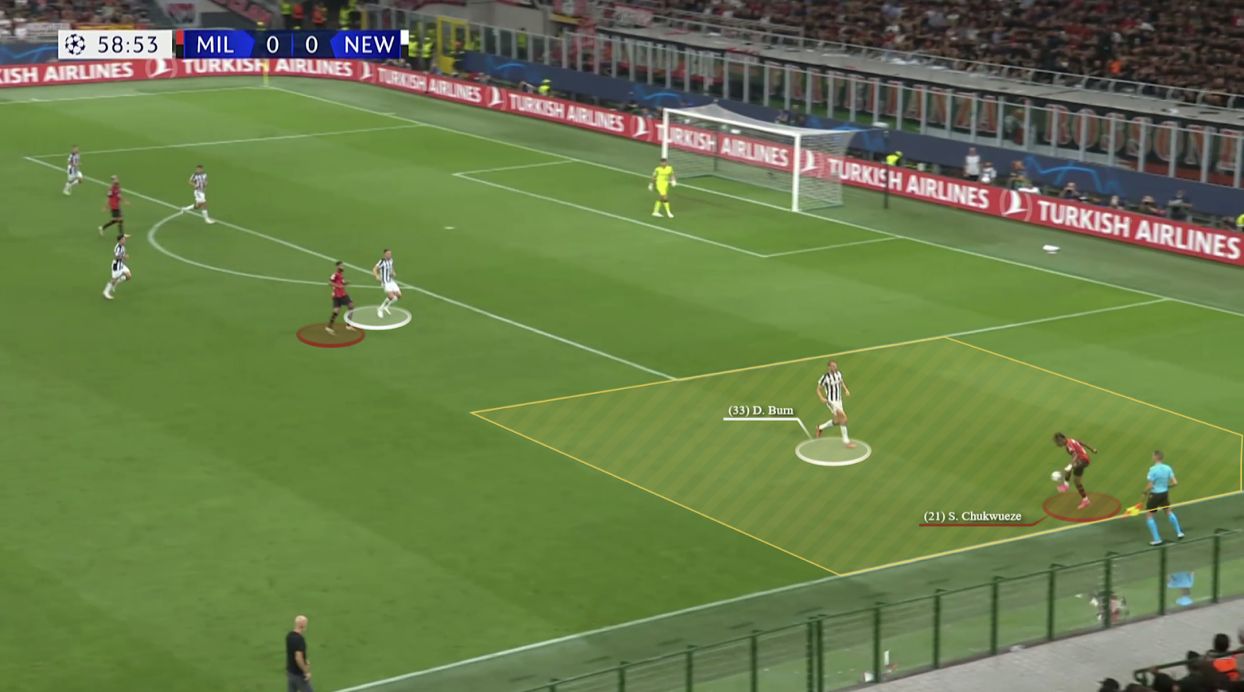 In the screengrabs above, you can see the concept of overload-to-isolate. Milan aimed to overload one-side of the pitch, to draw Newcastle over, and then switch play to the other where they could create a 1v1 opportunity for an attacker with (usually) a skillset of dribbling past opponents.
And this was not an isolated (no pun intended) incident. Even after Chukwueze was replaced by Pulisic, Milan continued to try and manufacture these attacking situations.
In the 62nd minute, again we have the same build-up structure versus mid-block. But below, you can see Florenzi scanning as to what's ahead…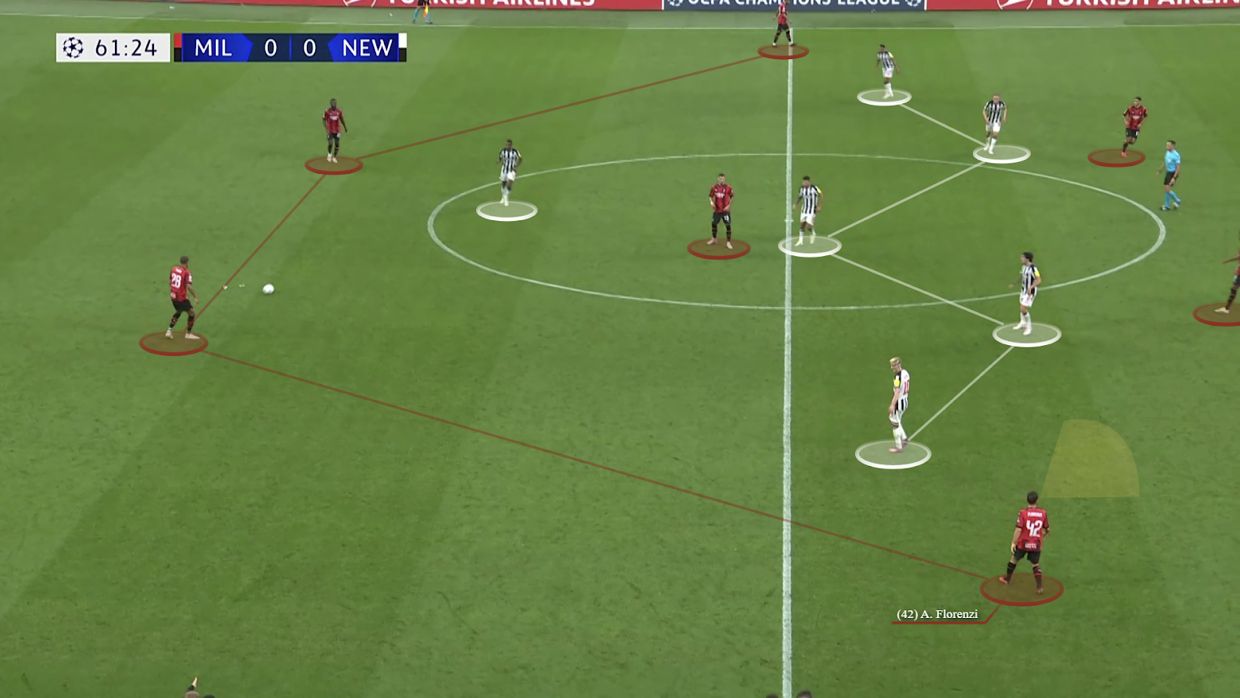 …with Loftus-Cheek more central again, as opposed to in the half-space, Florenzi sees an opportunity to create a passing lane to Pulisic on the right wing.
The right-back makes that blindside out-to-in diagonal run but this is not an attempt to receive the ball. If you look close enough below, you can see Florenzi signaling to Thiaw with his left hand to pass out wide…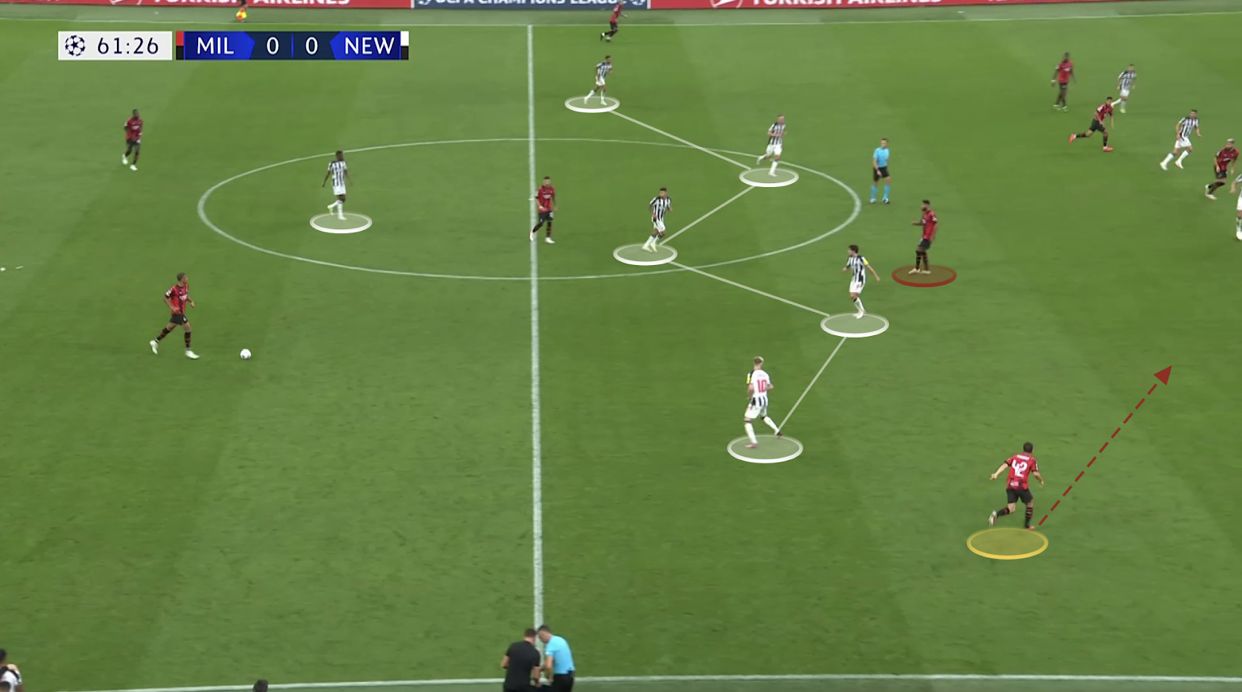 …which the Milan defender did due to Pulisic making a coordinated and opposite directional movement by dropping lower. Florenzi's run inside helped pin Burn, as he couldn't push out wide to engage as it would have resulted in leaving Florenzi in space.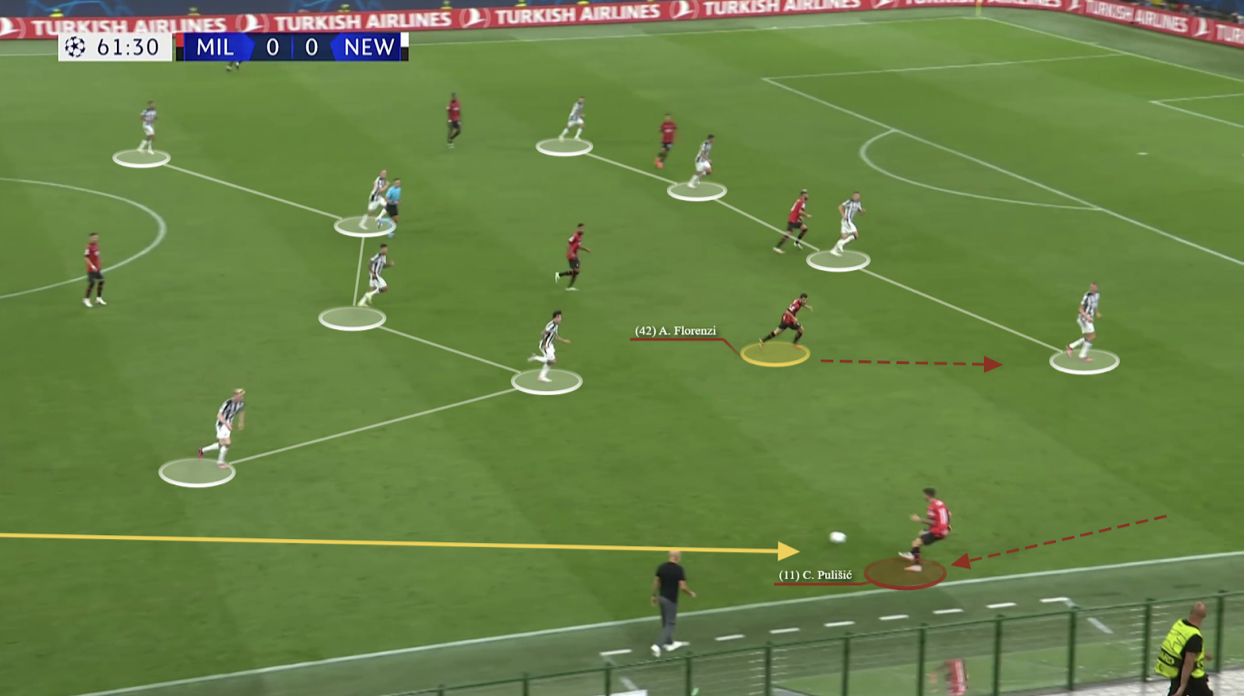 Tonali retreated to help cover the right wing but Pulisic opted not to attack on the outside but instead cut back inside and put in another cross aimed towards the far post which was overhit.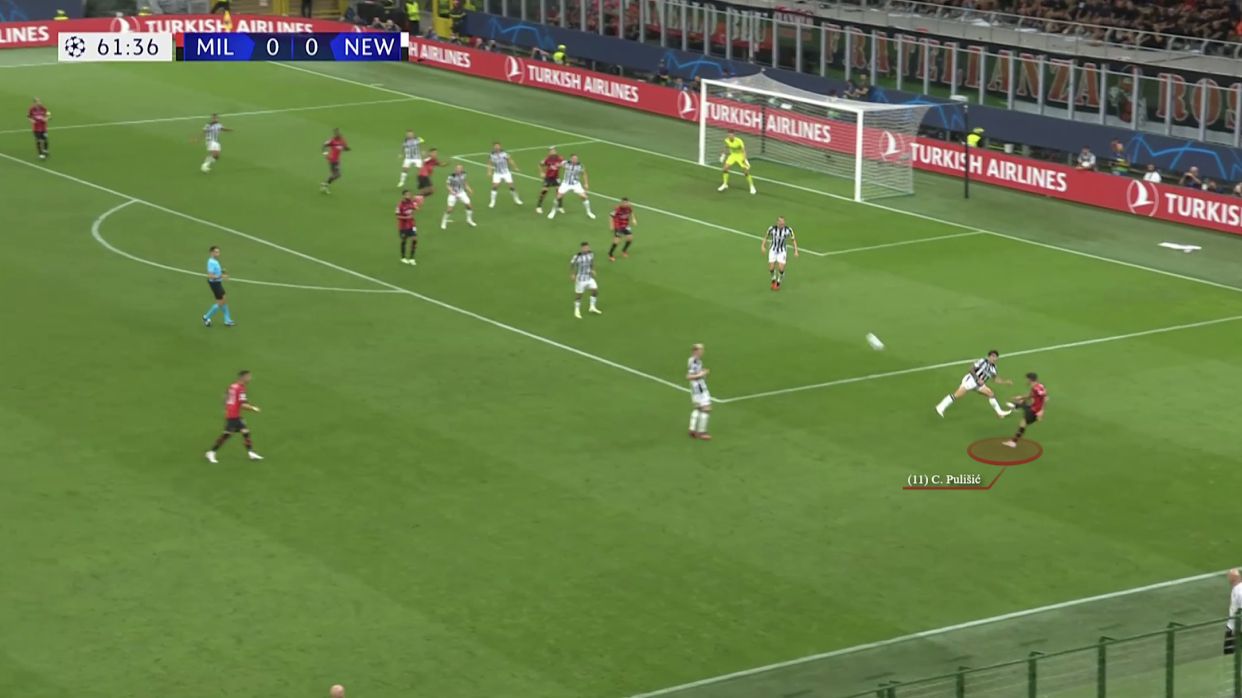 In a different, yet equally effective approach play pattern, here's an example of Florenzi holding his width in the second phase to Milan's benefit.
Again, the scene started as they all have with the initial build-up structure. But due to Newcastle sitting off, Thiaw decided to carry forward into the afforded space…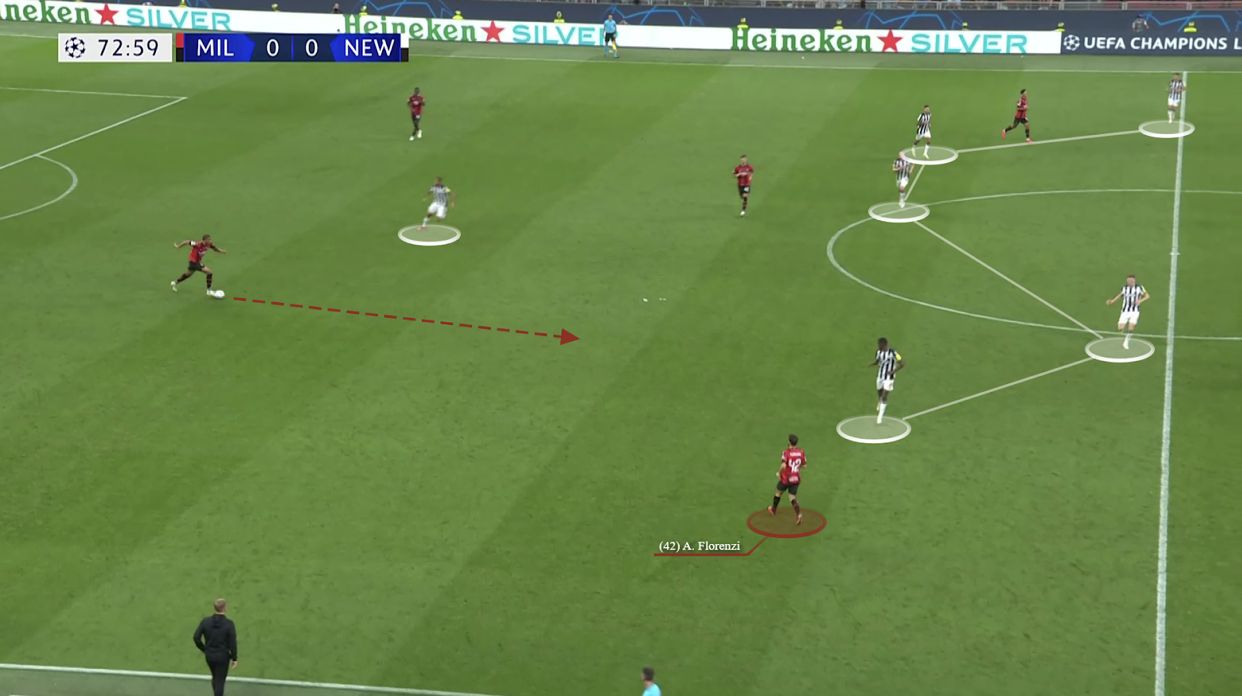 …with Thiaw's carry forcing the Newcastle midfield to narrow and engage, he's able to find a gap to pass through and out wide to Florenzi who is in space due to Pulisic ahead pinning Burn from being able to jump out.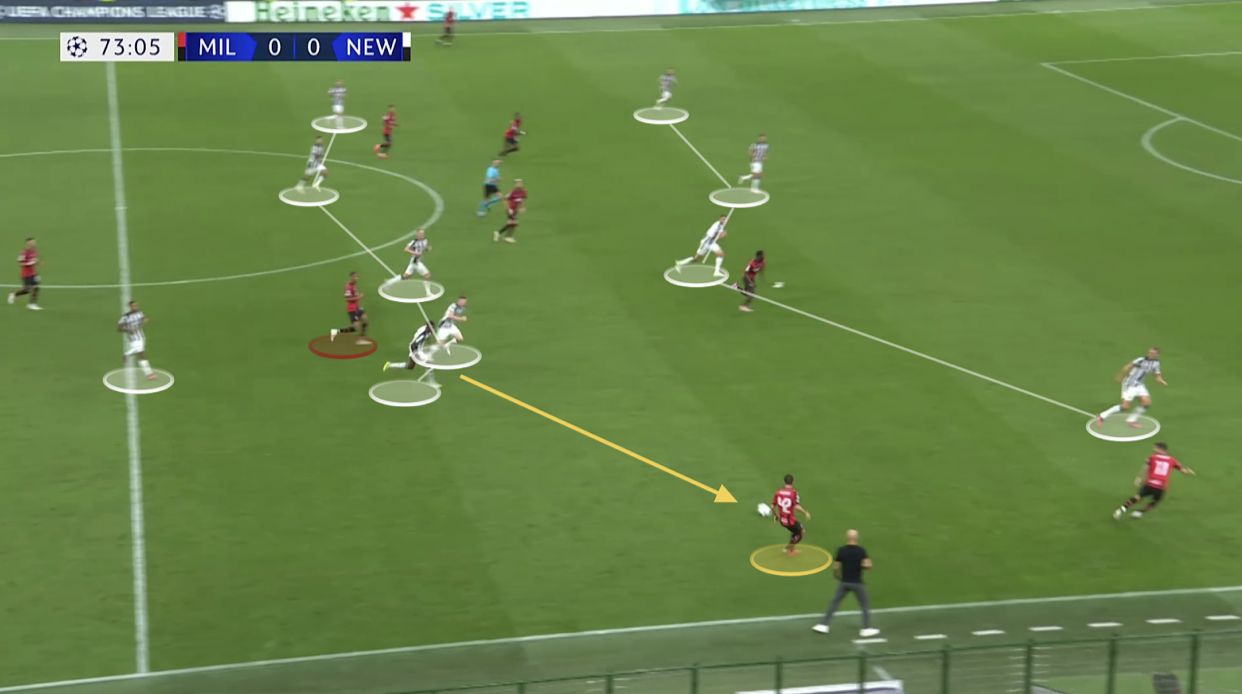 As a result, this allowed Florenzi time on the ball where he picked out a cross into the box which an incoming Leão narrowly glanced over the bar.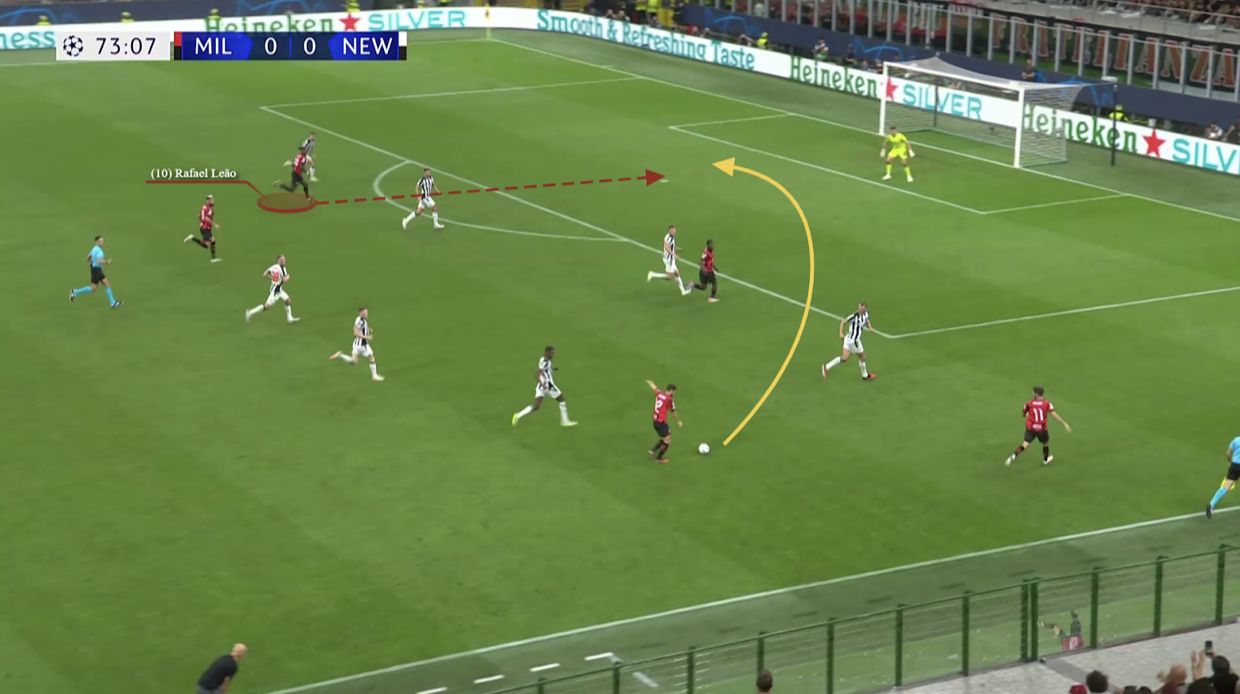 There were plenty of other attacking moments Milan created in the remainder of the game utilsing Florenzi's positioning to help exploit Newcastle's out of possession set-up and pressing scheme.
At the end of the 77th minute, Florenzi stayed wide to receive the ball and put a cross into the box which was overhit. Early in the 87th minute, Florenzi made a blindside run to exploit a tired Newcastle press and receive in the right half-space before carrying into the opposition penalty area which ended up with a Pulisic blocked shot.
It is worth noting that not all of Milan's shots over the course of the ninety minutes came from this specific tactical tweak – there were plenty generated by counterattacks too. But a proportion did. And not only that, it afforded Milan the opportunity to frequently get into attacking areas of the pitch.
But whilst the approach play was effective, the end product was less so – as shown above and already known via the scoreline. In addition to last ditch defending and goalkeeping by Newcastle, Milan were also wasteful in the final third.
Poor decision-making sometimes led to attacking moments being squandered without even the opportunity to register a shot. There were misplaced crosses and passes and shots generally failing to test Nick Pope.
As Pioli said himself after the game: "I'm very satisfied, we played the game we prepared by having a good build-up phase, trying to always be dangerous…These are games you should win, but we weren't able to finish the situations well that we could have exploited differently."
With Borussia Dortmund away up next in Milan's Champions League schedule, the Rossoneri can surely not afford to be as wasteful.