AC Milan let another two-goal lead slip in round 12 of Serie A, drawing 2-2 away at Lecce. The Rosseneri now sit eight points behind league leaders Inter and six behind second-placed Juventus going into the November international break.
First-half goals from Olivier Giroud and Tijjani Reijnders, his first for the club, sent Milan into the half-time break with a 2-0 lead. However, two goals within the space of five minutes put Lecce back level by the 70th minute-mark. The home side nearly won all three points after Roberto Piccoli beat Mike Maignan from distance in stoppage time, but VAR ruled that the Lecce player's tread on Malick Thiaw's foot was enough to warrant a foul.
It is now four games without a win in Serie A for Milan and the second-time in the space of three games they have surrendered a two goal advantage. Here to review this latest disappointing result is @Tactics_Tweets.
Set-ups
Milan made three changes to their previous starting line-up, with Rade Krunić, Tommaso Pobega and Samuel Chukwueze all coming into the side. Ten minutes into the game, Stefano Pioli was forced into an early substitution after Rafael Leão pulled-up after chasing a forward pass. The Portuguese forward was replaced by Noah Okafor but Milan did not alter their initial set-up.
In possession, the Milan full-backs maintained their width in build-up phases, with Theo Hernández joining attacks in the opposition half on a frequent basis with his forward runs from deep. In central midfield, both Pobega and Tijjani Reijnders were dynamic in their positions, in an attempt to evade their Lecce midfield markers.
For Lecce, Roberto D'Aversa made one change to the team which lost to Roma the previous weekend, with Gabriel Strefezza replacing the injured Pontus Almqvist on the right wing. Operating out of their starting 4-3-3 shape, the home side's striker, Nikola Krstović, dropped to link play and had willing runners in beyond from the likes of Lameck Banda and even right-back Valentin Gendrey.
Out of possession, both Milan and Lecce used similar approaches and systems, with initial man-marking in central midfield giving either side a 4-2-3-1 resemblance. Both teams were active without the ball, with neither having comfortable possession once play progressed towards the middle third of the pitch.
Here's an example showcasing Milan's set-up in these defensive phases. Reijnders starts by closely marking the deepest Lecce central midfielder, with Pobega and Krunić (second image) each marking the more advanced opposition midfielders.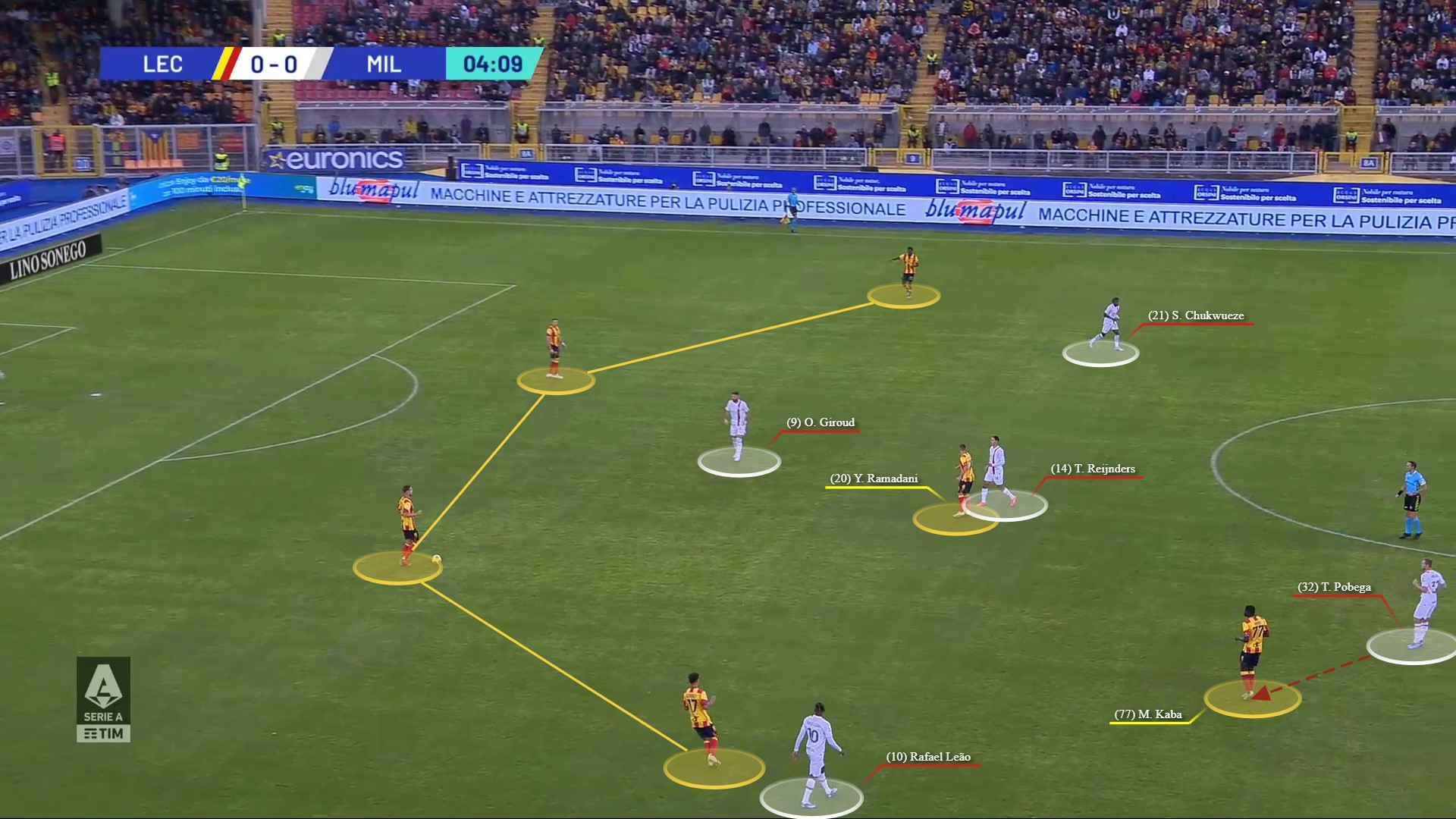 The Lecce centre-back tried to exploit Mian's marking scheme with a carry forward but below you can see, not only the base of Milan's defensive shape (back four covering Lecce three forwards with Krunić just ahead), but also how Reijnders would pass on his marking responsibility to Giroud to engage the free player.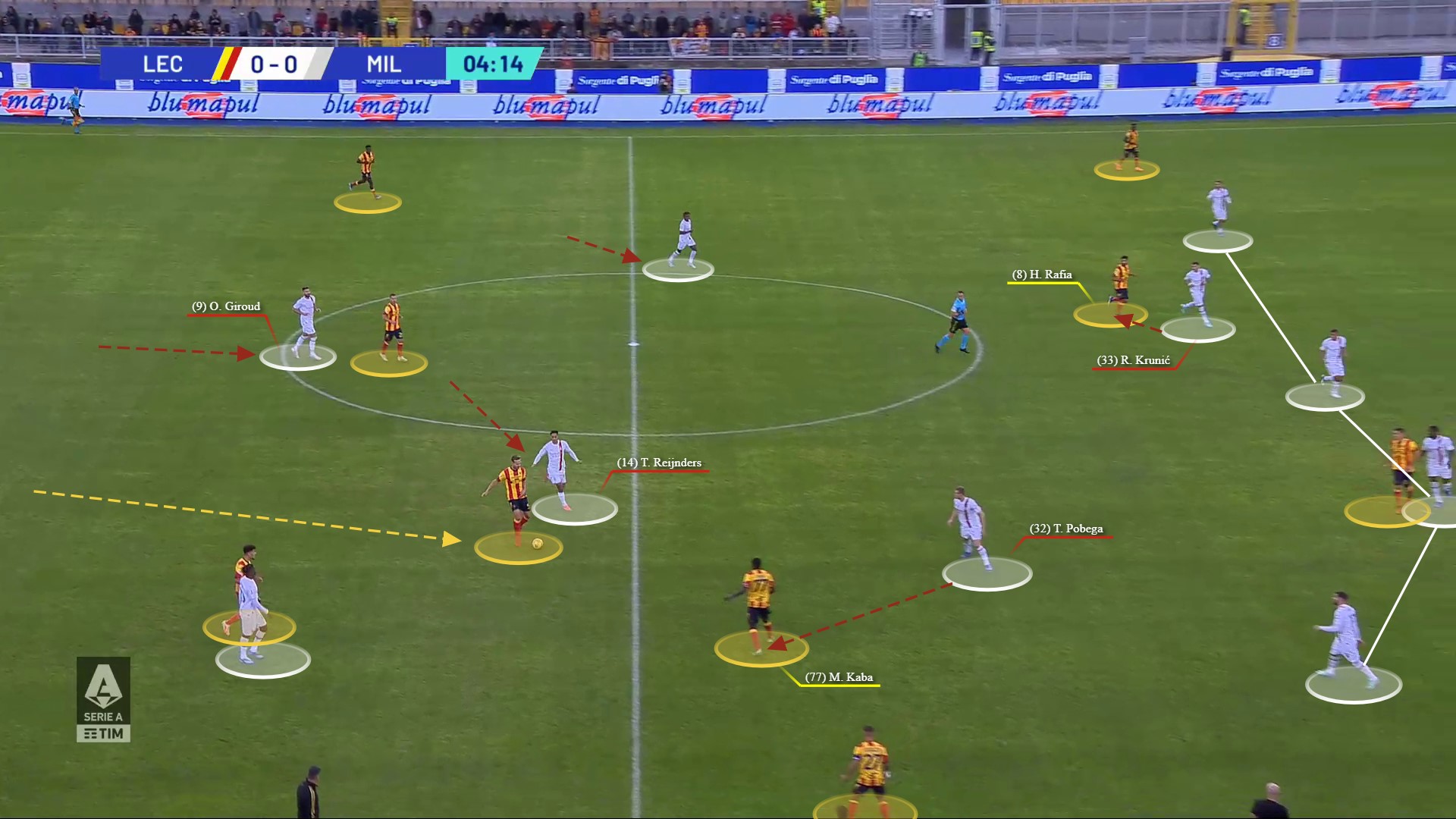 Reijnders' runs
With both team's using elements of man-marking in central midfield during defensive phases, off-ball movements and runs were required to evade opponents, and manufacture / exploit spaces.
In Milan's case, Reijnders constant movement and runs were key to their attacking play throughout the game. Here are some examples in practice.
In the 17th minute, Milan were able to manipulate Lecce's high block from a goal kick. Calabria's higher starting position created space out wide for Thiaw to firstly receive and then progress into. See below how each of Milan's midfield are being closely marked by a Lecce opponent.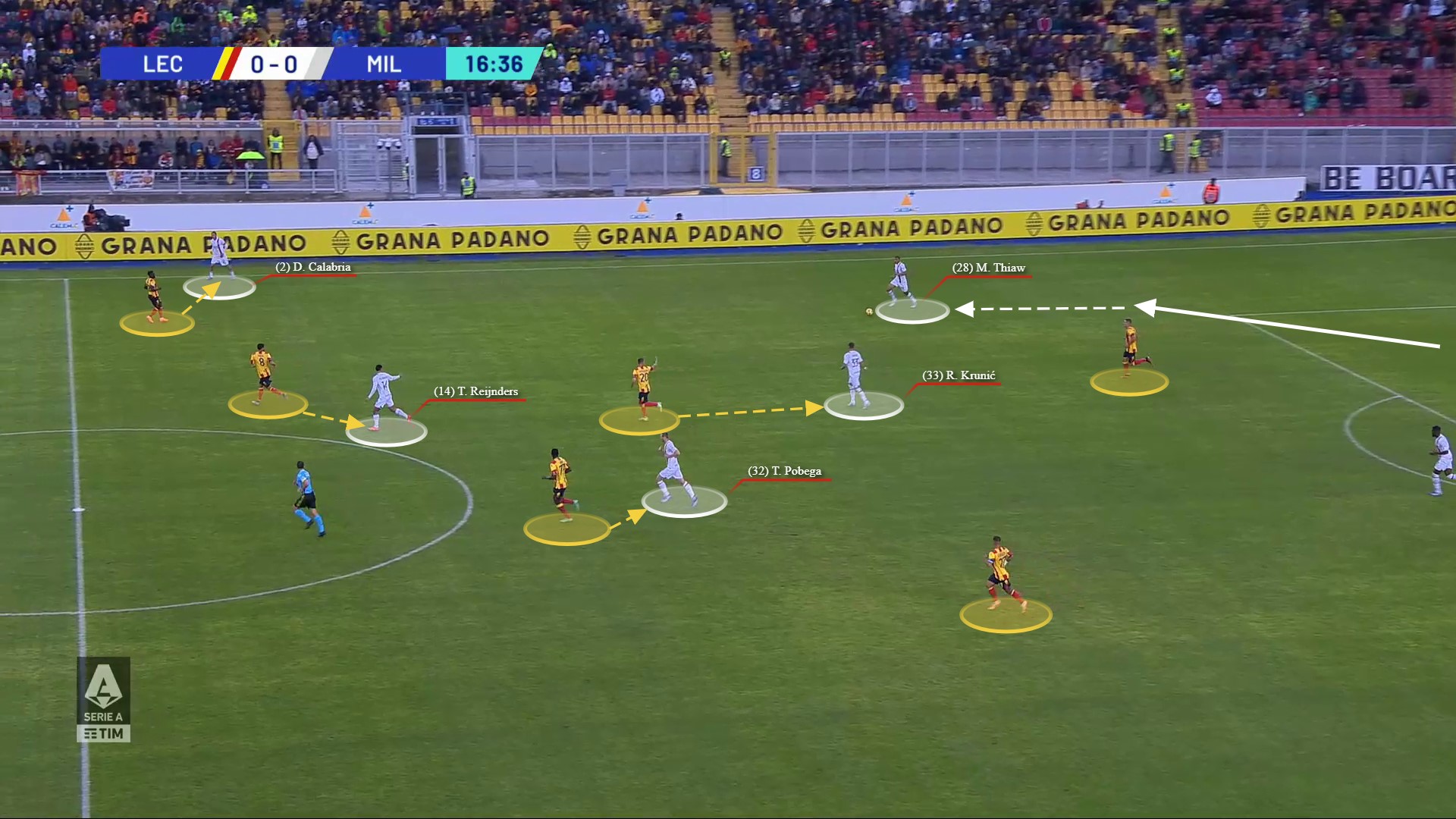 However, with the free Thiaw now progressing upfield via a carry, one of the Lecce midfield went to engage (Hamza Rafia) with another – who had originally pushed up onto Krunić – retreating to provide cover in the midfield line (Ylber Ramadani).
Despite Reijnders recognising and moving into the space between the lines, no through pass is made and Milan circulated possession out towards their left-hand side.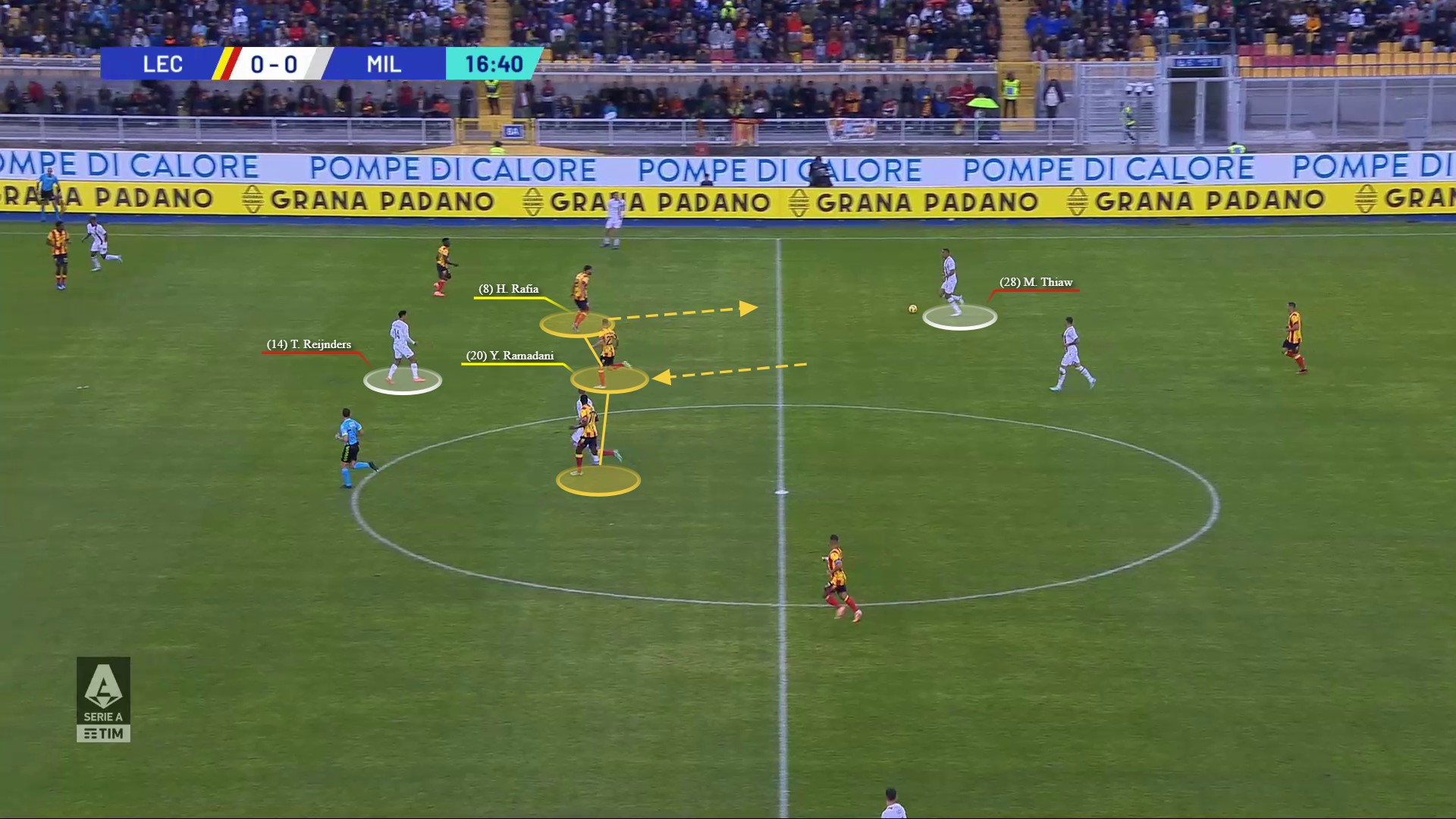 Where Theo Hernández carried infield and towards the final third. In this action, Reijnders was still between the lines, but after seeing a new space appear in the Lecce backline, the Dutch midfielder…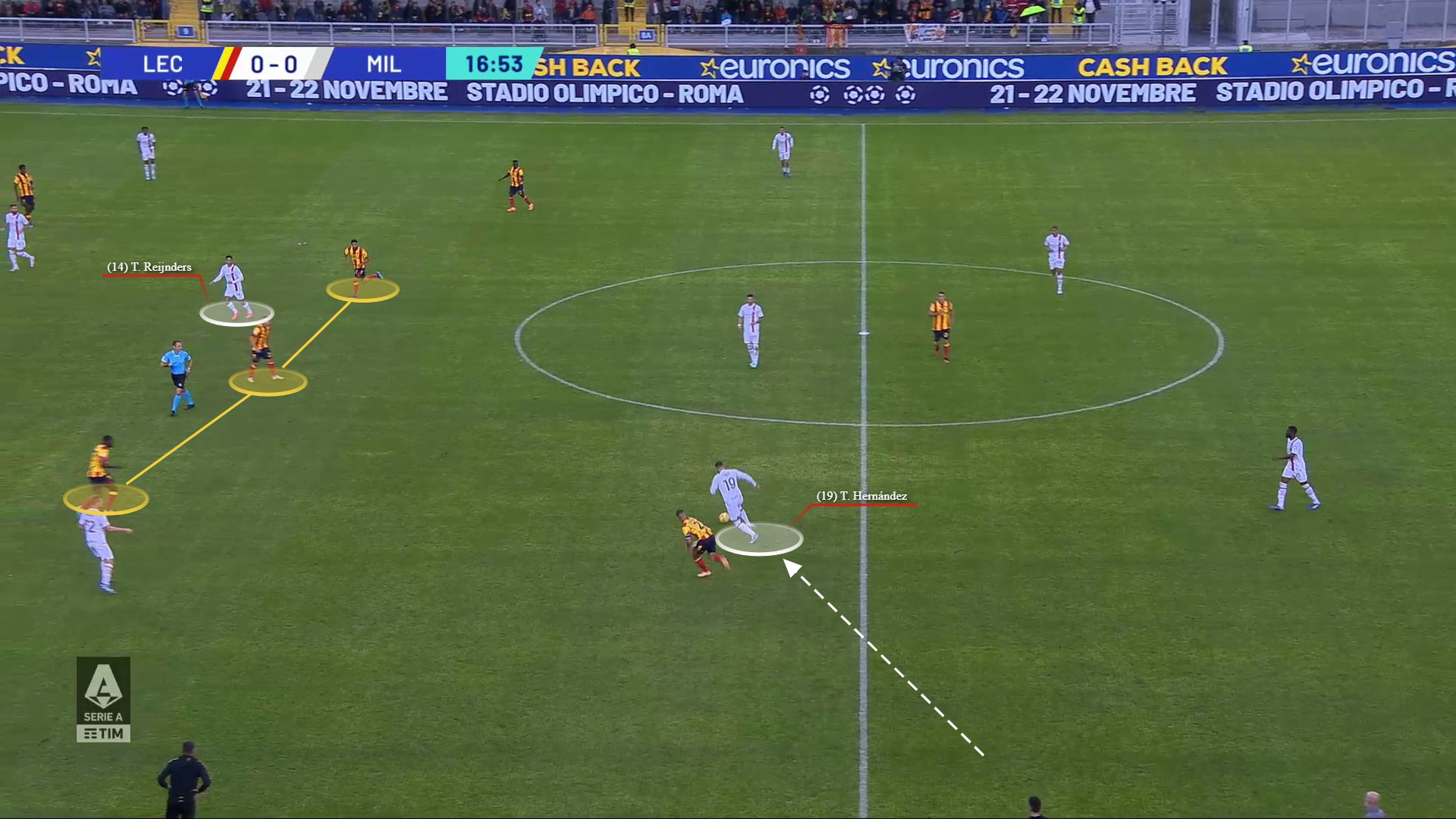 ….offered a run in behind but was unable to be found.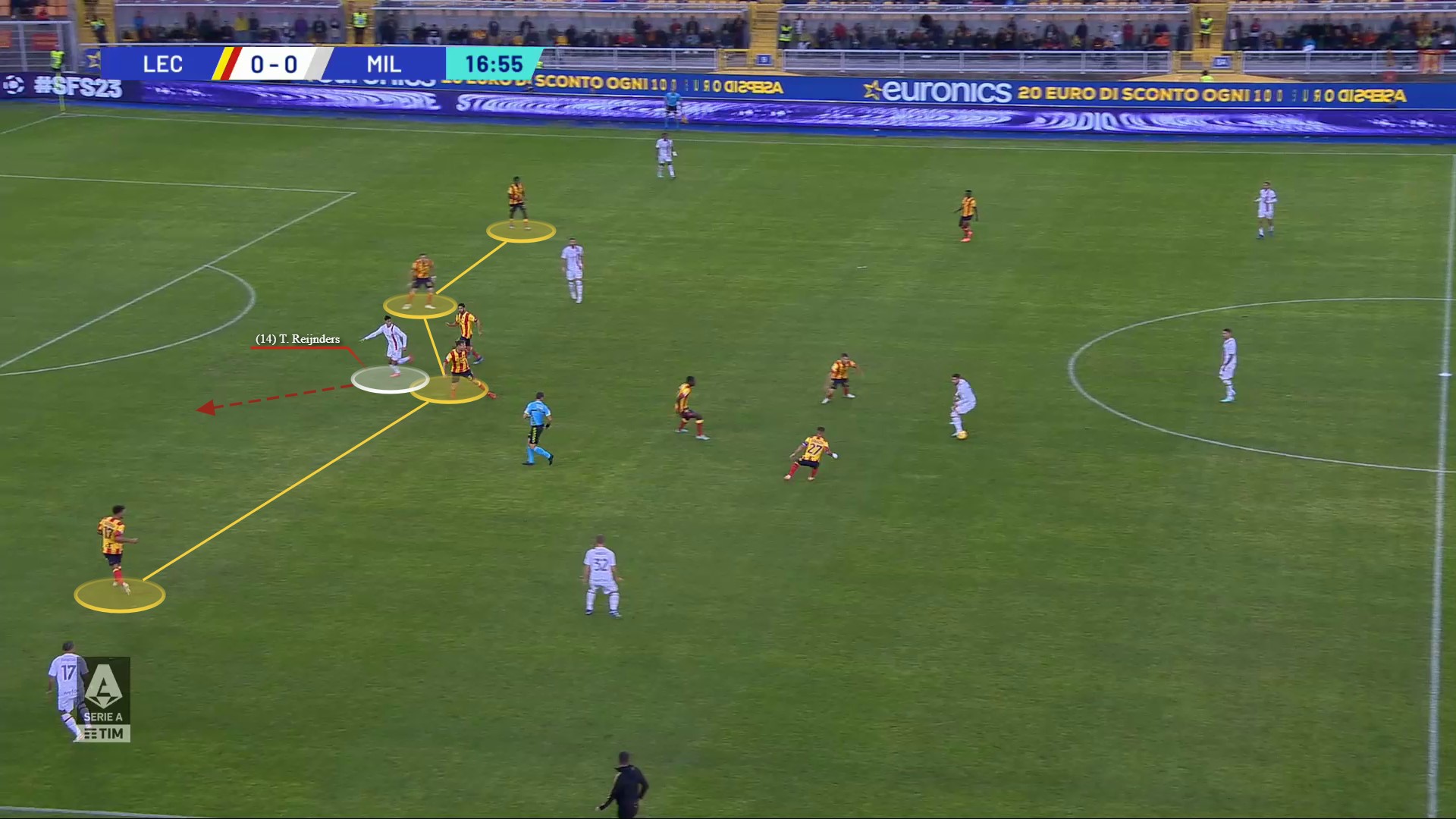 Undeterred, a few minutes later, a forward run in behind from Reijnders was found. Thiaw again had possession in the middle third and in this passage, Reijnders noticed Giroud's pending movement to come short (note the scan), so made an opposite movement in behind but was unable to control the pass.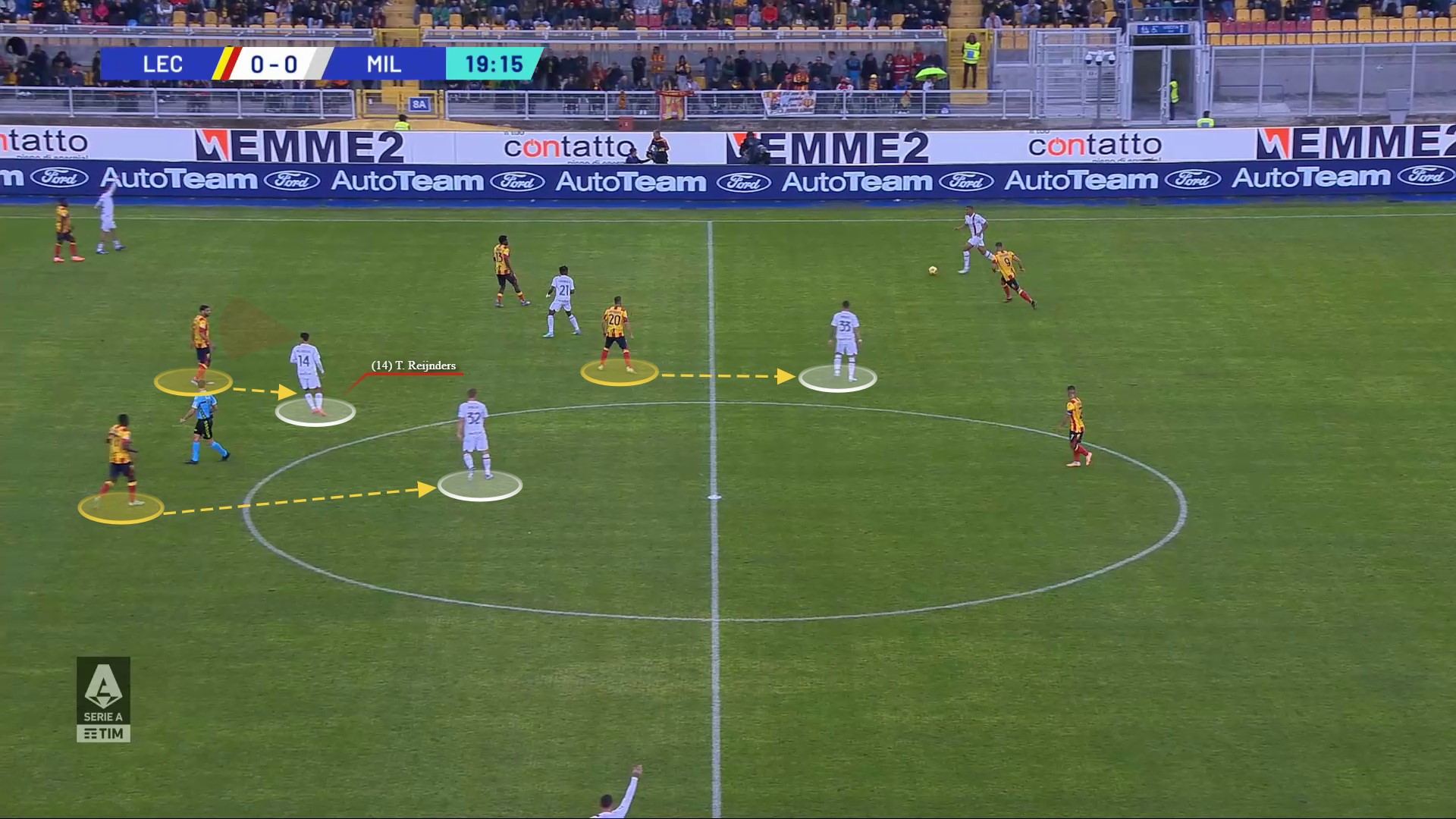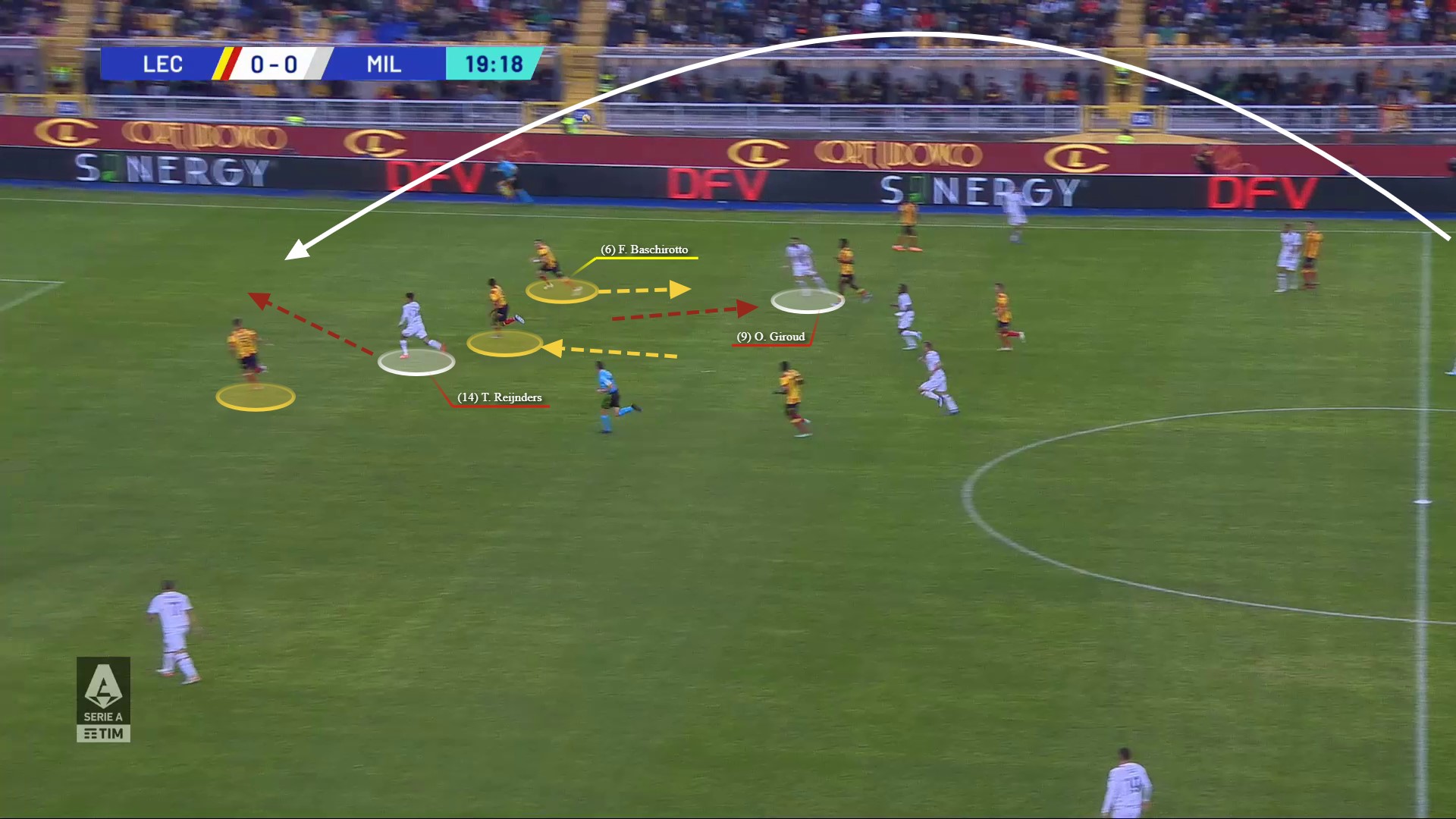 In the 25th minute, Reijnders used more slight off-ball movement to take advantage of a turnover in possession. He quickly found space away from Ramadani, by moving into the half-space on the Lecce midfielder's blindside, in the knowledge that left-sided midfielder, Banda, was caught high up the pitch as a result of the regain.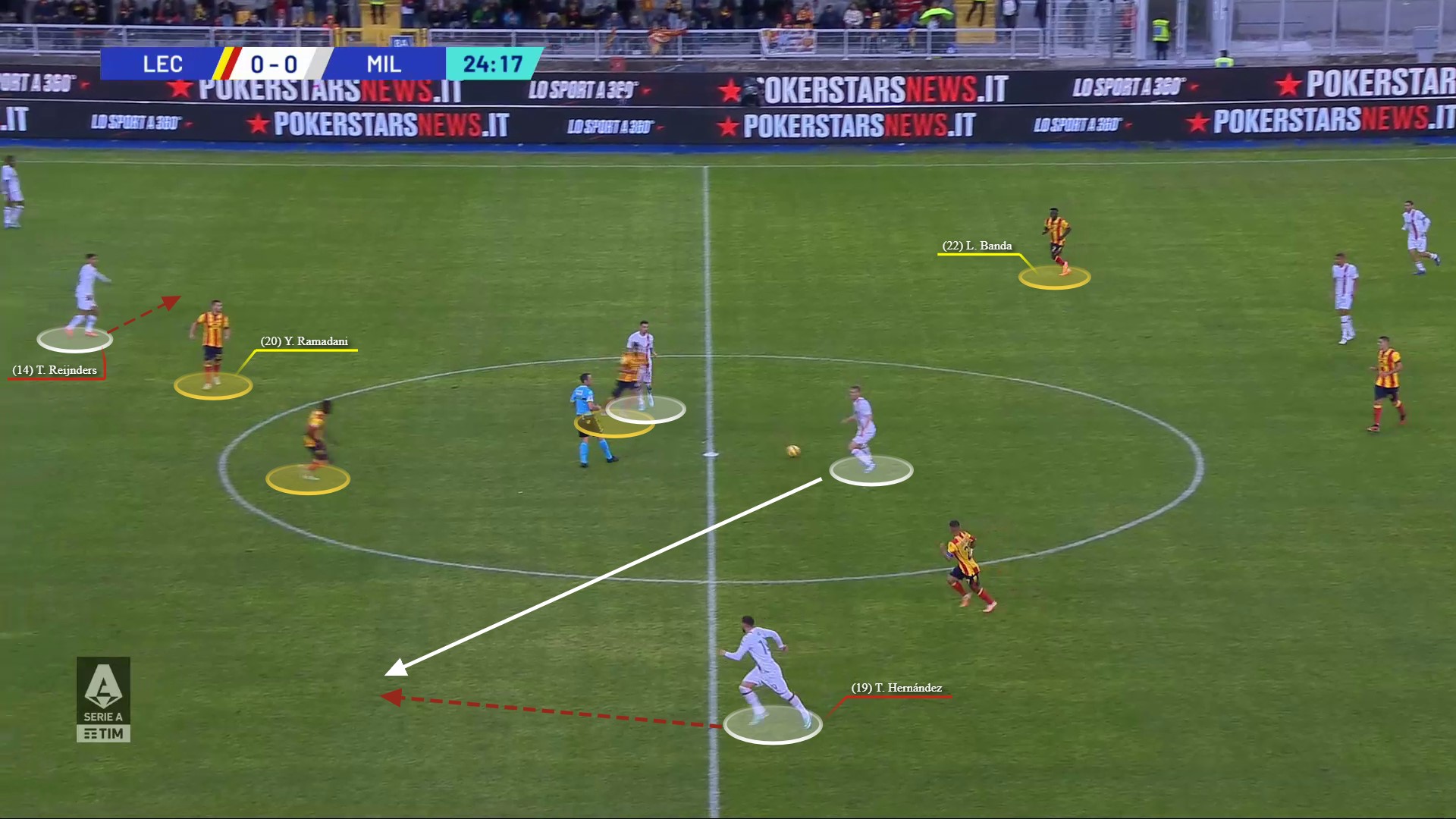 From here, Reijnders maintained his occupation of this pocket of space between the lines, to receive a line breaking pass and then slide in Chukwueze whose cross nearly found Giroud in the middle of the penalty box.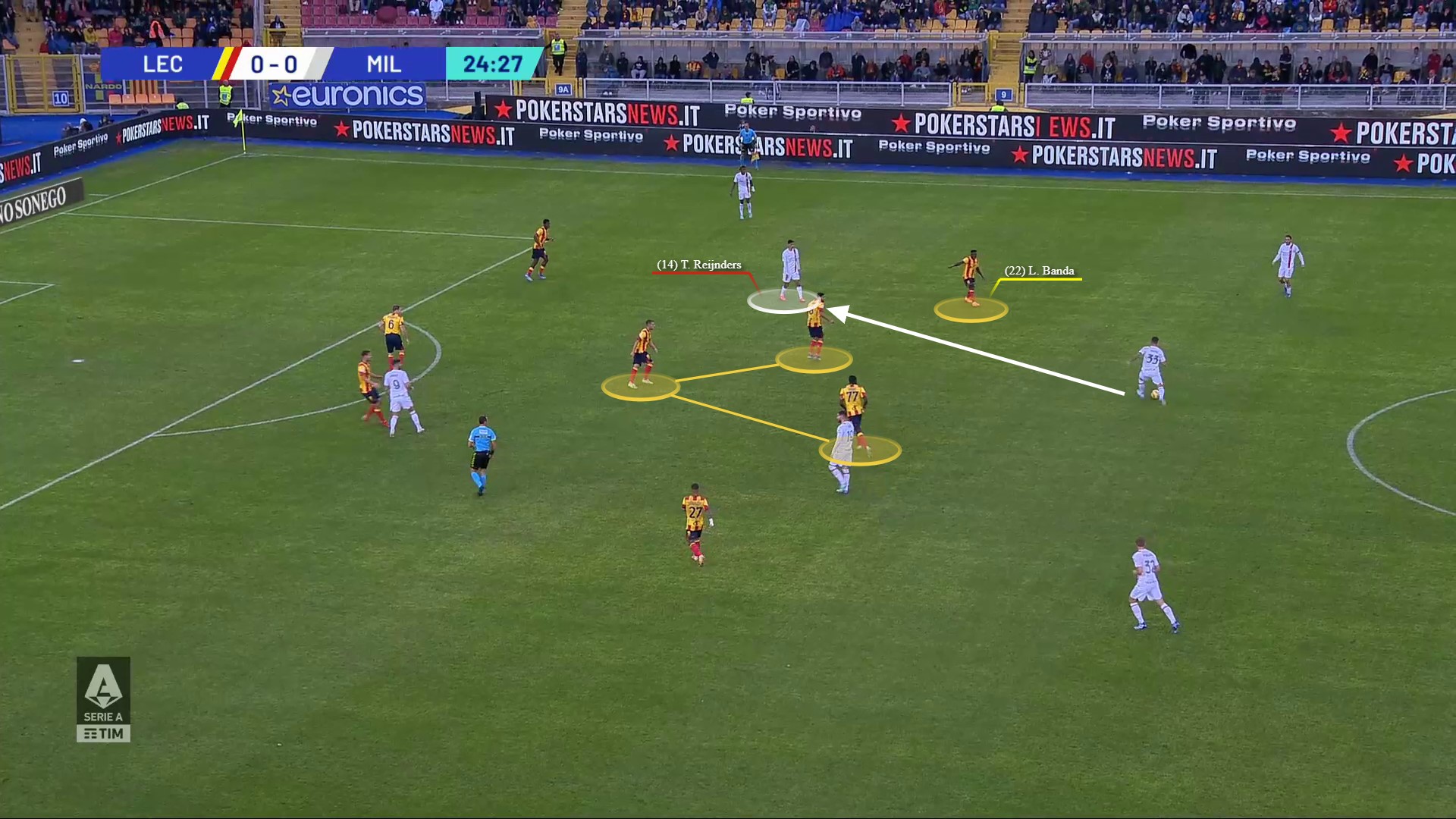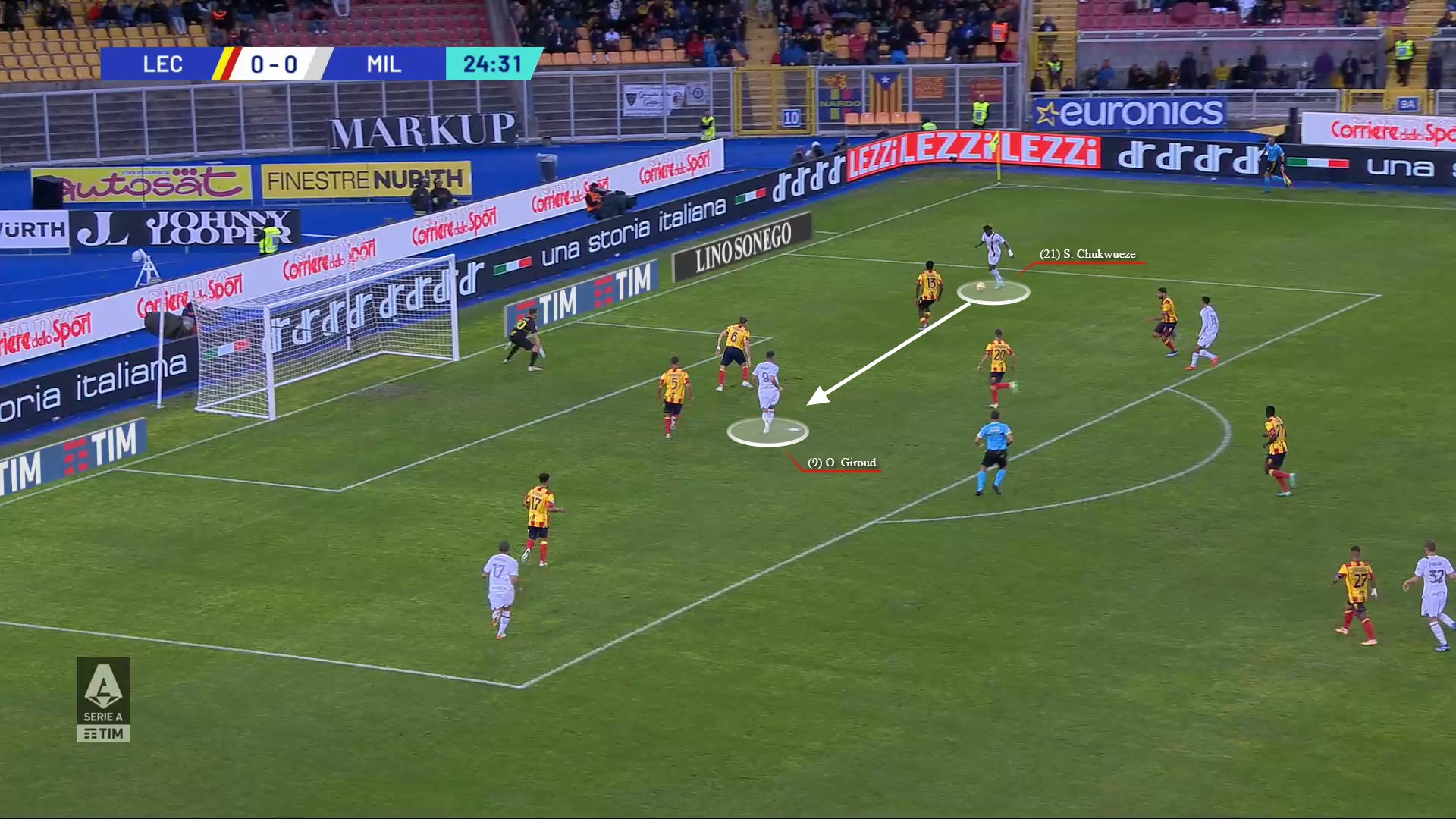 Reijnders's forward runs and off-ball movement did eventually pay-off in the 35th minute when again, the Dutch midfielder found space in behind the Lecce midfield line. Chukwueze's lower positioning had dragged Patrick Dorgu up the pitch and his lay-off found Reijnders with half the pitch to attack and a 3v3 scenario.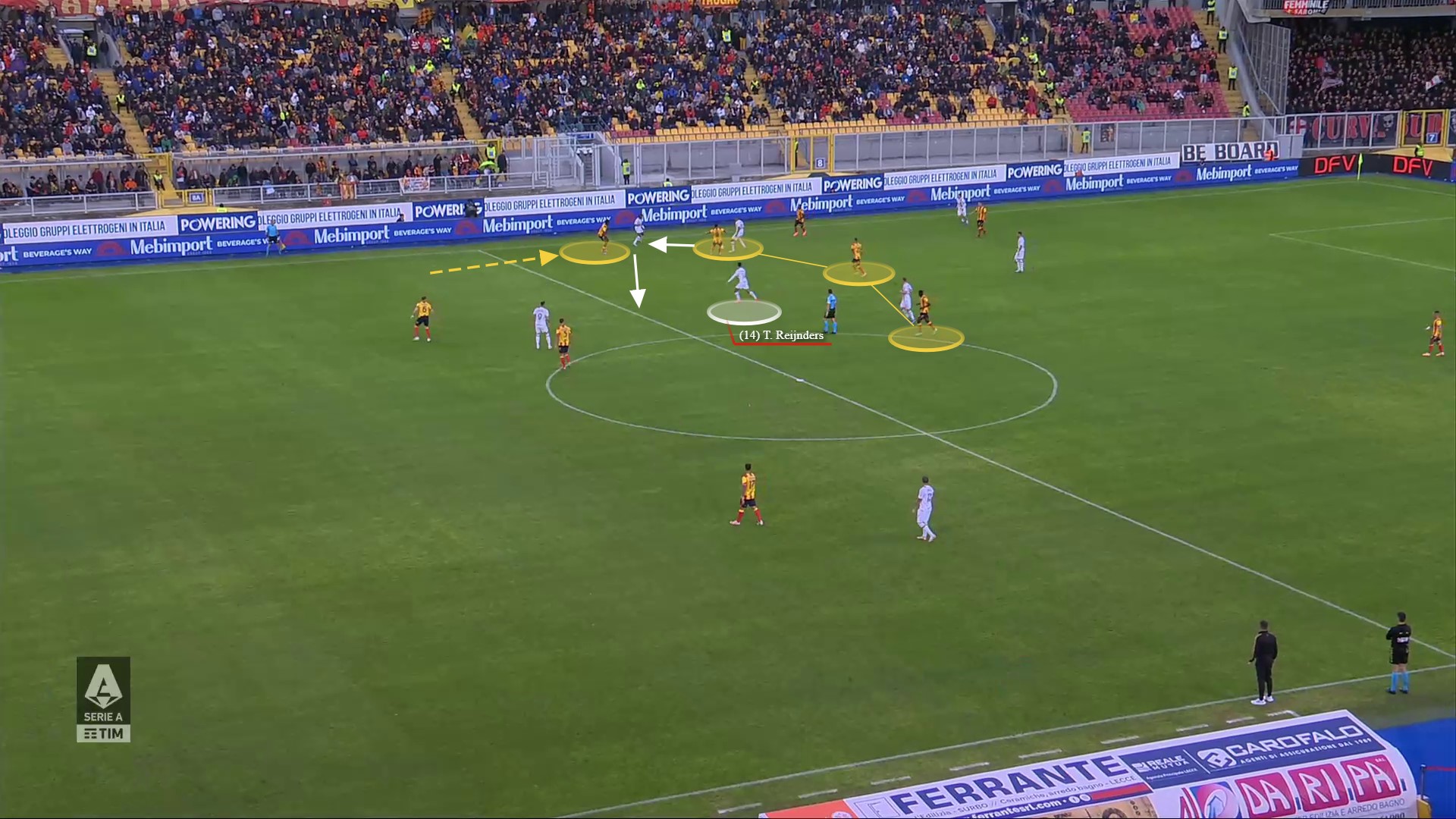 After carrying into the Lecce half, Giroud's intelligent off-ball run dragged the two centre-backs with him, which created space on the outside for Reijnders to set himself up on his favoured right-foot and fire between the goalkeepers legs and put Milan into a 2-0 lead.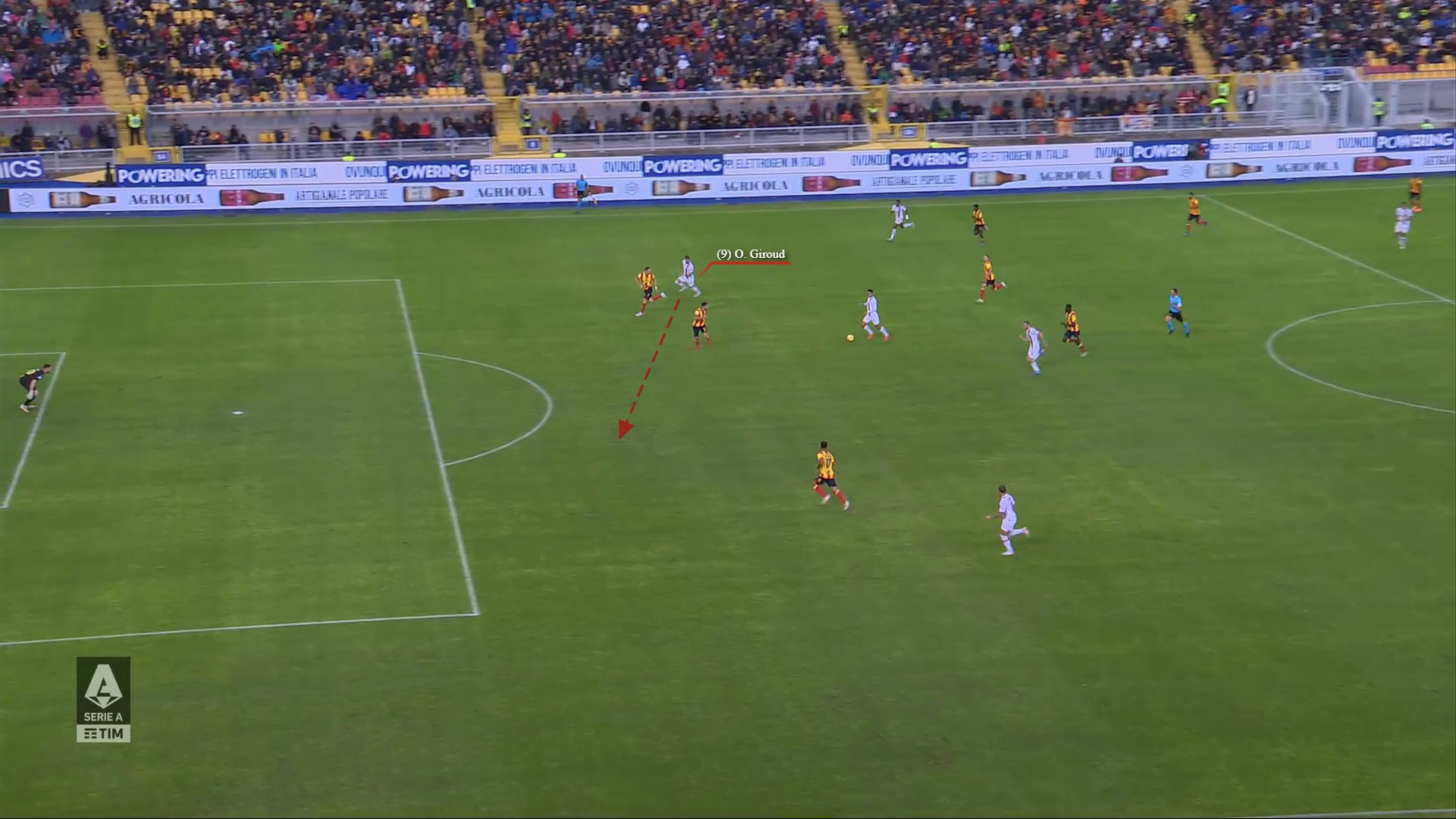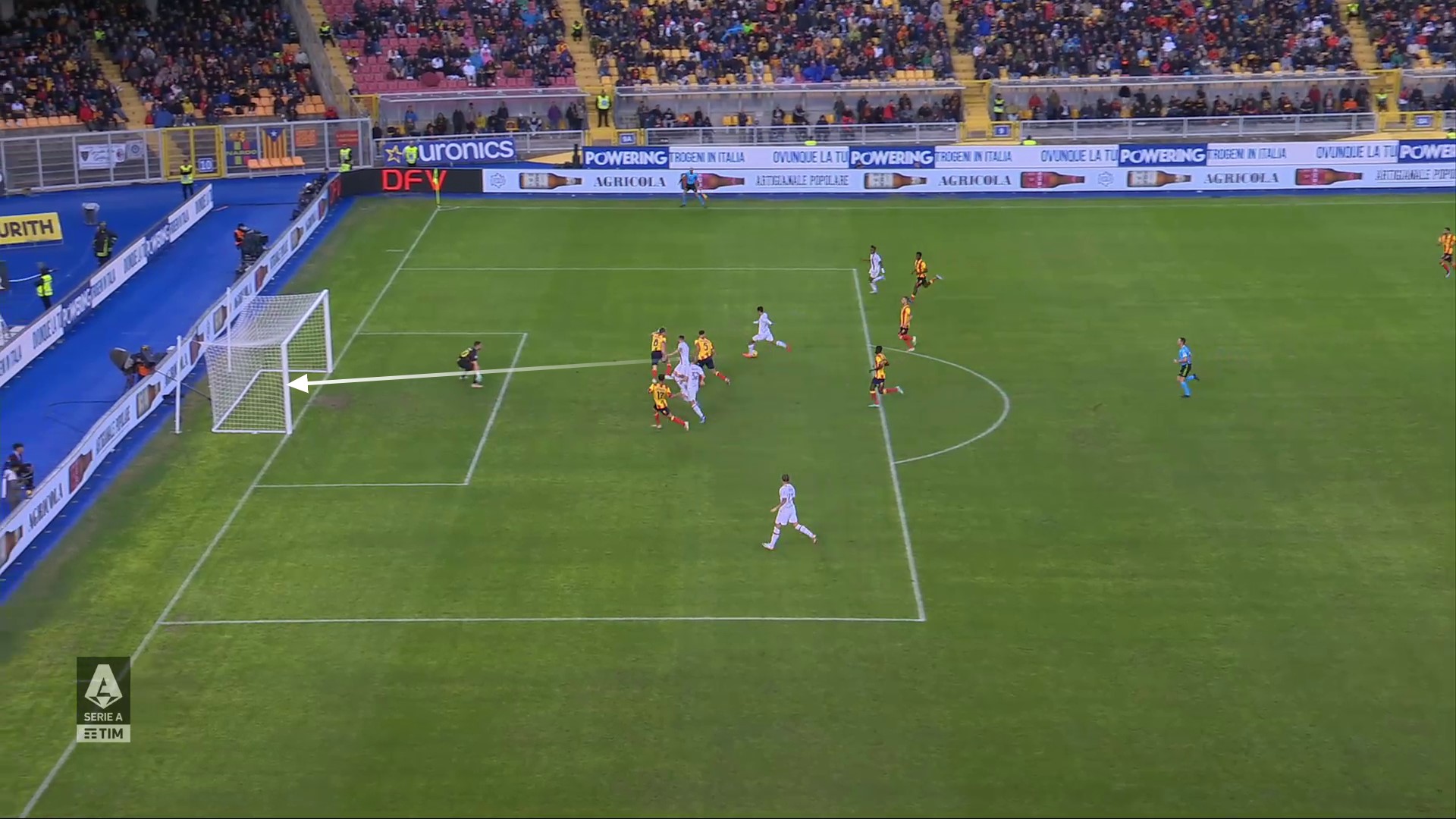 But Reijnders didn't quit whilst he, and Milan, were ahead. Shortly after scoring his first competitive goal for the Rosseneri, Reijnders dropped deep in a build-up phase to offer Thiaw a pass, dragging his midfield marker with him. However, after Calabria received the ball, Reijnders quickly recognised a new opportunity…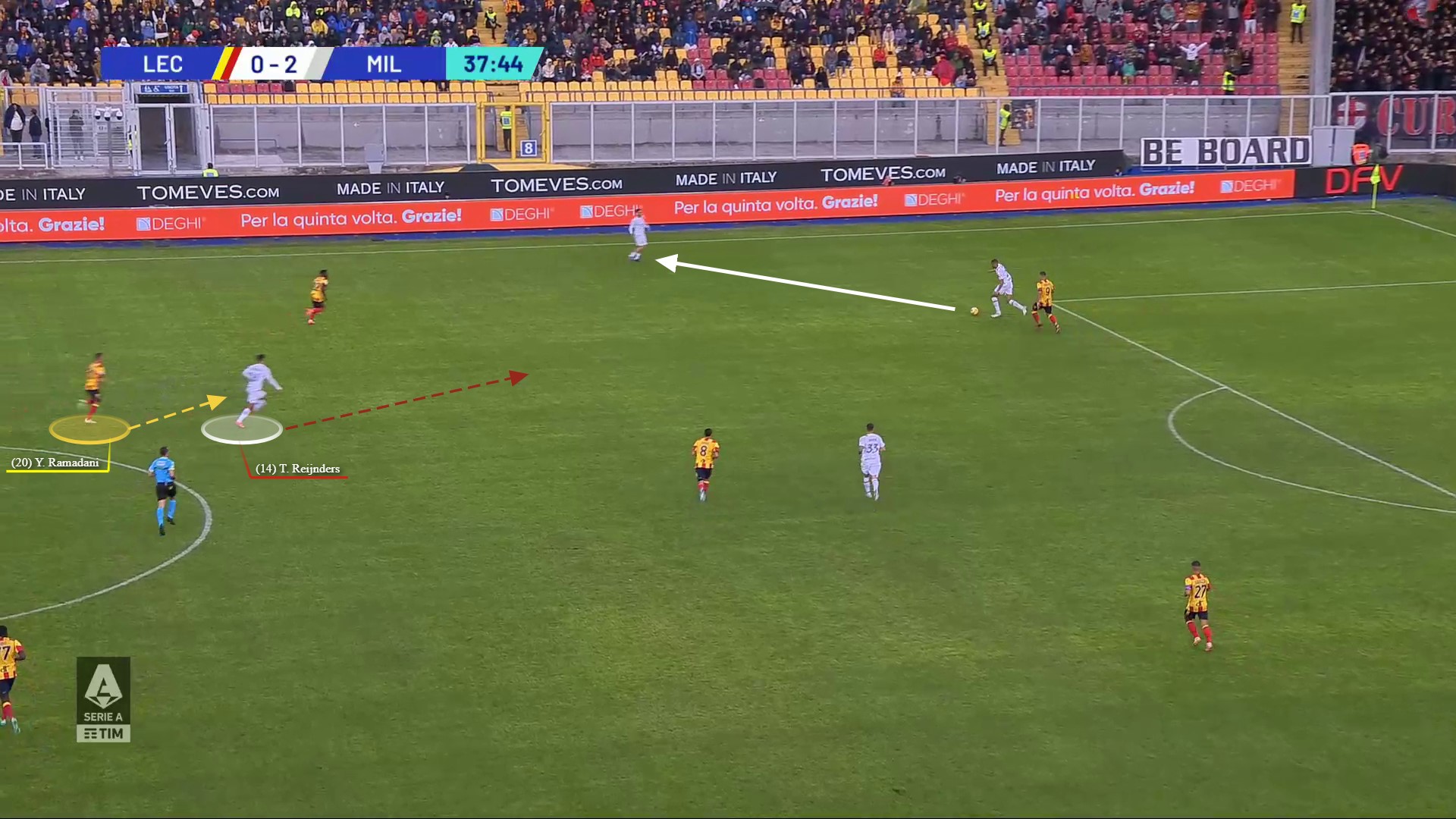 …with the Lecce left-back again pulled up the pitch and Giroud coming short for a clipped pass, Reijnders got on his bike to receive any potential flick-on from the French striker.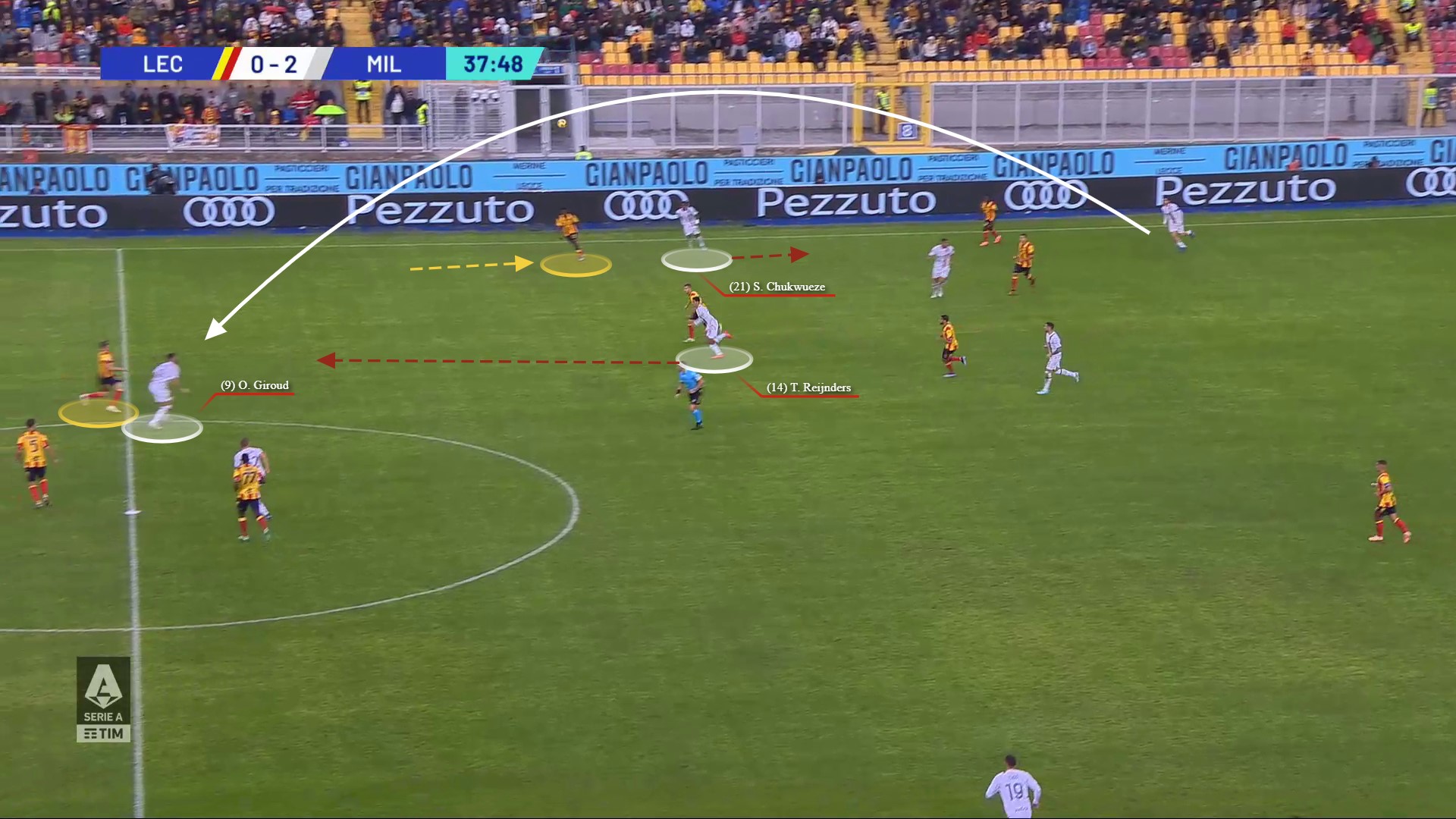 And Giroud did not disappoint, with his connection allowing Reijnders the opportunity to collect and then run towards the Lecce area, before shooting but only managing to find the outside of the post.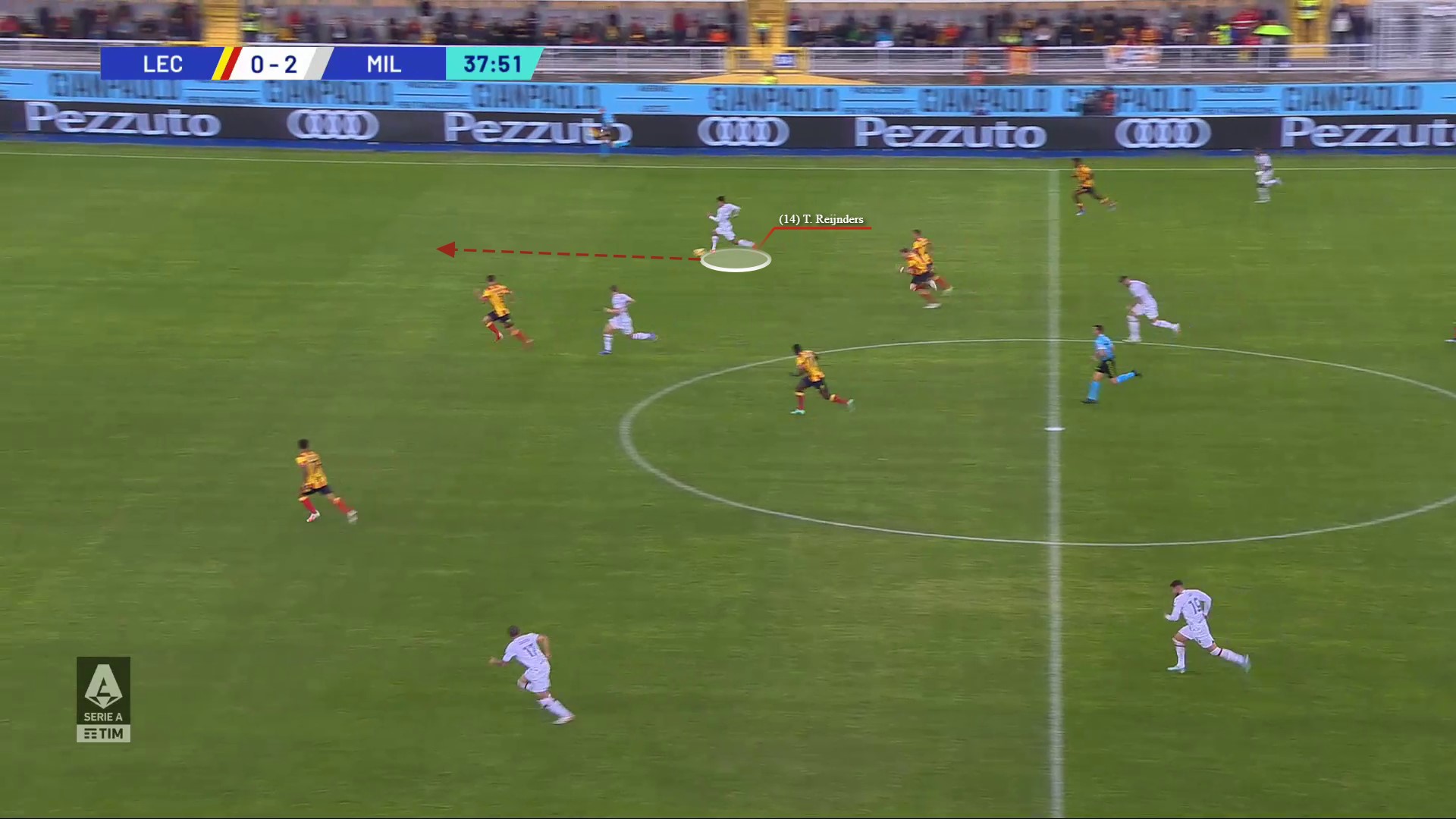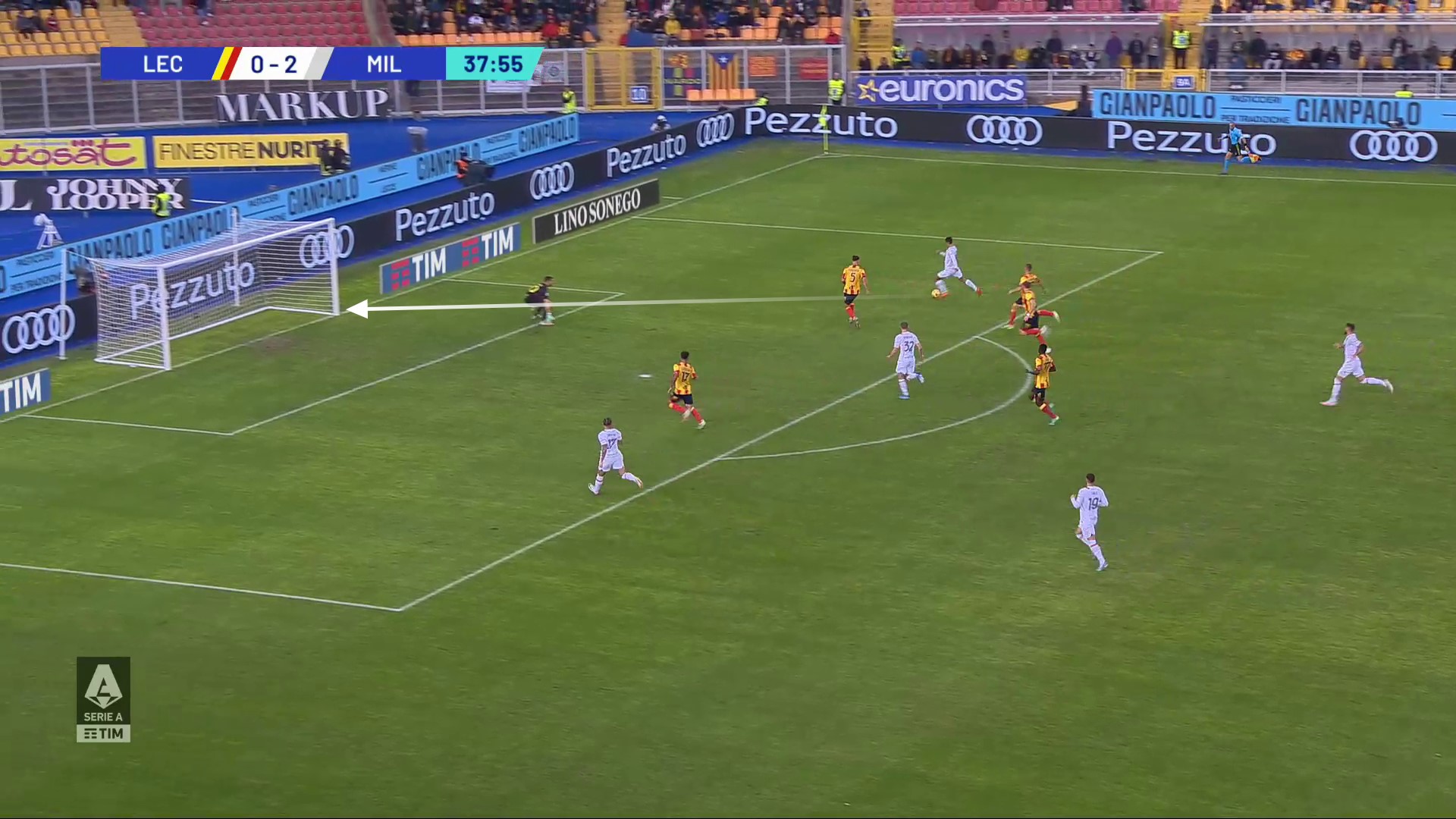 And in the second-half, Reijnders' runs nearly helped put Milan out of sight. Below in the 52nd minute, after some interplay on the right wing, Reijnders spotted a gap in the Lecce backline.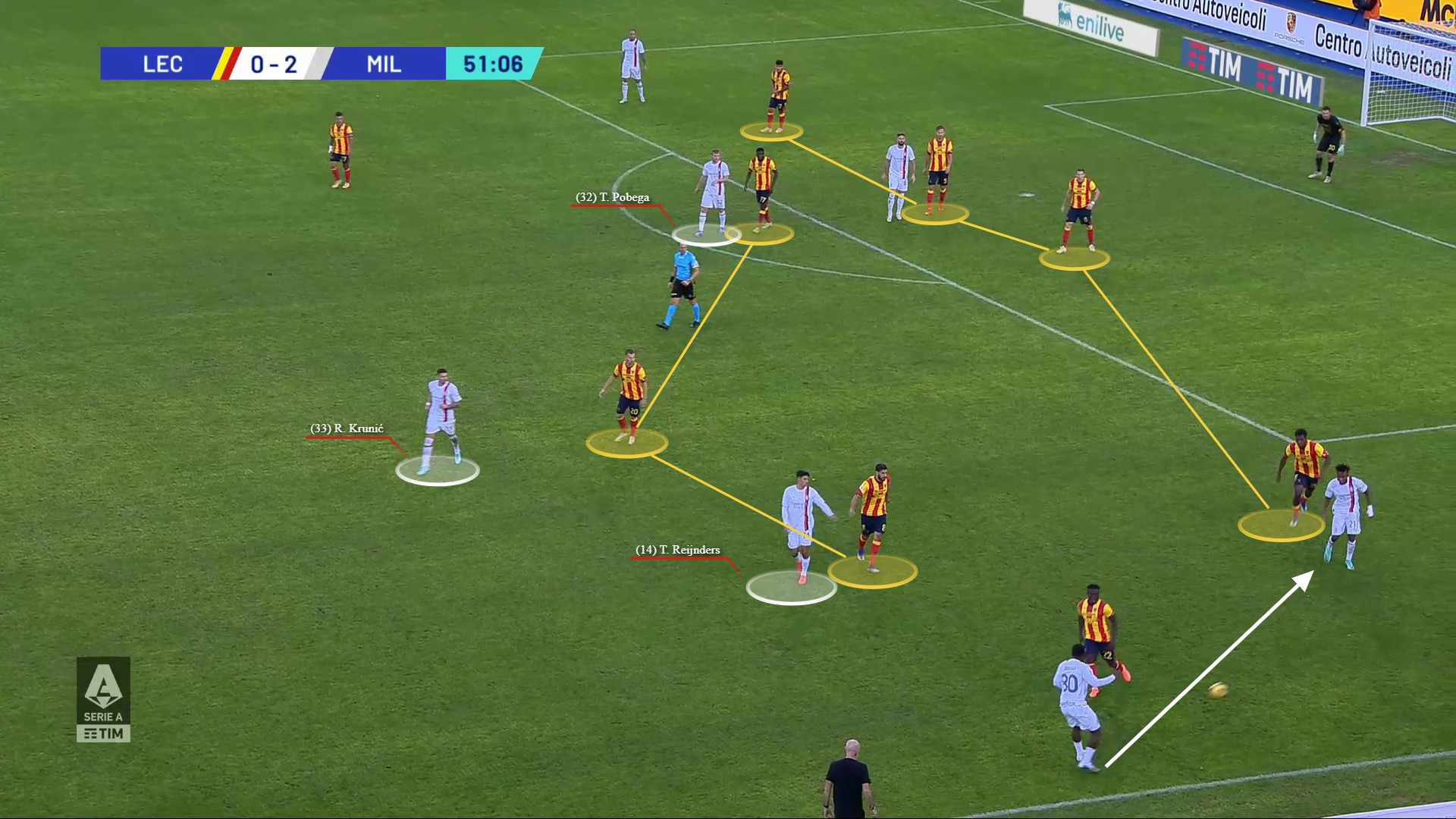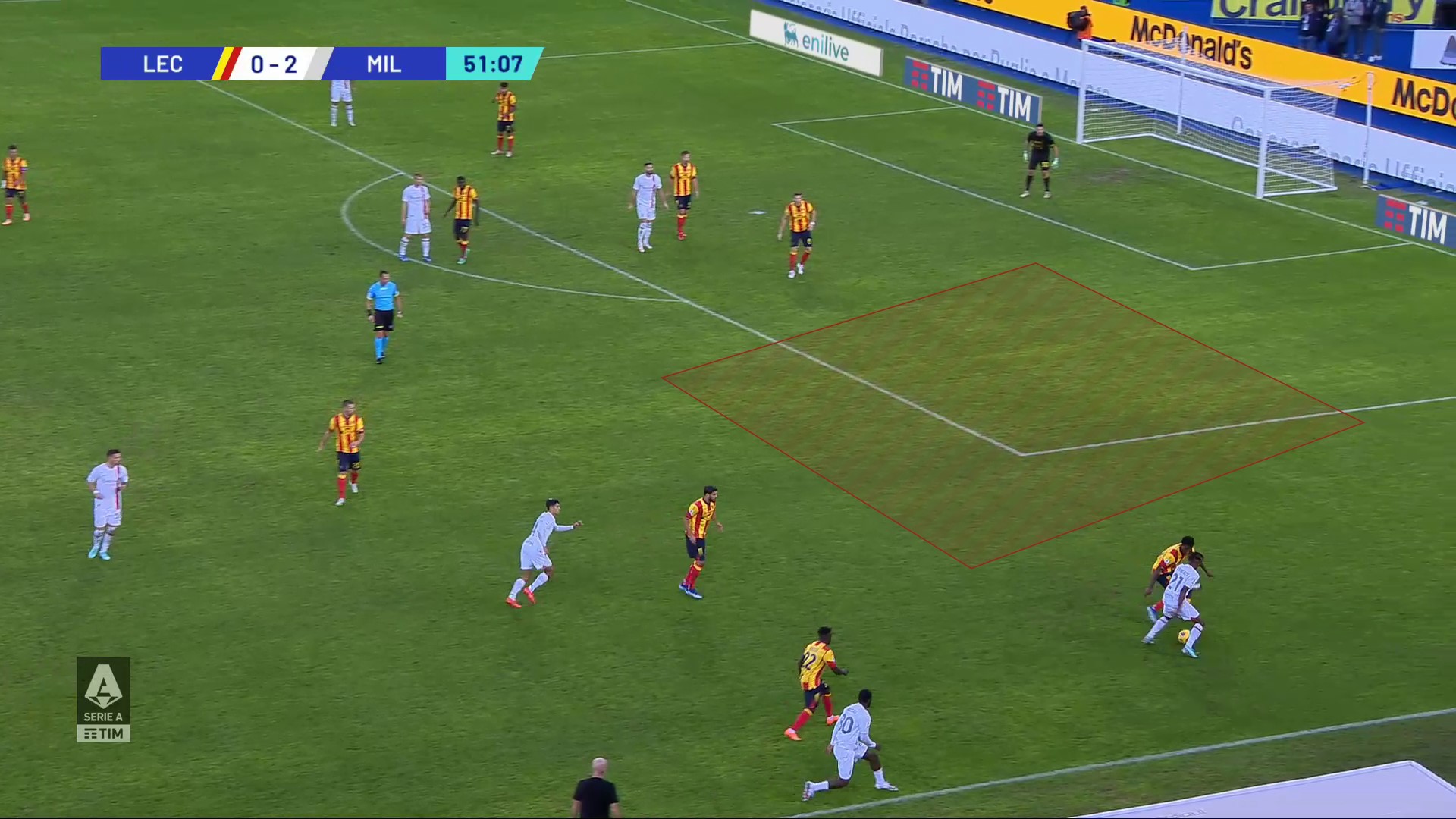 A forward run and Chukwueze pass later, Reijnders was inside the penalty box, turning down an opportunity to shoot and instead aimed a low ball across the face of the goal which was nearly turned for an own goal by a Lecce defender.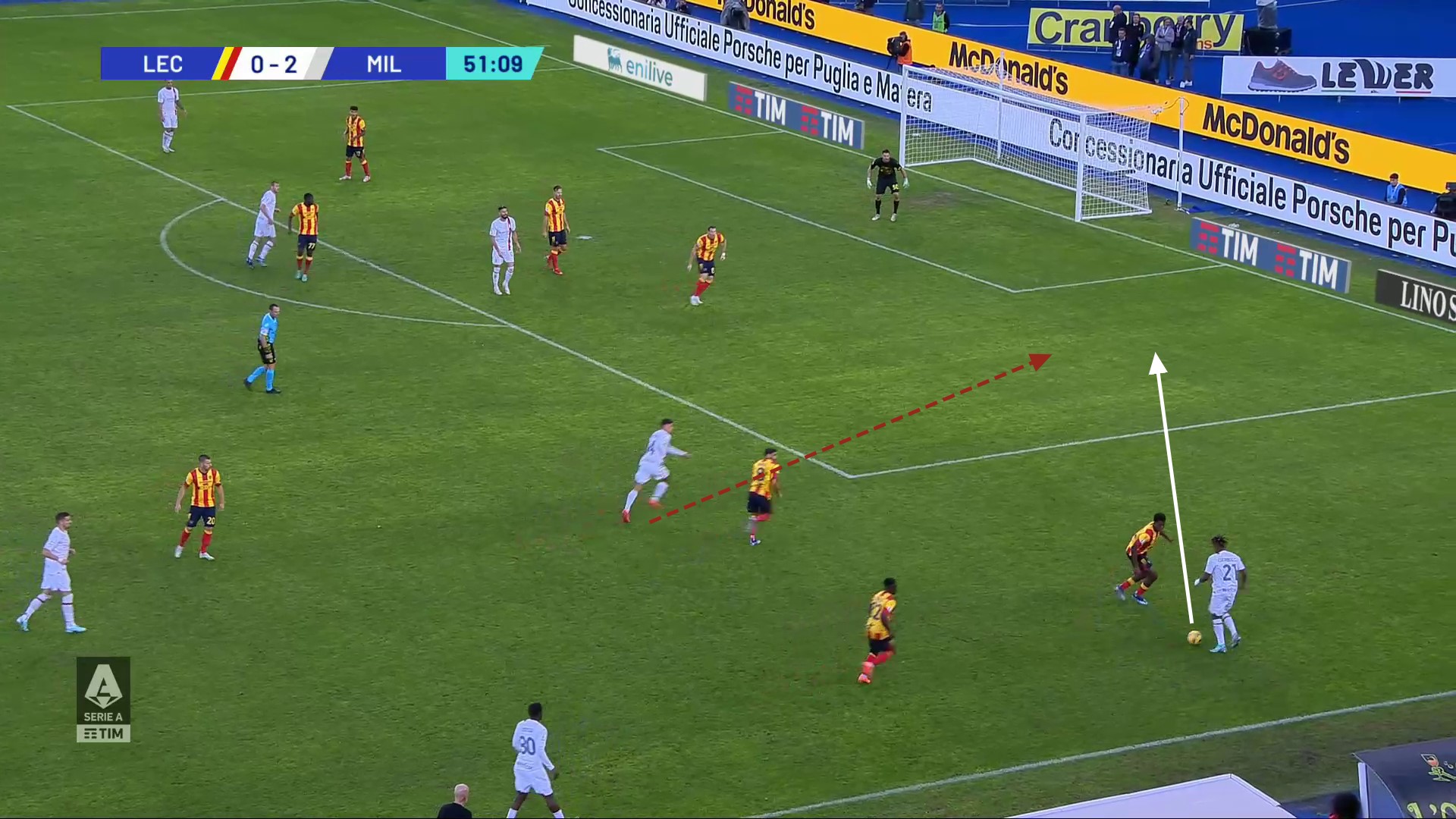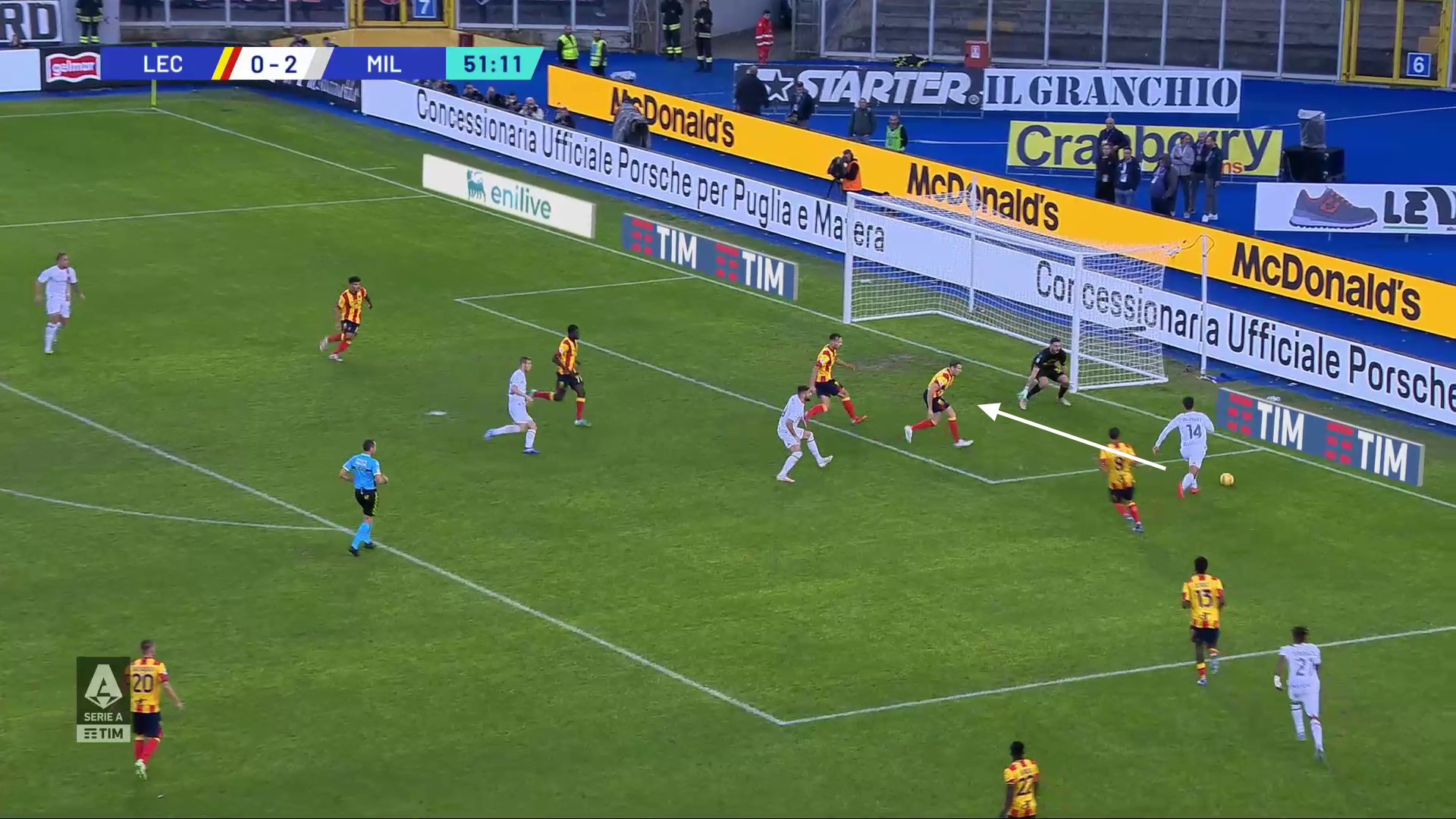 In the 55th minute, Reijnders dropped short in deep build-up…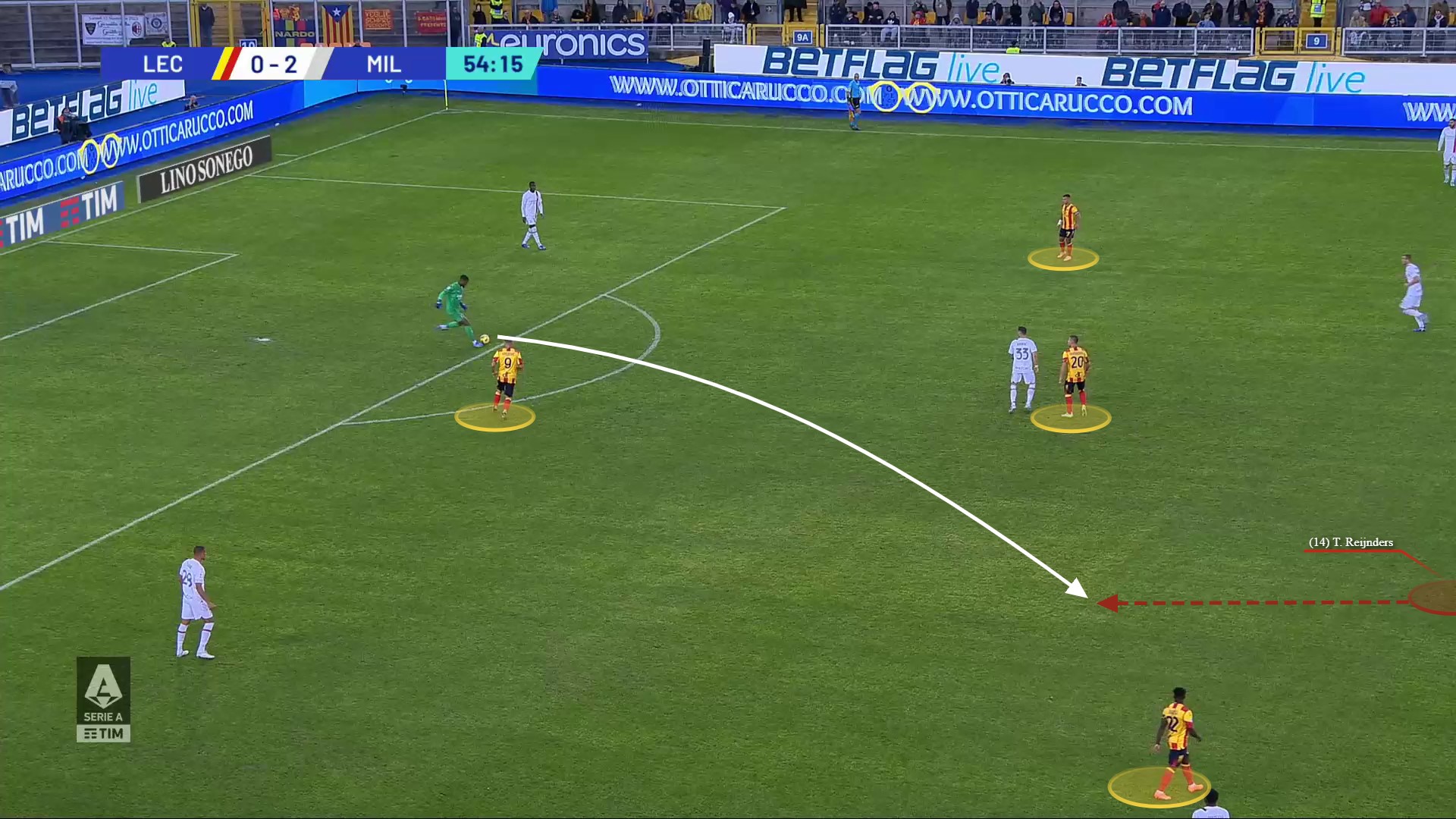 …which dragged up his midfield marker. After baiting his opponent long enough, Reijnders exchanged passes with Thiaw and then exploited the space he manufactured with his initial movement.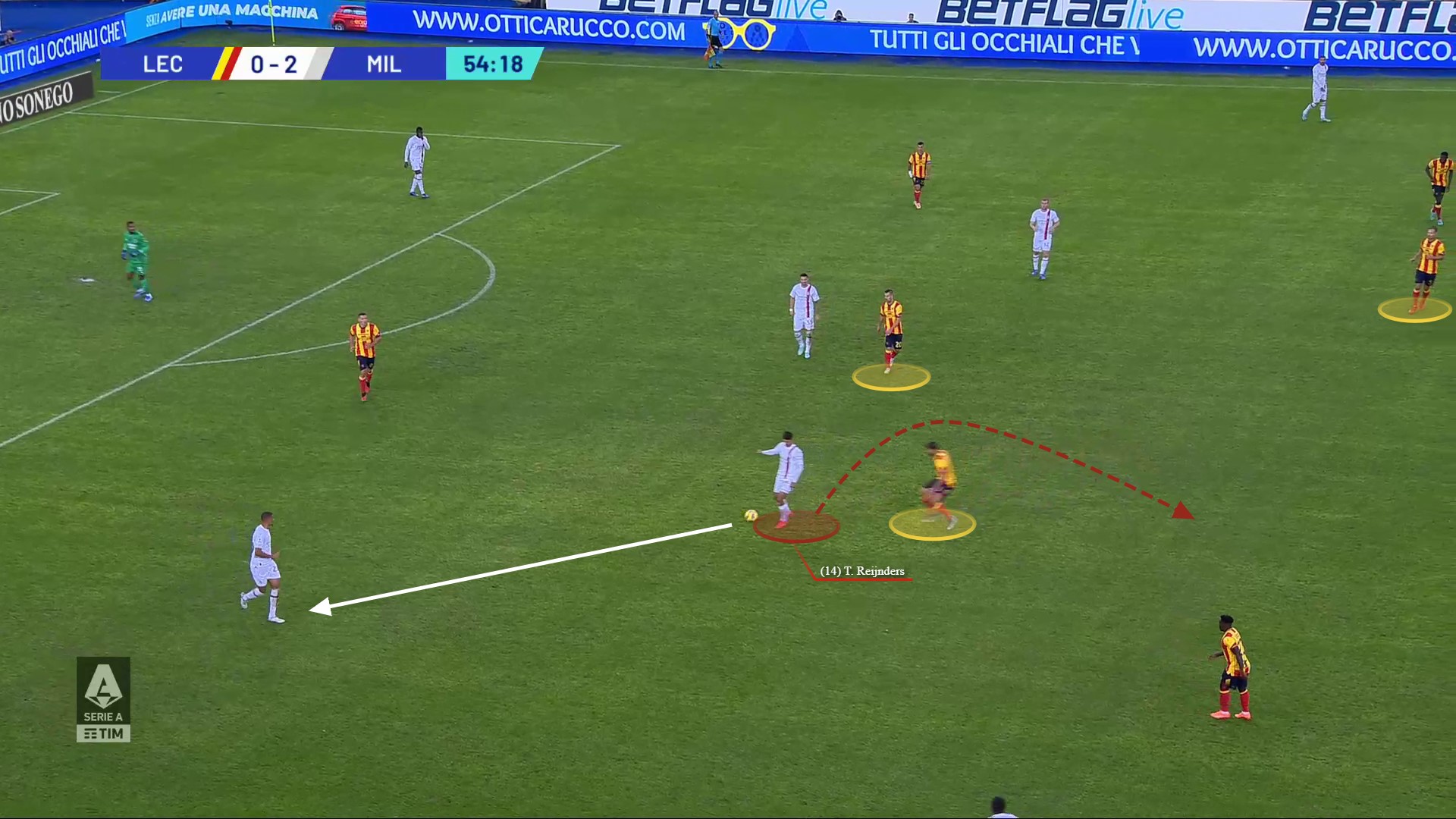 Reijnders carried all the way into the final third but (being super critical) wasted the 4v4 attacking opportunity with a loose attempt at a through ball to Giroud.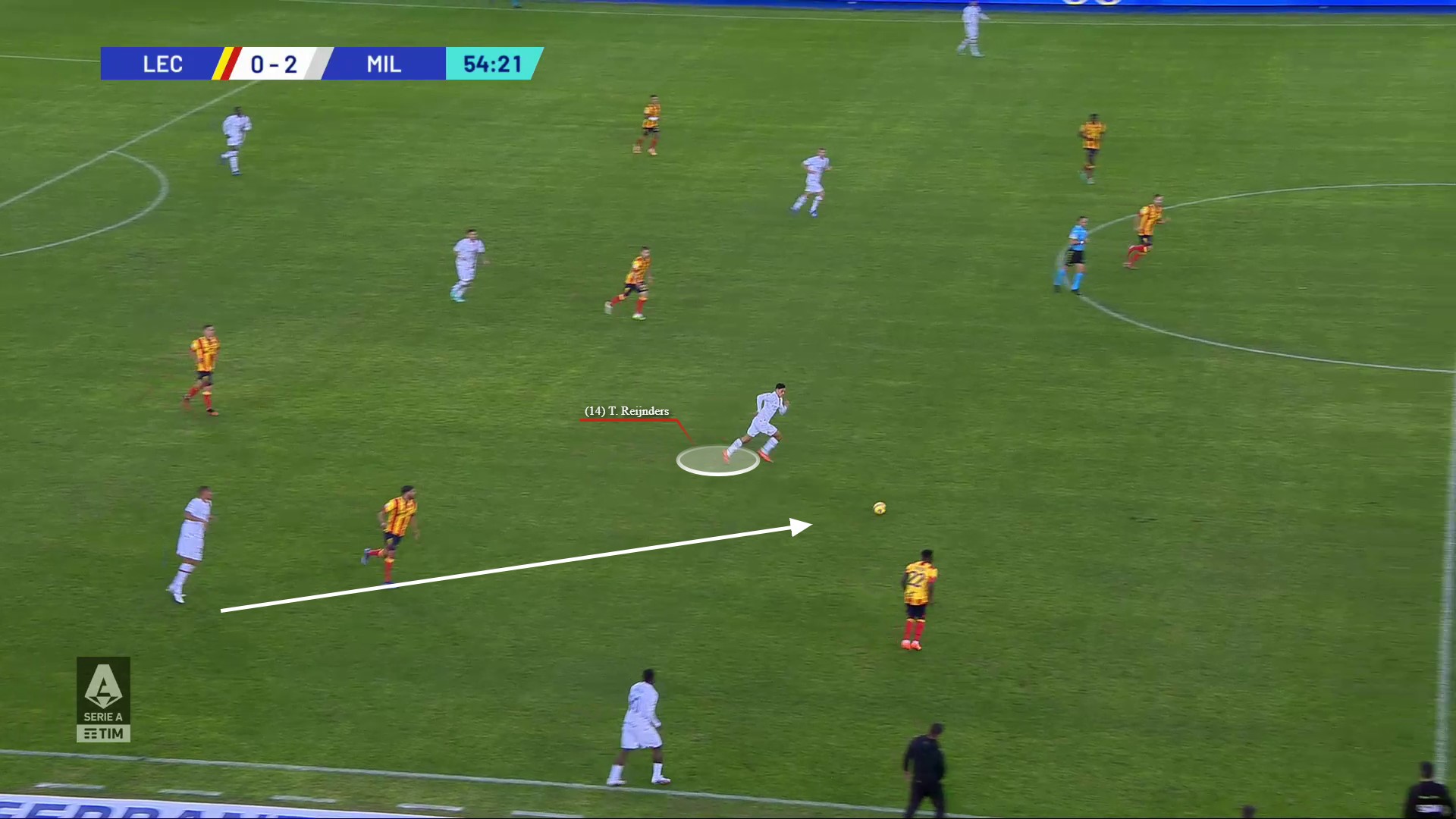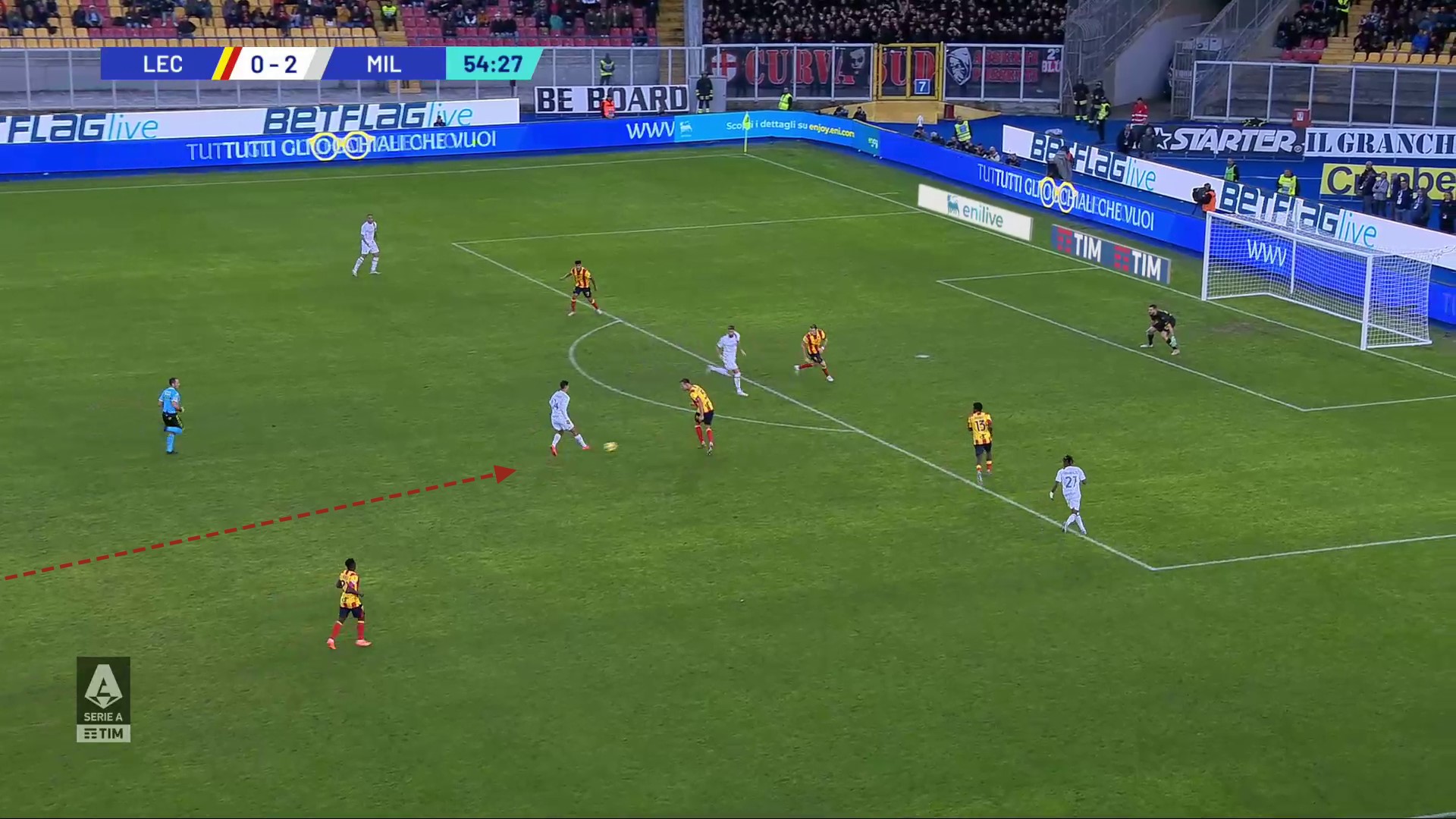 The history books will remember this game as being the one in which Reijnders opened his goal scoring account for the Rosseneri. But in reality, it was a lot more than that, with the Dutch midfielder being the fulcrum for much of Milan's attacking play.
Musah mistakes
At half-time, Musah replaced the injured Davide Calabria. Pioli's rationale for selecting the American midfielder at right-back instead of Alessandro Florenzi was to try and match the physicality of Banda on the left wing: "I put Musah (on) and not Florenzi because he was more suited to the level of pace and speed of the only Lecce player who could create difficulties for us in these situations."
However, unfortunately for Musah – and therefore for Pioli and Milan – Musah was at fault for both of Lecce's goals.
The first came in an eerily similar situation to the goal Milan conceded against PSG in midweek. On that occasion it was Ruben Loftus-Cheek who did not continue to track his man whilst defending a corner kick, with an opponent benefitting from the space afforded to him to score at the far post.
On this occasion it was Musah, who despite closely marking his opponent prior to the delivery, switched off after seeing the ball make its first contact, and consequently allowed Nicola Sansone to put away at the far post, completely uncontested.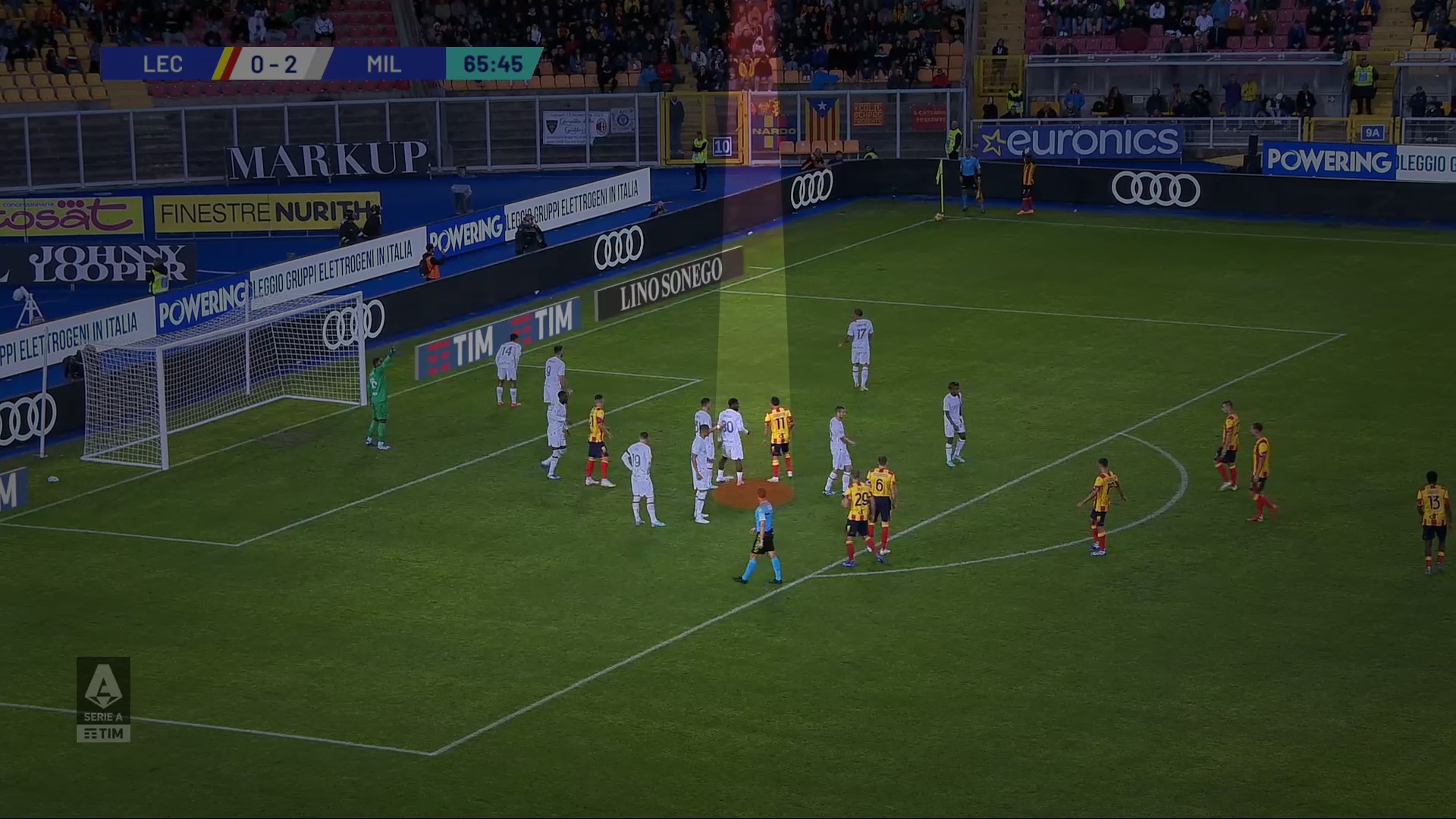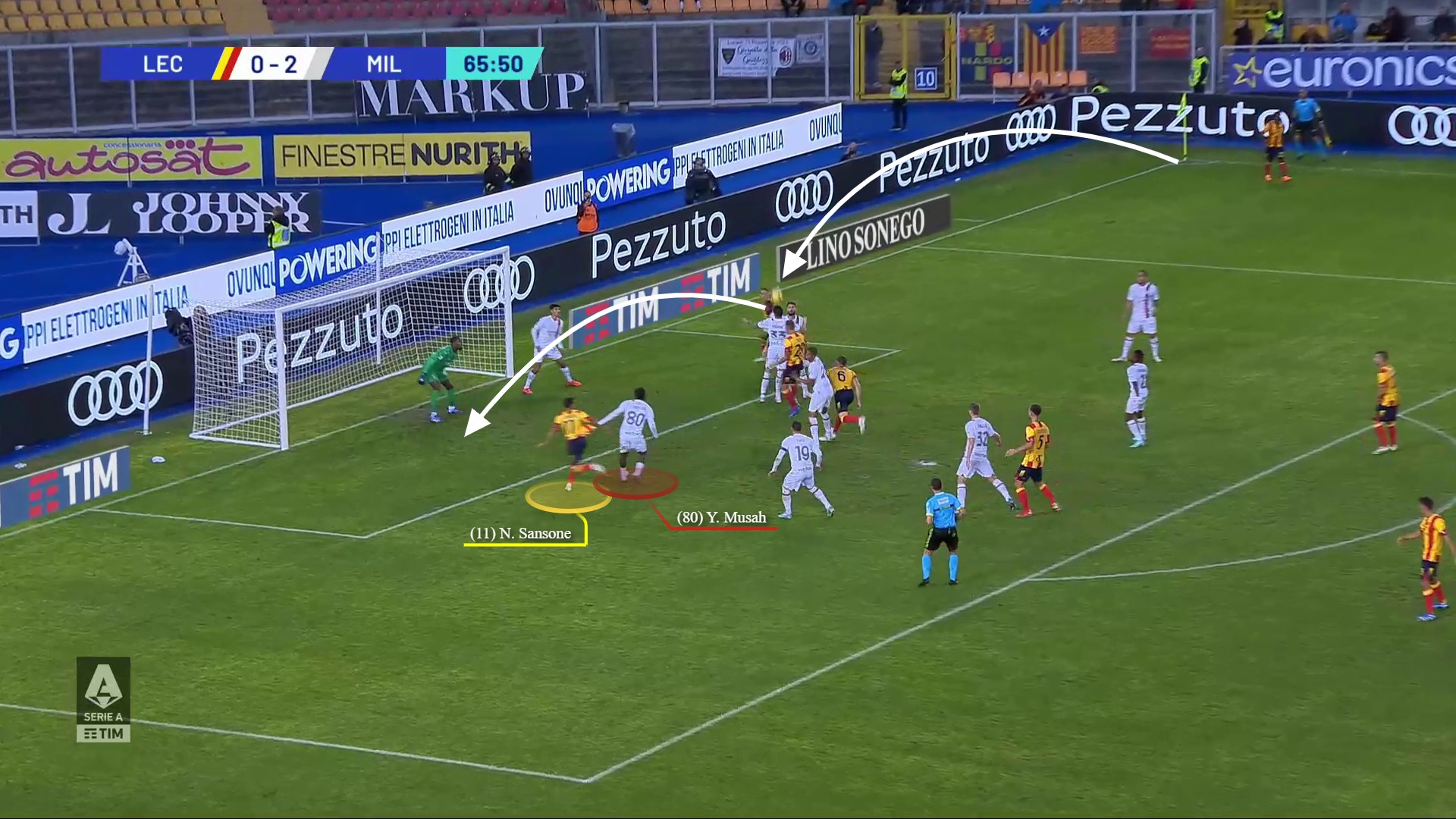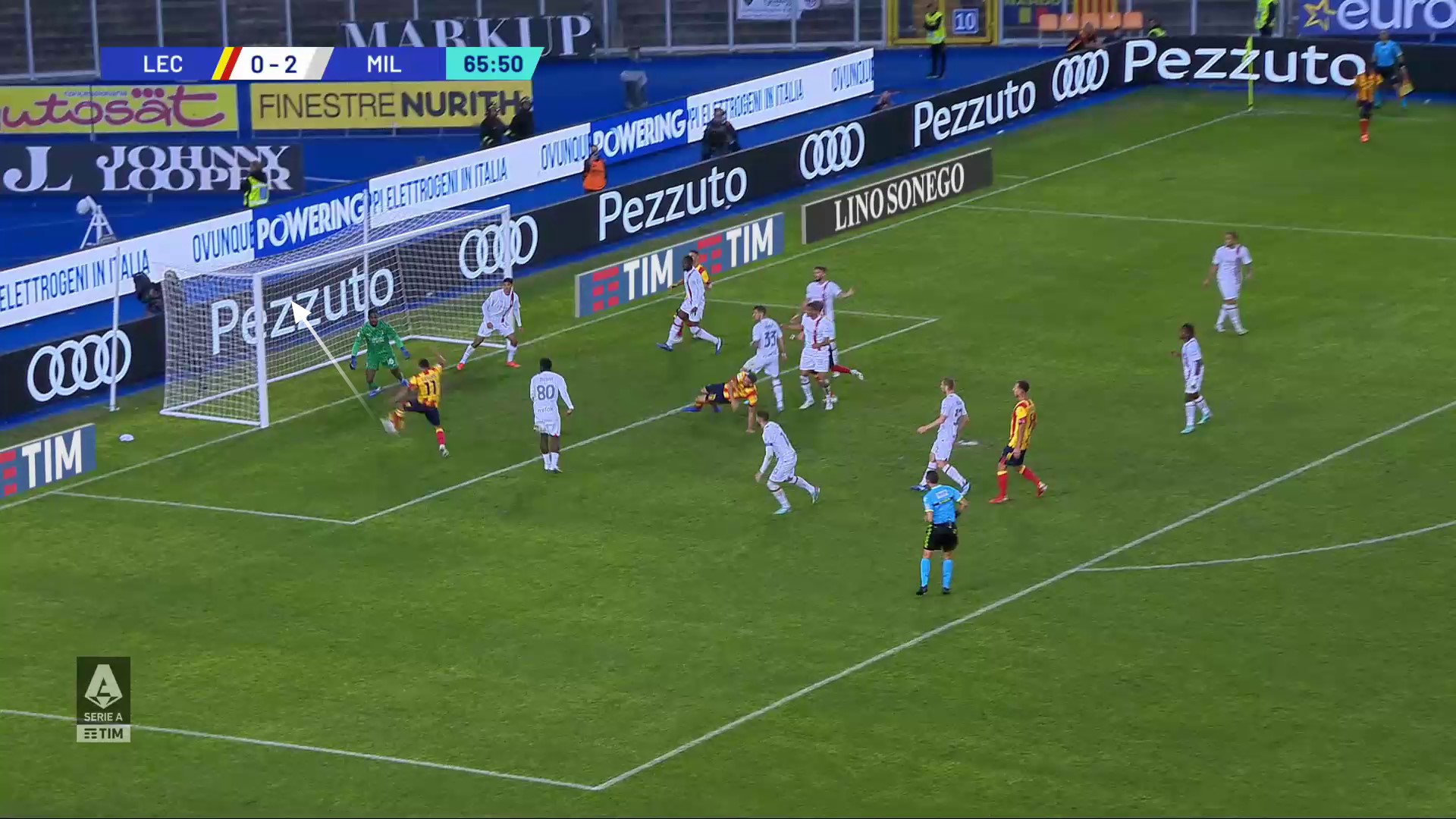 Less than five minutes later, Musah compounded his first mistake with an even more incriminating one. Milan had just regained possession after an attempted Lecce counterattack, where Theo Hernández had gone down injured in the process.
After receiving a pass from Krunić, despite his team being a player down and having multiple Lecce players in close proximity, Musah decided not to look for a pass or kick the ball out of play, and instead attempted a ball carry infield and subsequently into trouble.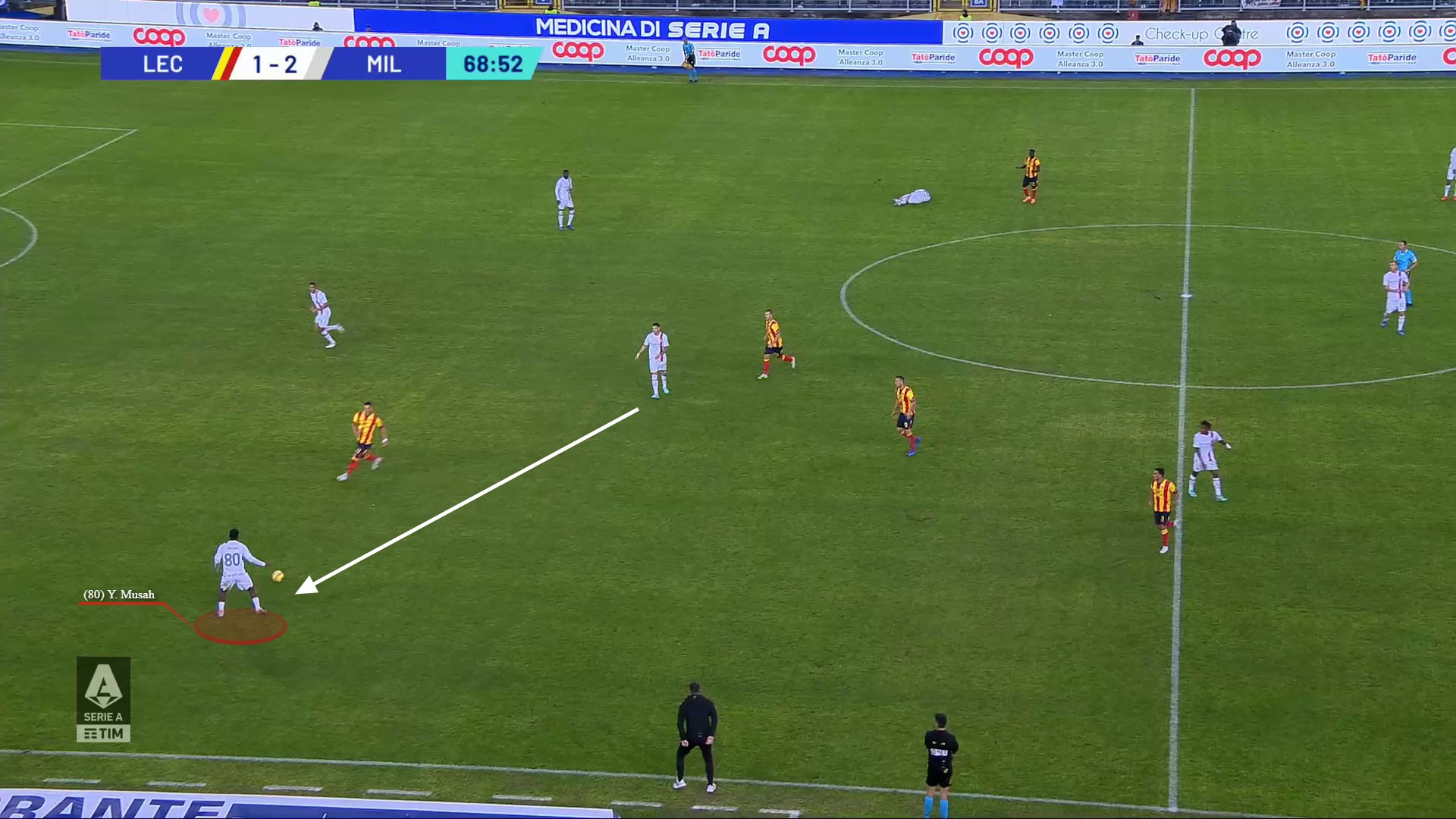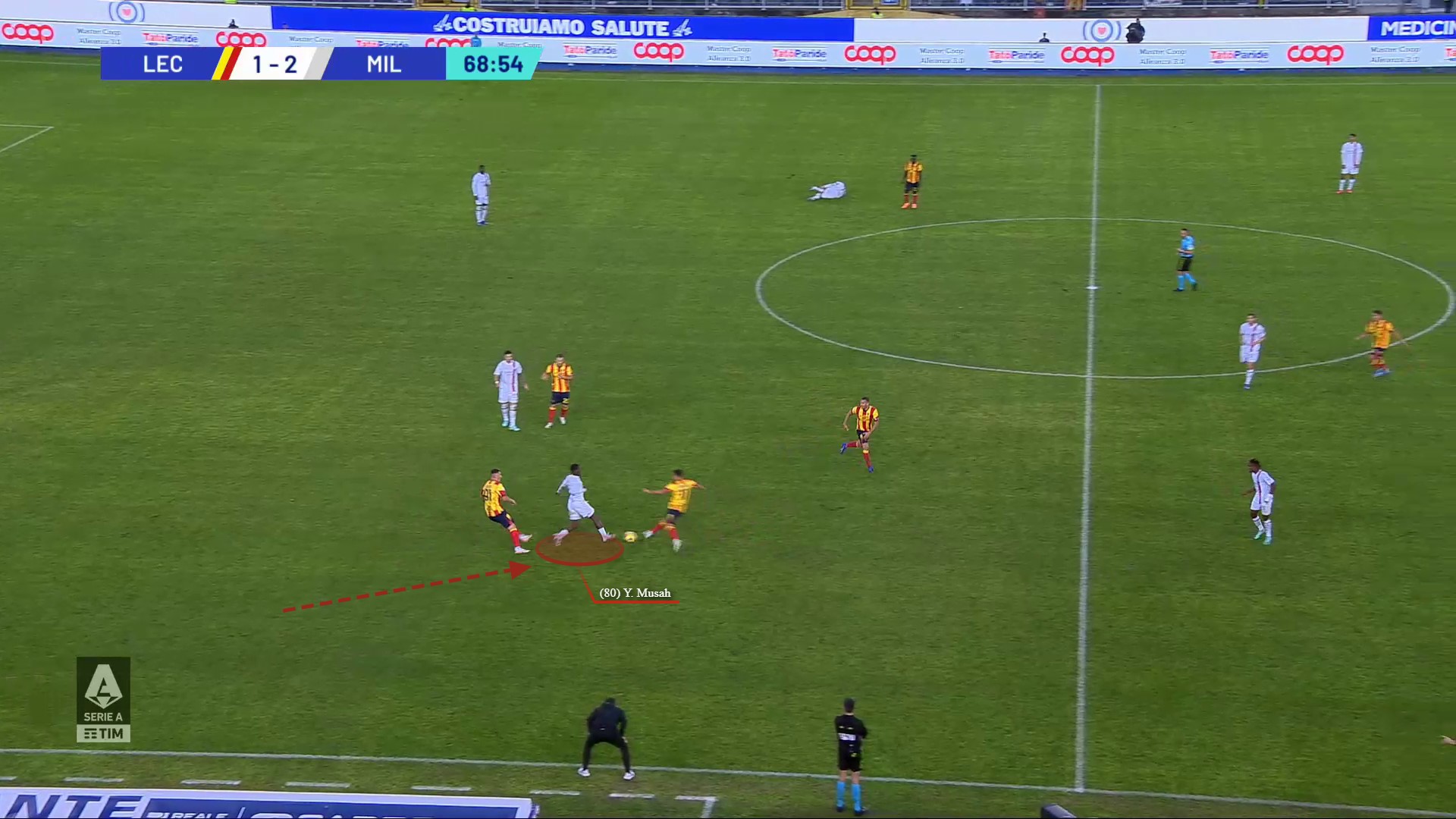 Following Lecce's turnover, the home side immediately attacked the disjointed Milan backline and took advantage of the missing left-back by working the ball over to Banda who curled into bottom corner to make it 2-2 and comeback complete.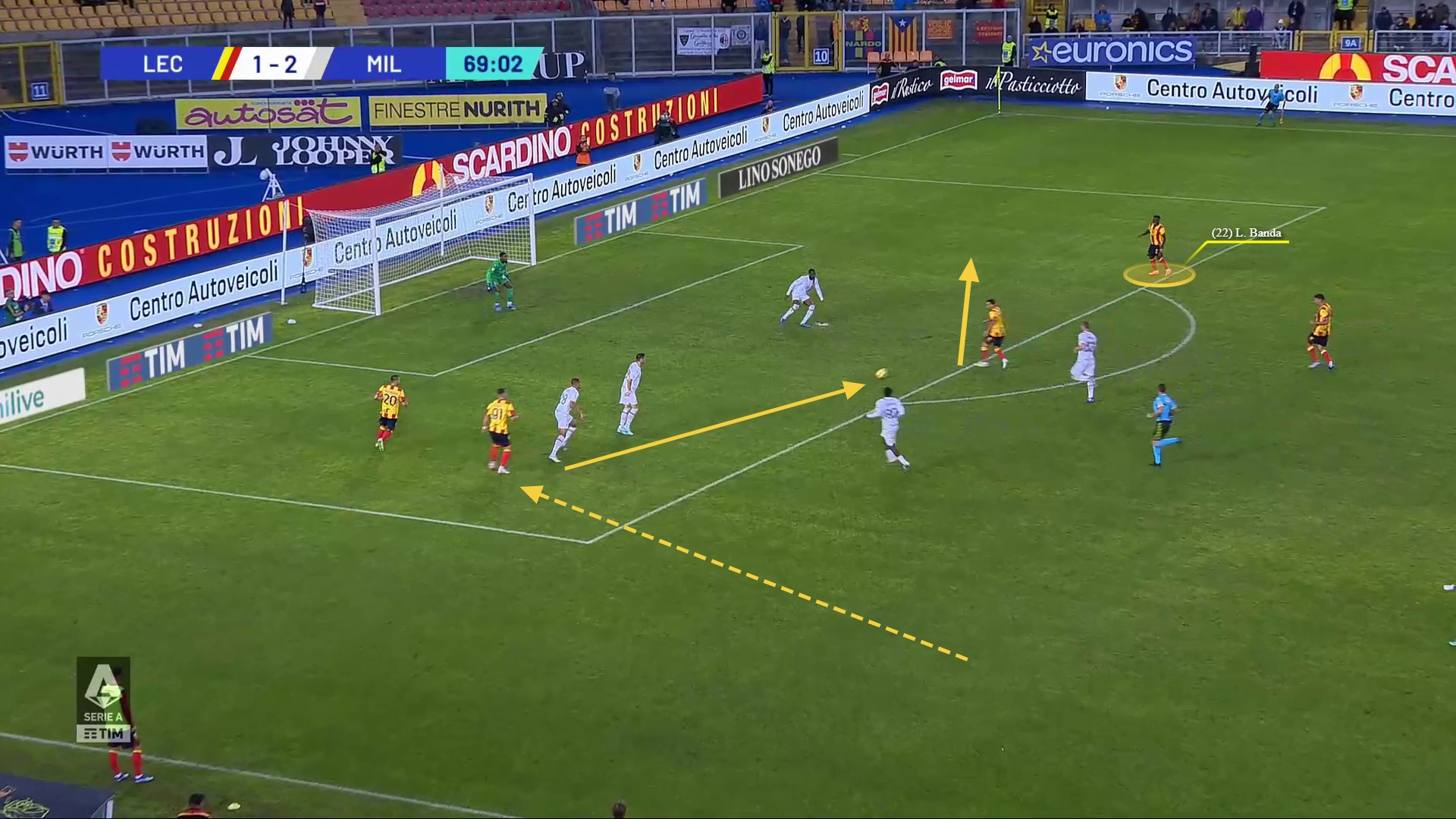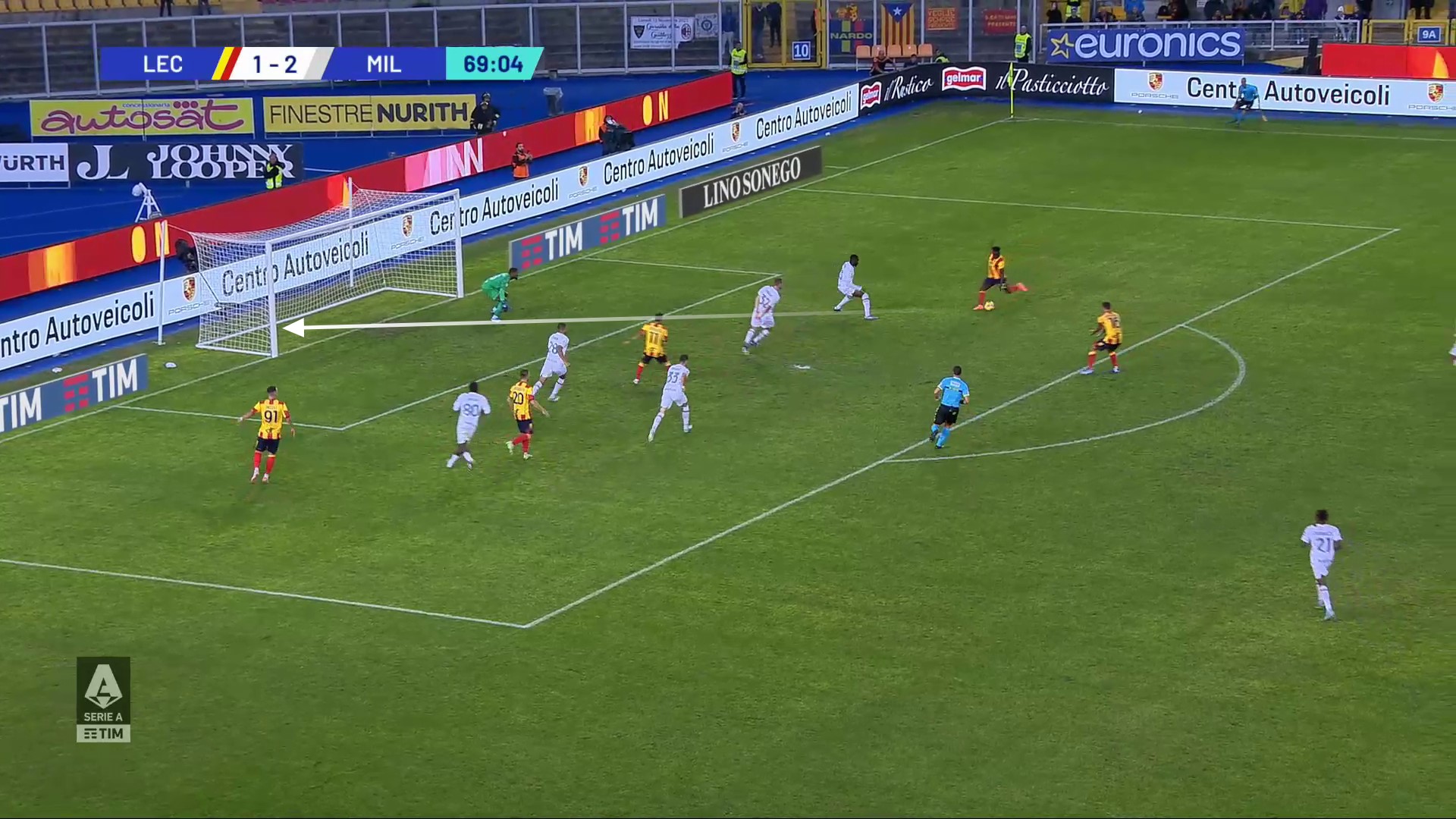 In hindsight
Even though the mistakes were unquestionable, and for some indefensible, it may be harsh to attribute all of Milan's second-half collapse solely on the shoulders of Musah.
The Rosseneri's game management and lack of killer instinct was also questioned by their manager, with Pioli saying: "…we played with a frenzy that doesn't represent us. We needed to control the game better and manage the ball better. We had two chances to go 3-0 up."
And the Milan players were certainly guilty of not capitalising upon their early attacking moments after the restart. But perhaps their mindset of 'attack' over 'control' came from Pioli's decision to put a midfielder into defence, despite having an orthodox right-back on the bench and being two goals ahead.
Immediately after Lecce equalised, Pioli brought on Florenzi for Pobega and pushed Musah into midfield. But it was too late, the damage had been done. As the expression goes, hindsight is a wonderful thing. However, in Pioli's case, on this occasion, hindsight was a bitter pill to swallow.