It didn't get much better than Wednesday night: a Champions League semi-final at the San Siro with the two teams from Milan clashing in front of a raucous atmosphere.
These are just the type of nights you live and dream for as a player and as a fan. Forget even being a Milan or Inter supporter, even for the neutral these are the type of fixtures you want to see.
For Milanisti however, the opening 60 minutes of the first leg of the Champions League semi-final is the exact opposite of what they would want to see.
It's a testament to how the game went that Milan will go to the second leg with the scoreline at 2-0 and count themselves lucky it wasn't more, they resembled deers in the headlights for the vast majority of the campaign.
A failed press
Stefano Pioli's team whilst having a shaky domestic campaign, have thrived at throttling sides in the Champions League, prioritising defence and hitting them on the counter.
That makes it seem all the more strange that they basically threw that out the window in the derby and tried to press to Inter to almost zero success.
Milan's attack pressed up the pitch but more selectively rather than with organisation. Saelemakers here is pressing Darmian after he has already passed the ball, Giroud has gone to press Onana but what he might want to do instead is keep the pressing structure and cut the pass off to Acerbi so Milan could go 3v3.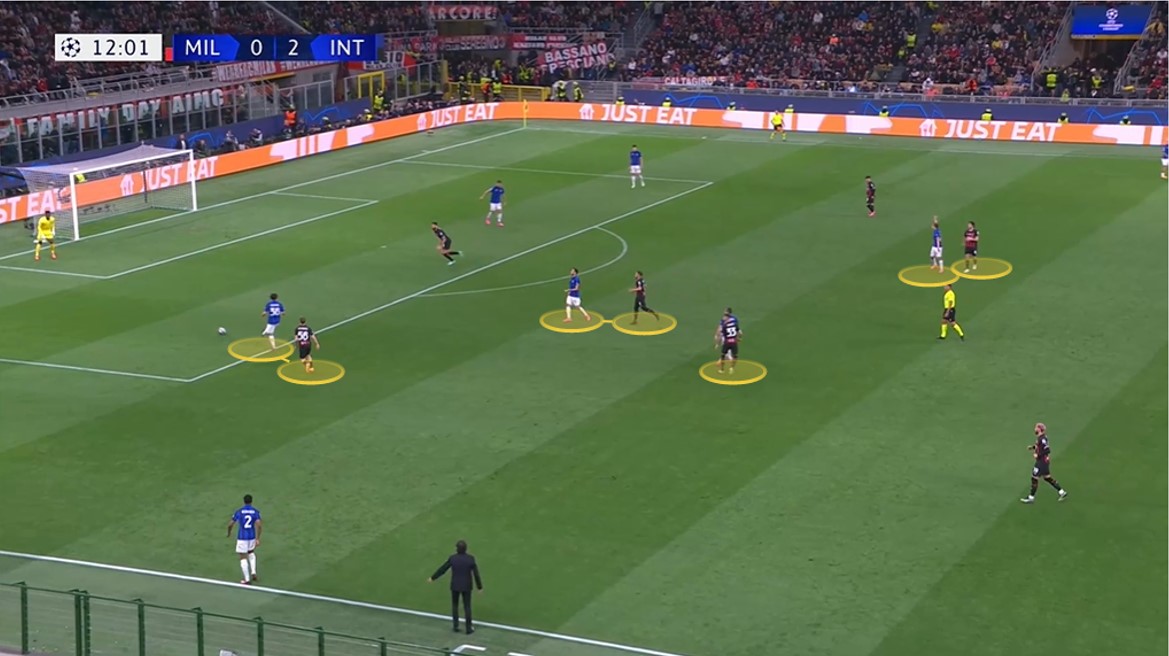 What Bennacer, Tonali and Krunic were doing in midfield was marking man-to-man in a 3v3, what Milan didn't prepare for however, is the fact that this press just didn't work and create any issues for Inter's build-up.
A hole exploited
For the goal Dimarco pushed up from full-back pinning Milan's defence so an Inter player was occupying almost every defender, but what is salient is the large space between Milan's defence and attack.
Rade Krunic should be the midfielder closest to the defence, but in a confused press he's putting pressure on Barella and is nowhere near tight enough. When the ball eventually drops for Calhanoglu to shoot, Tonali and Krunic are scrambling to close him down.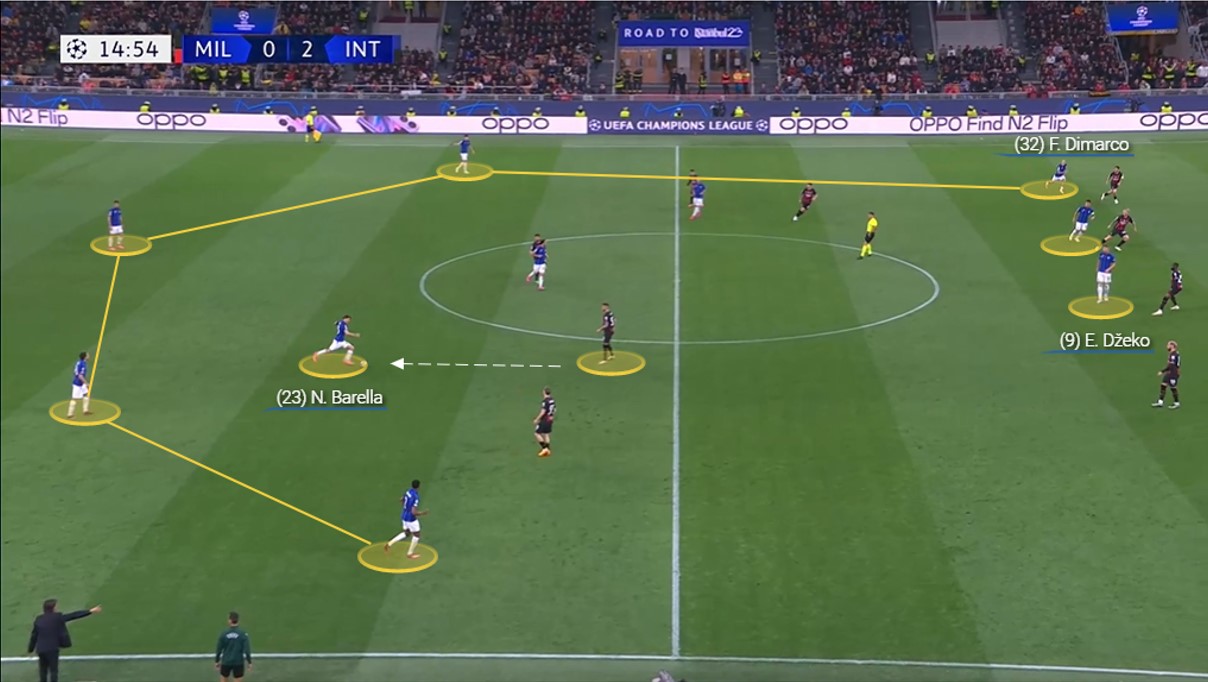 This large hole between defence and attack for Milan and their failure to cover it was their undoing. But, this large space is only created because of what Inter did without the ball.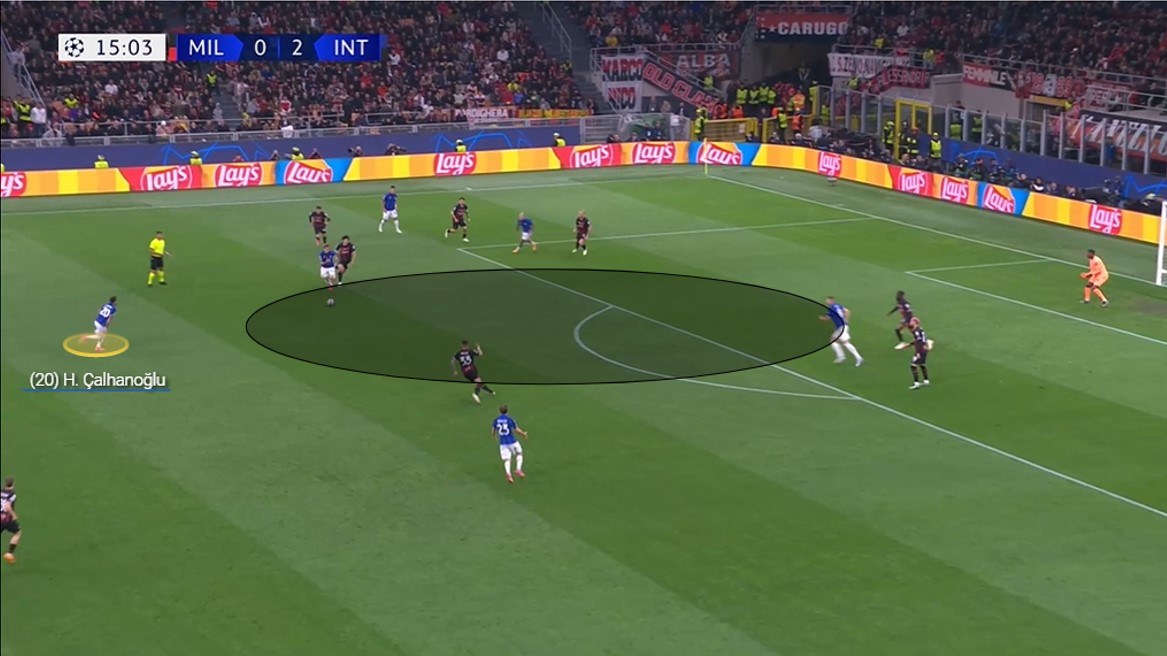 Stifled build-up
Inter were excellent in covering Tonali and Krunic as the central passing lanes and Dzeko and Martinez pressing or rather limiting the options for Kjaer and Tomori to pass to.
It was surprising that Krunic or Tonali did not drop a little deeper to play as a quarterback, as Inter completely covered Milan's central progression.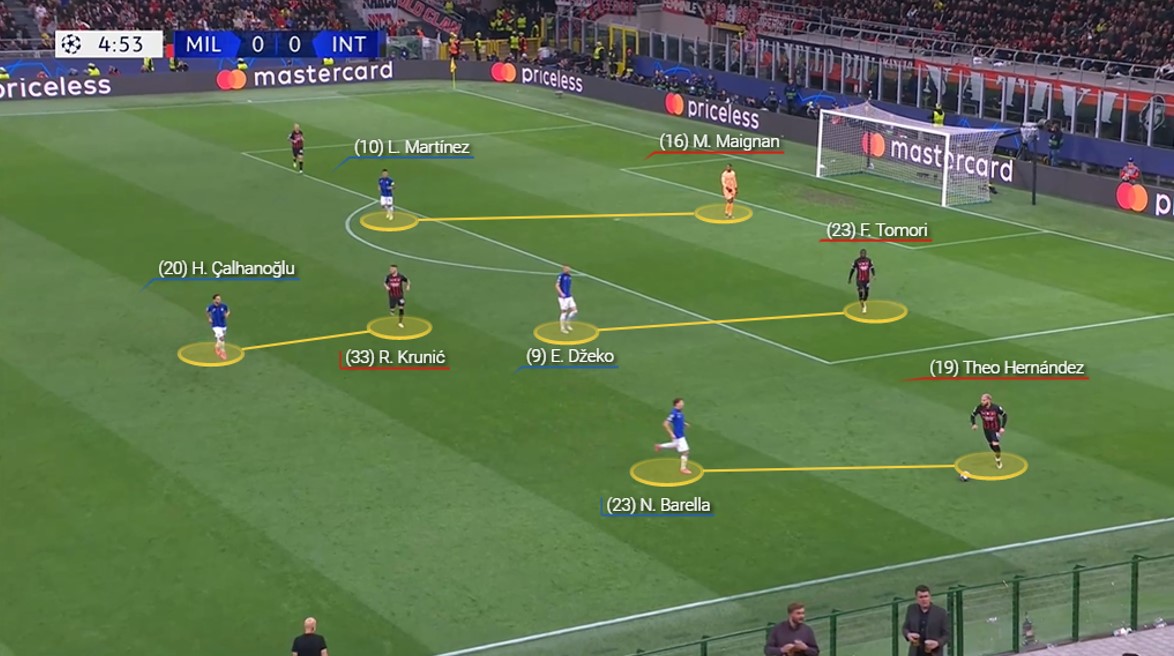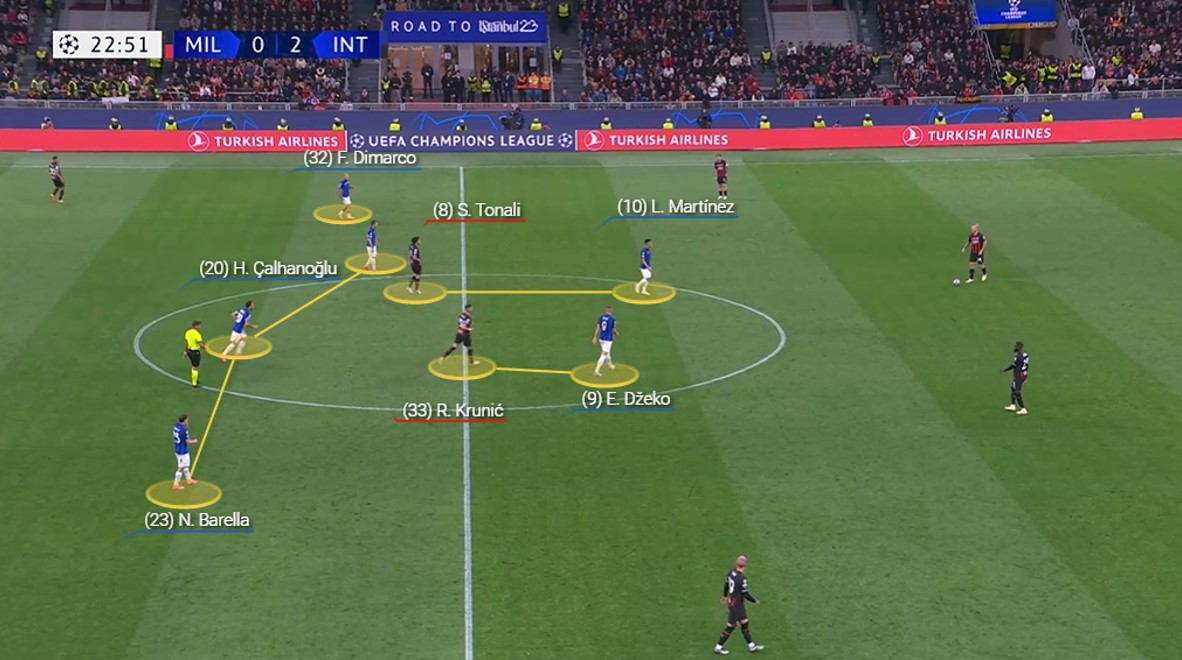 This meant we saw Milan's Plan B of using Giroud as a ball magnet more frequently which actually led to more dangerous situations for them to deal with. Going long to Giroud, meant Milan tried to play runners like Bennacer and Tonali off him, with players then caught up the pitch.
With this happening Inter pushed their full-backs up to join the attack untracked by any Milan attackers or midfielders. It left the back four woefully exposed, dealing 4v4 with Dimarco and Dumfries joining Martinez and Dzeko.
They also left a huge gap between the back four and midfield for Inter's attackers to drive into, which is directly how Mkhitaryan scored.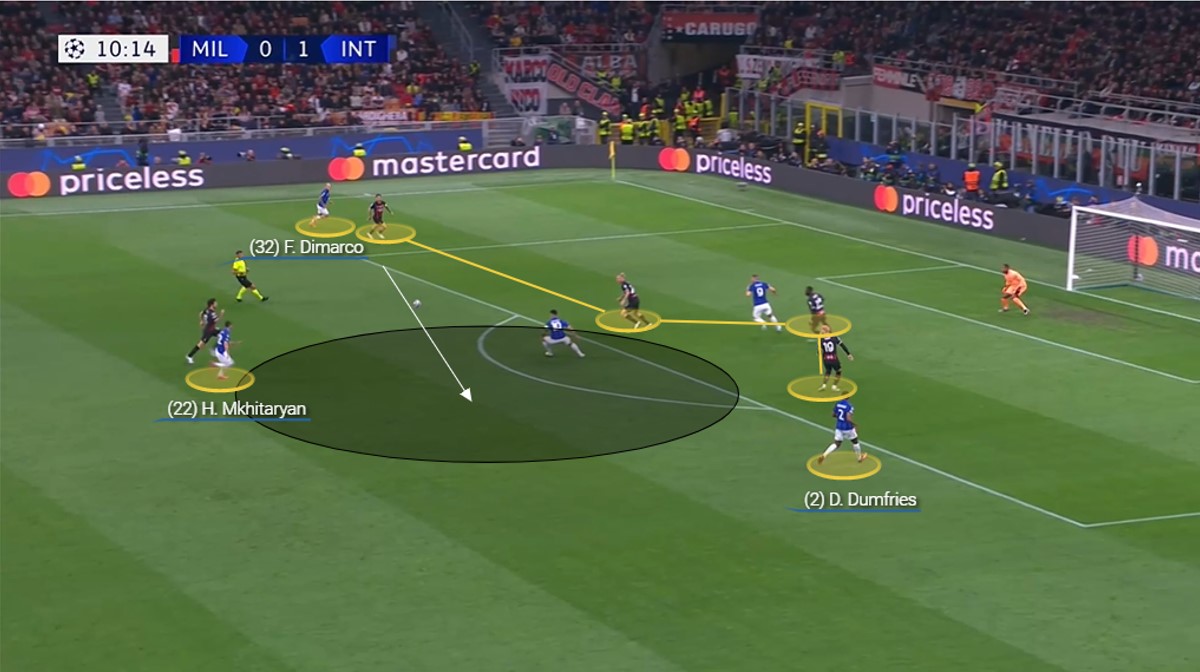 Dzeko wins the battle
To add to Milan's worries, what Milan were trying to do with Giroud, Dzeko was doing excellently for Inter. Time after time the ball would be fizzed into him as he dragged Kjaer or Tomori out of position allowing for an Inter player to dart into the space left in behind or created by Dzeko dragging a Milan centre-back out of position.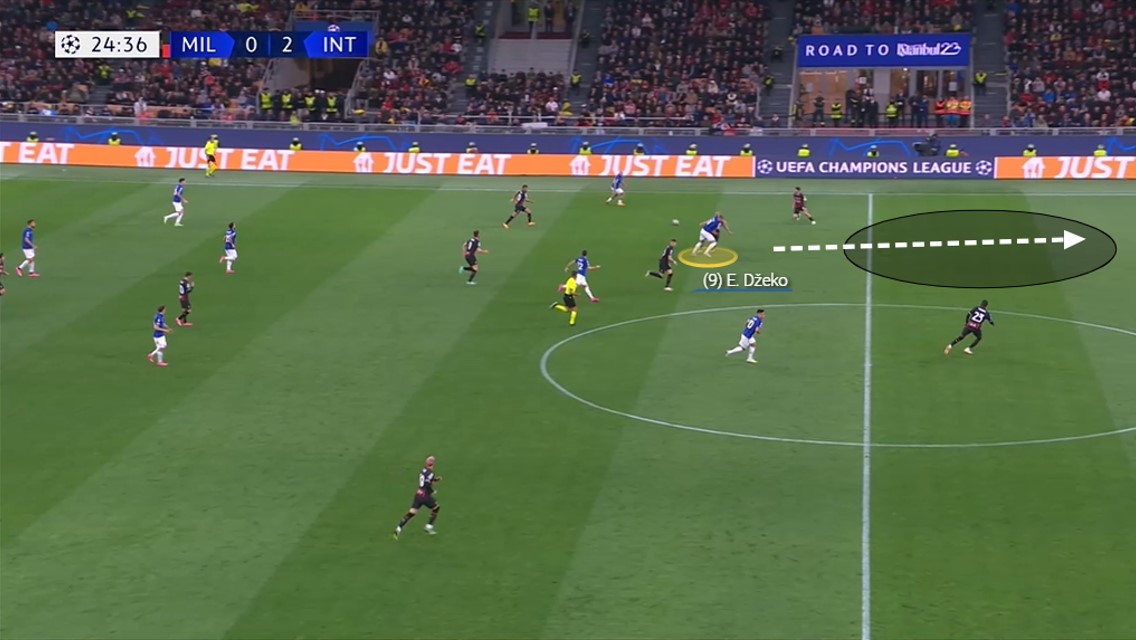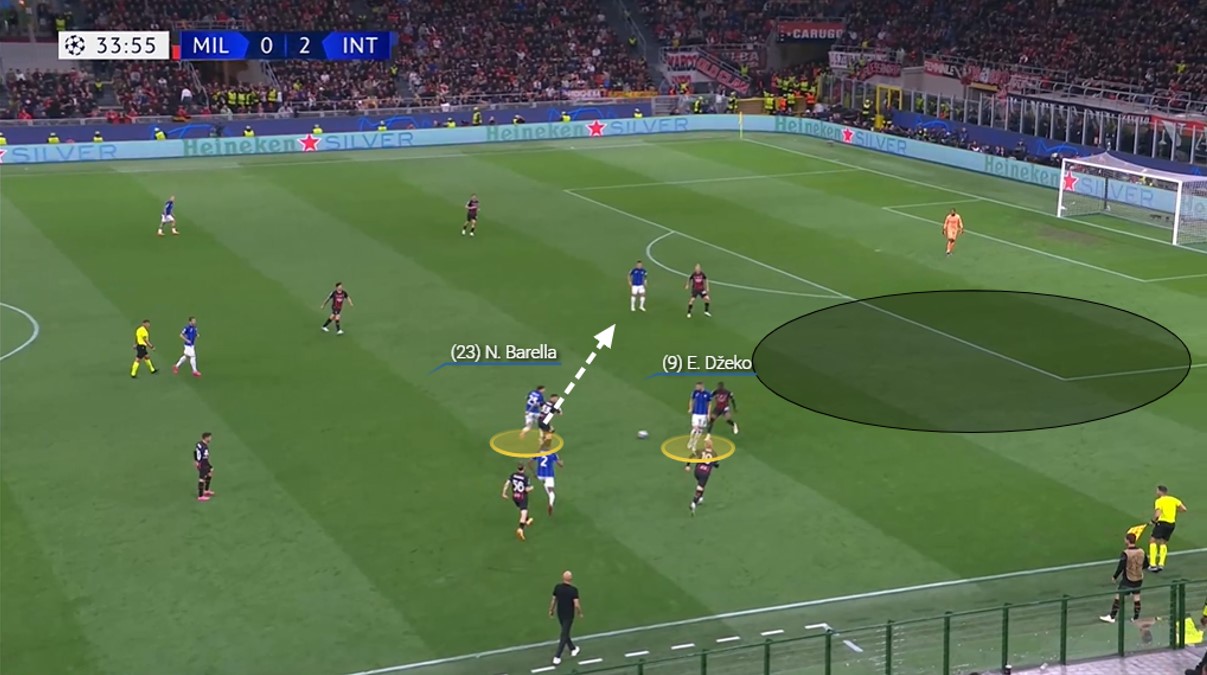 Conclusion
Milan somehow only kept it to 2-0 but Inzaghi usurped Pioli totally, and the main issues were the lack of cohesion out of possession for Milan.
Their attack was out of sync with the defence and that was easy for Inter to exploit. It is now a large hill for Milan to climb if they're to get a place in the final in Istanbul.