There was a lot of anticipation ahead of the second leg of AC Milan's Champions League semi-final against Inter with the possibility of a comeback brewing in the air, but it was a case of 'much ado about nothing' in the end.
A memorable European campaign for Milan ended with a whimper as Stefano Pioli's side weren't just knocked out at the semi-final stages, but they crashed out in a rather limp way against their city rivals.
Pioli has shown flashes of his tactical nous even when he's been doubted, but squandered the chance to reach an unlikely Champions League final by doing… very little.
From a rewatch standpoint, there was not much to figure out in terms of what exactly Milan were trying to do to claw their way back into this semi-final.
Perhaps they had given themselves too much work to do as Inter mid-block shut Milan out. The main takeaway from the game echoes some of the struggles in front of goal this year where it just seemed so difficult for the Rossoneri to fashion a chance or route to goal.
Hit and (no) hope
Besides the usual go-long-to-ball-magnet-Giroud-and-run-off-him or pass-to-Leao, what was striking early on during the game and what continued for the rest of it was that there just wasn't a sequence of play where Milan looked like they knew how to get back into the tie.
Seeing Mike Maignan launch it to Giroud to no avail was a frequent and unwelcoming site for Milan fans. In the second leg of a Champions League semi-final, that shouldn't really be the answer to the hammering in the reverse game.
Threat easily neutralised
Inzaghi and Inter are known to be savvy out of possession, but Milan barely gave them any new issue to deal with. The back four would try get it to Brahim Diaz in the half-spaces whenever they could, so he could try drag players either wide or centrally.
Whenever this happened though – just as like a fortnight ago – one of the midfield three (Calhanoglu, Barella or Mkhitaryan) would shuttle across to help out with whichever defender from the back five had stepped out to close him down.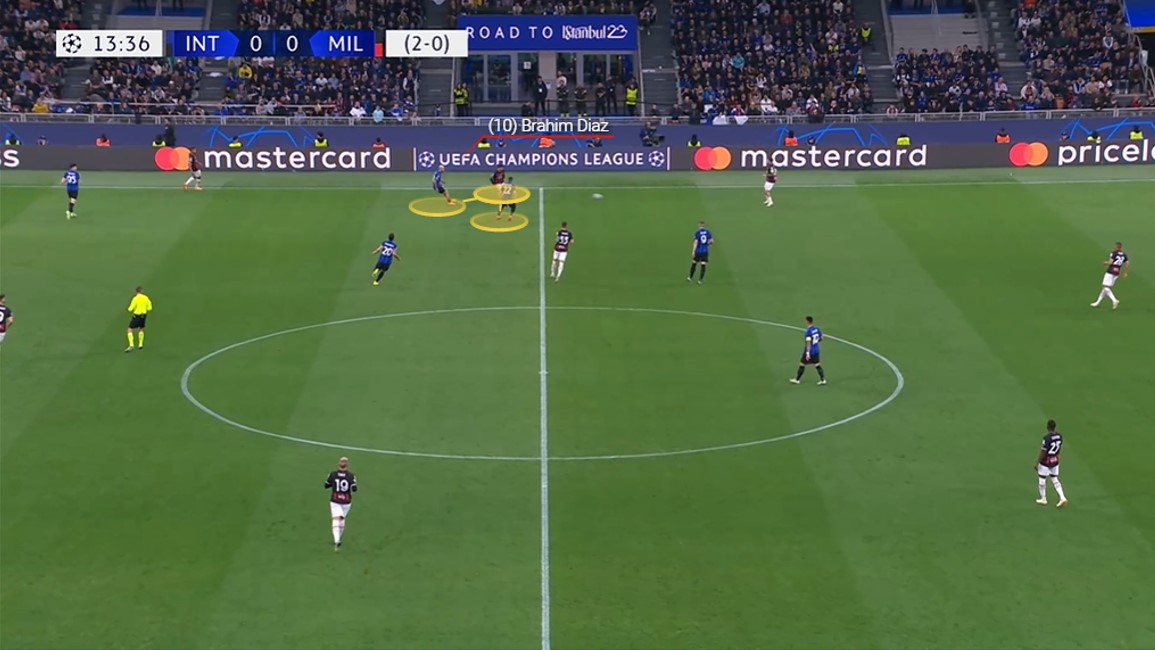 Brahim is a diminutive and skilful defender, but his weakness in physicality and just not being backed up with players near him pretty much quells his skillset.
Midfield battle lost again
Against Napoli, Milan were excellent when Rade Krunic and Sandro Tonali took charge of progression by dropping deep. Krunic either dropped into defence and looked for Tonali to distribute as he dragged players with him. Either that or Tonali would receive from defence with Krunic not so far to spray the ball wide.
The problem was just how far Krunic, Tonali and Brahim were from each other.
Tonali in the scene below has made a run forward, but when Brahim receives it he's immediately covered by a midfielder and defender jumping out from Inter's back five.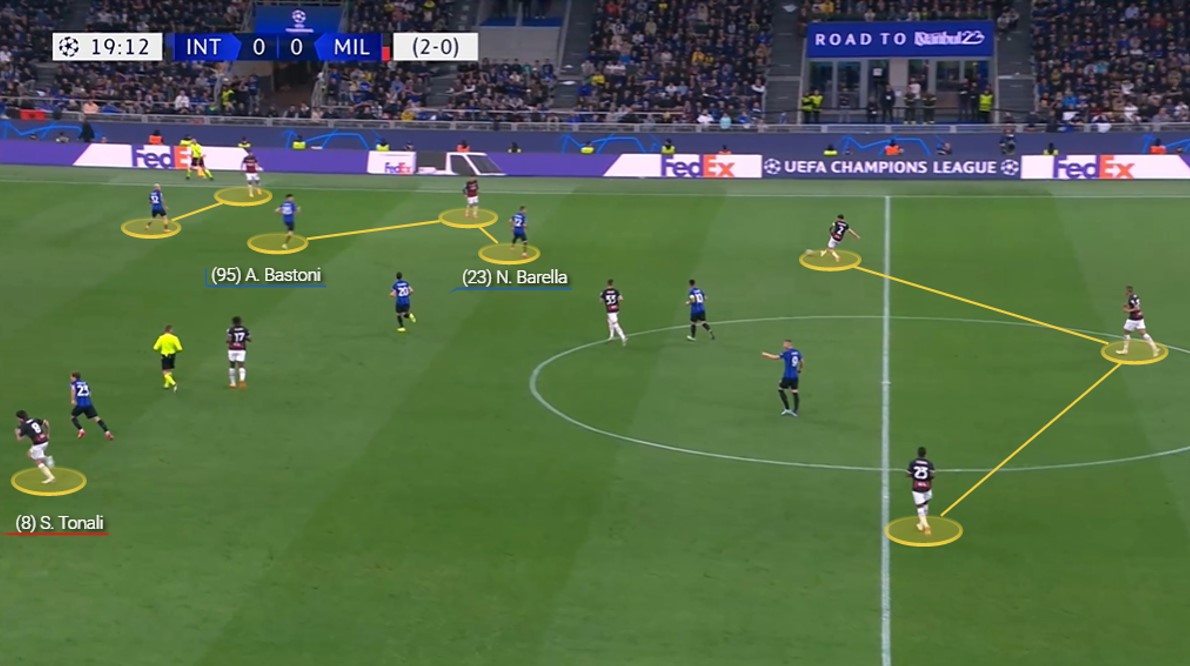 The advantage of playing a back five is that if you need to break the emergency glass you can risk it and go to a back four whilst all the while using a spare man to block space.
Adding int he three in midfield, it means whichever midfielder is on the sides of the central midfielder they can also help out on whichever side they're on. 
When Brahim receives it, it's only Messias (who is marked by Dimarco) receiving. Tonali or another player should be coming short for the easy pass. Even when Tonali is taking Barella away with his run the position Brahim is in he won't reach Tonali from there.
It's a nice thought to have players push forward near the opposition's goal, you still have to come up with a smooth way of getting them the ball. 
Perhaps Pioli could've instructed Krunic to receive the ball and have one of Brahim or Tonali close by with another attacker closest.
In contrast, Inter looked a little more livelier on the counter and in possession. Dzeko kept dragging the centre-backs out with Dimarco and Dumfries making the pitch as wide as possible.
Too little, too late
The Diavolo created two golden chances, but this was merely from Tonali aggressively winning a second ball and going on a run or Leao winning an aerial duel and going on a run.
Games flip on goals and perhaps if Milan scored these two things would be different. By the time Pioli really wanted to go gung-ho with the changes and pushing Tonali forward for the rest of the game it was too late. 
If you want an indication of how the changes went, the only chance of the second half created was by Inter to kill the tie off. There is much work to be done in the summer to give this team a shot in the arm from an attacking standpoint.