Who on earth expected that? AC Milan waltzed into Naples in stuttering form to face possibly the best team in Europe and marched away with three points after a dominant performance.
It was the opening of the excellent trilogy we'll get to see between the two Italian giants, and will leave Luciano Spalletti stroking his beard in thought about the next two games ahead.
This by the way was a Milan side coming off the back of no wins three games, but it seems as though against the odds in a stagnant season Stefano Pioli is still capable of doing what he has done so much with the Rossoneri and pulling a rabbit out of the hat when he seems out of tricks.
It's worth mentioning that Victor Osimhen – Napoli's stalwart forward and possibly Europe's hottest property – was injured, but Napoli have won seven other games that he wasn't present in this year, including the fixture at San Siro.
Dynamic midfield pays dividends
Where Milan destroyed Napoli was through an excellent midfield display. Sandro Tonali was monstrous and Brahim Diaz electrifyingly brilliant (it was his best performance in a Milan shirt), but together with Rade Krunic as a trio both offensively and defensively is where Milan won the game.
Napoli pressed high with their midfield and attack, with Zielinski often the highest presser next to Giovanni Simeone in a 4-4-2 structure, early on Milan used the method of simply launching it long to Giroud as a ball magnet and playing off him, a perfectly effective method utilised previously.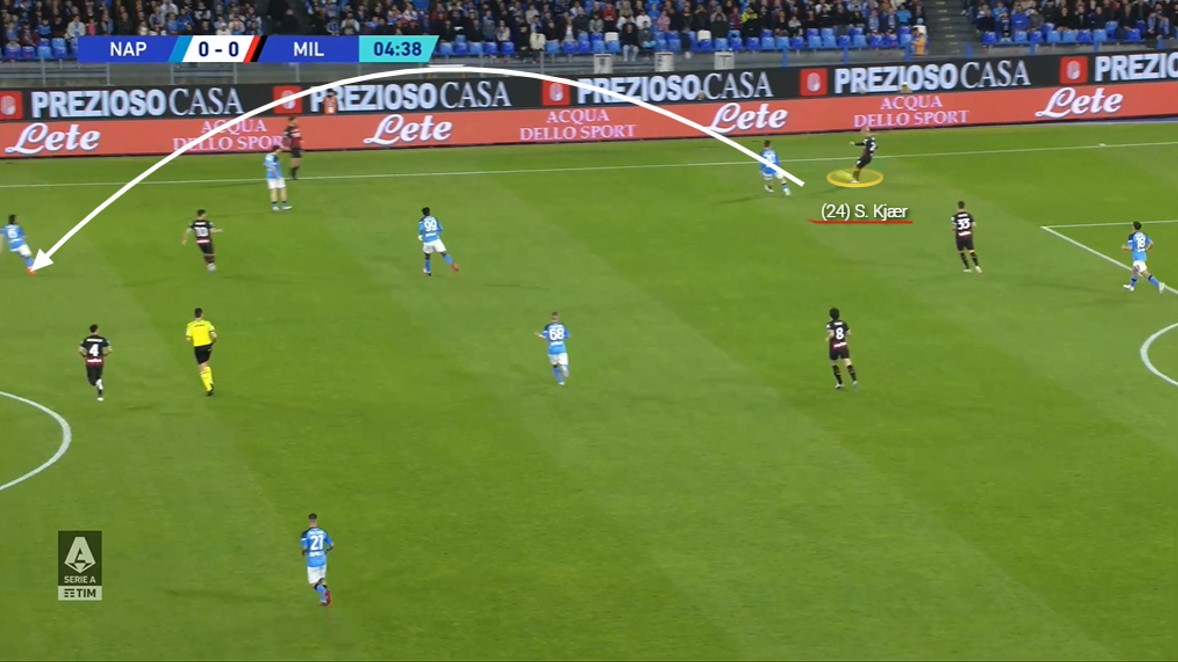 Where Milan really started to cause Napoli problems though was when Rade Krunic was used as the deepest midfielder, receiving from Milan's defence forming a three at the back.
Napoli pressed with their front two (Kvaratskhelia-Simeone) and midfield (Zielinski-Lobotka-Anguissa), so Ismael Bennacer and Brahim Diaz became what Spalletti called after the game 'half-forwards'.
Brahim and Bennacer would hover in the central spaces left vacant by Napoli's midfield pushing up to try press leaving the hosts woefully exposed.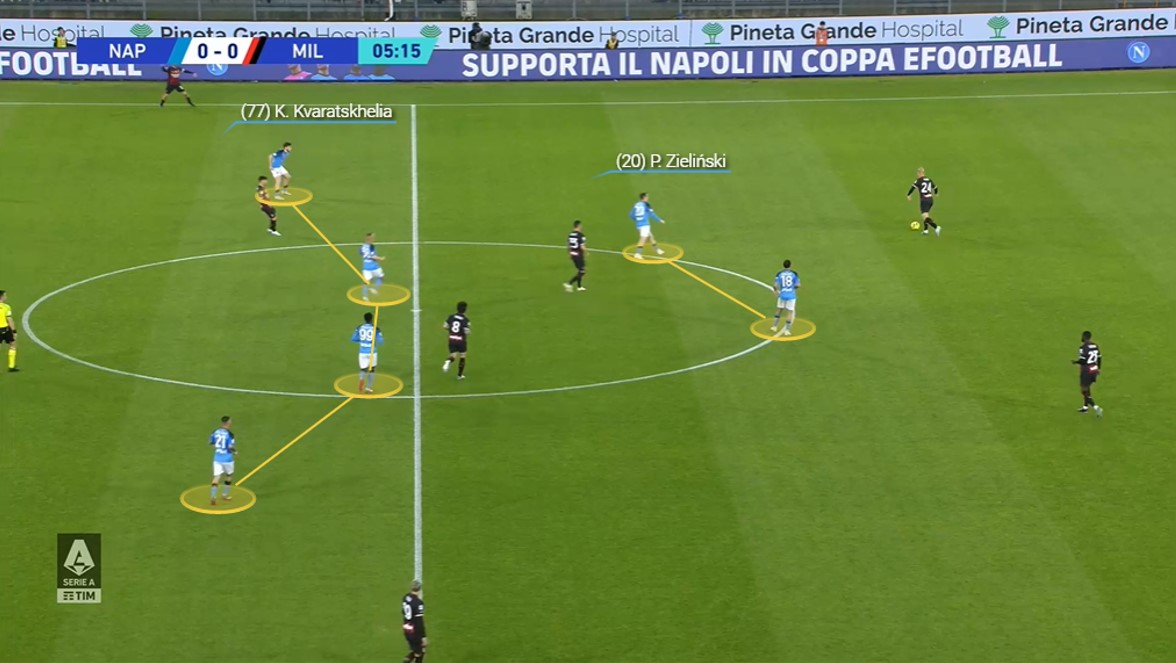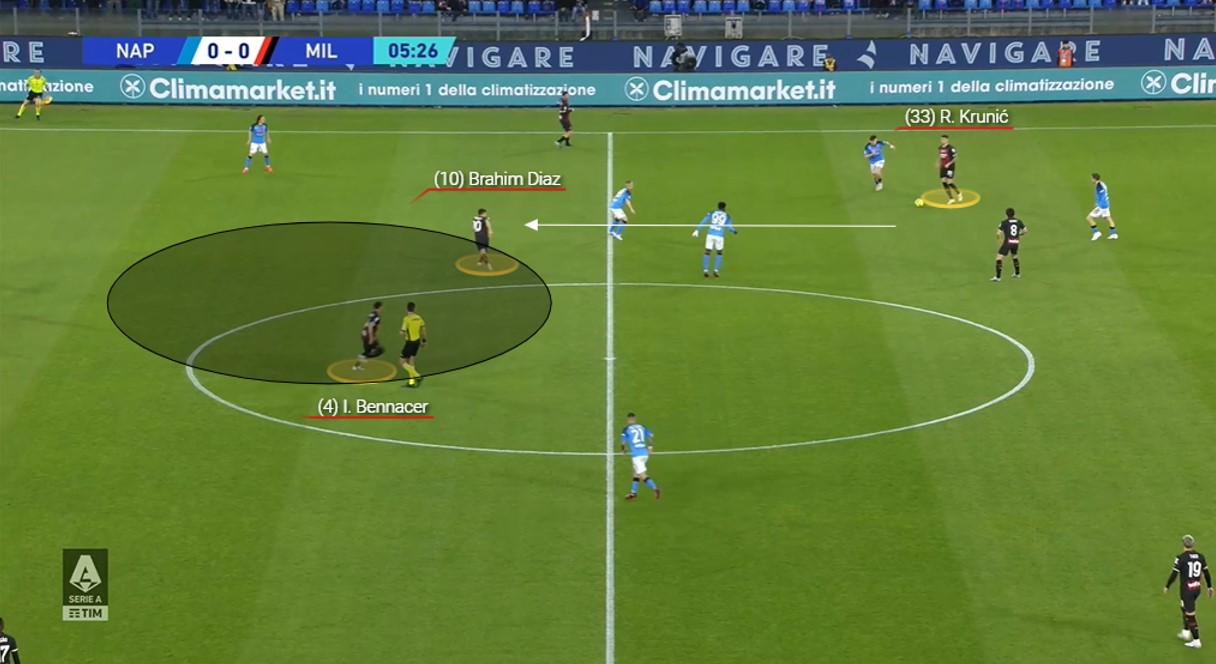 Bypassing the press
A wide winger in Kvaratskhelia, Zielinski and a central midfielder in Lobotka all would go to press on whichever side Tonali was receiving the ball from Krunic, normally with Zielinski-Simeone pressing Kjaer-Tomori as the two Milan centre-backs, and Lobotka covering Tonali. Milan used this to their advantage to skilfully draw out Napoli and bypass the press.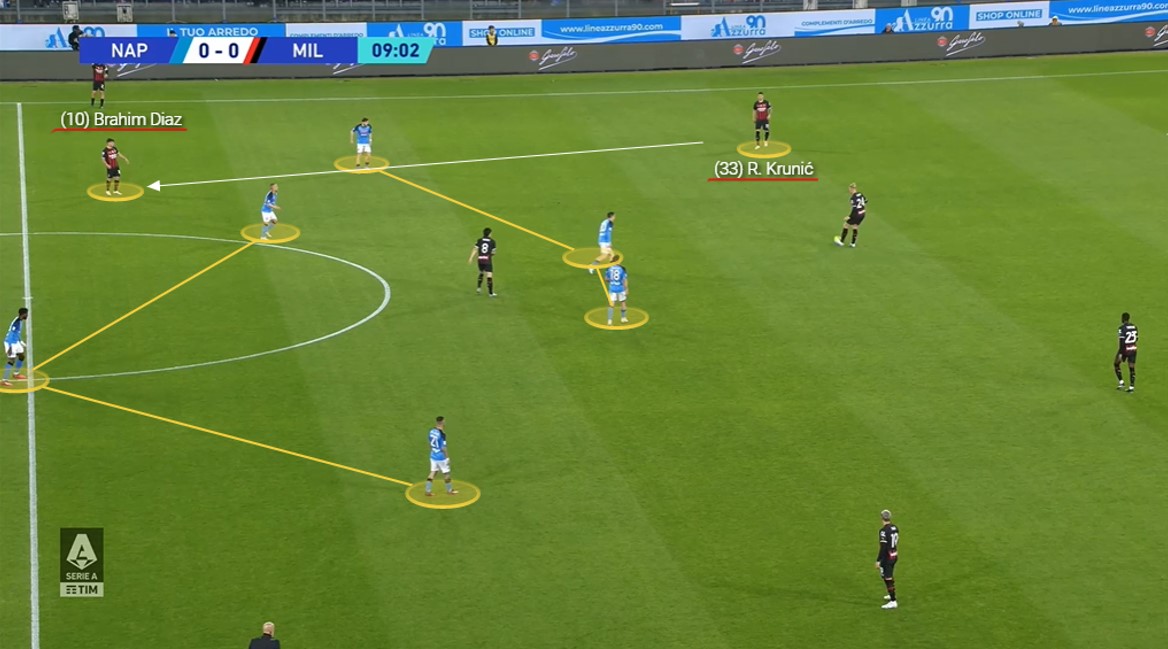 In the build-up to the goal, Mario Rui at left-back joined in pushing so much as five Napoli players up in one zone, so when they didn't retrieve the ball there was a lot of space created. Brahim silkily avoided the challenge and could then play Leao through on goal.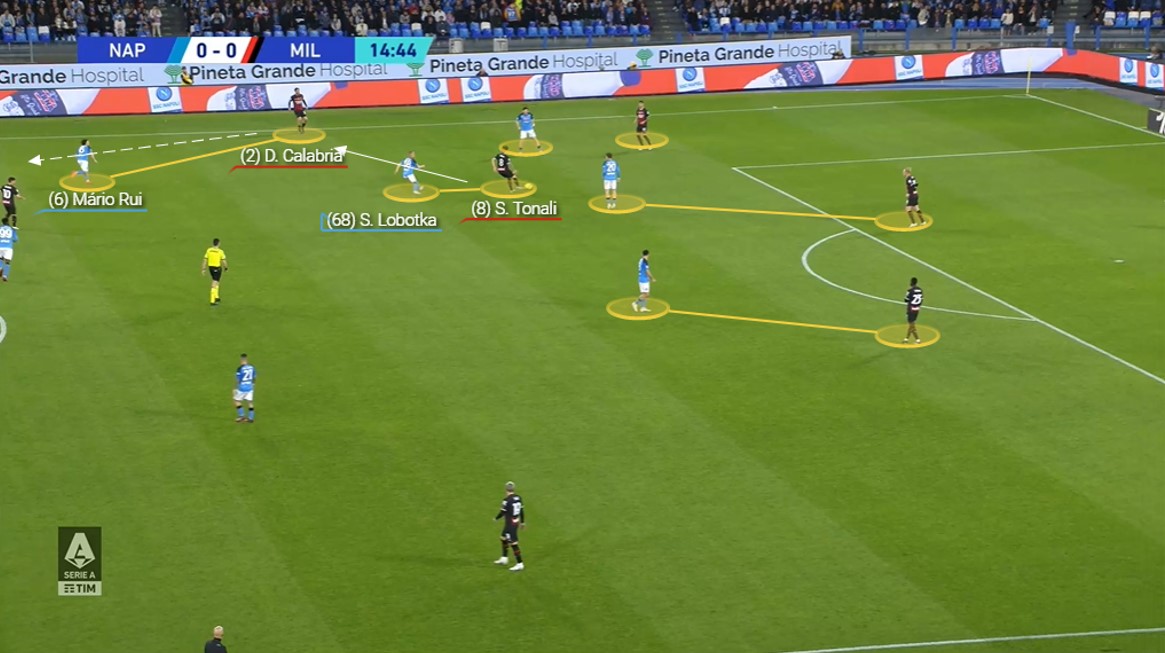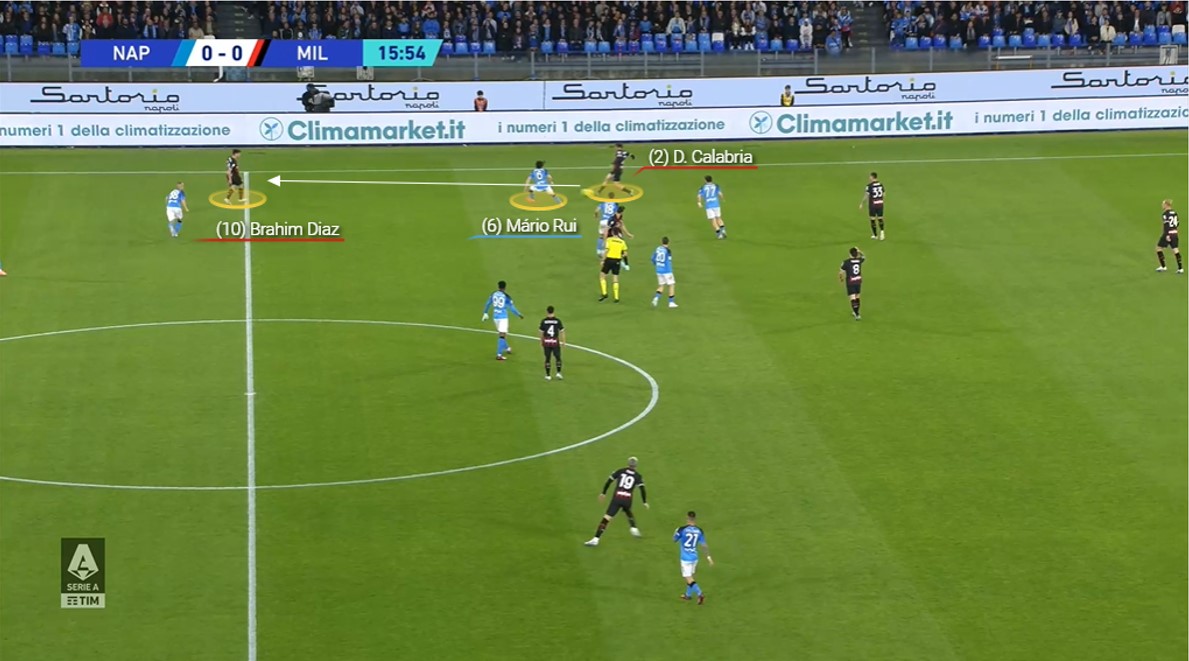 Krunic was the deepest midfielder building up from the back with the defence, Bennacer and Brahim Diaz could stay central in the half-spaces, occupying Napoli's midfield.
Exploiting the left
Theo Hernandez would then also make use of Milan's structure marauding forward to pin back Giovanni Di Lorenzo who might normally come out to challenge Leao.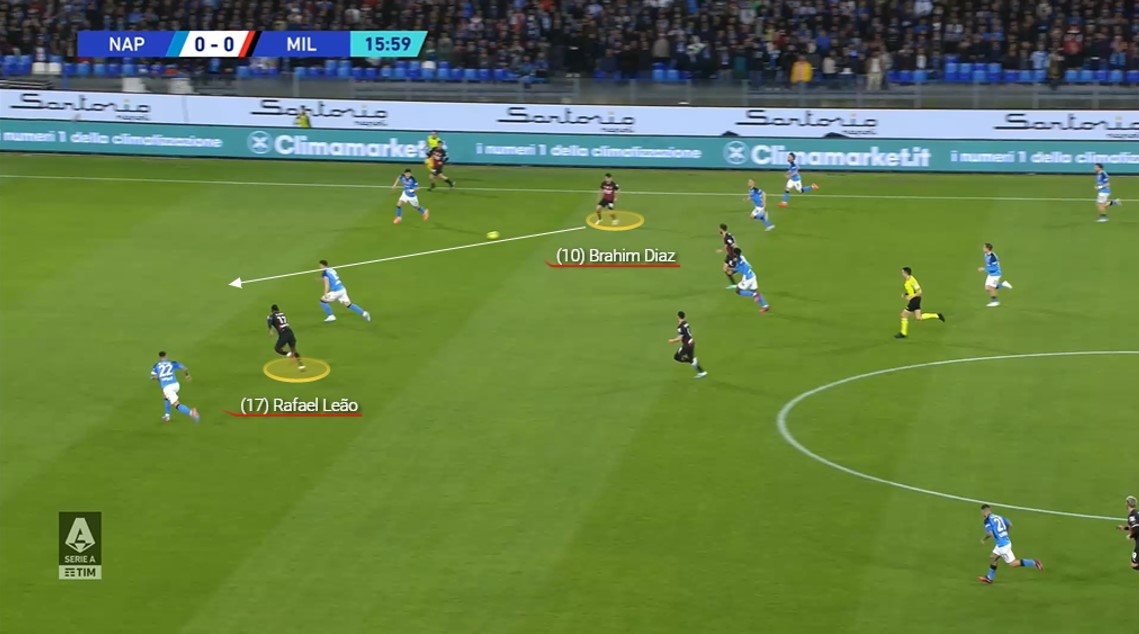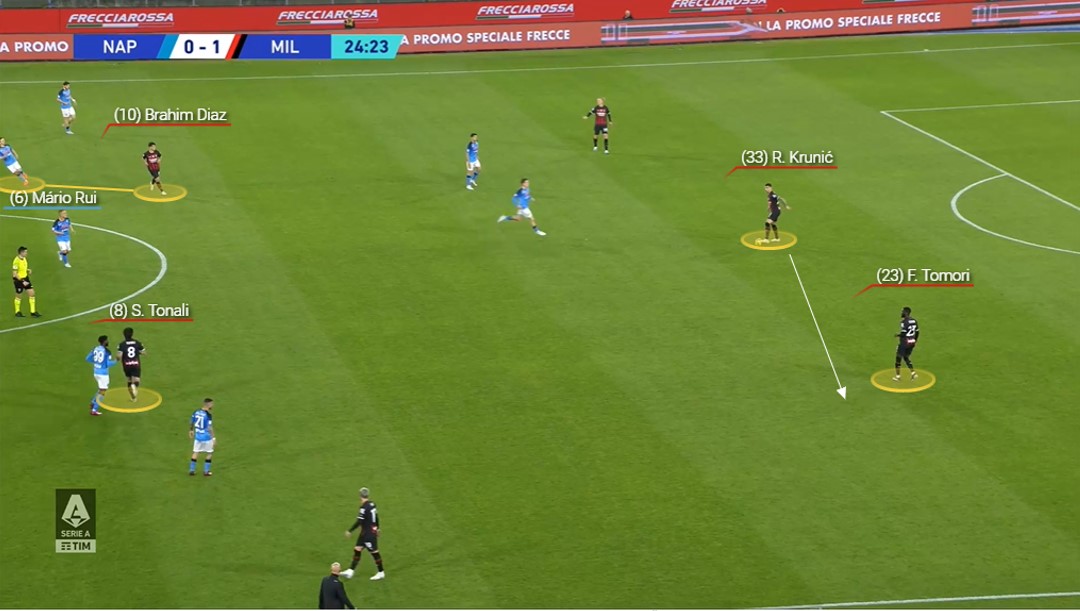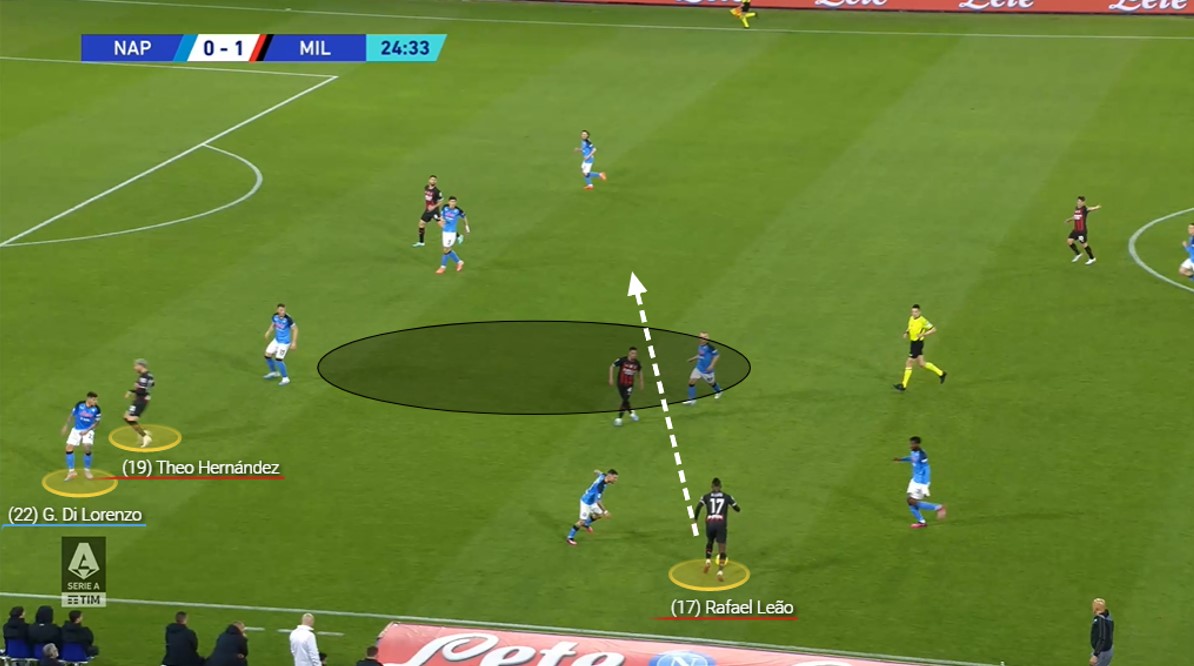 When Leao goes on one of his signature dribbles look at the space in the centre of the pitch for him, the ball is eventually shunted out wide to cross and for Brahim to score, but the goal was created because of Milan's players runs with Krunic as the deep playmaker.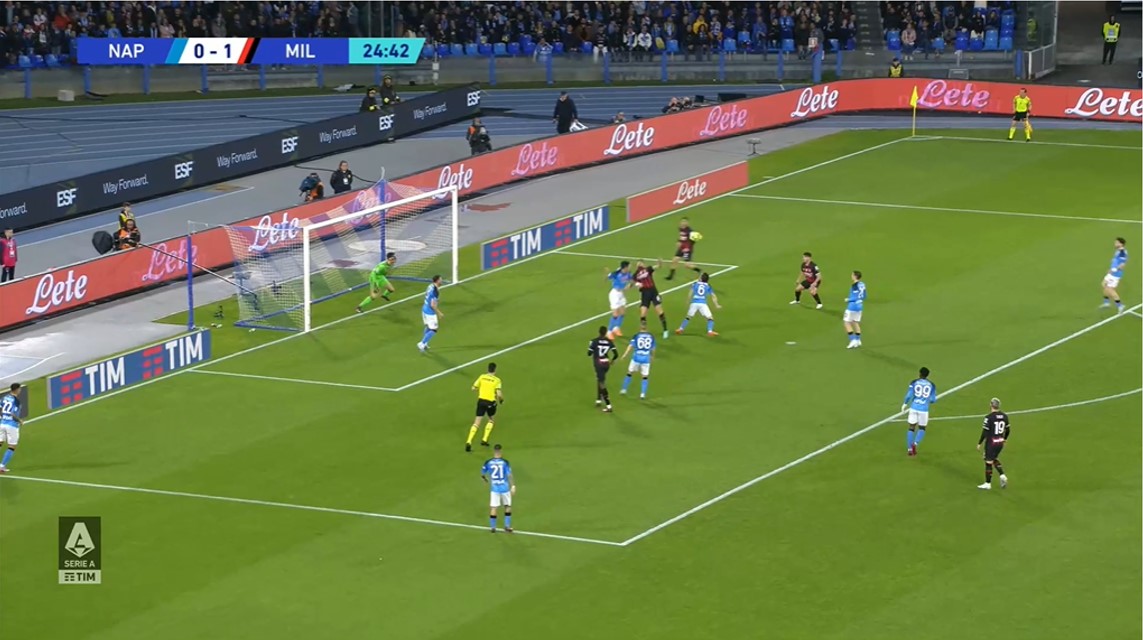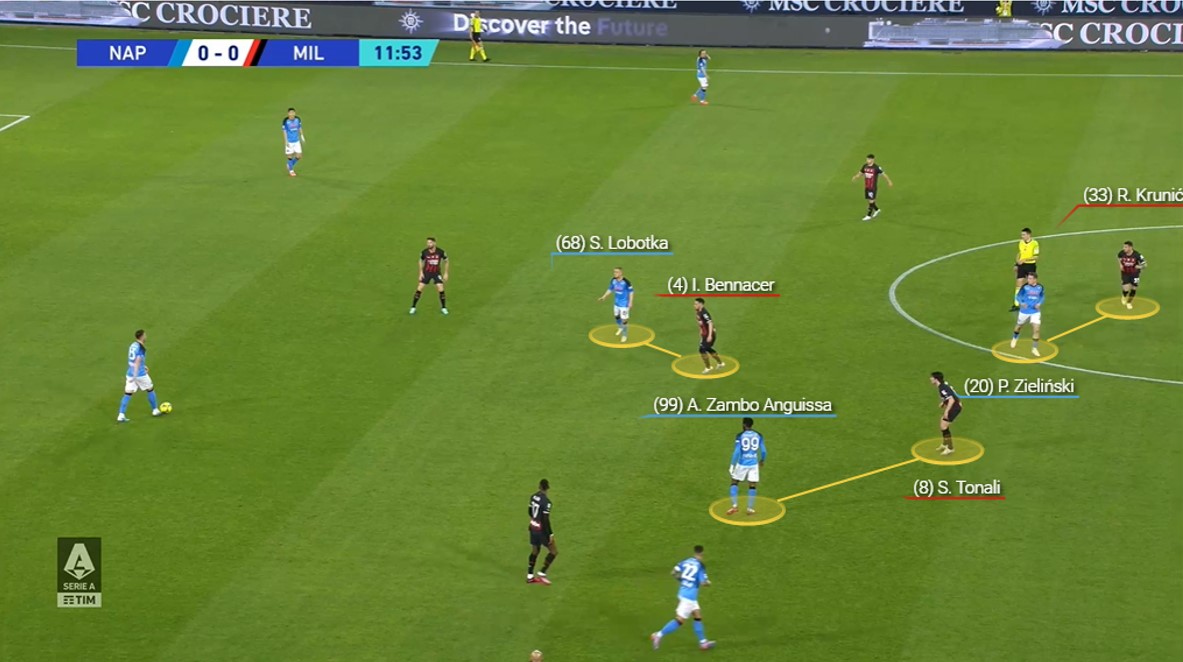 The other thing Milan's midfield did so effectively was stop the ball getting to Napoli's midfield three. Lobotka, Anguissa and Zielinski never got into the game because a pass was rarely ever on to them because at each juncture of the match Bennacer, Tonali and Krunic had gone man to man and matched them up.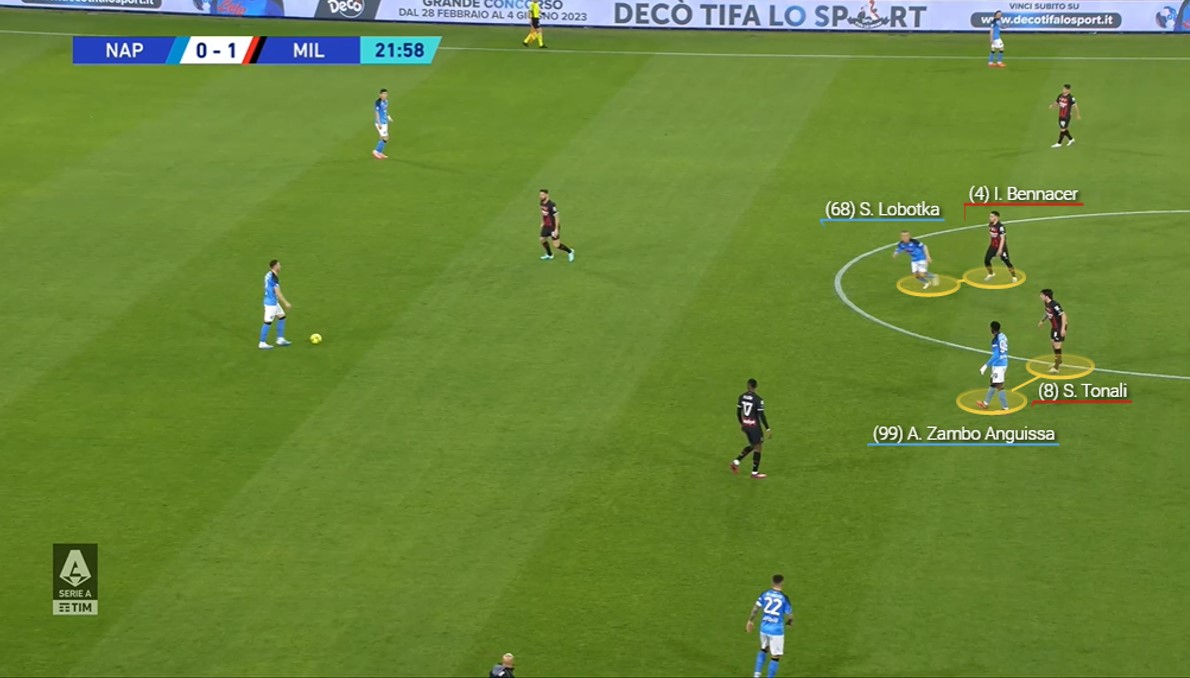 They would interchange too, sometimes when one was wary of pushing up another would drop a little deeper in front of the back four and vice a versa.
There was no Osimhen or Napoli so there was no 'pump it long or in the channels' so Osimhen could come up with a piece of magic, it meant Napoli were limited to going wide where Milan would drop off into a compact 4-4-2 shape happy for their defenders to deal with crosses into the box.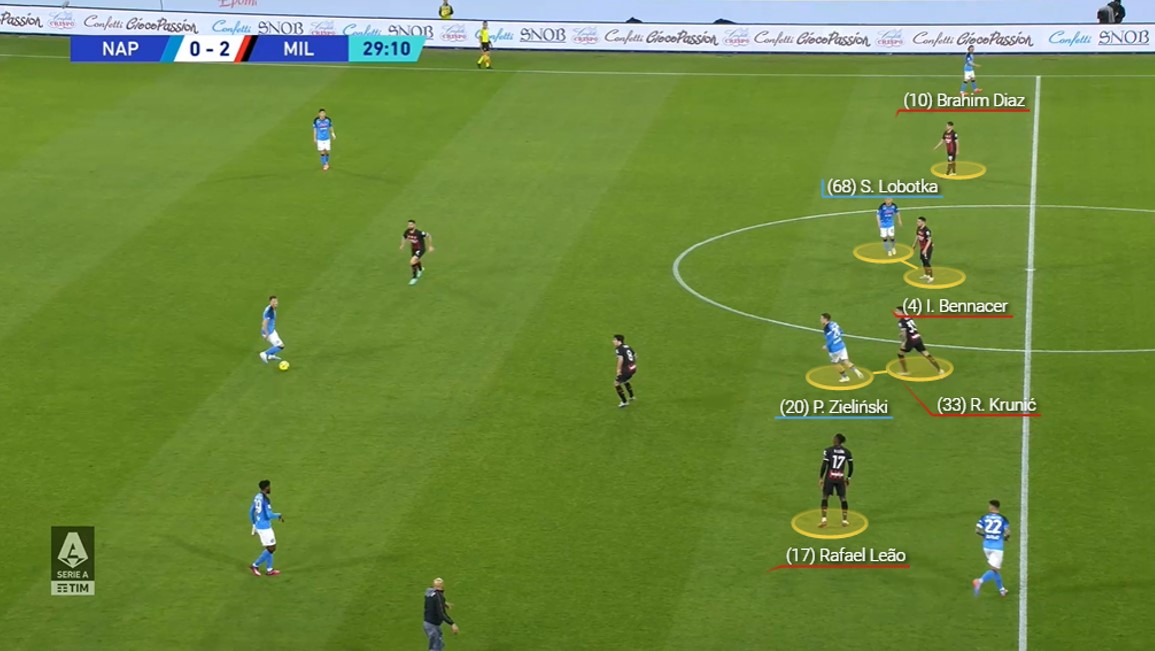 As the game wore on Spalletti encouraged both of his full-backs to push up as a solution with Mario Rui seeing more of the game in the attacking third. This did leave Napoli open to Milan's devastating quick counter-attacks led by Leao, and they were able to capitalise.
It was a baffling performance, considering what has happened to Milan this season and the direction their season is going in, but ahead of two clashes with Napoli, it is a massive shot in the arm and confidence-booster to a team that might yet whittle it's way to a Champions League semi-final.