AC Milan recorded their first home Champions League knockout stage win in almost a decade as they secured a 1-0 first leg advantage over Spurs in the last 16 tie.
In a game played between two shaky teams in front of almost 75,000 expectant fans with an explosive atmosphere, it was rather fitting that the only goal of the game came through Brahim Diaz in chaotic circumstances.
Theo Hernandez latched onto an aerial ball down the left and beat Cristian Romero in the air, surging into the box and seeing a shot saved by Fraser Forster before Brahim eventually converted the rebound from virtually on the goalline with a diving header.
That would end up being enough to get the win thanks to a superb defensive effort from the Rossoneri, and below is an analysis from the game…
Unpredictability brings goals
Antonio Conte knows Milan well from his time at Inter and will have no doubt been preparing to deal with the deadly left-sided duo of Theo Hernandez and Rafael Leao. However, what he might not have been expecting was a brilliantly executed by of positional interchange.
In the early changes Milan were building out from the back with the 3-2 system that they have been using since Mike Maignan got injured. Kane leads the press for Spurs with Rade Krunic and Sandro Tonali dropping deeper not only to become options to receive the ball, but also to draw Sarr and Skipp forwards.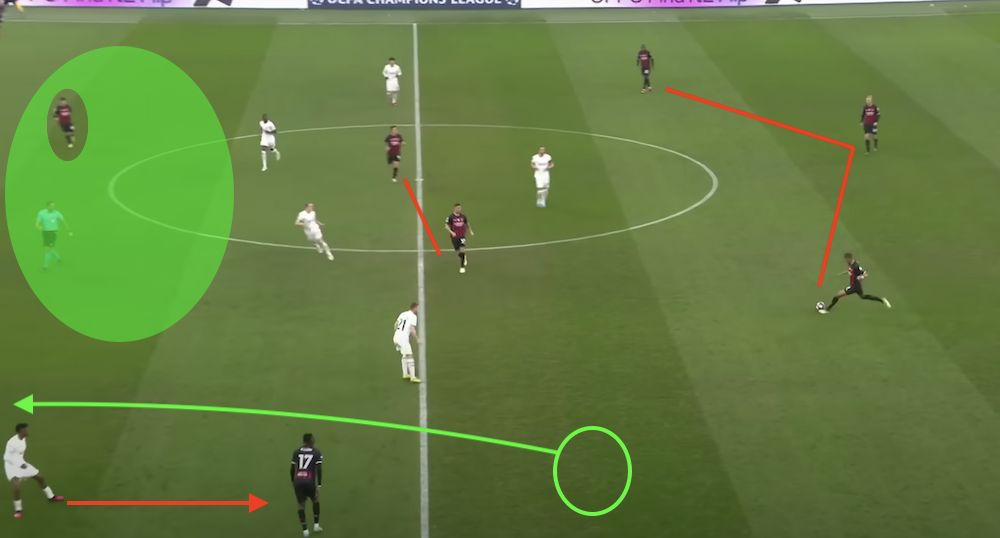 Malick Thiaw receives the ball, and where Theo would usually be (bottom green circle) he is instead about 40 yards forward with Leao instead the deeper presence. With Emerson Royal pushing up field to cover Leao, Thiaw goes over the top to Theo who is now one-on-one with Romero in an aerial battle.
Olivier Giroud had also dropped deeper with the midfield to pull Dier and Lenglet further forward (blue line) and open space in behind. Was this a pre-conceived play? The position of the non ball players throughout and the run of the wing-back Alexis Saelemaekers (green arrow) suggests so.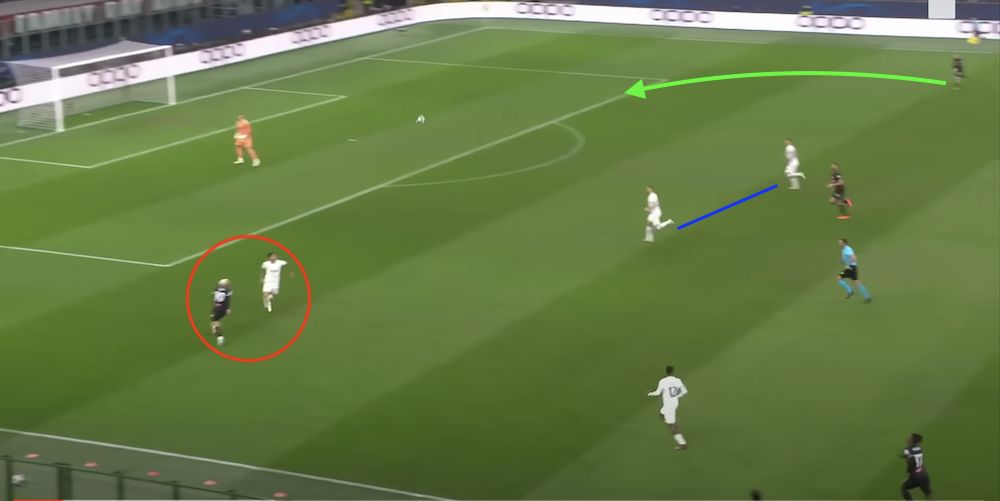 Theo would eventually win the ball ahead of Romero, get inside the box, see his shot parried and Brahim would bundle home from close range. Pioli one, Conte nil.
Mid-block effectiveness
It was back on February 1 that we suggested a shift to a mid-block as being a potential aid for Milan's defensive woes, and it seems Pioli listened. Read that article for a more detailed understanding of how it works, but the basic premise is bend don't break.
We see it in action in the frames below. Breaking the pitch down into thirds, a low-block known is more colloquially known as 'parking the bus' as it involves sitting deep to frustrate, whereas the mid-block allows some space to be ceded but ultimately for that last line of defence to be very tight.
Krunic and Tonali are playing close together as the double pivot but are around 20 yards away from Sarr and Skipp, essentially shadow playing them to an extent. Meanwhile, Kalulu is much tighter to Son and Saelemaekers is about the same distance from Perisic. Theo is at least 25 yards from Emerson, encouraging Spurs to go laterally.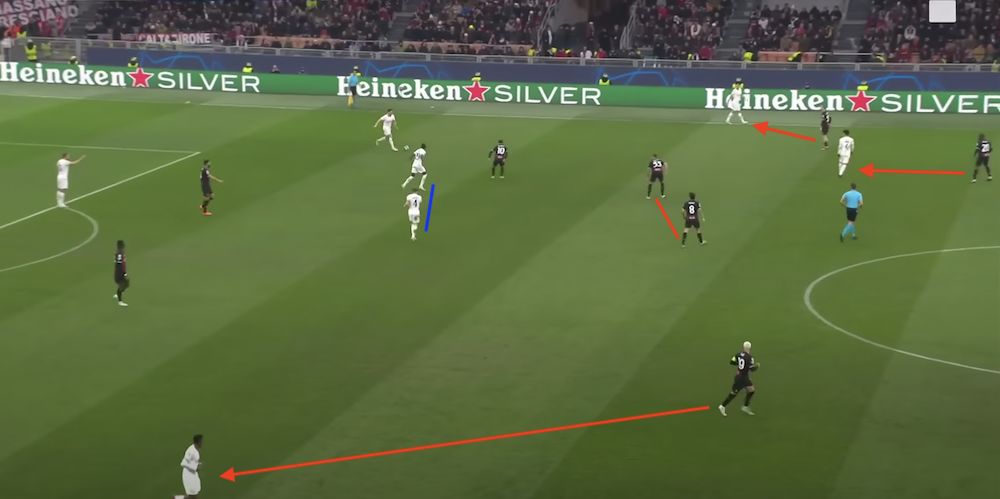 As the play begins to develop, the mid-block springs into life. All of a sudden it becomes obvious how clear the man-marking assignments are, with Kjaer and Kalulu touch tight to Kane and Son while Spurs have a five across the middle that is covered by Theo, Krunic, Brahim Diaz, Tonali and Saelemaekers.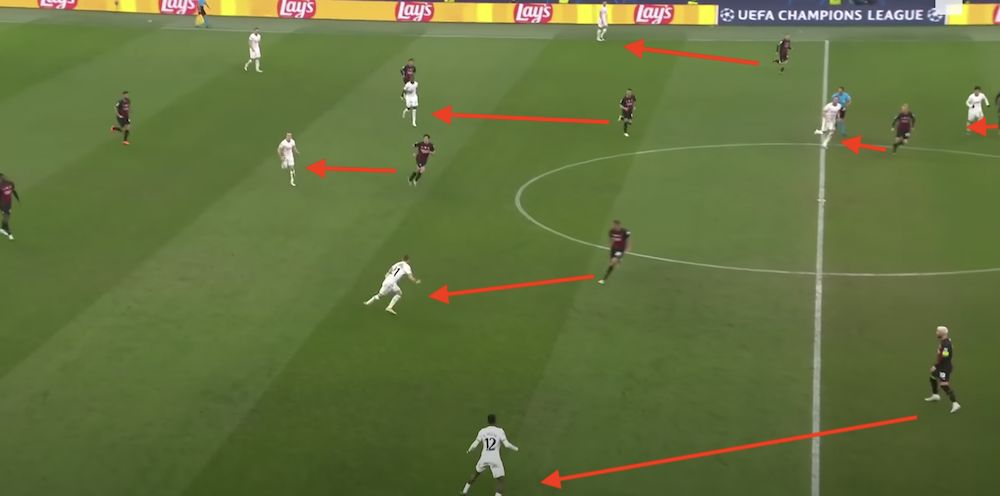 The result of that is it frustrates what Spurs are aiming to do which is to win the ball back and counter quickly, getting the ball to their front three (perhaps evening bypassing an inexperienced midfield duo) to try and hurt Milan.
They did have some success getting the ball to Kane in the opening 30 minutes yet he had so few options and Kjaer kept tactically fouling him in a smart way to reduce any danger given the striker's incredible playmaking ability even with his back to goal.
Weakness to strength
Set pieces have not been Milan's friend this season as they have failed to score them and/or keeper them out at the other end. Lautaro Martinez in the derby and Domenico Berardi for Sassuolo each scored a header from a corner which would prove to be the winning goals.
However, against Tottenham the huge perceived weakness turned into a source of pride. Conte's side have scored the most goals from set pieces in the Premier League this season so there was obviously some special preparation to try and at least limit the threat.
Some early free-kicks from strange positions caused brief alarm, yet almost every corner that went in was cleared effectively and the free-kick below from the second half shows a clear approach.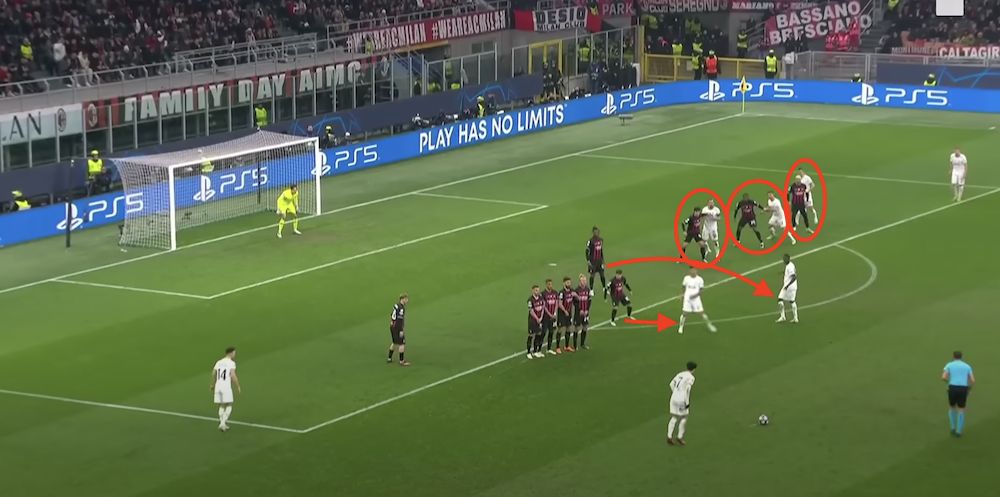 Kjaer and Thiaw are in the wall to provide extra protection for Tatarusanu, leaving Tonali on Son, Kalulu on Longlet and Theo on Dier for the delivery. Instead of the usual mix of zonal and man-marking for balls coming into the box, a very obvious three-on-three man-marking situation arises.
This simplifies the assignment for everyone involved, it reduces the risks of being punished from confusion/an uncovered area and ultimately it served Milan well all game.
Collective effort
The Milan team have had some scrutiny directed their way during the recent bad run of form with accusations that not every player is pulling their weight in terms of effort levels and attitude. However, any notion of that went out of the window in this game.
The first thing to note is that as the Rossoneri are forced naturally deeper with Spurs desperately searching for that equaliser, the marking assignments are all being perfectly stuck to which limits the number of passing options available.
In the games against Inter (Supercoppa), Lazio and Sassuolo to name a few, Pioli's men often let runners move freely and left an awful lot of space between the defence and midfield. This time they were organised, compact and effective.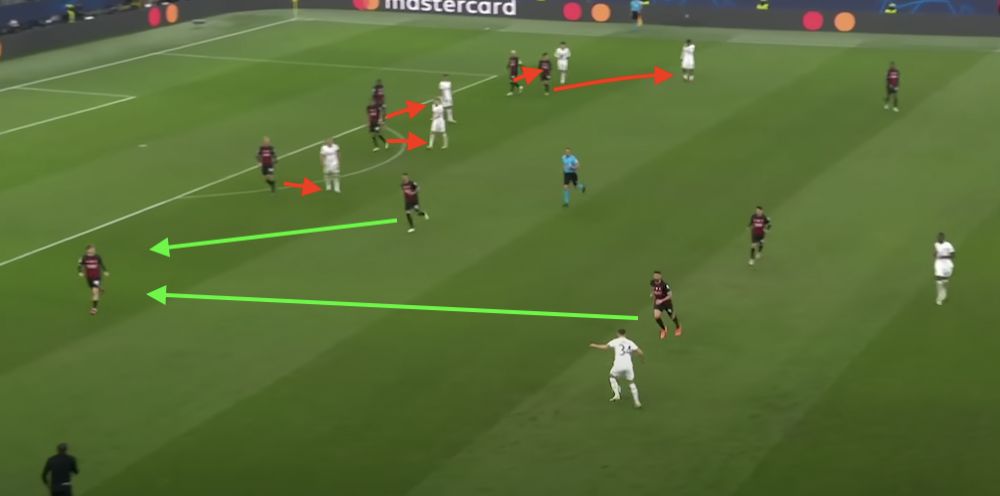 The man to follow here is Giroud as he proceeds to chase Lenglet at least 30 yards all the way down to the Milan touchline, with Krunic also coming over to help.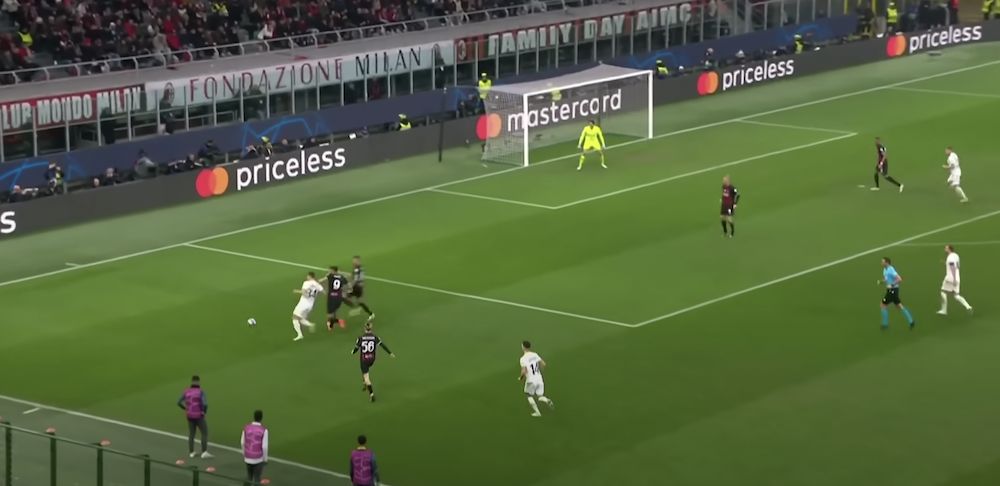 The Frenchman and his forward partner Leao were a perfect example of how defending begins from the front. If it becomes difficult to even build from the back then it makes the job of the rearguard so much easier.
Giroud put in a tremendous shift in terms of effort, while we saw Leao do plenty of dirty work that has often been missing from his game.
Déjà vu
Milan had the right idea in going for a second goal themselves in the final quarter of an hour as Spurs seemed to tire and become sloppier in possession, and they almost scored a goal that would have been very familiar.
The frames below show De Ketelaere's miss off the bench and Calabria's goal to equalise against Lecce. Both involve a cross from the left side with Giroud stood just behind the penalty spot and someone playing off him ready to run in behind.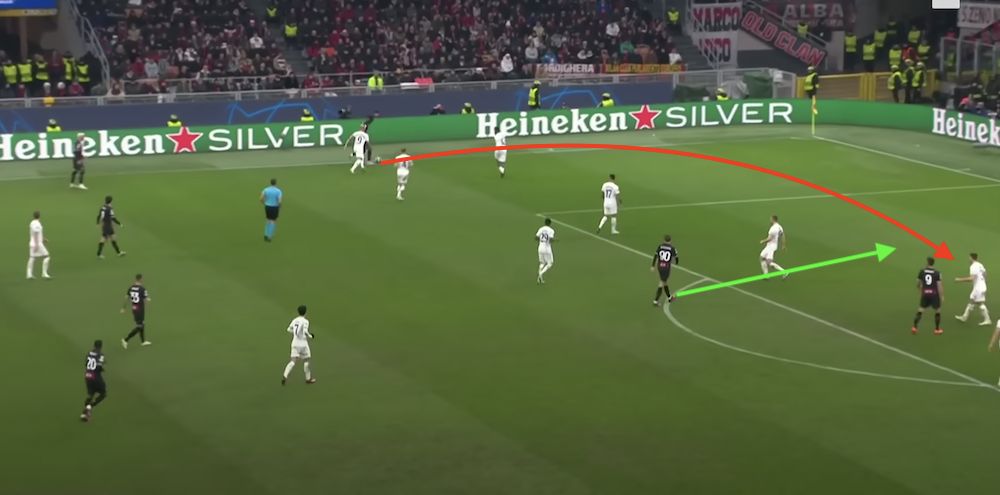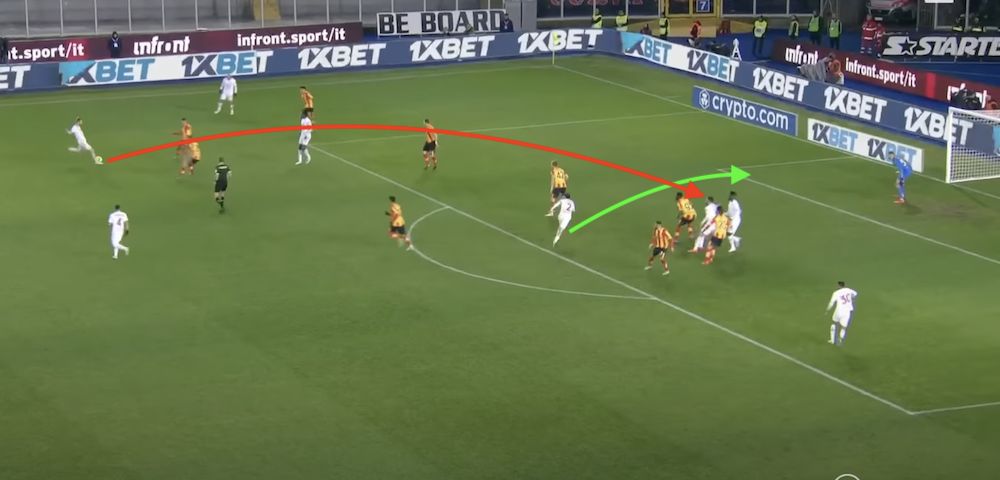 In the game against Spurs the Belgian could not break his Milan duck despite being found in a good position, whereas against Lecce it bought the equalised as Calabria diverted in from close range.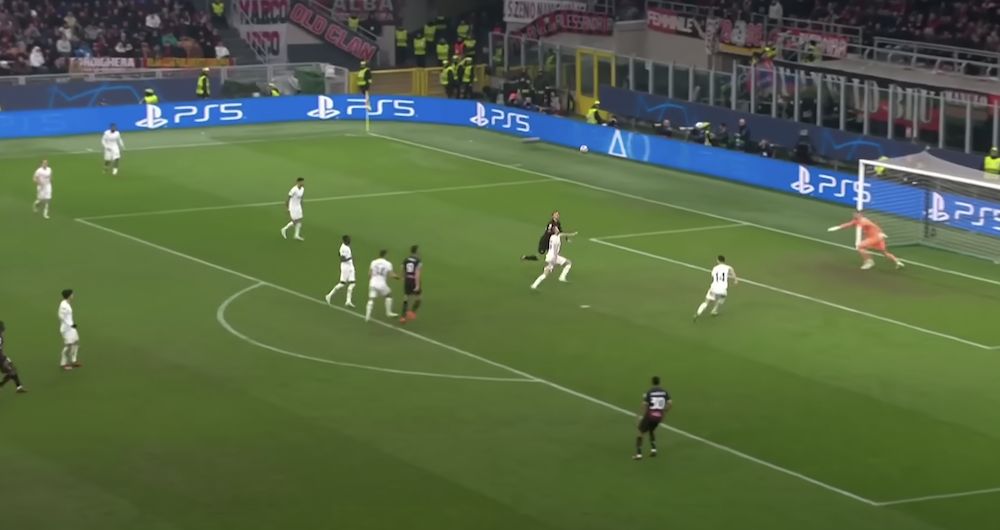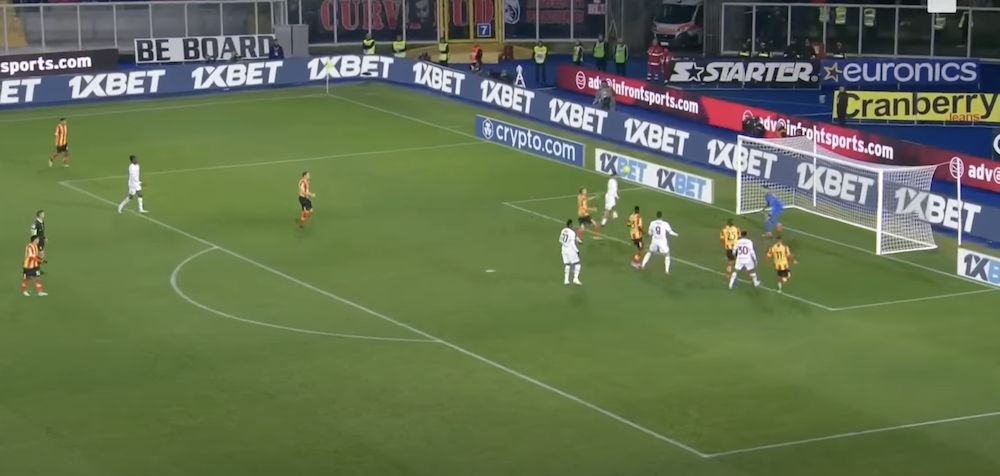 Such direct play makes the best used of Giroud's attributes and it involves lower risk, because the more numbers involved in moving forward with the ball the more susceptible you are to counter-attacks.
This almost certainly is another training ground play drawn up to capitalise on the knock-downs of the French striker and the ball-watching that some centre-backs do in that situation.
Moments later Thiaw missed a big chance as well from a cross that was in a similar area, but it also demonstrated the desire to get a second goal by having four men deep in the box holding that line.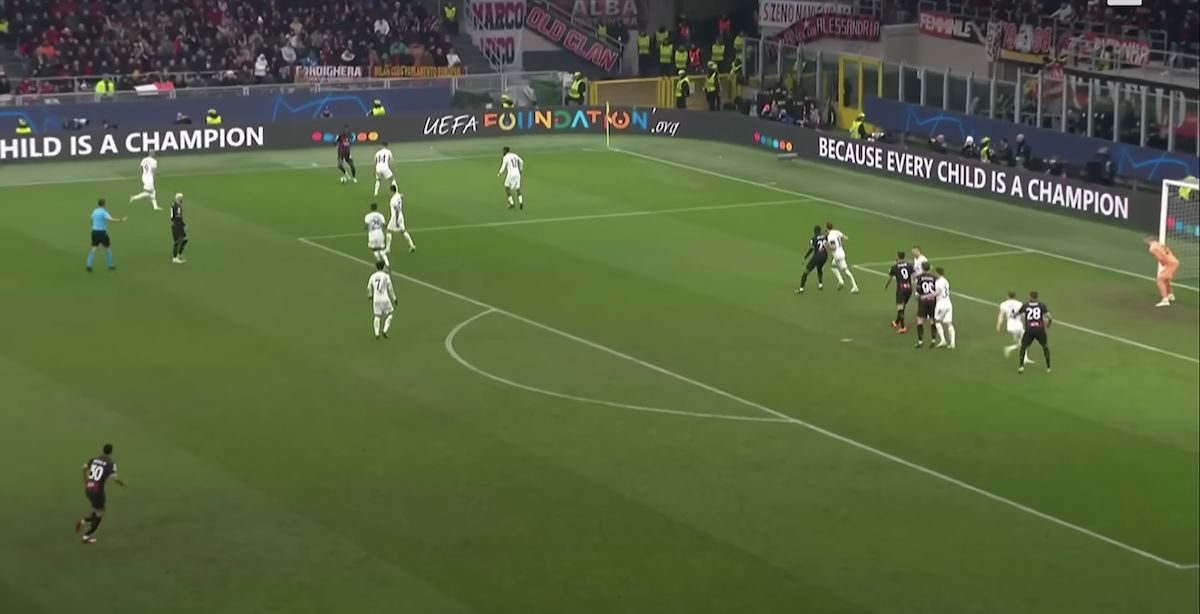 Conclusion
This was one of Milan's best performances in the Champions League and it came at a time when there were so many doubts about what made the team deserved Scudetto winners after a such a terrible start to 2023.
Conte has almost always gotten the better of Pioli (only one defeat in 14 games prior to Tuesday), yet Pioli showed how far he has come with a clearly executed game plan that perfectly nullified the opponent's threat and involved some smart plans to essentially play the game on Milan's terms.
The second leg will be very difficult, but if the Rossoneri can again stay disciplined and patient as they did in the first 90 minutes they can very quickly arouse some nerves back in north London.