AC Milan travelled to the Stadio Olimpico hoping for three more points to continue their fantastic start in the league, and they emerged 2-1 victors against Roma.
Goals from Zlatan Ibrahimovic and Franck Kessie put the Rossoneri in a commanding lead, but Theo Hernandez's red card inside the final half hour and El Shaarawy's 93rd minute goal certainly made the last few minutes of added time a bit more dramatic.
Below is an analysis of the match from our writer Rohit Rajeev…
Mourinho's move
Roma's starting line-up was listed as a 4-2-3-1 but they lined up with a 4-4-2 when they didn't have possession, keeping the width of the pitch very narrow.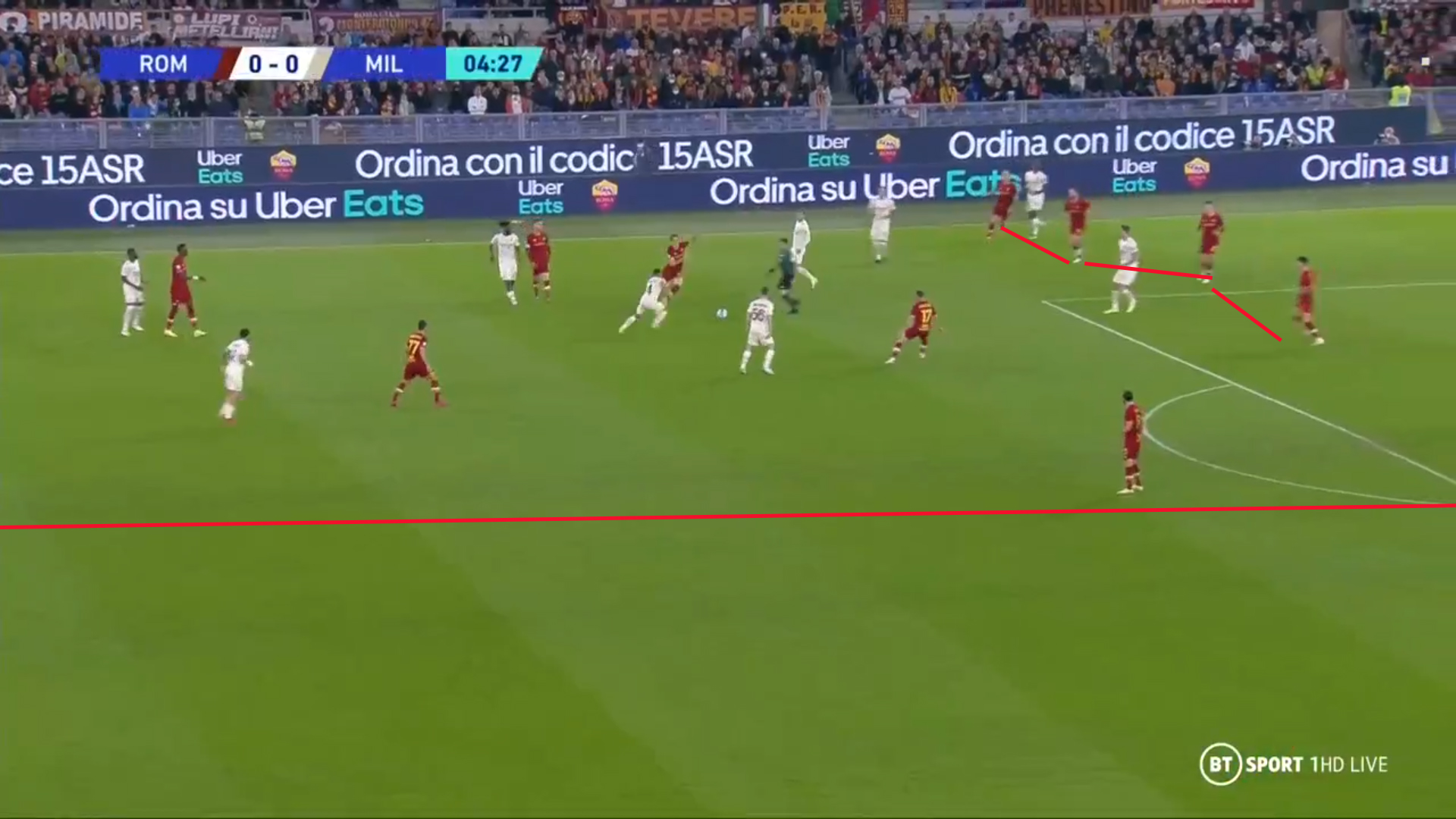 Roma started the game brightly, trying to create a 2v1 situations against Calabria where Mkhitaryan would cut infield and Vina would overlap. Pioli countered this using Saelemaekers as a defensive winger.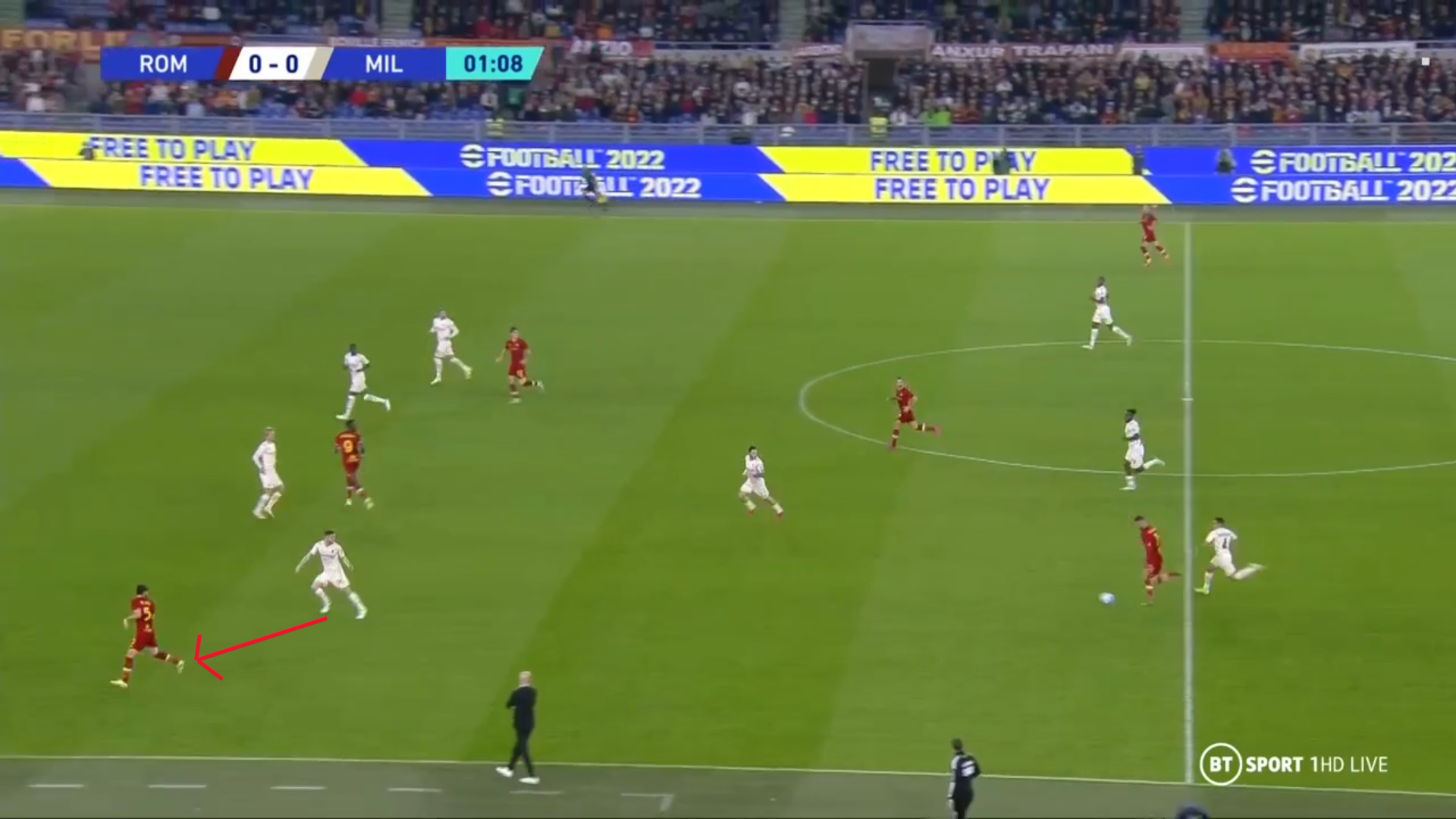 Roma lined up using a double pivot with Cristante as a defensive midfielder and Veretout as the deep-lying playmaker. The latter would often stay in the centre of the pitch and help Roma switch play to catch Milan in a moment of disorganisation.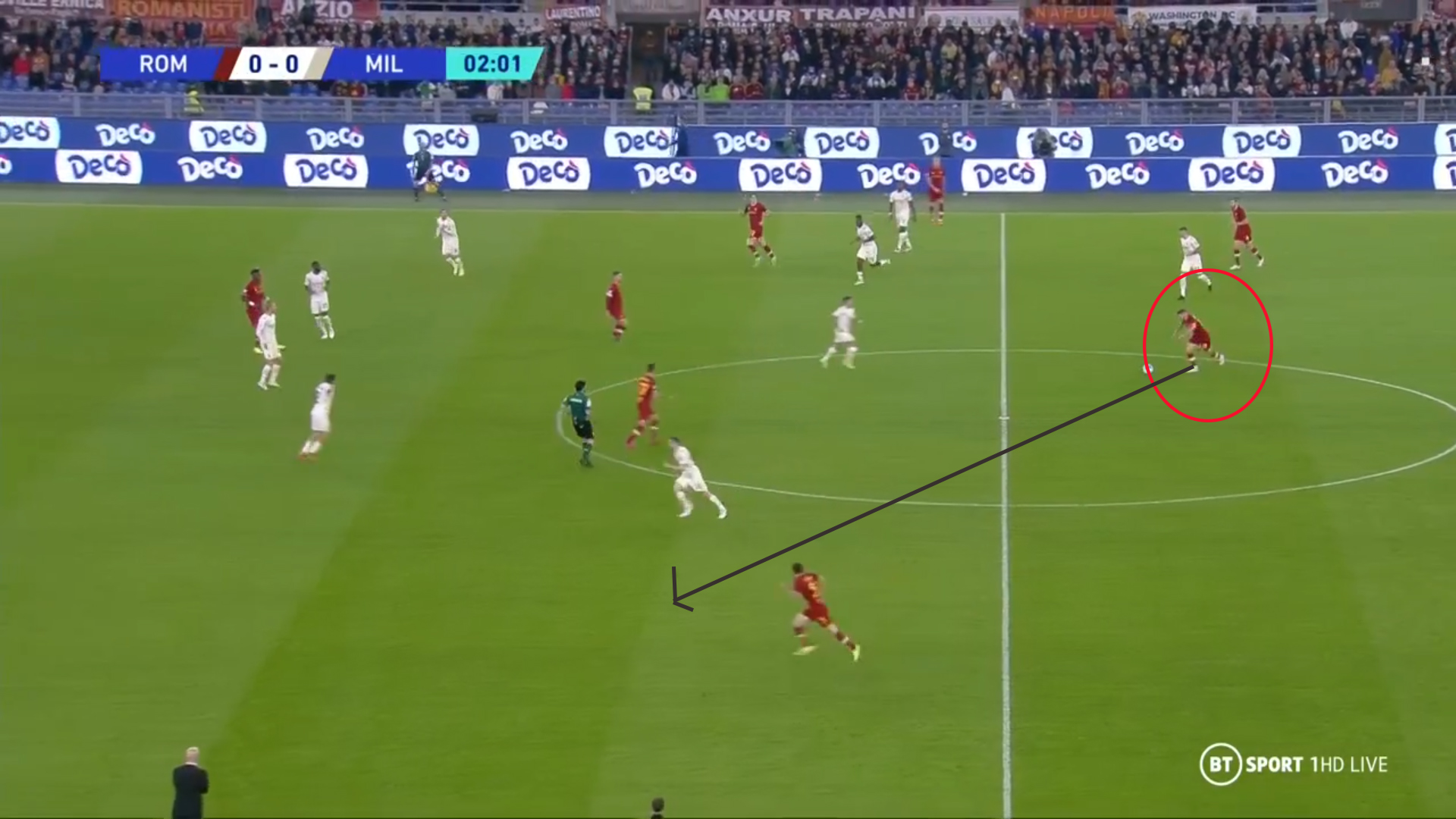 Milan's strategy
The Rossoneri's attacking plan was to stretch Roma's defender by widening the pitch. They did this by committing numbers towards the wings and creating numerical superiority.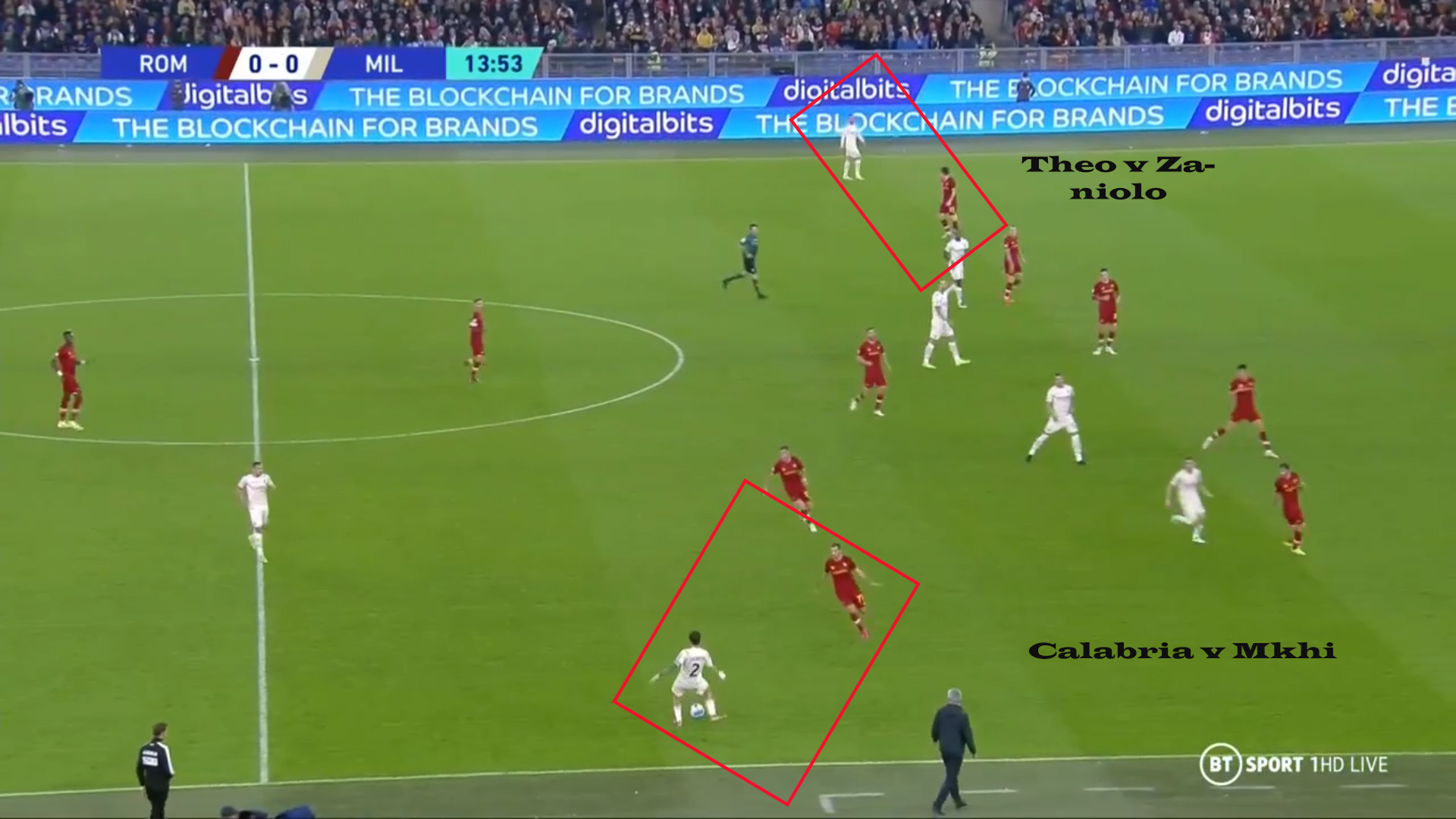 Milan achieved this by having one of their double pivot – who rotated to make it more unpredictable – to drop in as a third centre-back as this allowed the full-backs to press high up the pitch.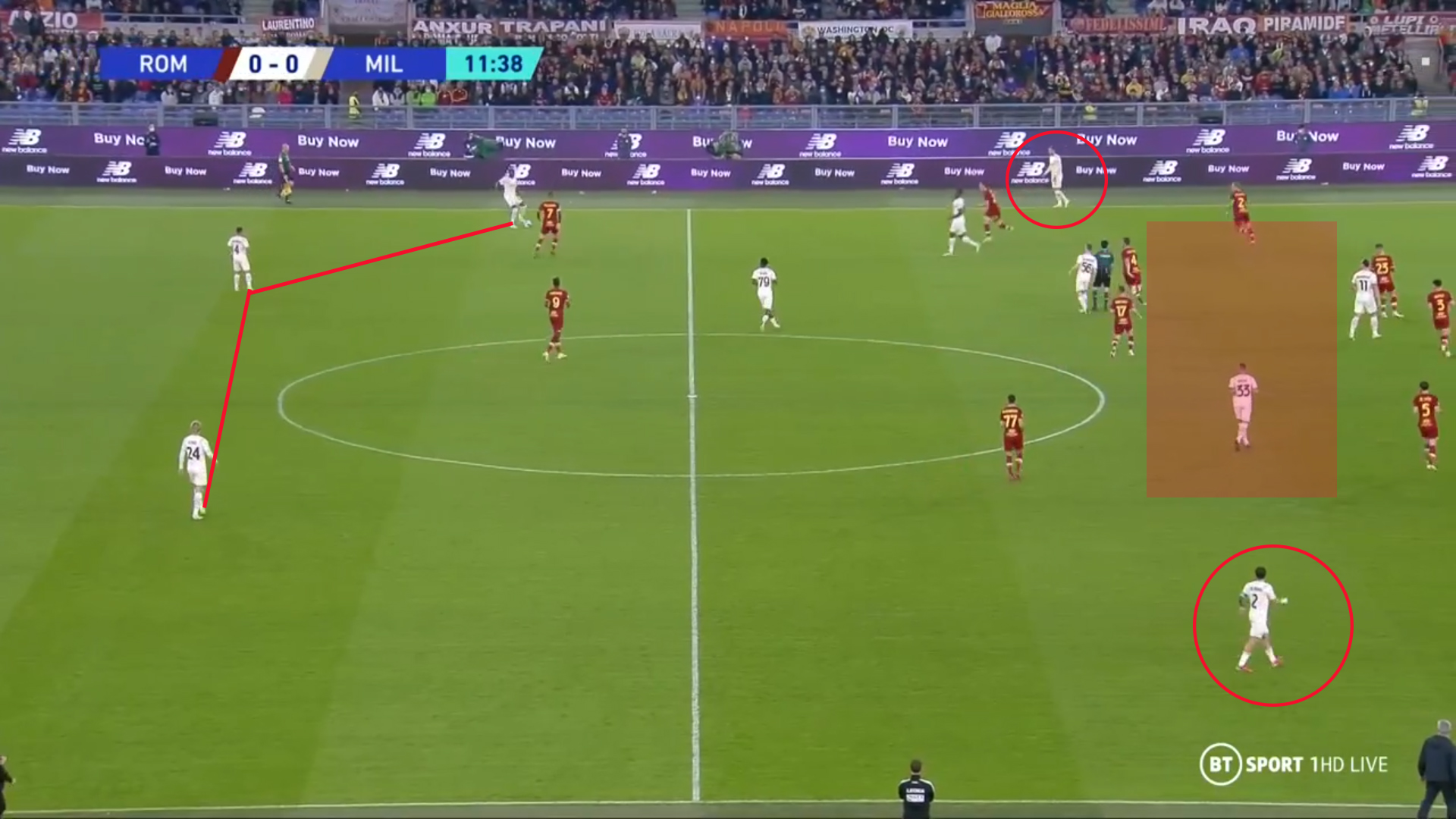 For example, Ibrahimovic combined with Saelemaekers and Calabria to create a three-on-one situation on Vina, and it almost resulted in a goal for Milan.
To counter this, Jose Mourinho – as shown in the picture below – would have his left-back and left-sided centre-back attack the Milan full-back while Mkhitariyan and Veretout would try to box him out and try to create a numerical advantage.
However this created vacant space in the middle and helped Milan's forwards Leao and Ibrahimovic to be in isolation against their defenders.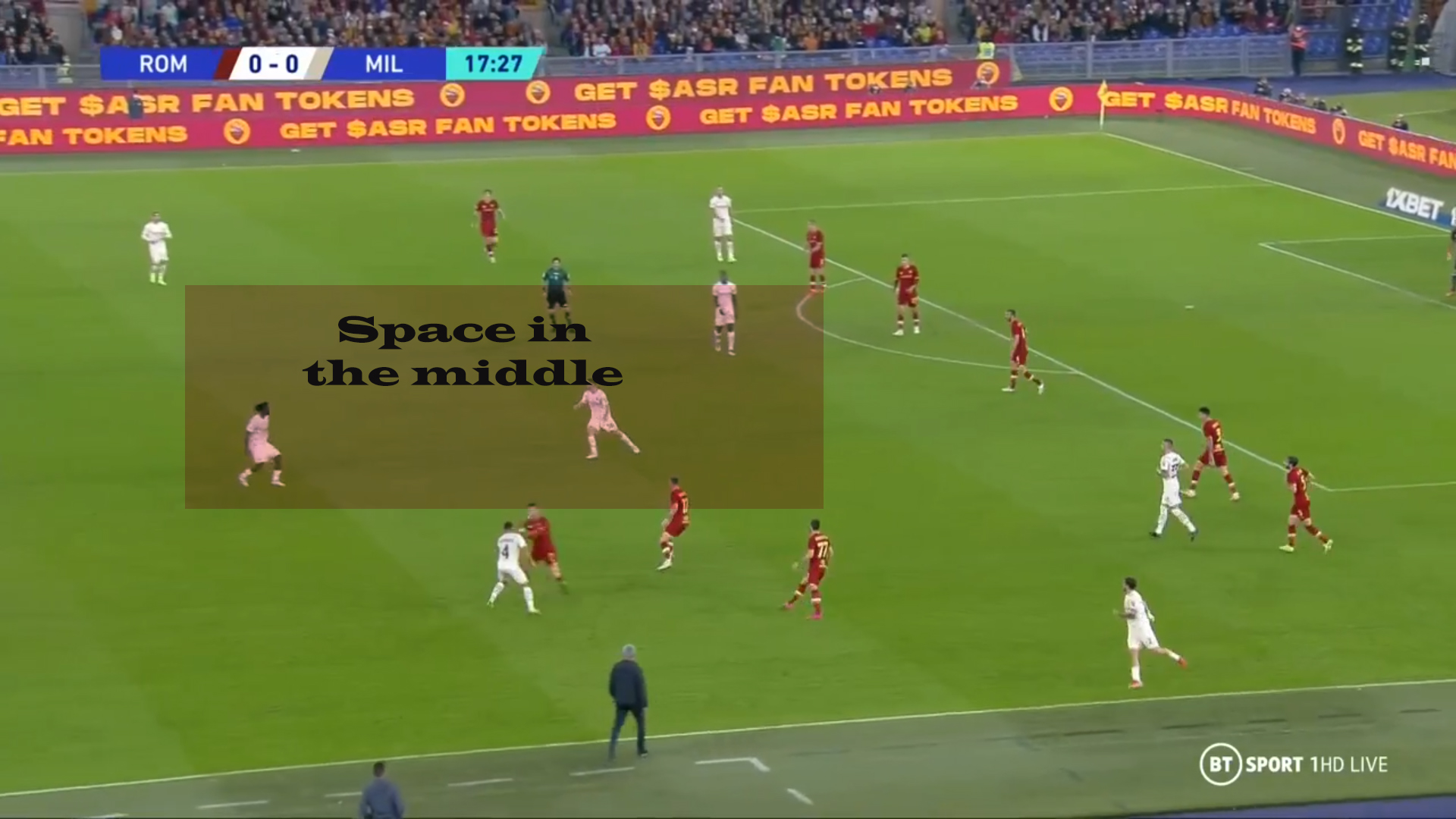 Jose's adjustment
Jose Mourinho instructed his players not to press Milan high and instead to invite Milan into Roma's half, planning to then win the ball back and counter-attack.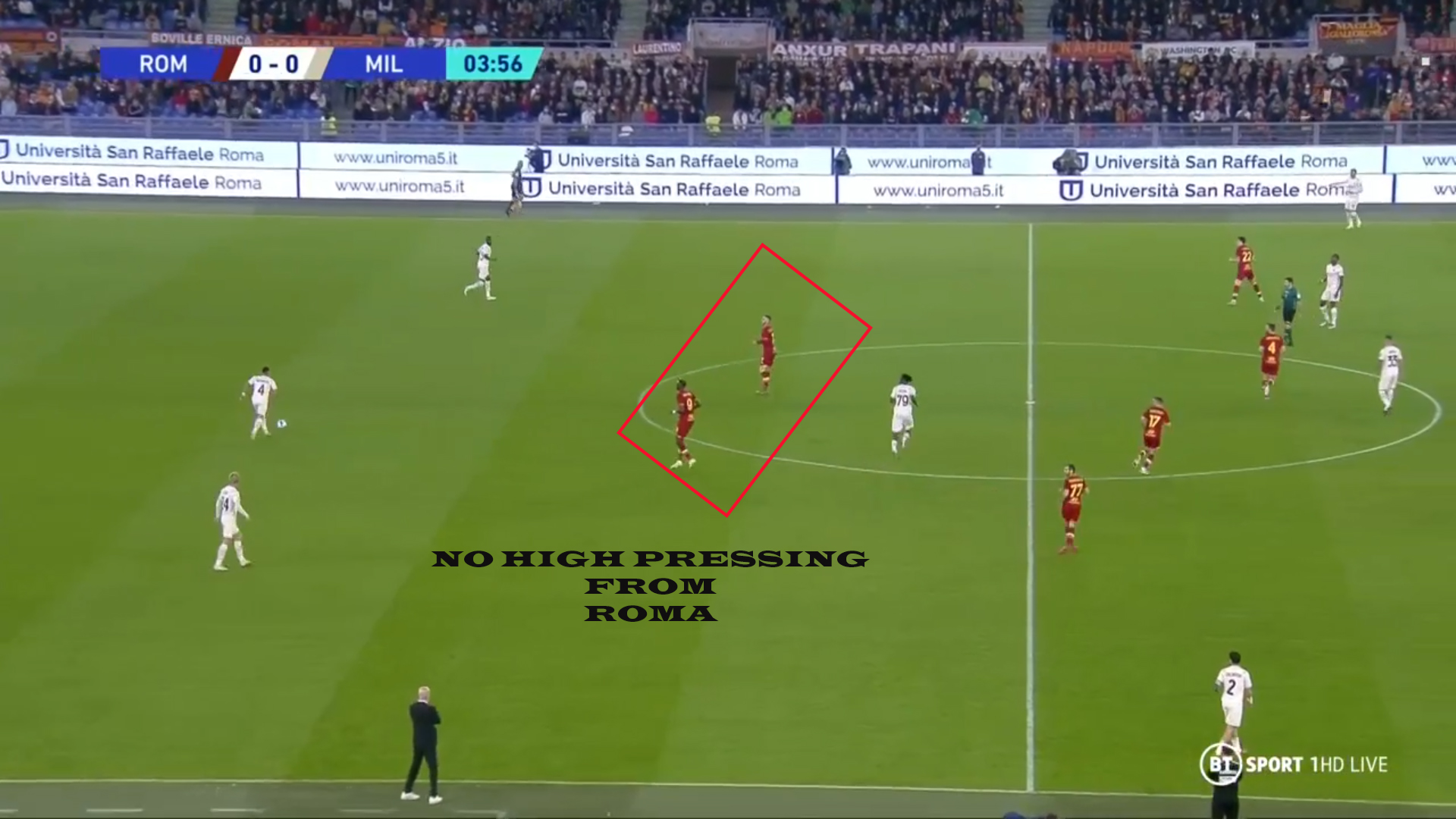 Milan, with their quick passing combinations or through Kjaer's long balls, wreaked havoc.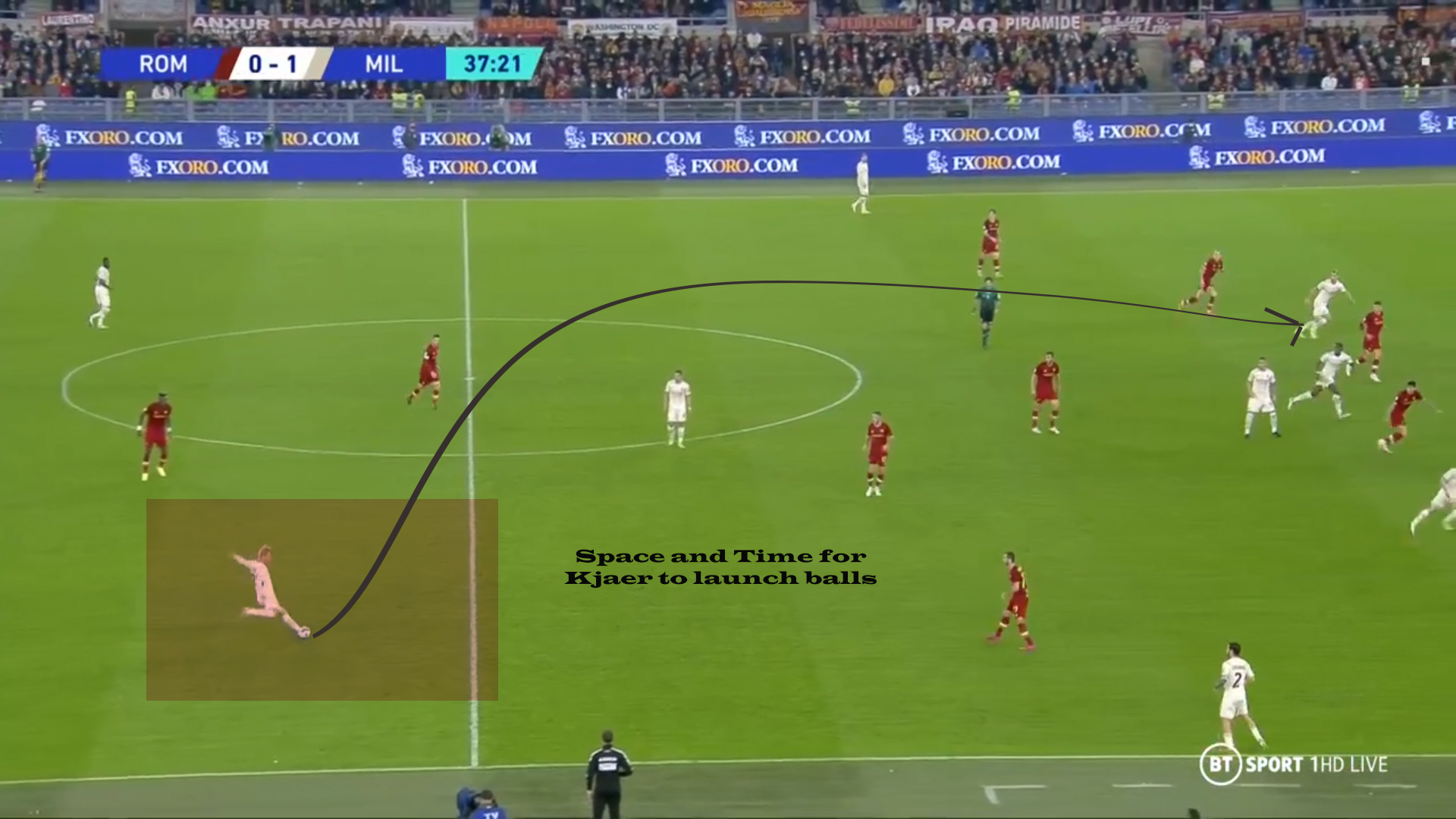 Roma built their attacks through a midfield diamond created by the double pivot pairing up with Pellegrini and Mkhitaryan cutting infield.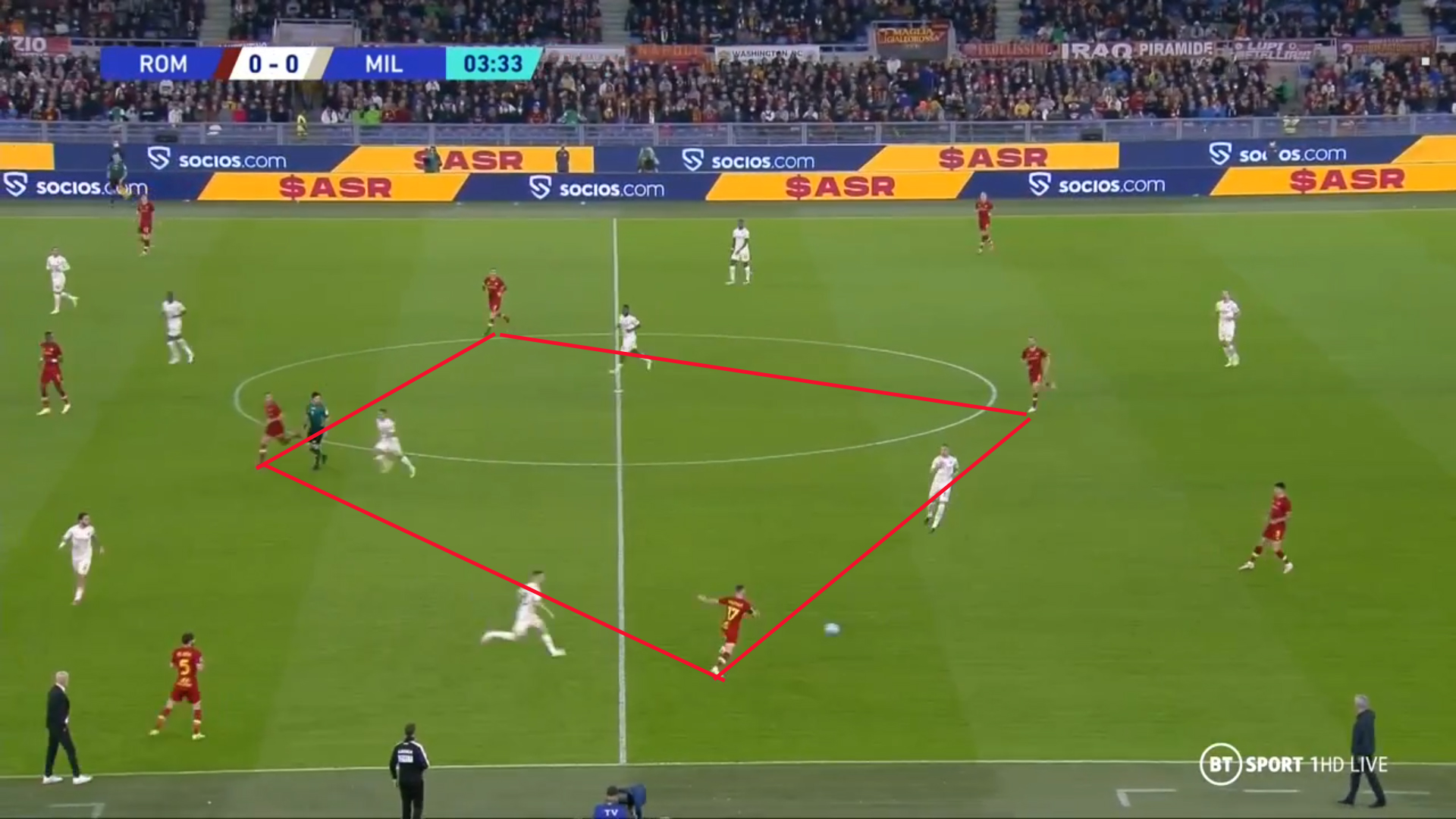 Roma's first half display was characterised by incredible vertical play which helped them to create quick counter-attacks.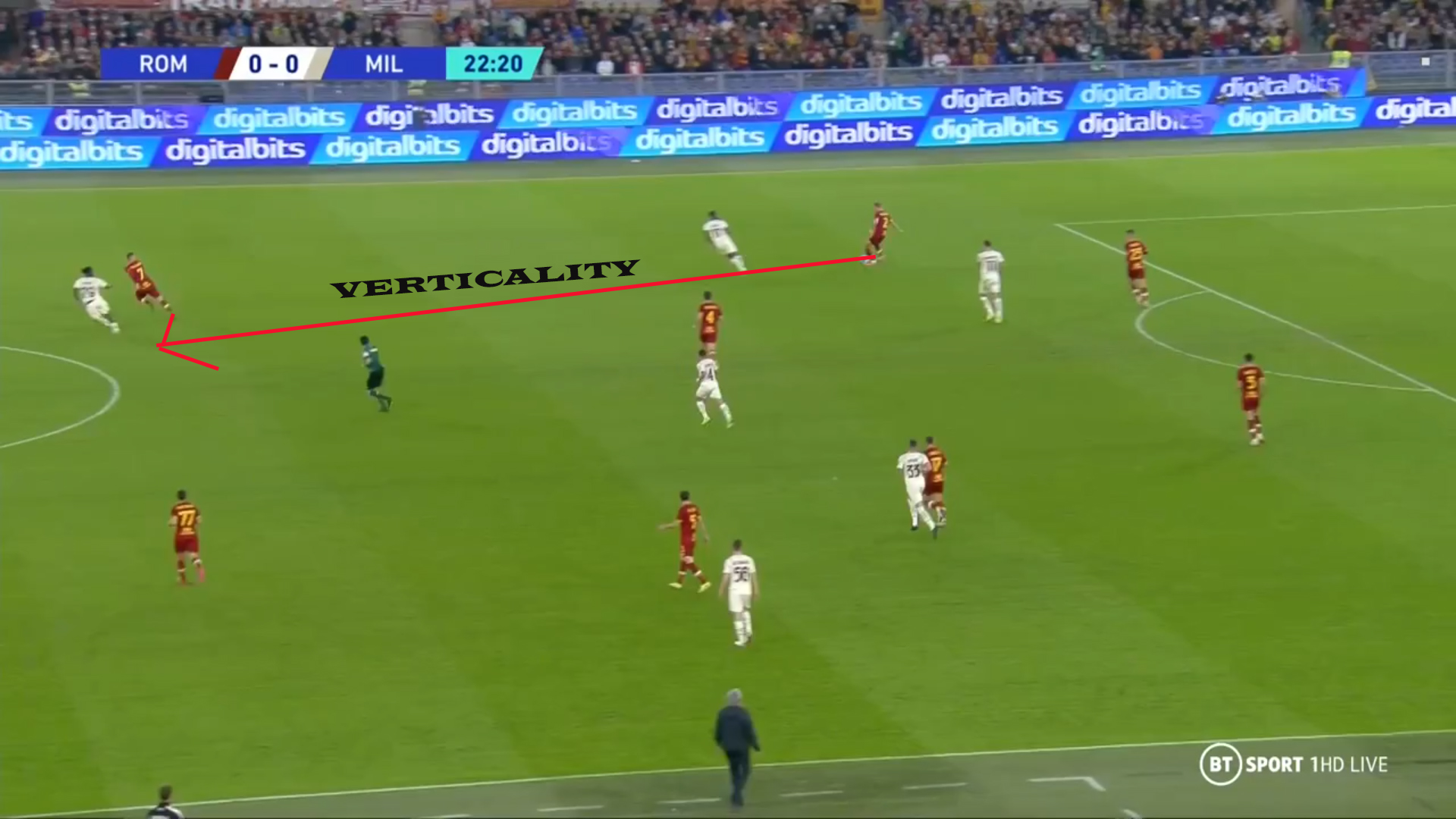 However, Milan's structure of the double pivot ensured that one of the midfielders (usually Kessie) were back to keep the defensive structure and absorb Roma's counters.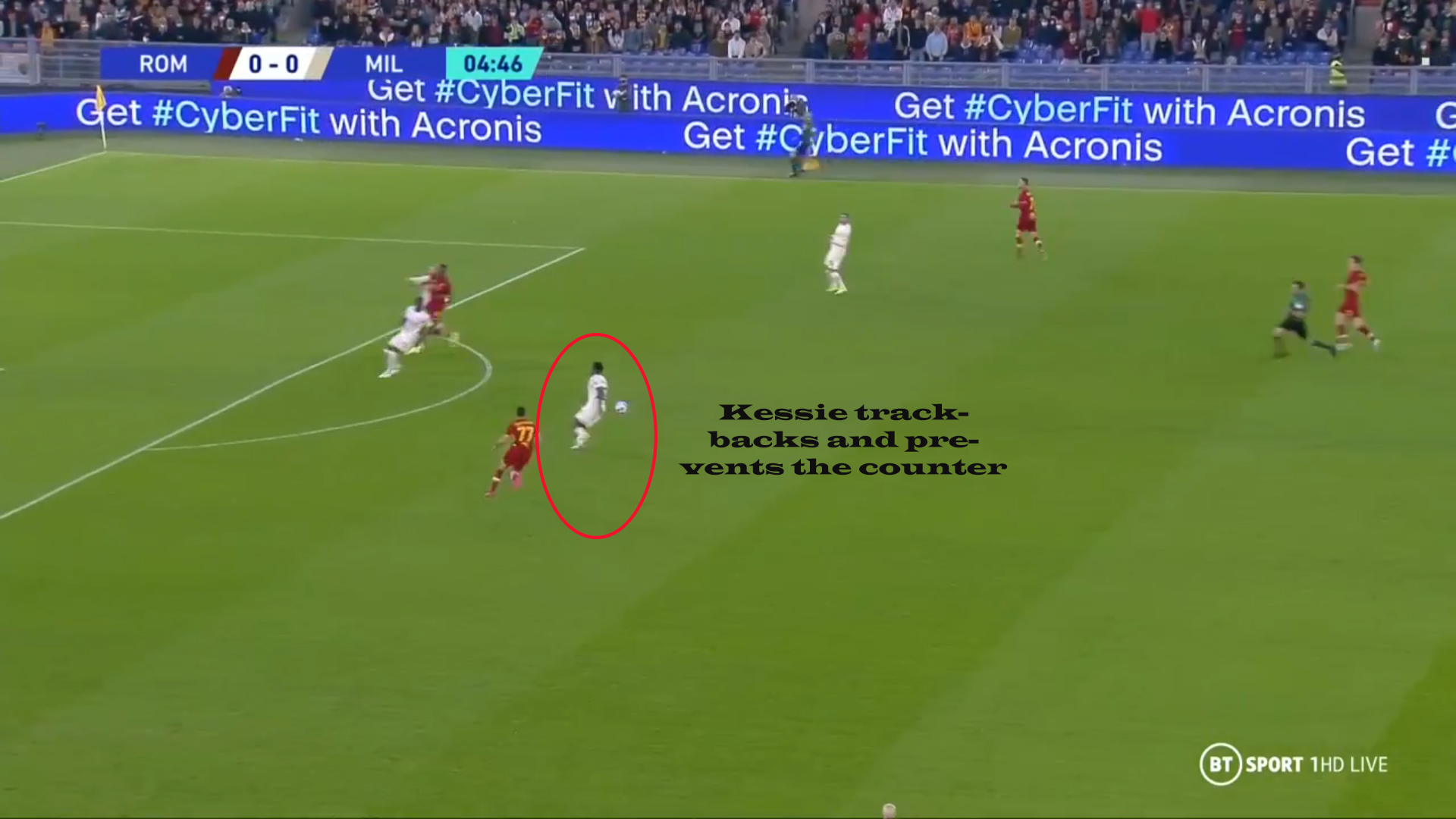 Pressure applied
Pioli used Krunic to press Veretout and keep him on his toes for a good part of the game. Ibrahimovic shadowed Cristante making sure to punish him if he made any mistakes.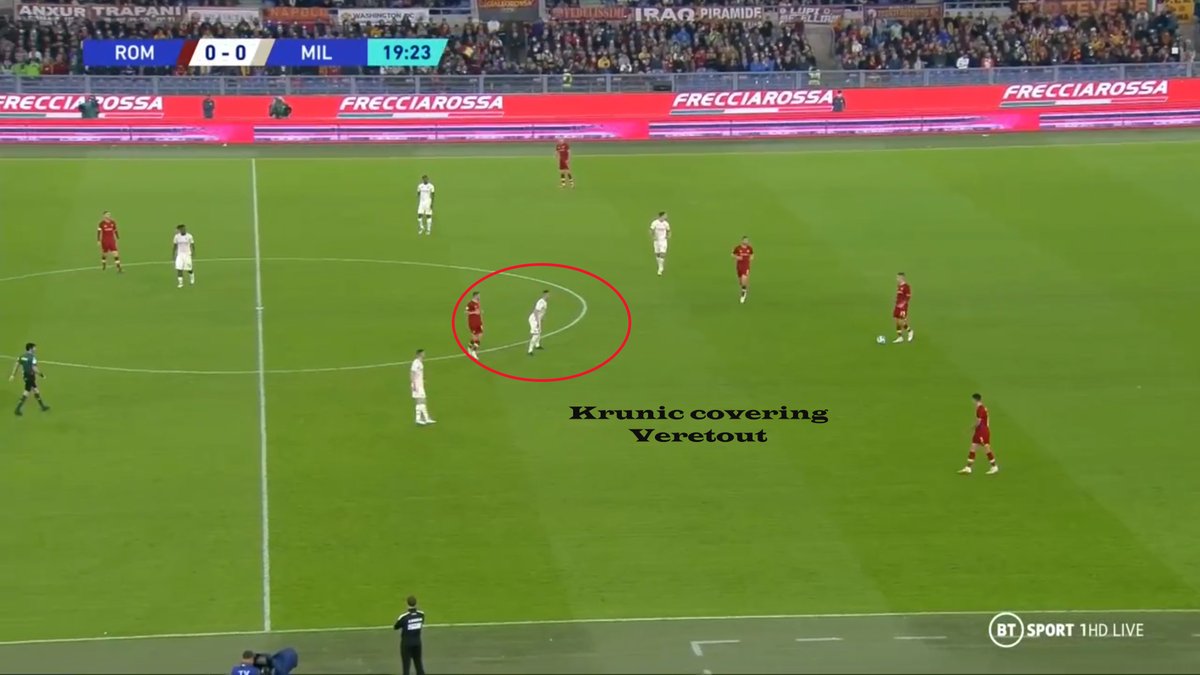 Milan used cover shadows extensively to cut off the passing lanes for the Roma player on the ball.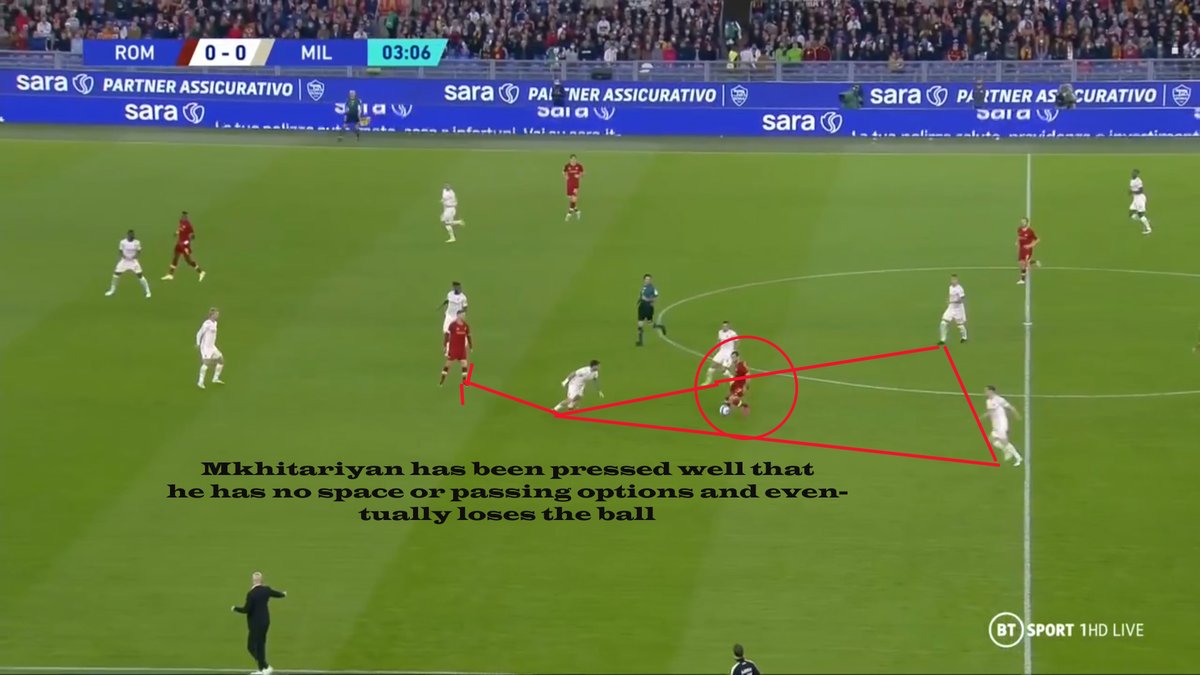 Roma tried to exploit the Milan's high press using their wingers with Zaniolo winning the one-on-one against Theo Hernandez below and finding Karsdrop in space to cross but once again Roma could not make the best out of it.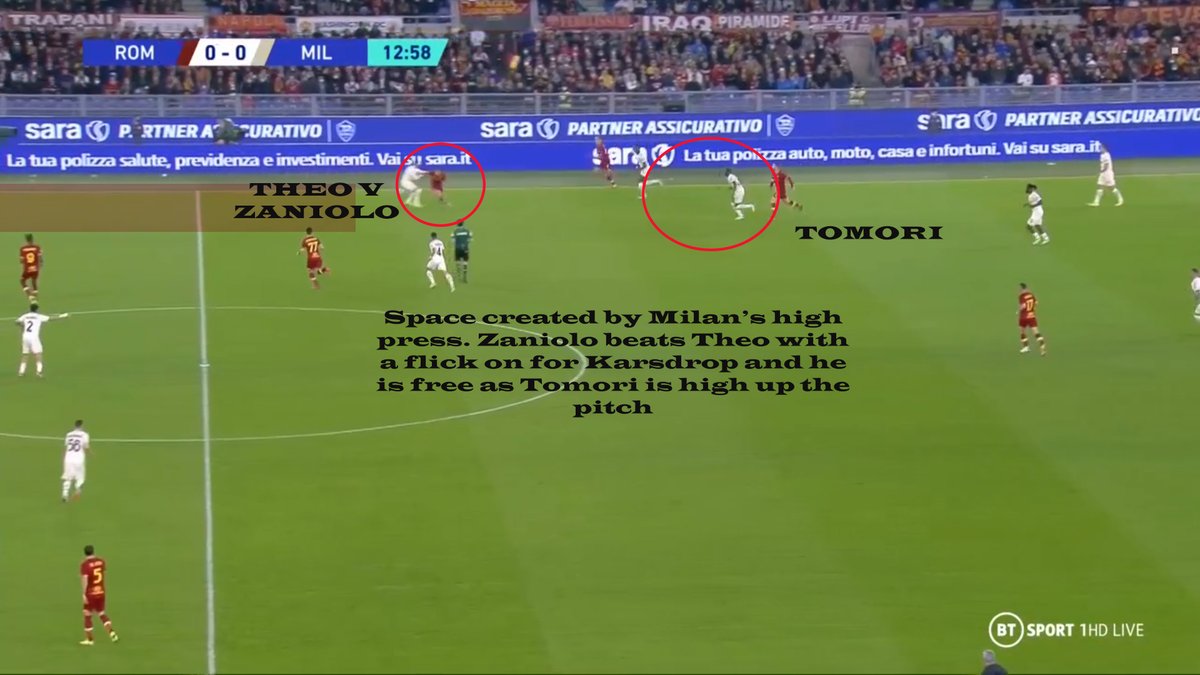 Mourinho changes tack
Knowing the need to chase the game, Jose made a few tweaks to his tactical set up. From a 4-2-3-1 he changed the system to a 3-1-4-2.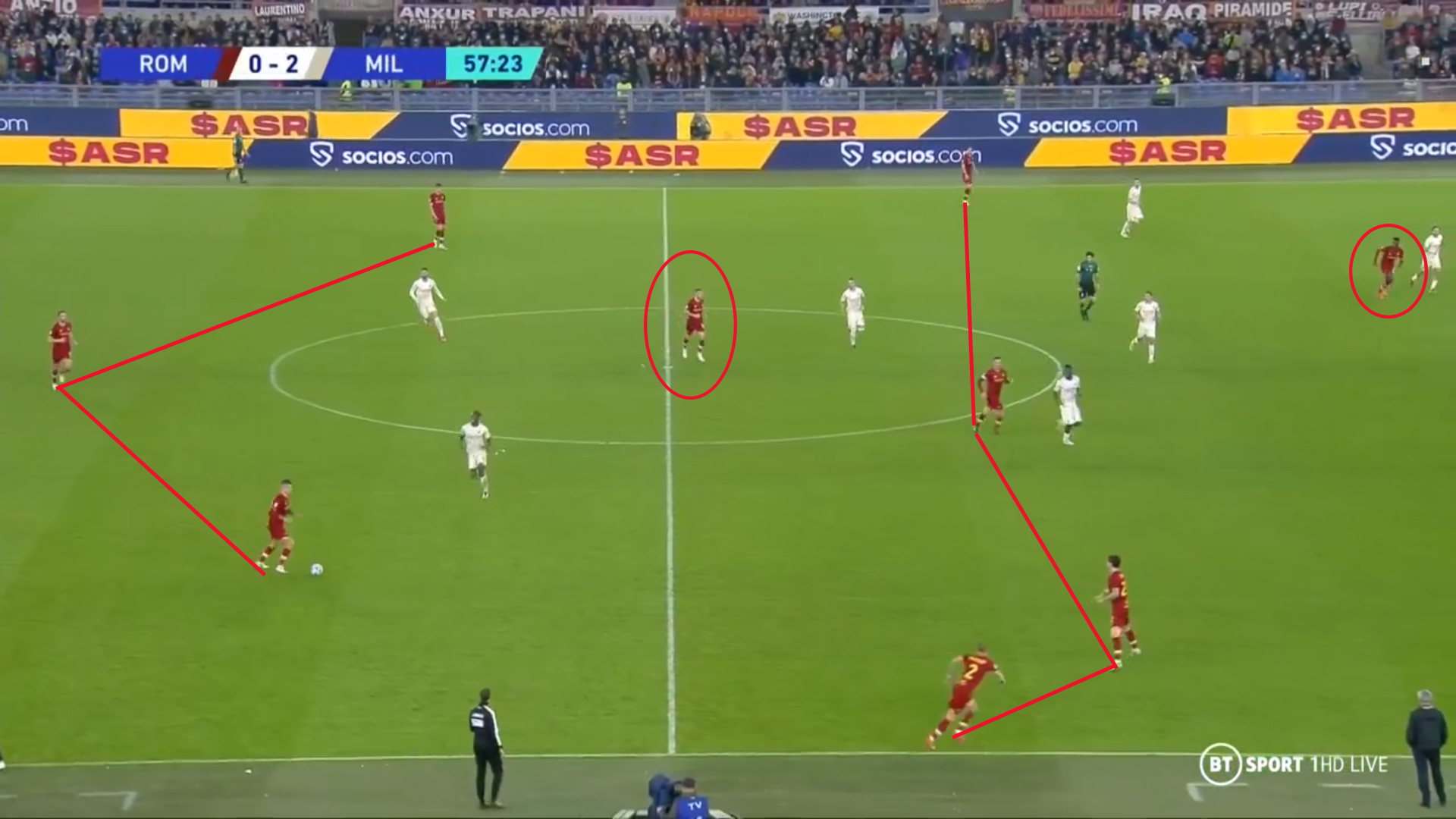 Mourinho anticipated that Milan would slow down the tempo since they have to play another game in two days. So with this 3-1-4-2 he would achieve defensive solidity in the middle, while he could use wing-backs to trouble the left side especially with Theo on a yellow card.
He did this with Cristante sitting into a back three and Gyan pushing up as a striker playing on the wings.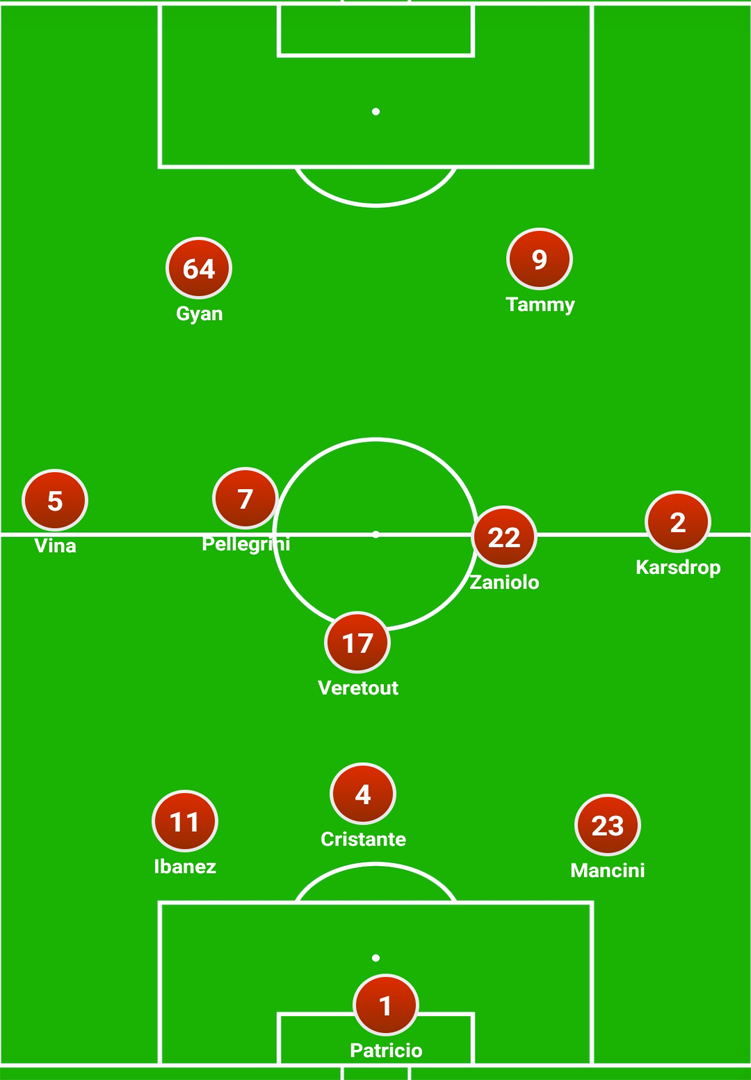 He instructed his team to press higher and block the passing lanes. The centre-backs of Roma were asked to be aggressive and press Milan's ball carriers high up the pitch.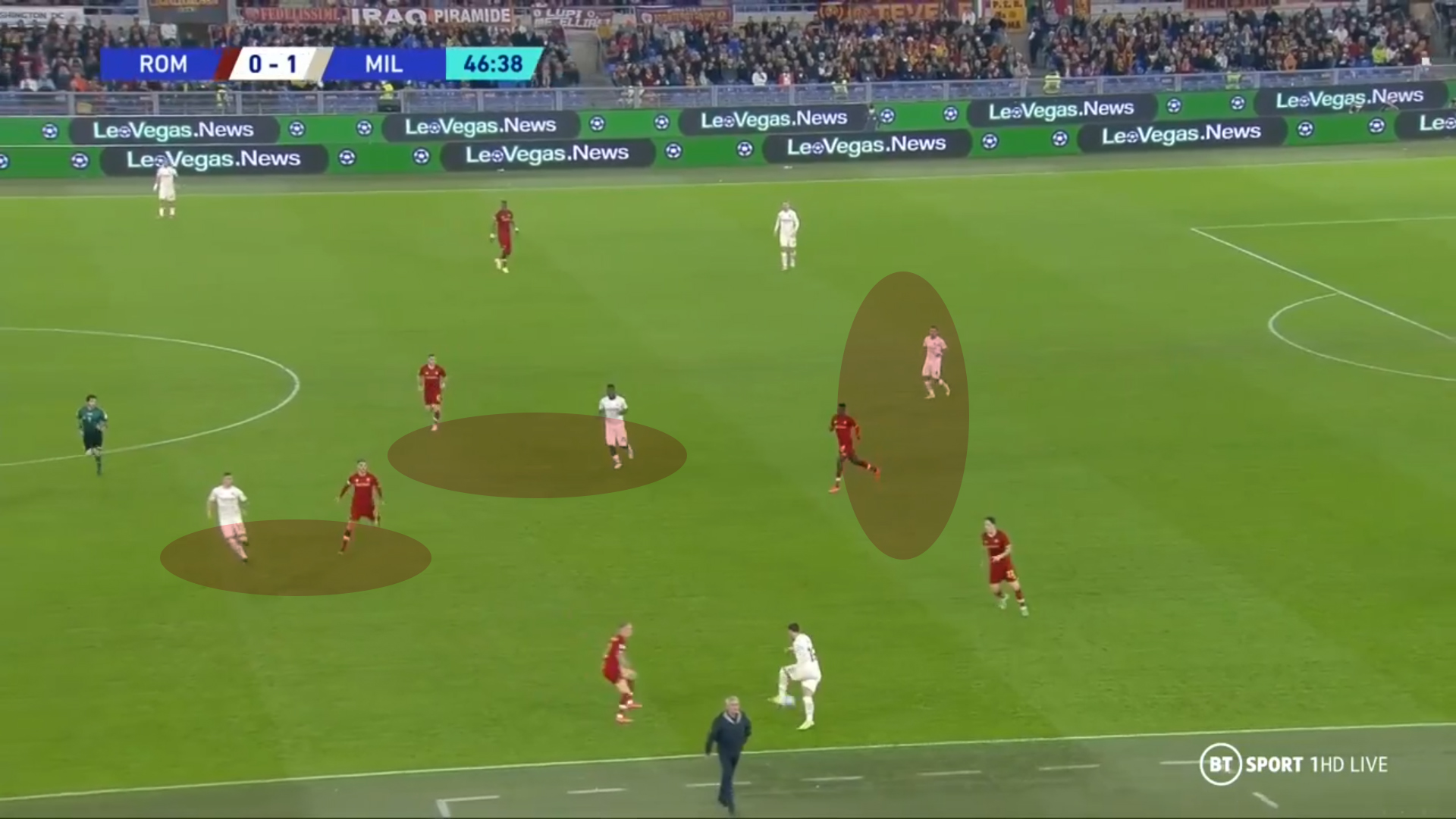 This tactic of course came with a risk. With only a single pivot instead of a double, there was a wide gap between Roma's midfield and their defence. With Theo's pace, Milan were able to exploit that space and it led to the penalty.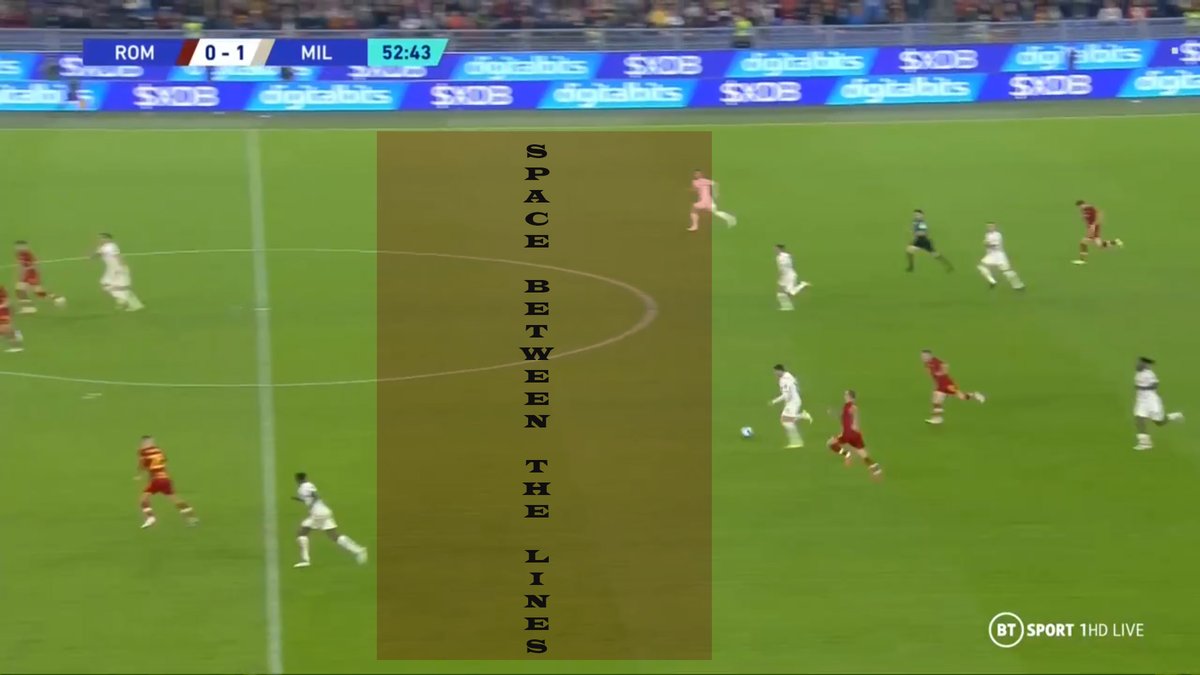 Leao's role
Even after the second goal and Giroud coming on you could see where Pioli had placed Leao. He was the highest player on the field. This was done to stretch Roma and not allow the defence to press high up the pitch as Leao had the pace and skill to counter.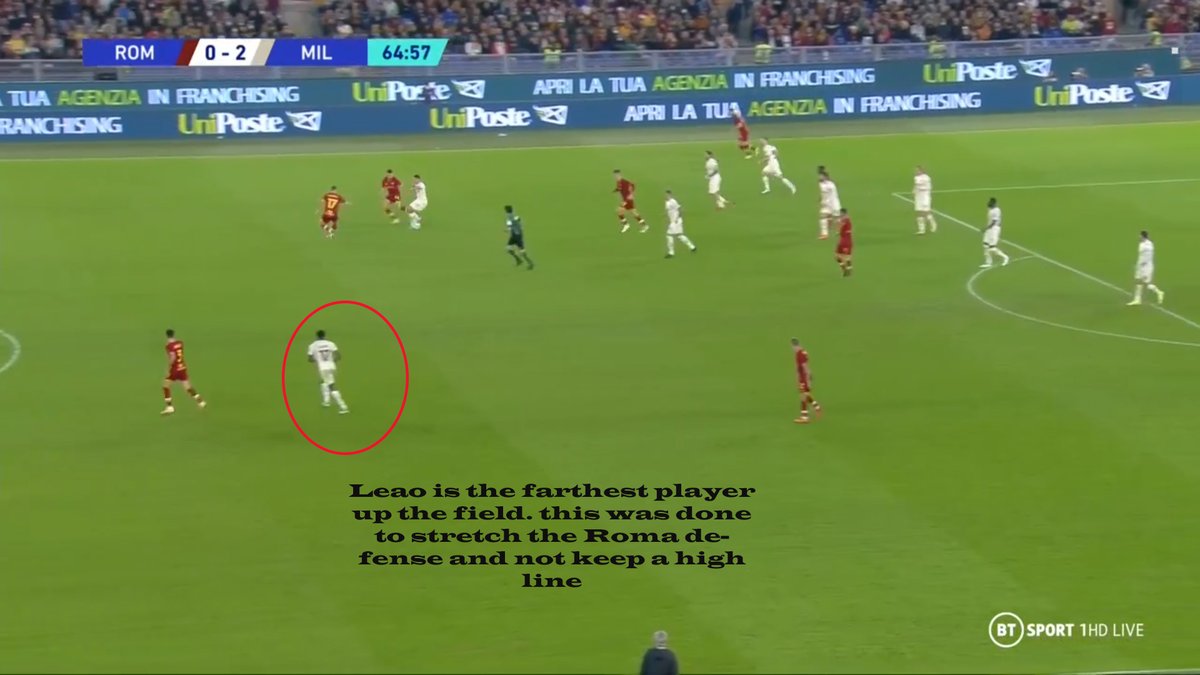 Once Theo was sent off Milan went into a 4-3-2 formation but with Mourinho putting attackers on to take advantage they shifted to a 5-3-1.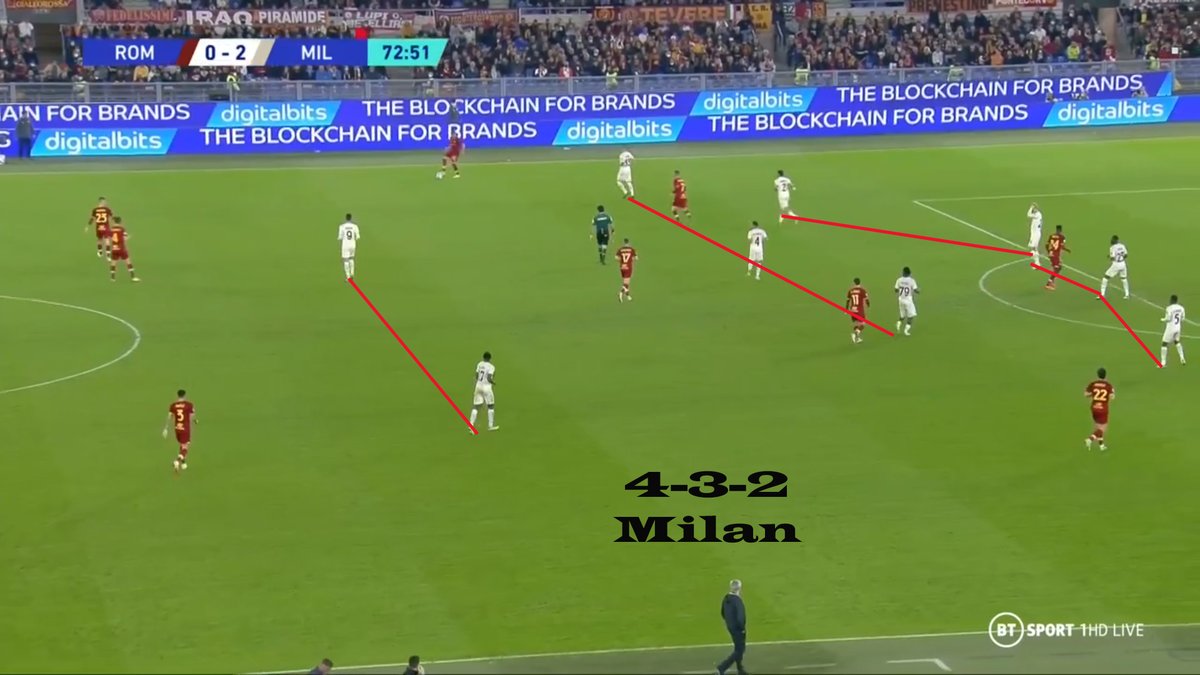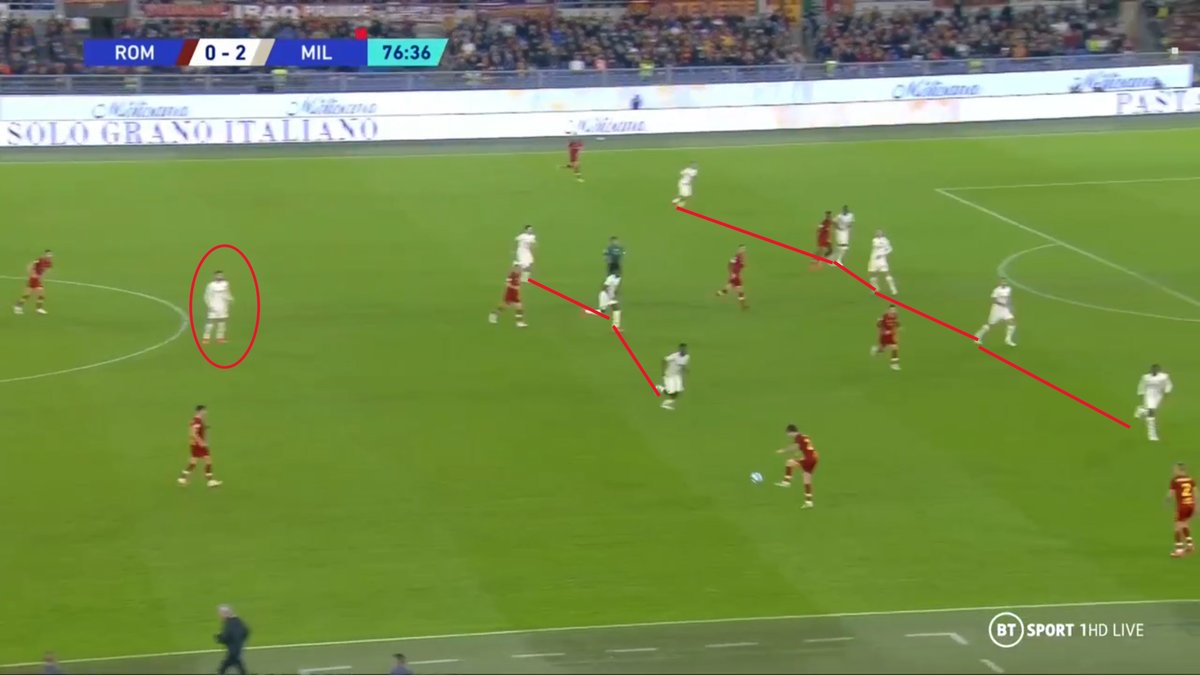 This can be seen in the below picture. Jose brought in Perez and Shomurodov for their two wing-backs. They were swarming Milan's defence and creating an overload.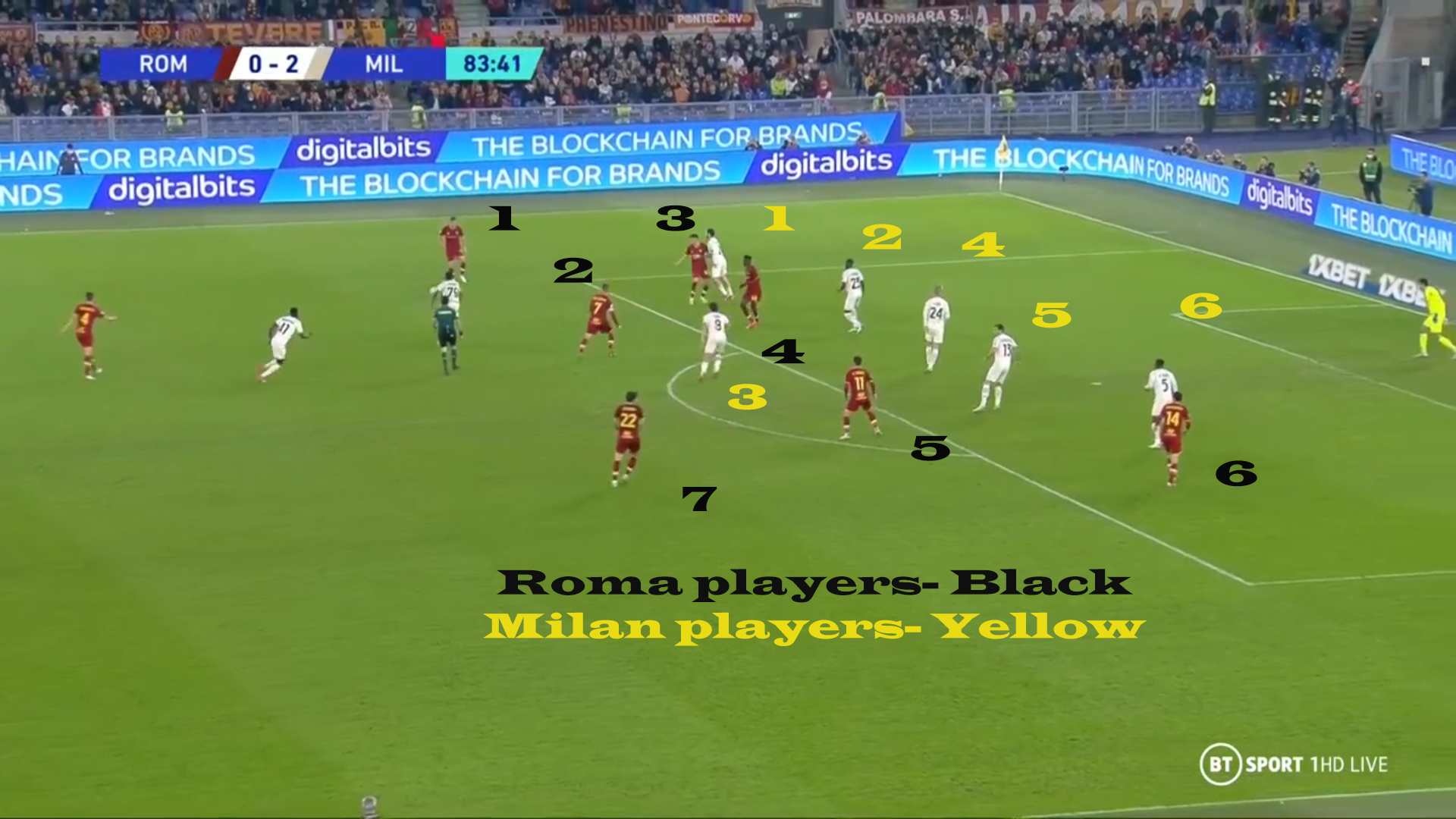 Pioli organised Milan brilliantly and did not give Roma any easy chances until the goal. They prevented the Giallorossi from creating too many numerical advantages and made them to shoot at Tatarusanu from distance.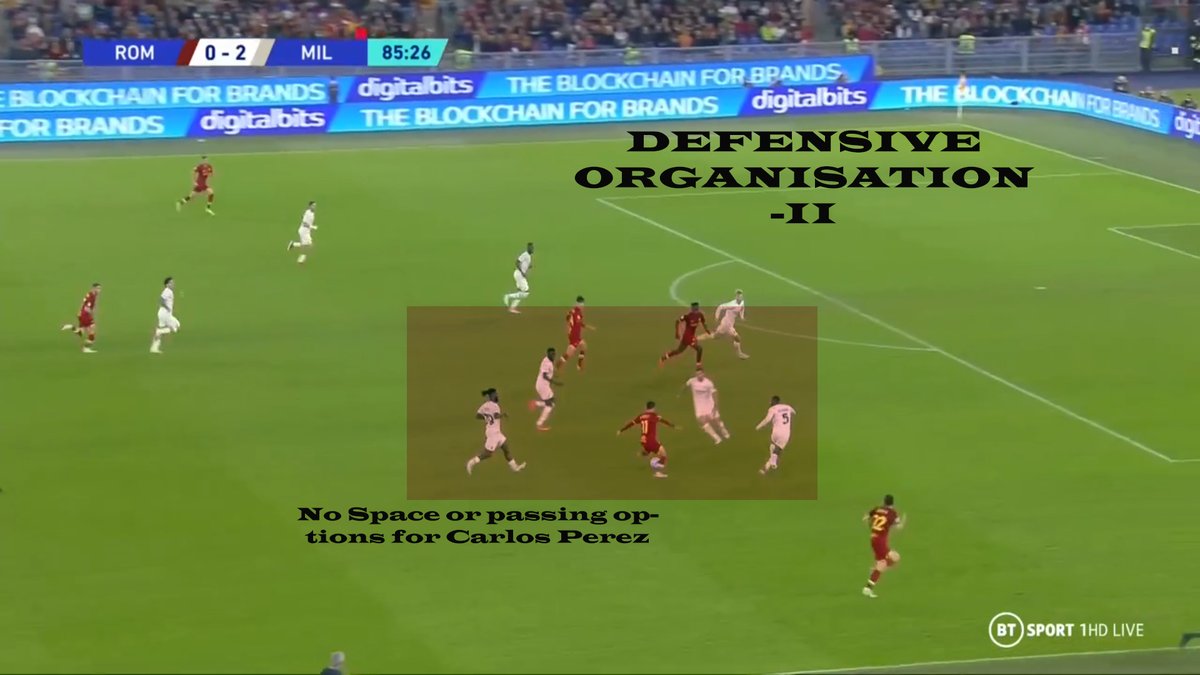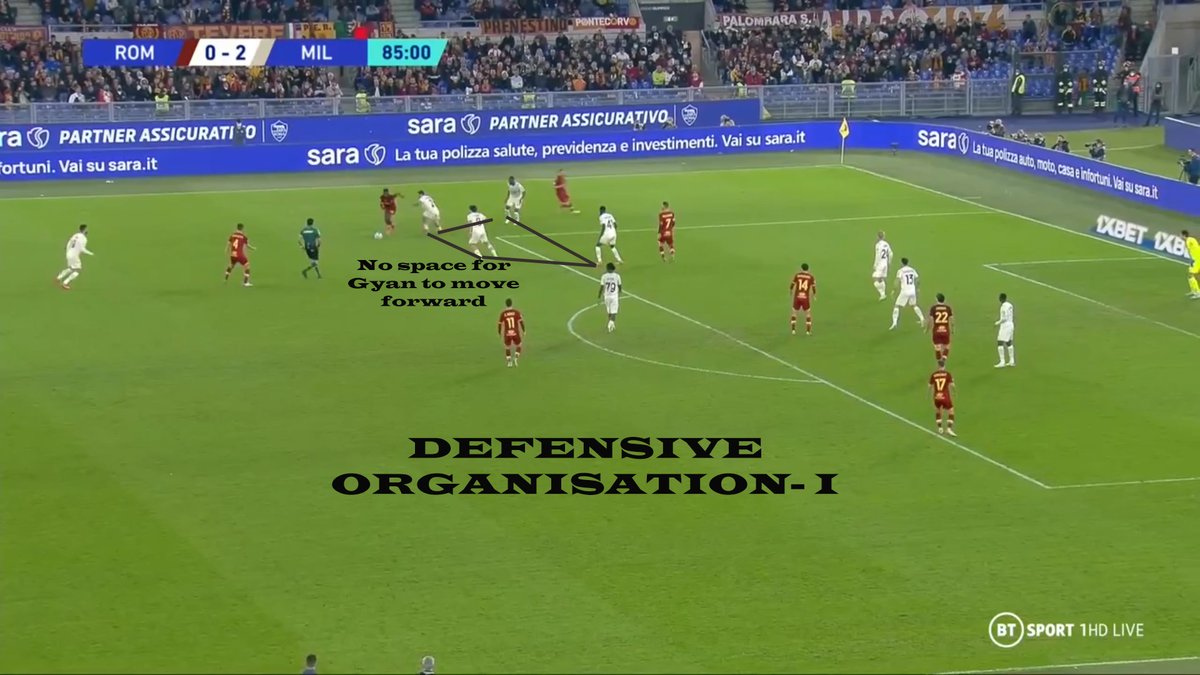 The goal came courtesy of Roma creating an overload in the box. Veretout crossed the ball into the box and every single player attacked the ball, with Milan finally succumbing to the pressure.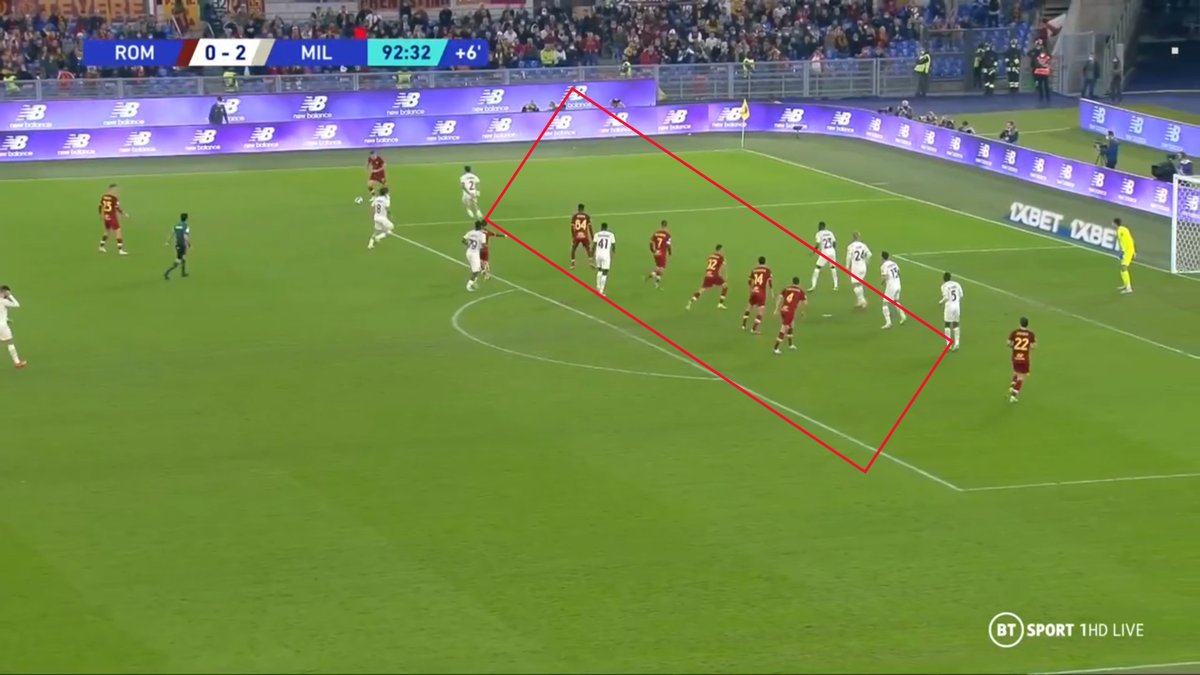 Stats
As explained, Roma stayed very narrow and Milan tried to exploit it with wide runners in the form of Theo and Calabria overlapping underlapping with respective full-backs.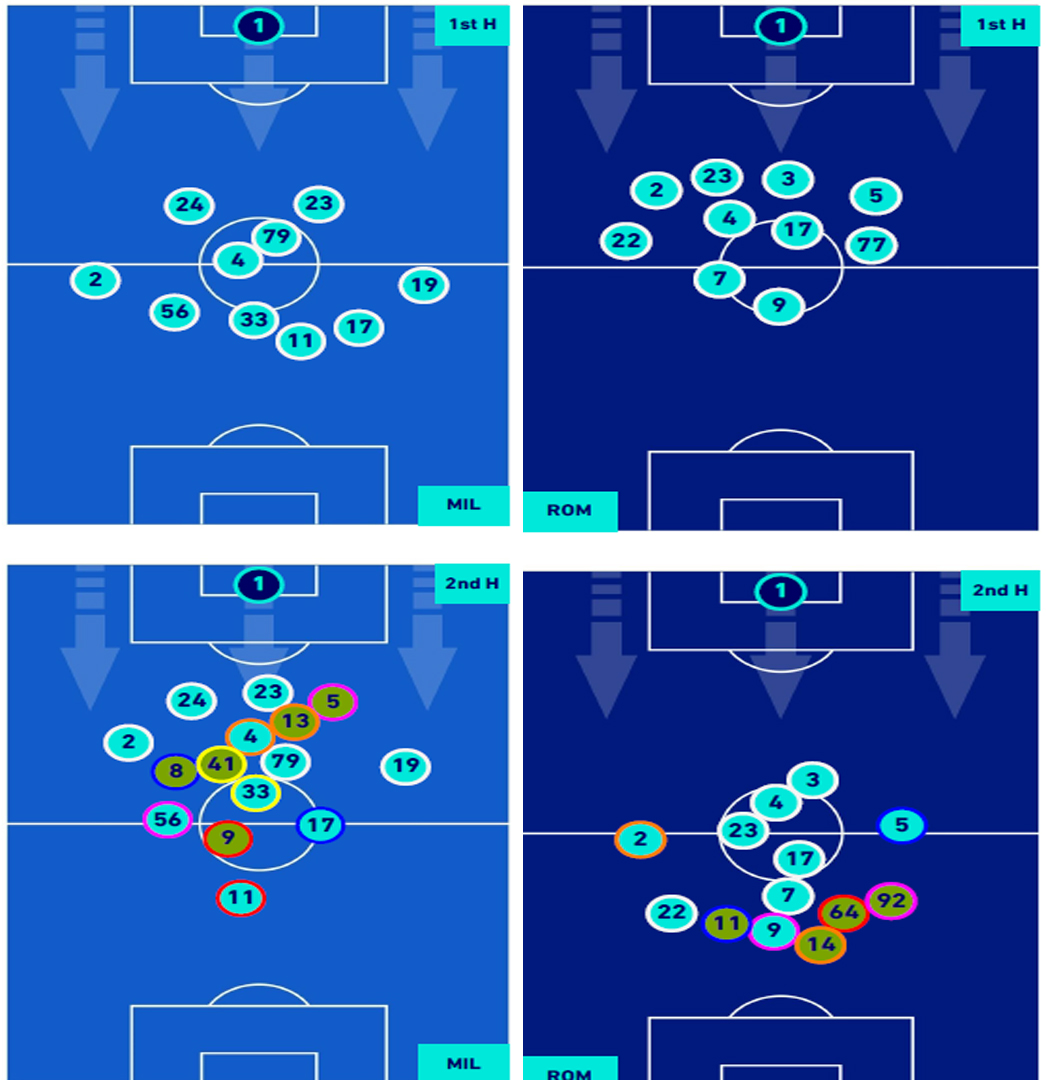 Roma initially tried to stay deep, soak up the pressure and hit Milan on the counter as we can see how deep they stayed in the first half. However, in the second half they pushed high in search of the goal especially after Milan got a red.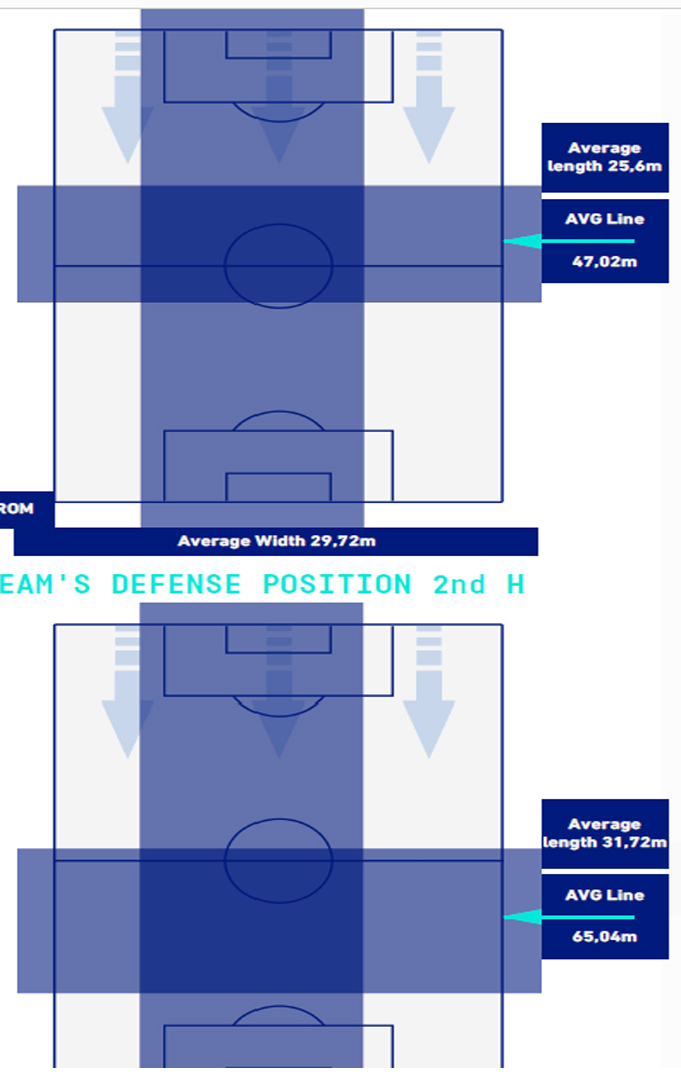 The athletic data once again shows that Milan played a very intense game but probably not as much as the Atalanta win. Milan tailed off and sat back to soak the pressure from Roma in the second half after the goal.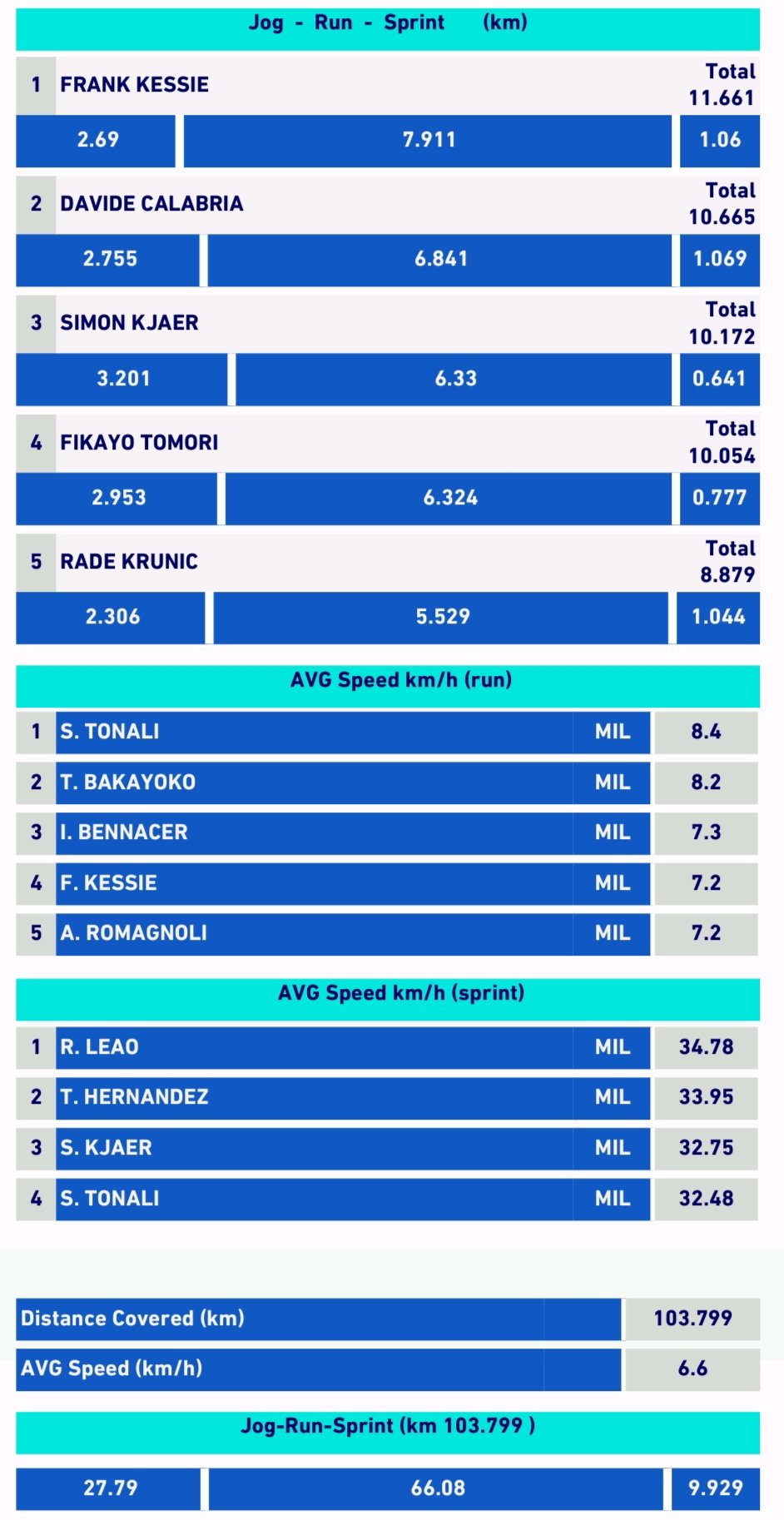 ---
WATCH: Milan break down Mourinho's 4-4-2 block with 3-6-1 setup and clever movement