This evening, AC Milan will face Inter in the derby. Both clubs have made 100% starts to their league campaigns and scored eight goals apiece, making for an interesting tactical battle between the two managers.
Much of the early season focus on Milan has centered around what Stefano Pioli's side have been doing in possession.
But with the derby set to be an intriguing tactical battle, both with and without the ball, @Tactics_Tweets has taken a look back at the Rosseneri's opening Serie A games and select preseason friendlies, to preview what Milan's out of possession approach may be against their city rivals, and the potential risks and rewards it brings.
Different schemes for different teams
So far in Serie A and across preseason, Milan have faced opponents with various tactical profiles.
In the league, Bologna attacked from an initial 4-2-3-1 starting shape, whereas Torino (3-4-3) and Roma (3-5-2) both used back three's and wing-back systems.
Across their main preseason friendlies; Real Madrid played in a 4-4-2 midfield diamond with lots of fluidity, Juventus used a 3-5-2, Barcelona were their traditional 4-3-3 with positional rotations, and Monza attacked in a 3-4-2-1 with coordinated movements.
As a result of having to deal with this assortment of playstyles across the aforementioned matches, Milan have adjusted their out of possession approaches in order to find defensive (and in some instances, counterattacking) solutions against the respective opponent.
In all of these individual games, regardless of the overall out of possession plan, Milan's defensive shapes have tended to adjust in different phases of play e.g. when defending higher in the opposition half, in the middle of the pitch or lower towards their own penalty area.
However, whilst Milan have primarily remained consistent when collapsing into a mid and low block against every opponent (the shape can vary but compactness is the key), they have demonstrated notable adjustments in their high blocks and pressing schemes depending on the opposition's shape.
And most notably, there have been distinct recurring tendencies for Milan when facing an opponent using a back three and wing-back system – the now, trademark shape of Inter.
Therefore, to preview some potential watch outs in the derby, here are examples of these tendencies in practice from the games against Torino, Roma, Monza and Juventus.
The plan
When facing a back three and wing-back system across these fixtures, Pioli has implemented a player-orientated pressing scheme. In essence, a number of their players locked onto a direct opponent when pressing, with some exceptions and players having dual responsibilities.
This pressing scheme is most apparent in the Milan forward line, where their three attackers each push onto the opposition back three. In midfield, Ruben Loftus-Cheek, Tijjani Reijnders and Rade Krunić will adjust their structure and responsibilities depending on the opposition's central set-up.
Then, in defence, the ball side Milan full-back will jump up out of their defensive line to engage the opposition wing-back on their flank with the rest of the back four shifting across accordingly.
The one exception to this player-orientated approach is the ball-far full-back who drops to provide coverage in the backline. The rationale being that this covering full-back helps maintain numerical parity or overload against the opposition's forwards.
However, one trade-off is that this allows the team to have a 'weak-side' e.g. affording space on one side of the pitch, with potentially an unmarked opponent, to prioritise compactness on the other.
The execution of this player-orientated pressing scheme involves a number of Milan players initially being positioned between two opponents. This allows the team to remain flexible and react to opposition direction of play and player movements.
Here are some examples in practice to showcase the approach.
Against Torino, the three Milan forwards are locked onto the opponent's back three and Loftus-Cheek has pushed up onto his near-side opposition central midfielder. With a pass being made to the Torino left wing-back, Calabria's role is to jump up and engage.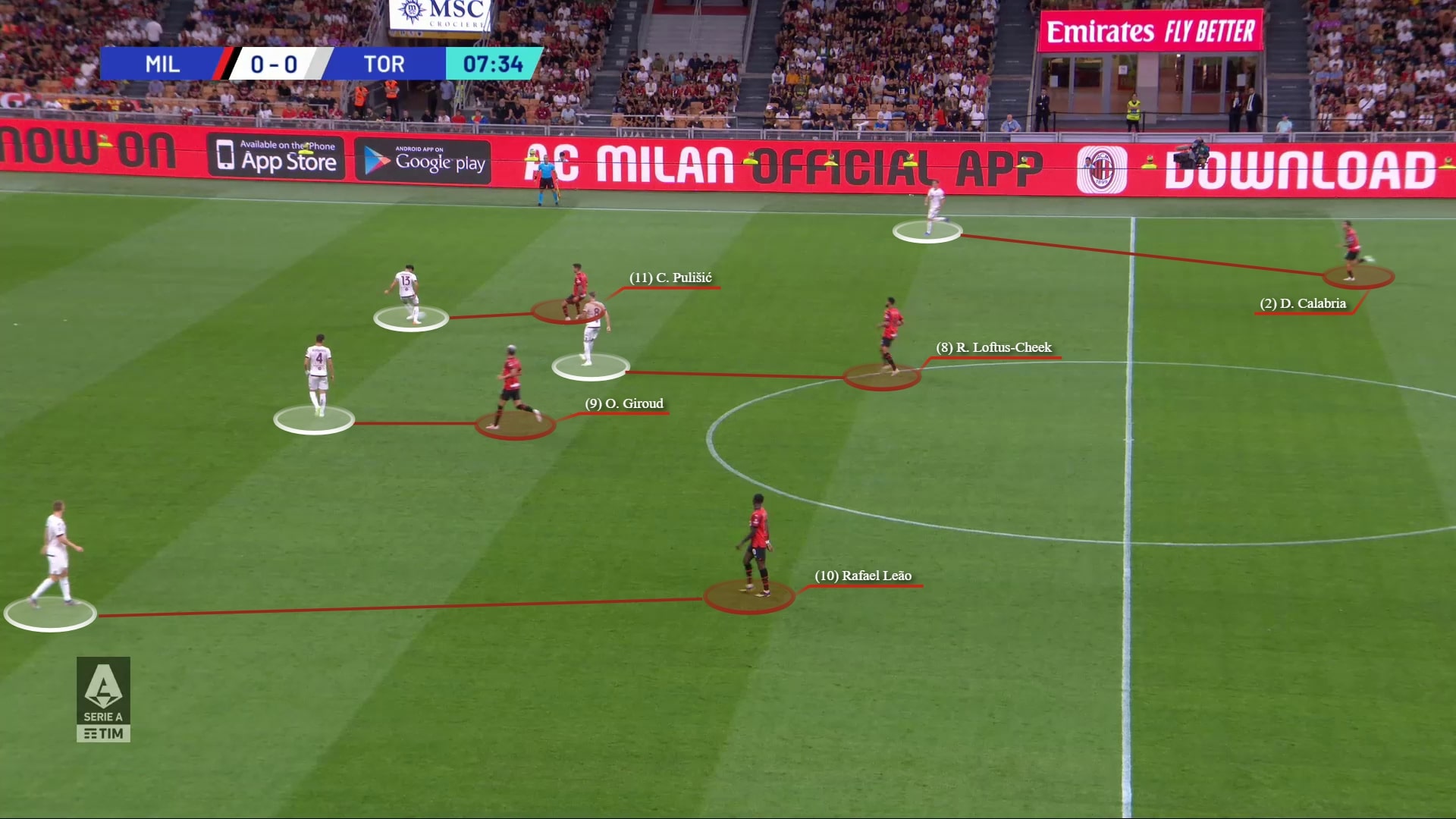 In this second image, you can now see the rest of the Milan team. Thiaw has followed a Torino forward out wide, leaving Tomori covering the other. Krunić is responsible for the most advanced Torino midfielder and Reijnders for his near-side midfield opponent.
And finally, you can see Hernandez providing cover in the backline allowing the Torino right wing-back in space on their weak-side.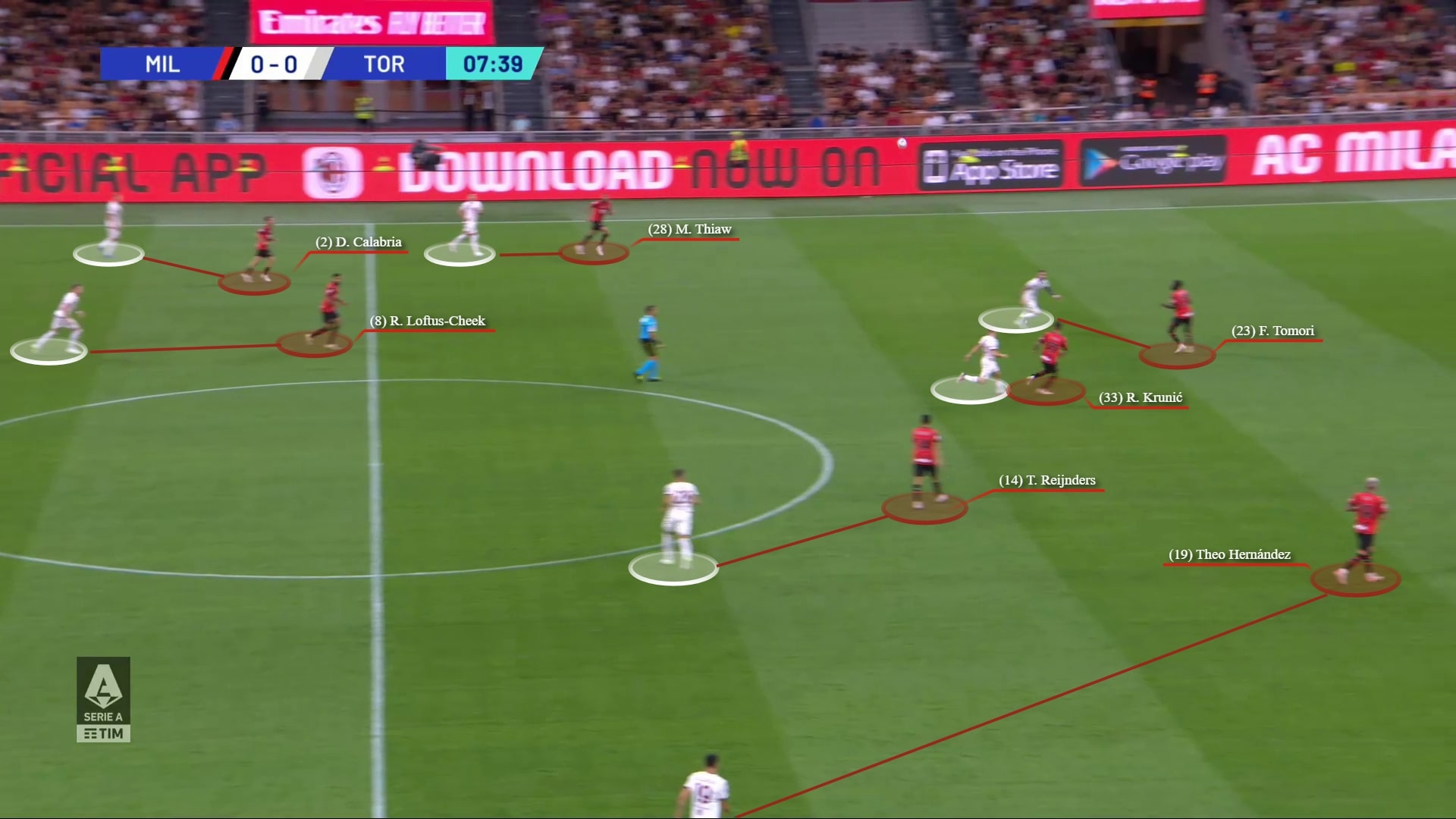 Against Roma, we can see the same scheme. Below, the three Milan forwards are locked onto the opposition's back three and Reijnders is pushed up to the Roma midfield pivot (example of the Milan three midfielders adjusting according to the oppositions midfield set-up).
Also, note Leão checking behind so he can position himself accordingly between two opponents, due to the ball being on the opposite side. Anyway, with no desirable short option available for the Roma goalkeeper, Rui Patrício clips a pass towards their left wing-back…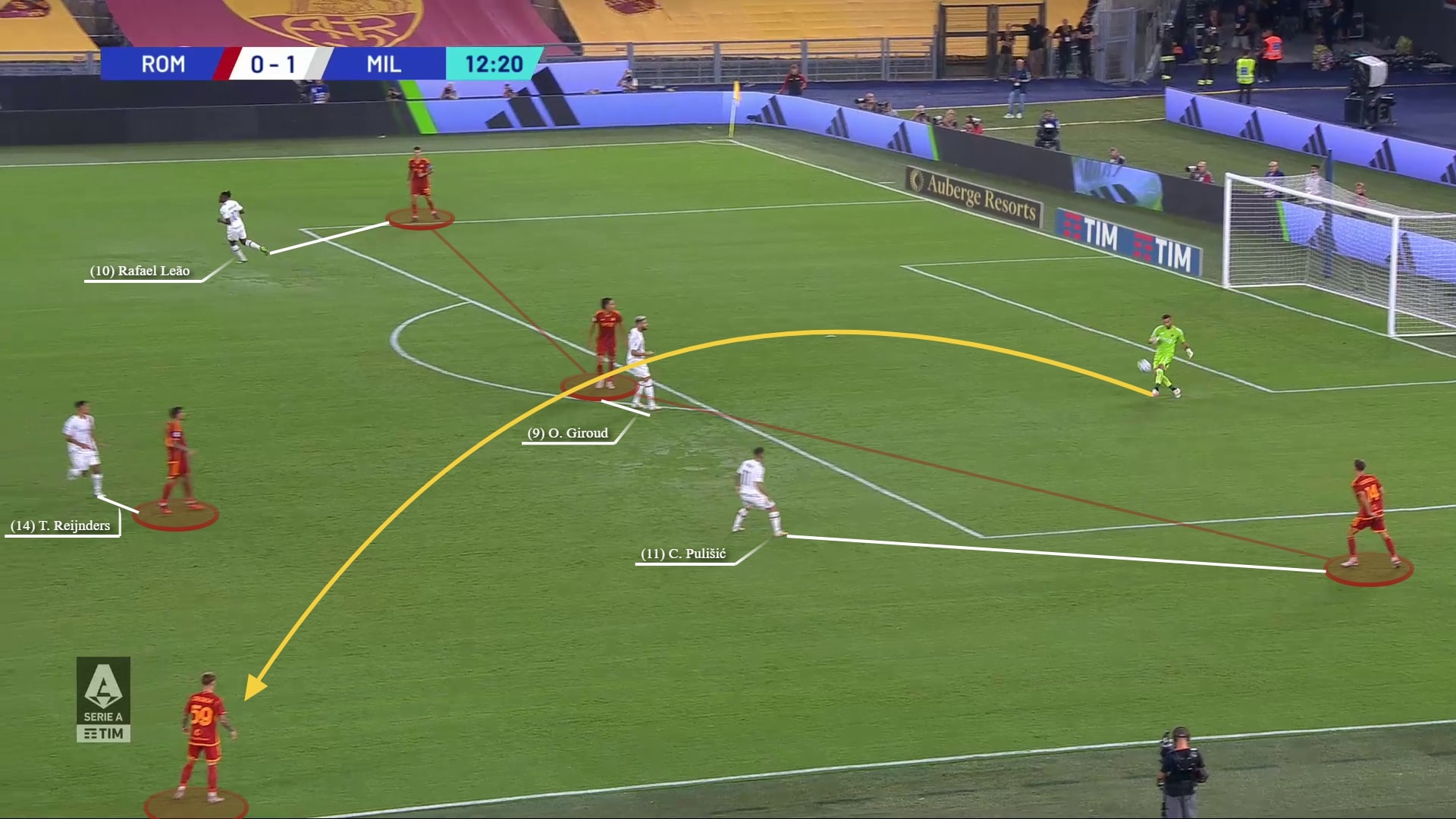 …and this is a trigger for the right-back (Calabria) to jump and engage. In this sequence, the Roma wing-back flicks the ball on but then Thiaw, who has again followed an opposition forward out wide, concedes a foul due to his equally aggressive and eagerness to force a turnover.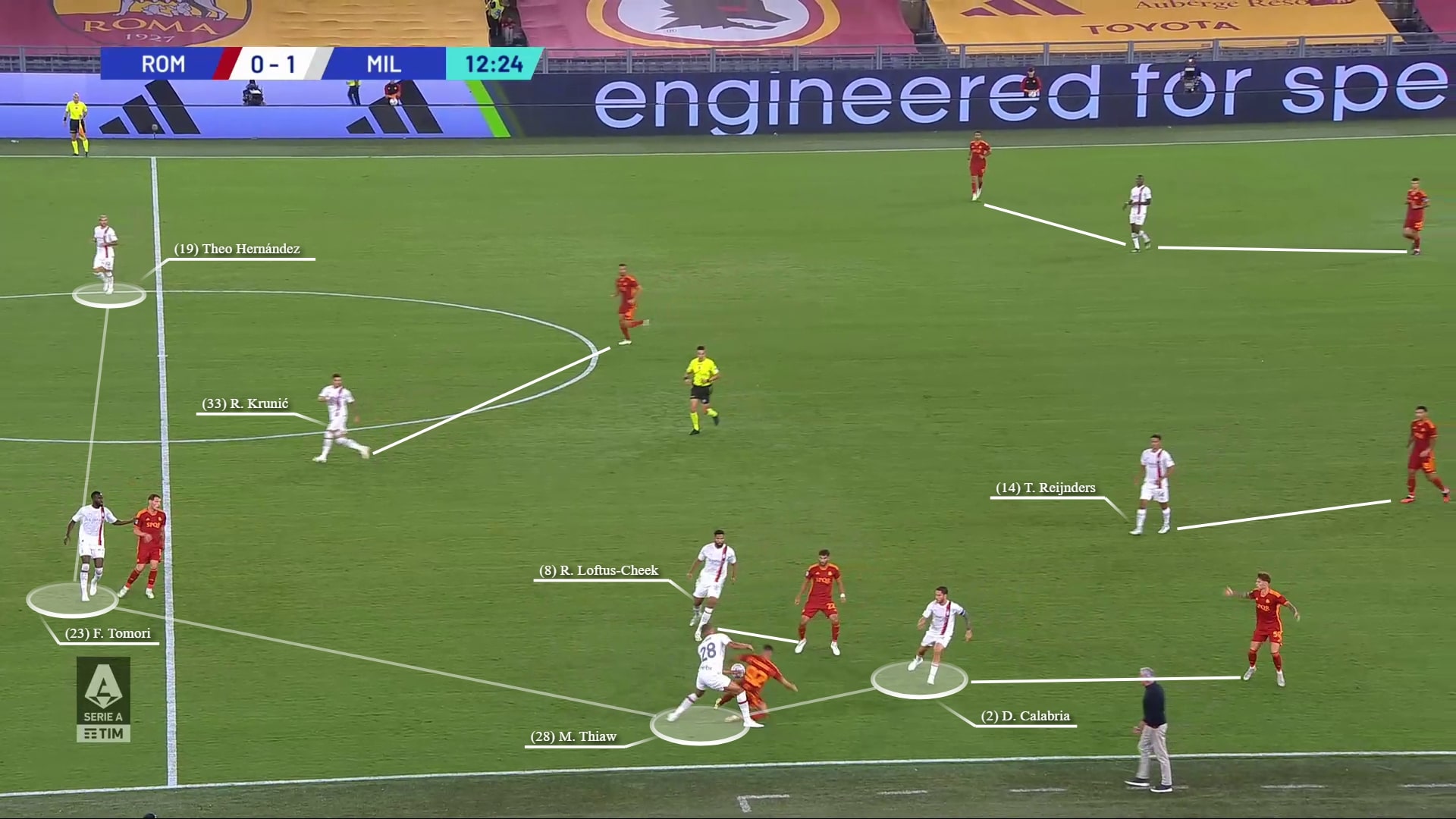 In the image above, you can also see how Tomori is covering the second Roma forward and the other two Milan midfielders are near their direct opponents.
Due to this attack coming down the Roma left-hand side, Hernandez has again dropped to provide coverage in the backline with Leão now in between the two opponents he has responsibility for. The idea being, if required, the Portuguese attacker could drop to help track the Roma right wing-back to protect their weak-side – especially as Zeki Çelik in this instance is in an initial deeper starting position.
In preseason, Milan also had examples of honing this player-orientated pressing scheme.
Below, against Monza, you can see their back three each covered by a Milan forward, and Leão in particular forcing the right-sided Monza defender to go long despite his midfield teammate pointing for the pass to go wide right.
This forced forward pass was also aided by Loftus-Cheek and Reijnders pushed up onto the opposition double pivot – again, another example of the Milan midfield adjusting according to the opposition shape.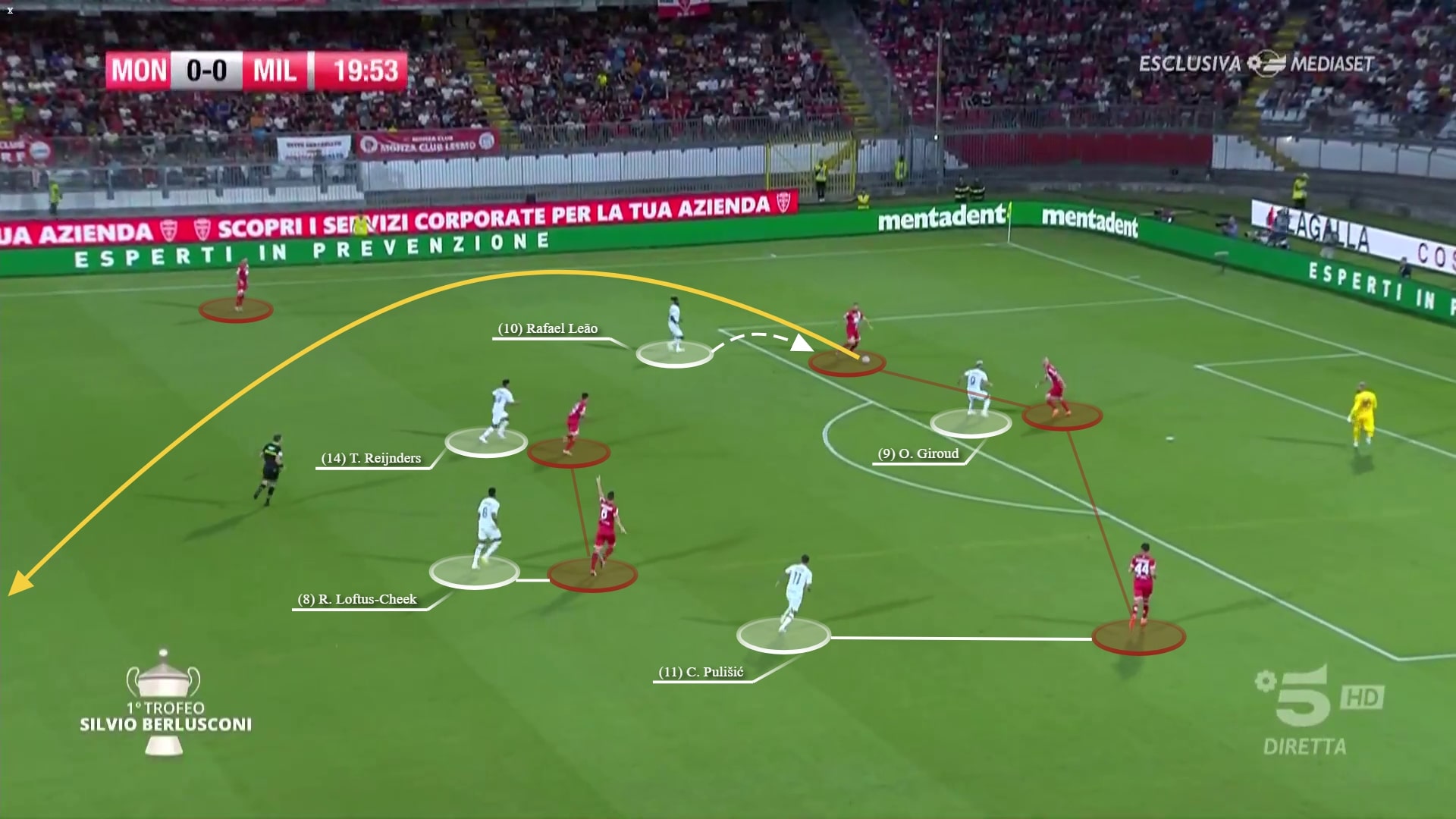 The action picks up below, where Thiaw regained possession for Milan after the ball evaded the Pierre Kalulu aerial duel. The French defender was providing cover in the backline (helping create a 3v2) due to Hernandez having initially jumped on the left flank in anticipation of the Monza right wing-back receiving the ball.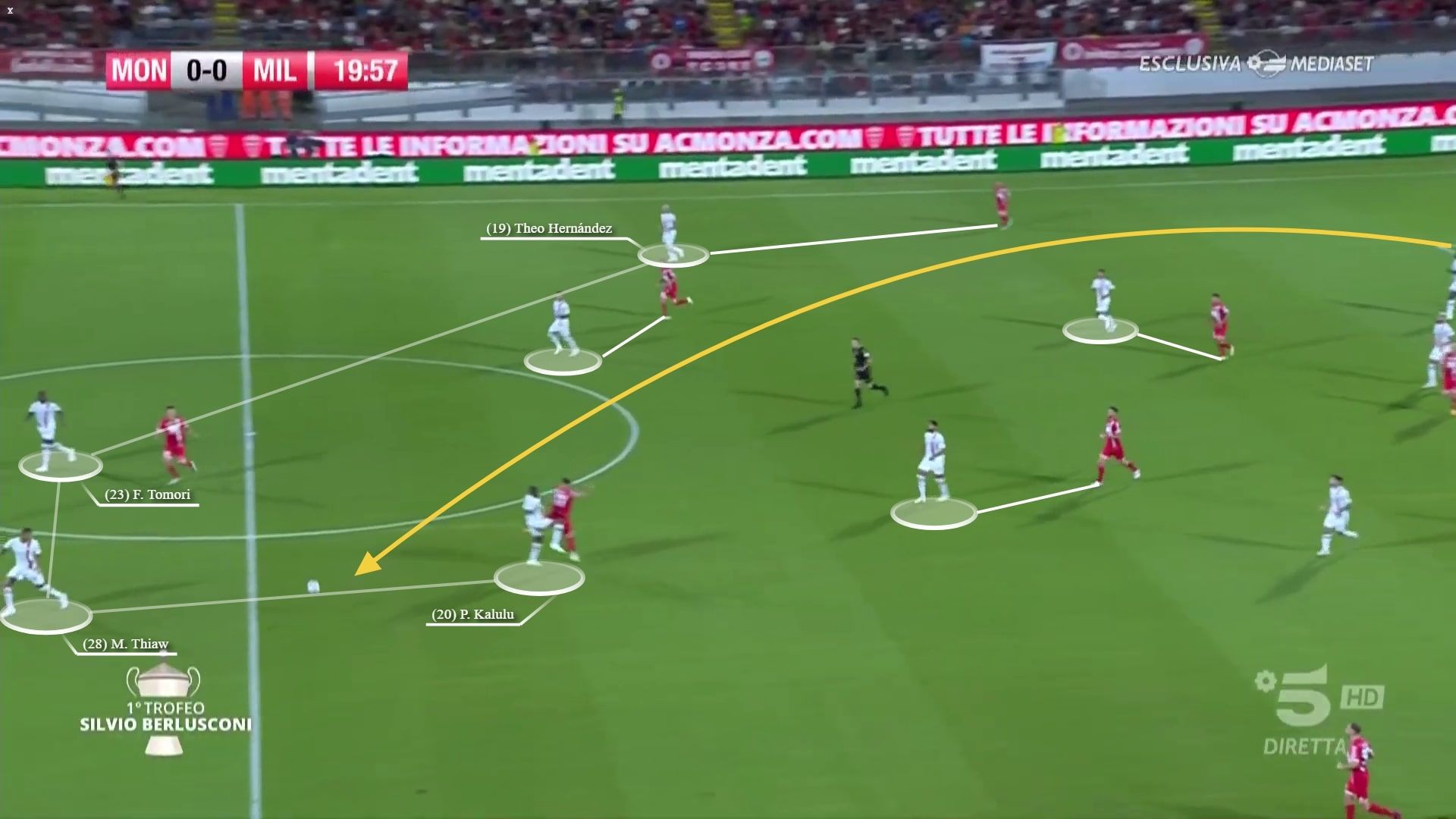 In the bottom right corner of the image above, you can also see the Monza left wing-back in space on the Milan weak-side. However, Christian Pulisic is already beginning to retreat in case required to get back into their compact mid and low block shapes.
The rewards
The primary aims for Milan of this out of possession approach are to reduce the opposition's passing options, with all ball-near opponents being covered by a Milan player.
As a result, Milan may be able to force 1) turnovers in the opposition half or 2) rushed – and therefore hopefully lower quality – forward passes which the aggressive Milan backline can then intercept and win back possession.
We can see some of the rewards this approach can help generate below.
Here against Torino, the Milan forward line are engaging the opposition back three and Loftus-Cheek and Reijnders have pushed up to the midfield double pivot…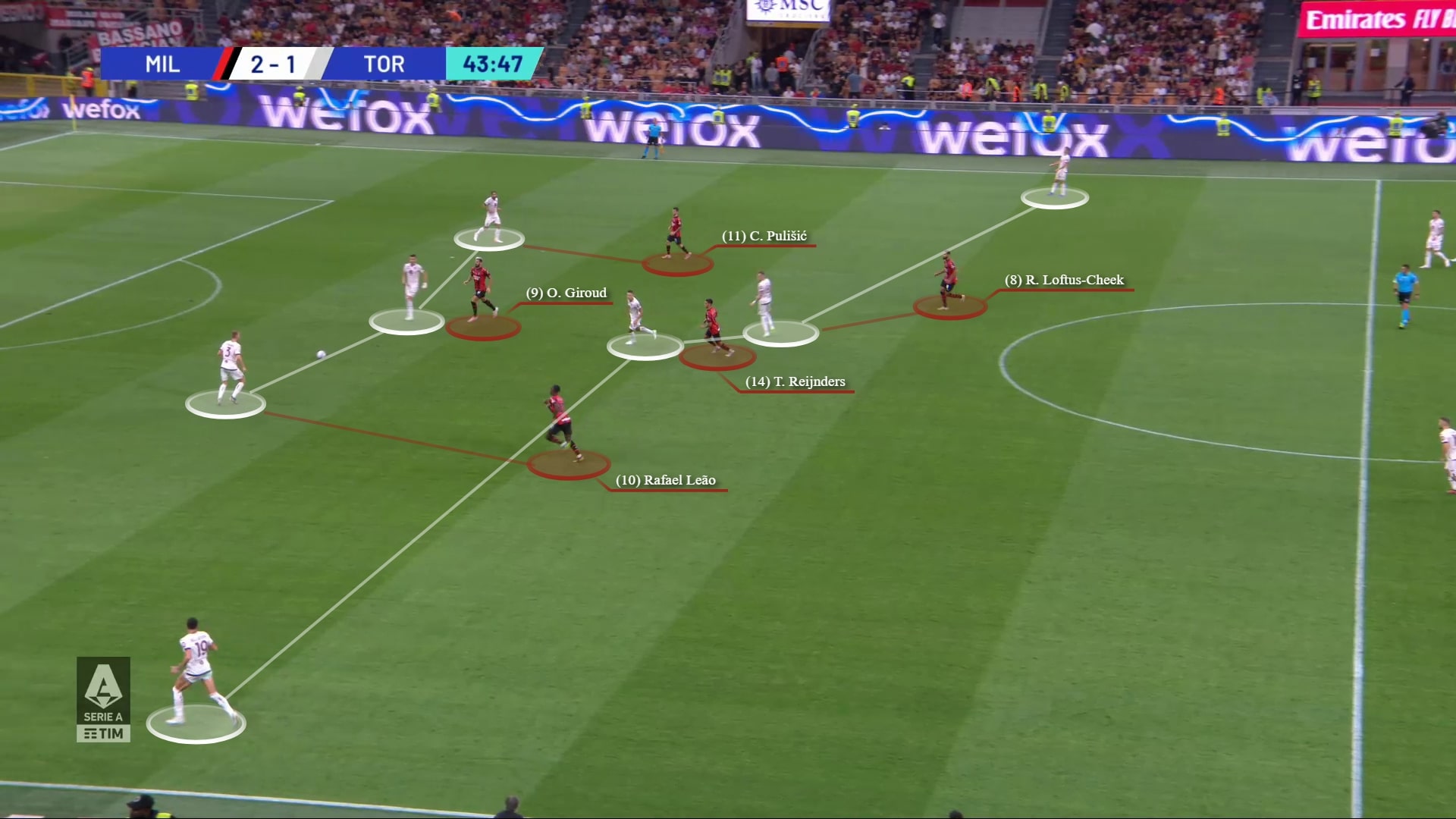 …Torino opted for a vertical pass into their attacking midfielder but Krunić was in close proximity and intercepted. Also, note how Hernández has preemptively jumped in the event of a pass to the right wing-back.
Despite forcing a turnover and attempting to spring an attack, Milan lost the ball. Torino then attempted another pass into their forward line but on this occasion, Tomori was ready to pounce and his interception led to a Milan attack and box entry.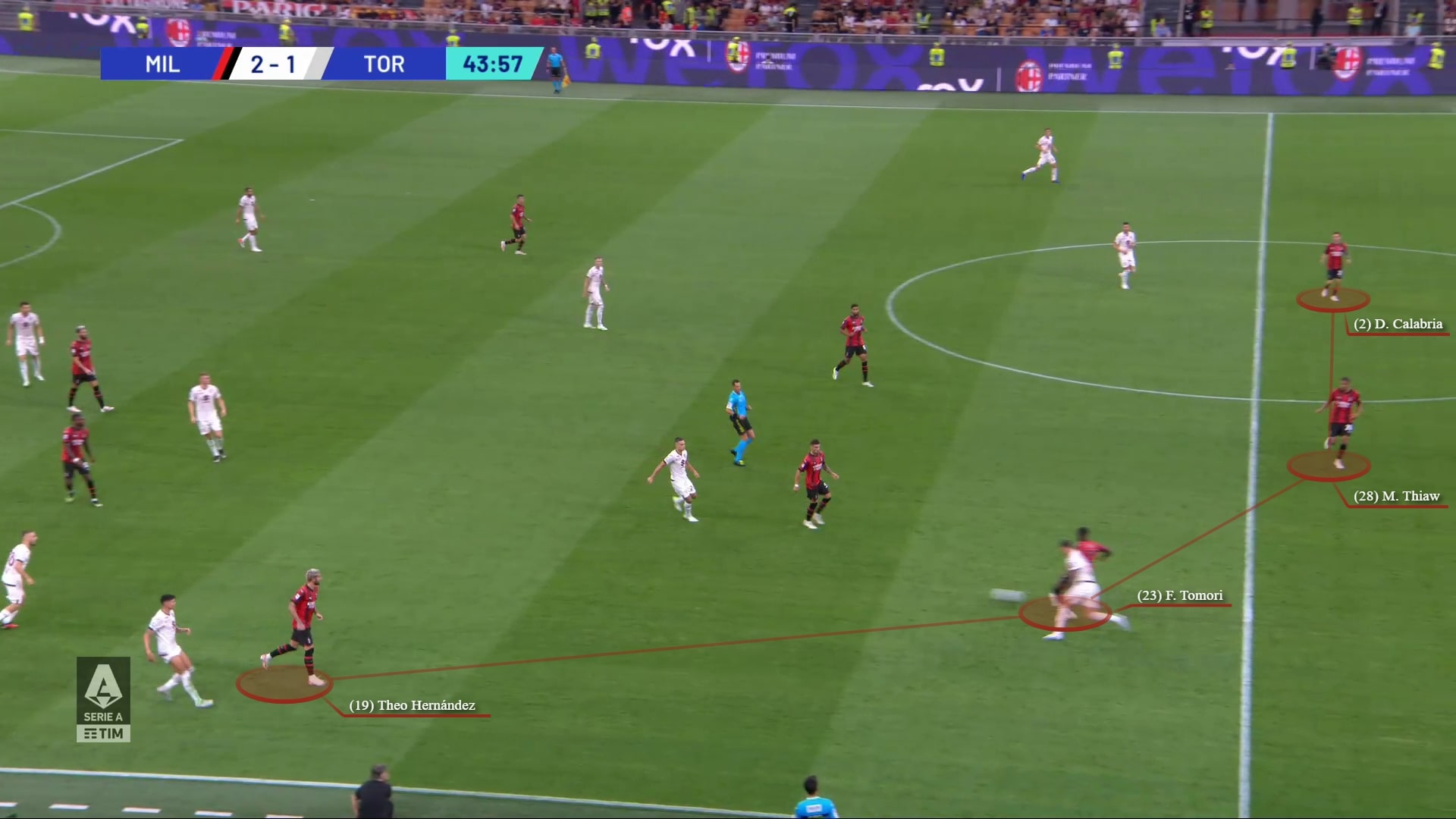 Also in the image above, you can see Calabria (the ball-far fullback) has dropped to provide coverage in the backline, thus allowing the weak-side.
In this next example against Roma, again, the Milan front three are engaging the opposition backline and their midfield three are covering all central passing options…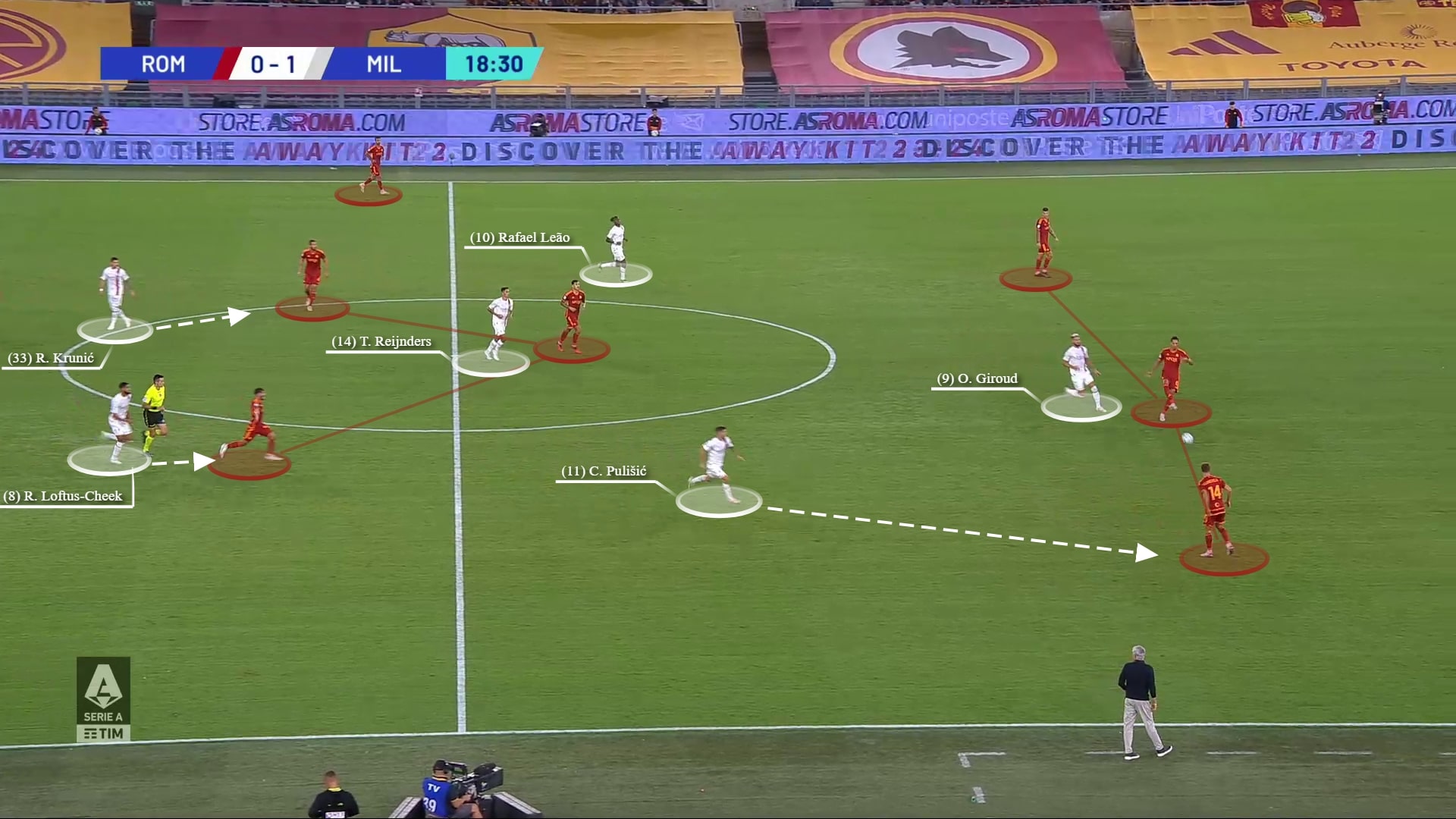 …as a result of this, and Calabria jumping to pressurise any pass to the left wing-back, the Roma defender opts to play a channel pass which is easily dealt with and regained by the Milan defence. Again, below, you can see Hernández (the ball-far full-back) providing cover in the backline.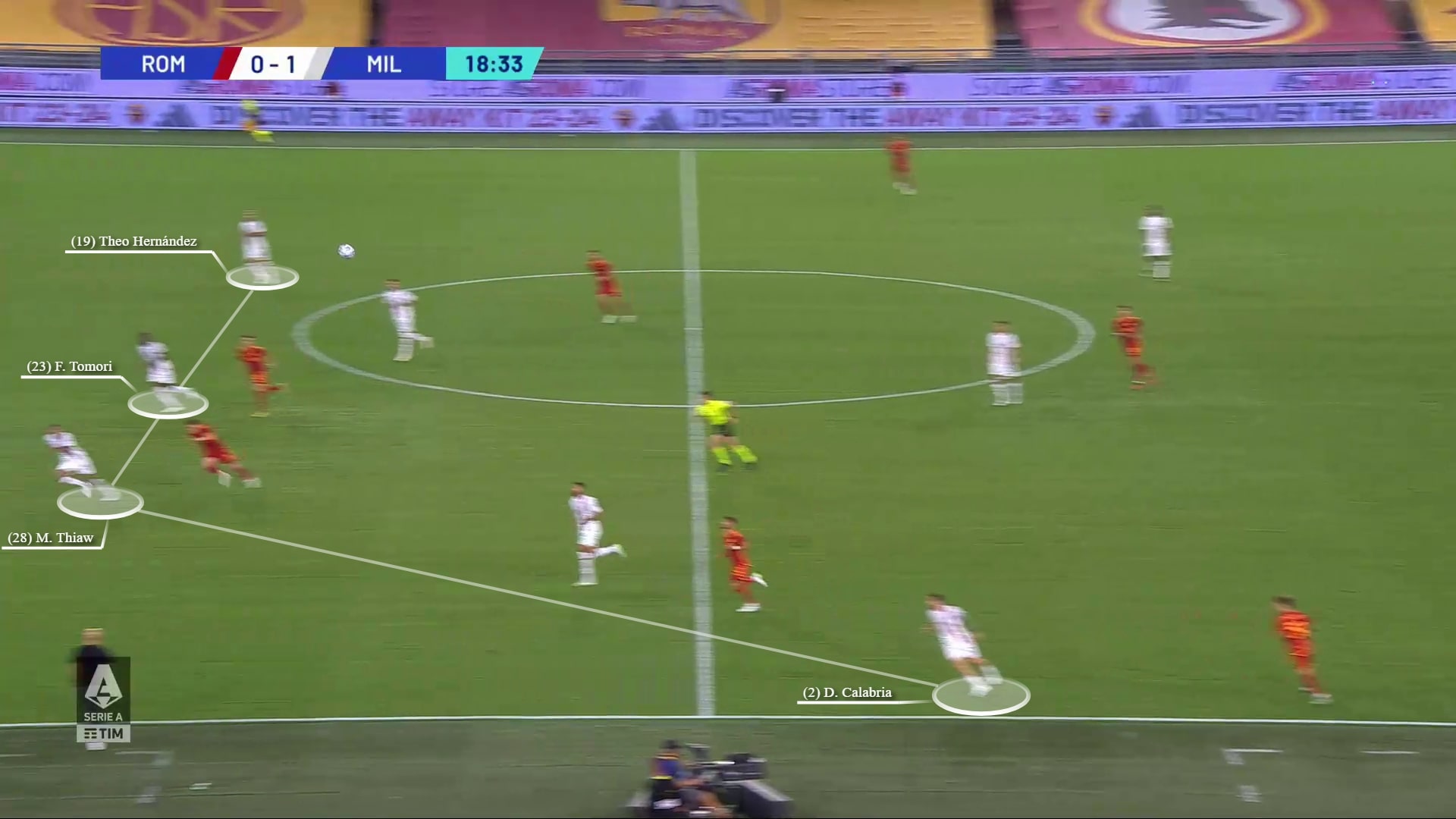 In this final example against Monza, as Pulisic initially starts deeper so unable to engage immediately, he prioritises blocking any central / half-space passing lane and encourages the pass out wide to the left wing-back.
As a result, Kalulu – initially positioned in between two players so able to react to the direction of play – jumps to engage the wing-back and therefore passes on the central Monza player (highlighted in yellow).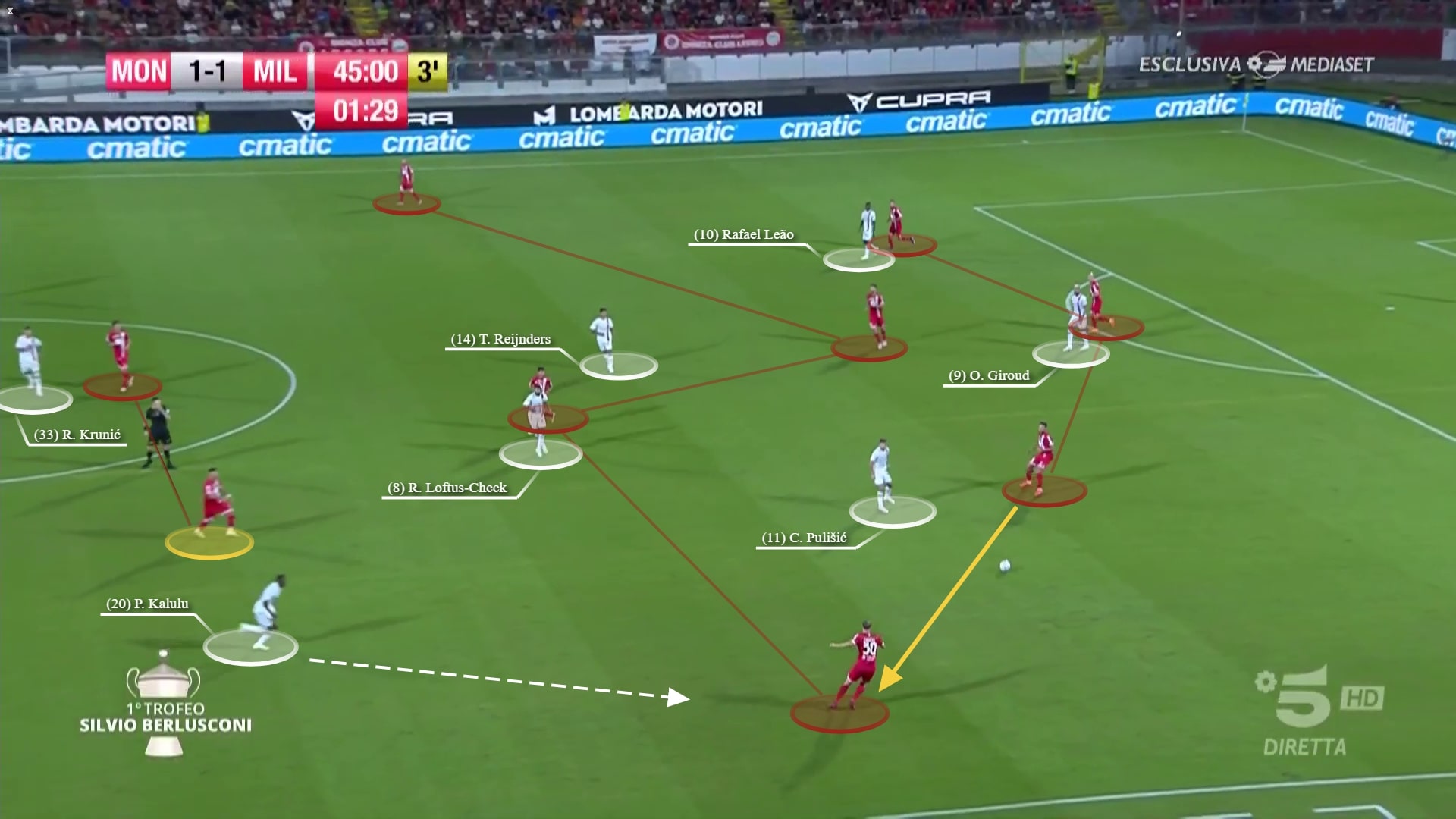 After some passing exchanges from Monza, Thiaw jumps out of the backline to engage the said vacated Monza player. Again, see Hernández (the ball-far full-back) providing cover in the backline and Milan allowing a weak-side.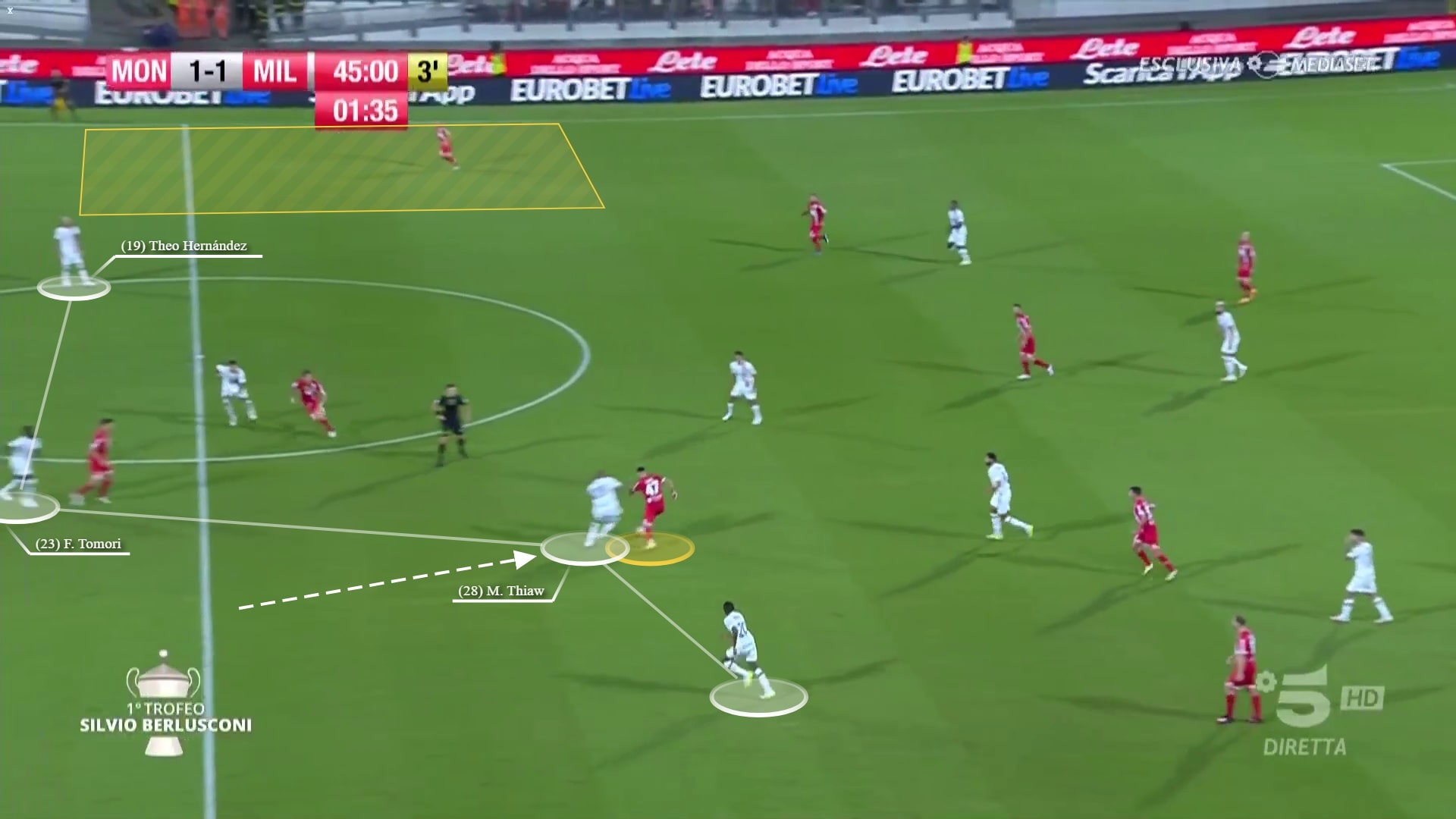 Thiaw's pressure results in a turnover, and the loose ball falls to Giroud who lays a pass back to Reijnders who then plays a through ball to Leão who ends up taking a shot inside the penalty area.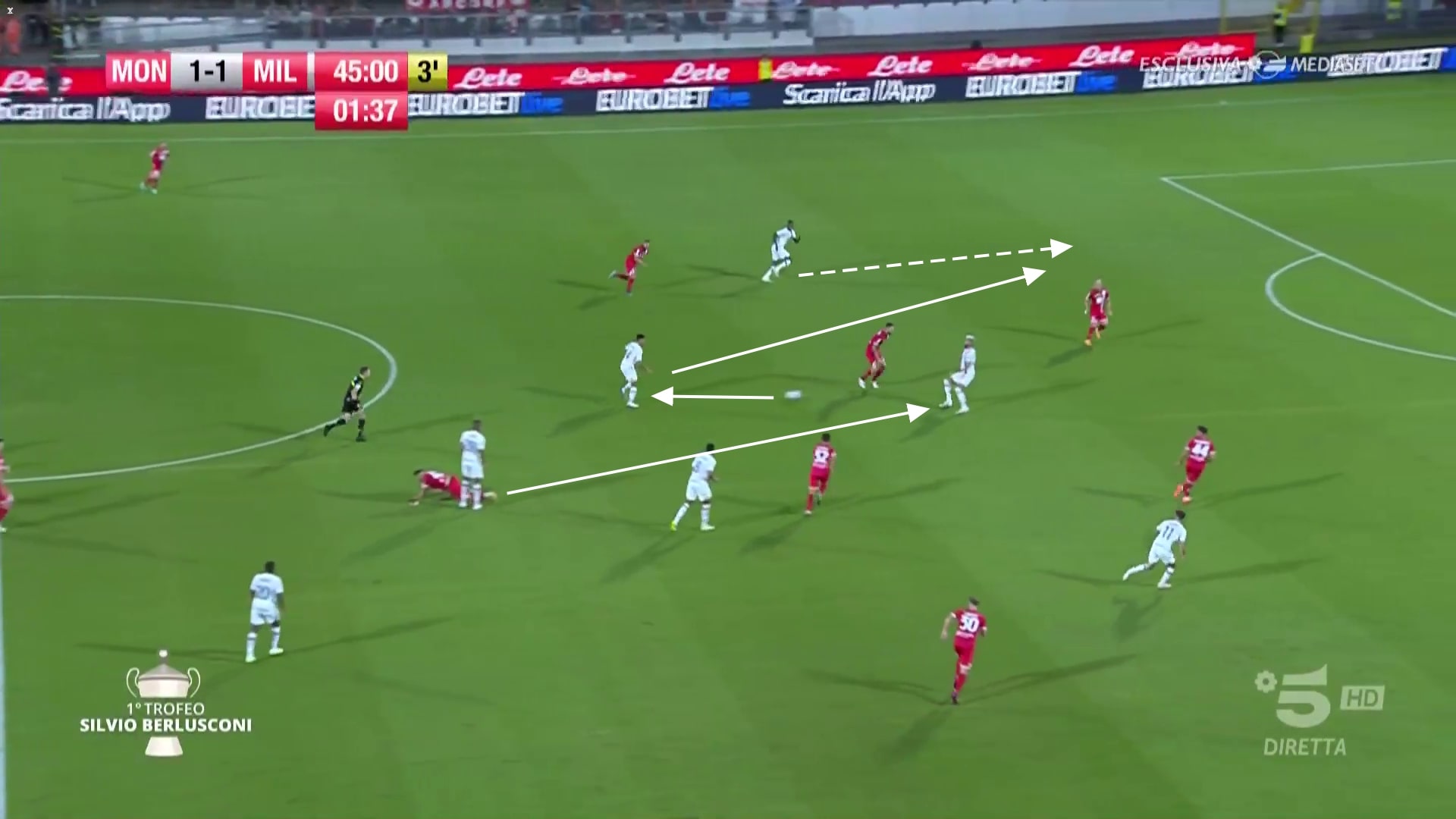 In the few examples above, you can see evidence of the beneficial outcomes Milan's pressing scheme can help lead to.
In addition to forcing the opposition into rushed and lower quality forward passes that Milan's backline can intercept, another benefit of this approach is that when these possession regains do occur, Milan have attacking numbers in advanced positions so are able to spring attacks of their own, as seen.
But this out of possession approach is not without its risks…
The risks
As already highlighted, one of the trade-offs of Milan's pressing scheme is that it allows the team to have a 'weak-side' e.g. affording space on one side of the pitch with potentially an unmarked opponent. Also, across all of the provided visuals, you can see how Milan's backline can become disjointed and exposed.
However, there are other downsides and ways in which this approach can be exploited. And whilst in their league games and friendlies these 'weaknesses' have not been punished, with Inter up next, it's definitely a potential watch out against a higher quality opponent.
Let's first look at how team's have attempted to exploit the Milan full-back jumps…
In this passage of play against Juventus, Allegri's side have split their back three wider to increase the distances the Milan front three have to cover and opened central passing angles into their midfielders.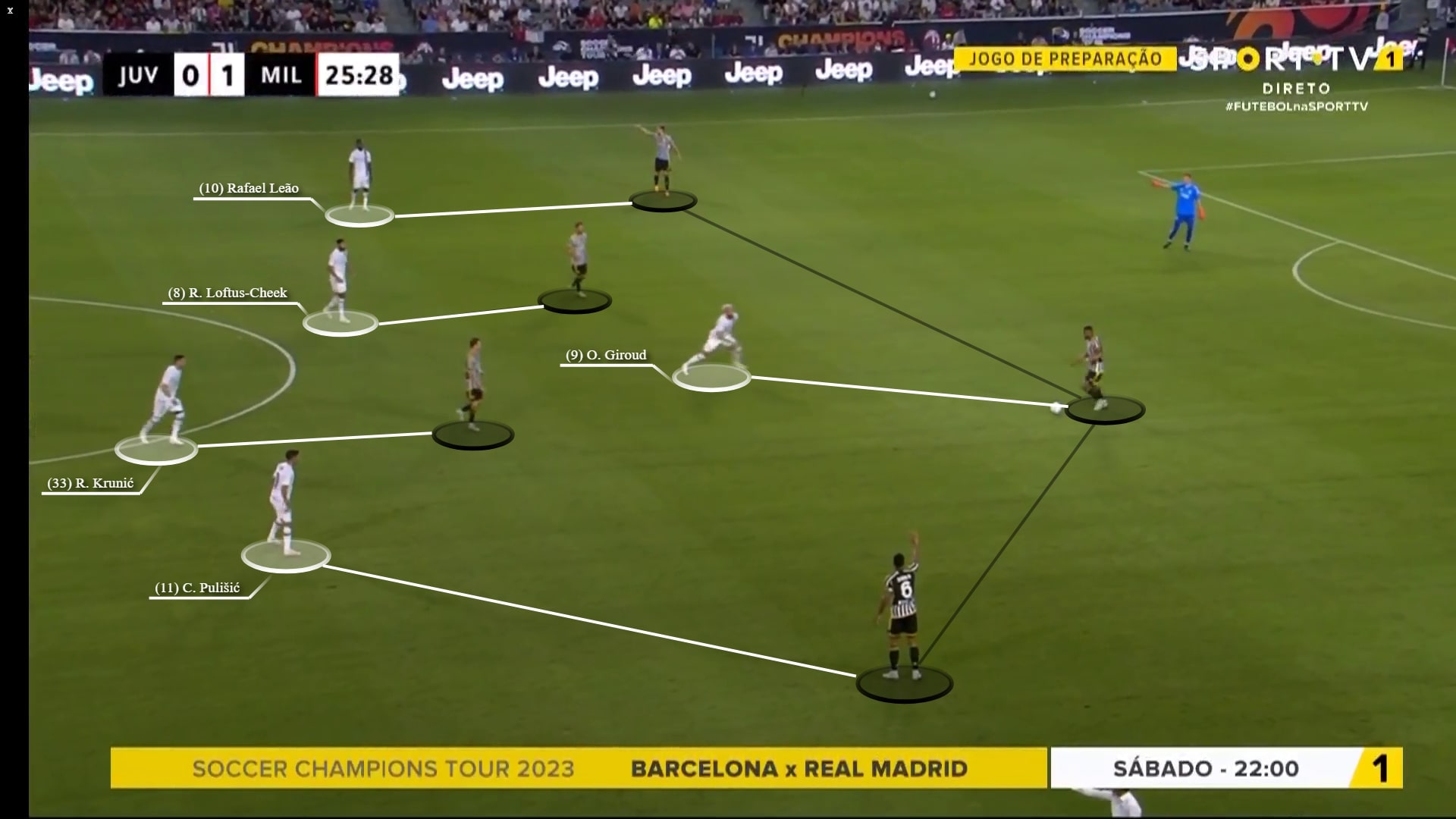 After receiving a pass from his central defender, the Juventus left-sided midfield 8 drops towards his own penalty area and passes back to his goalkeeper which baits Krunić into leaving him and pressing Szczęsny. This allows Juventus to execute a third-man passing combination to the now free player (left-sided midfield 8).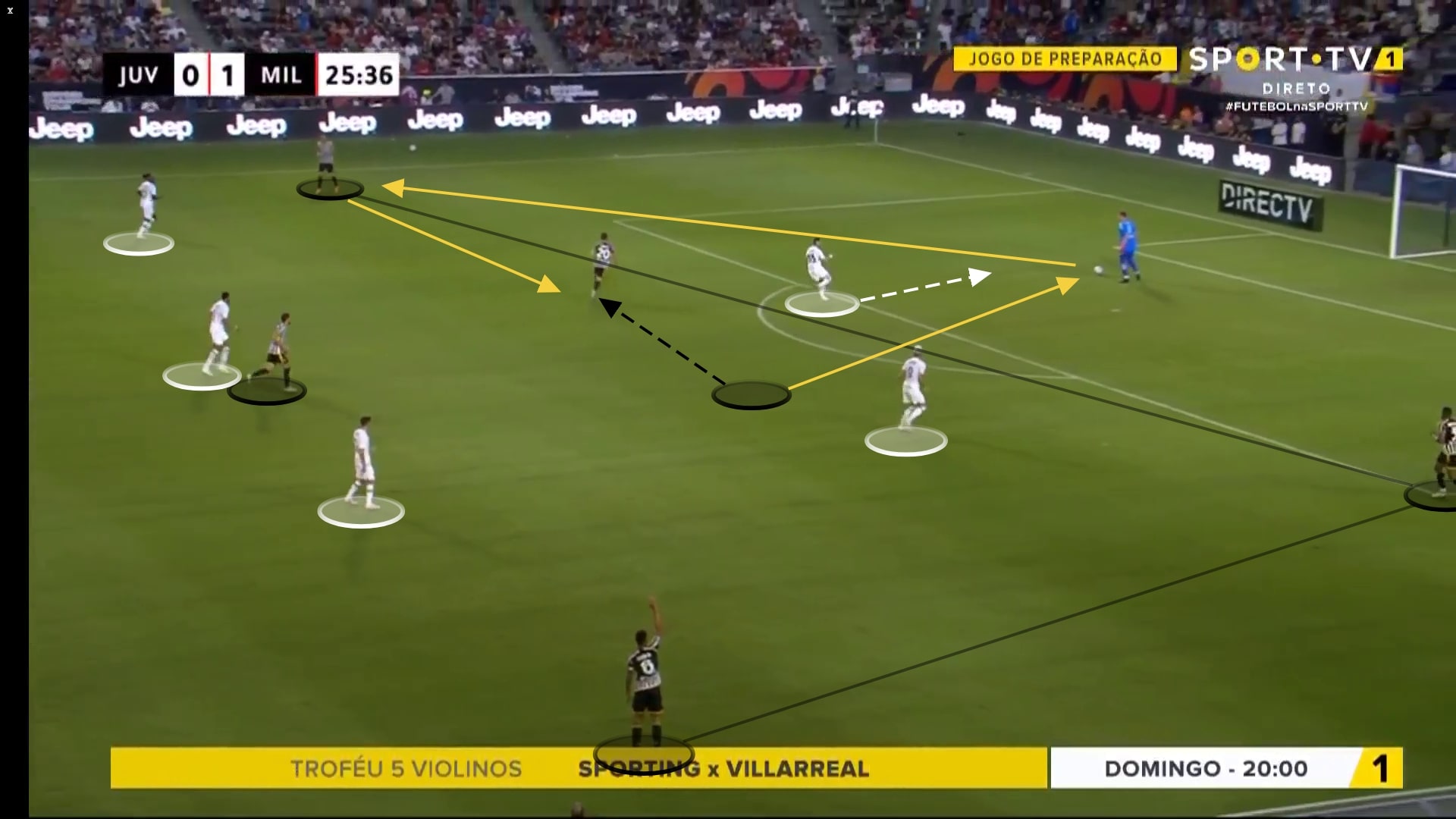 When the Juventus midfielder receives the ball, he immediately looks to exploit the space in behind Hernández who initially pushed up higher on the flank to get close to Weah, the right wing-back.
However, due to Weah's superior pace, he is able to run in behind and receive the long pass in space. From here, the wing-back crosses into the box and Juventus have a shot on goal.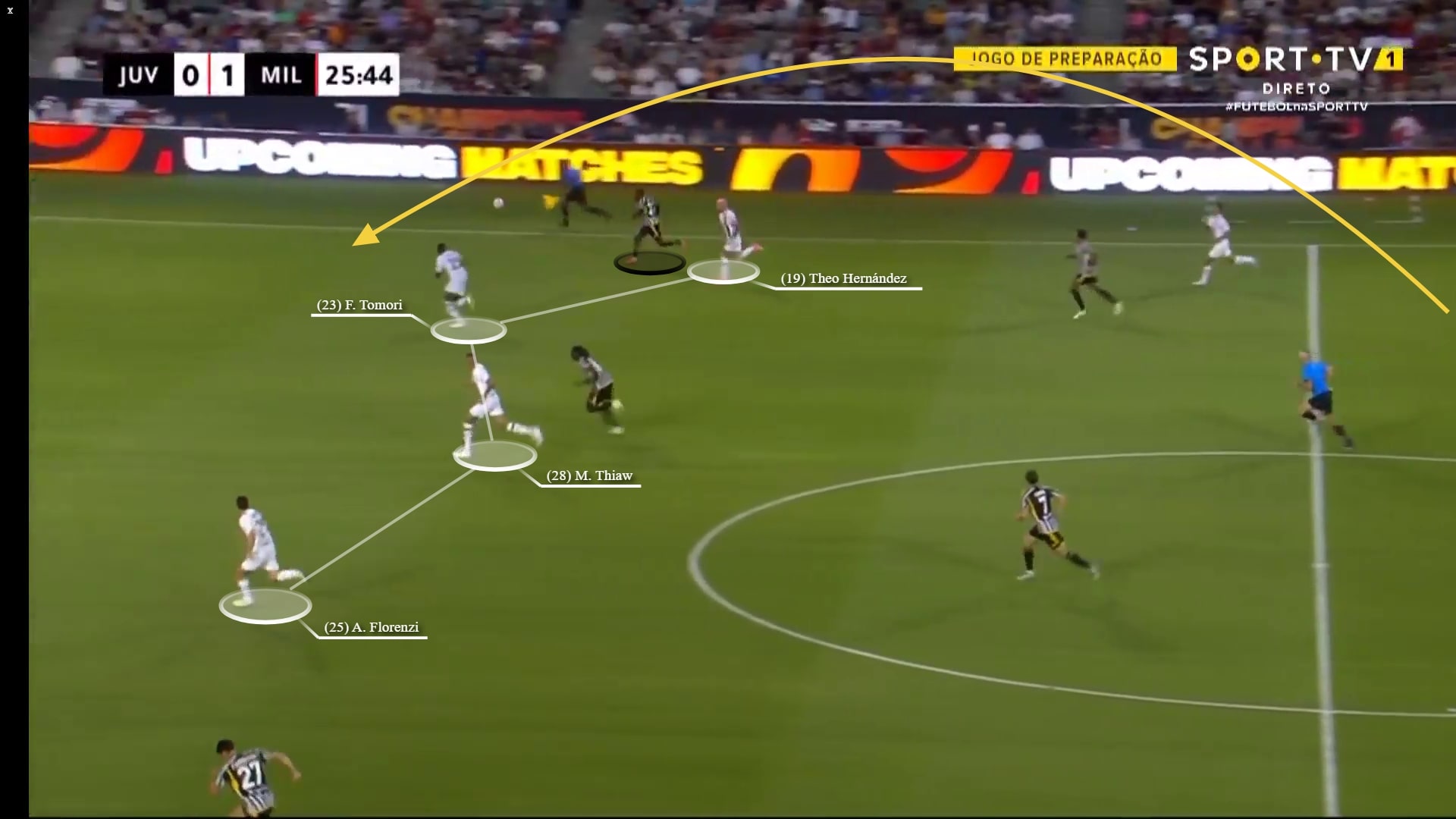 In this example against Roma, they access their central midfielder who immediately passes out to the right wing-back who is intentionally positioned deeper to bait Hernández into jumping.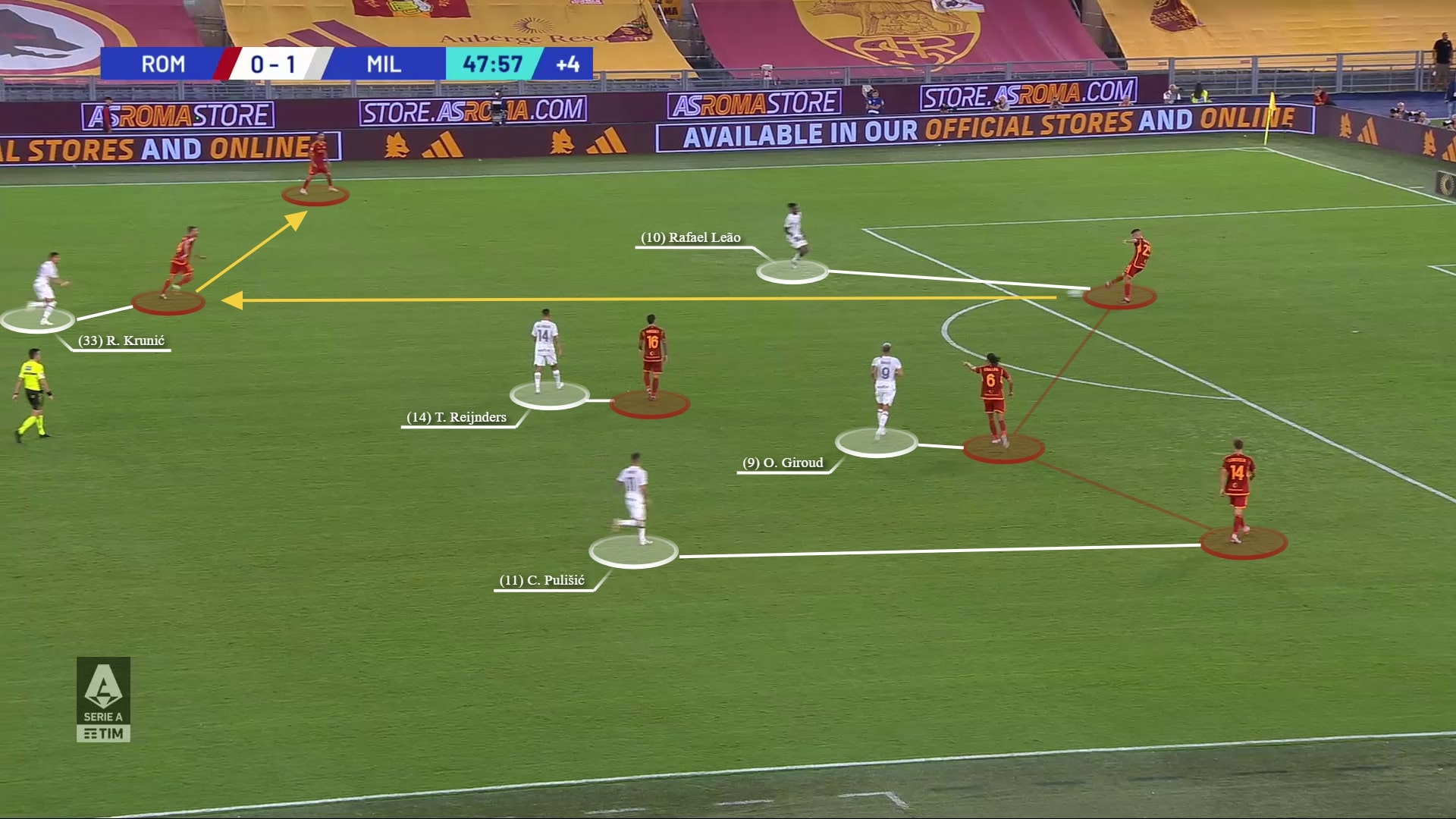 Once the left full-back jumps, it's a trigger for the Roma midfield pivot to roam over to offer an inside passing option and then he immediately looks to pass into the space that Hernández has vacated. In the image, you can see the Roma forward already making a run into this space before Paredes even receives the ball.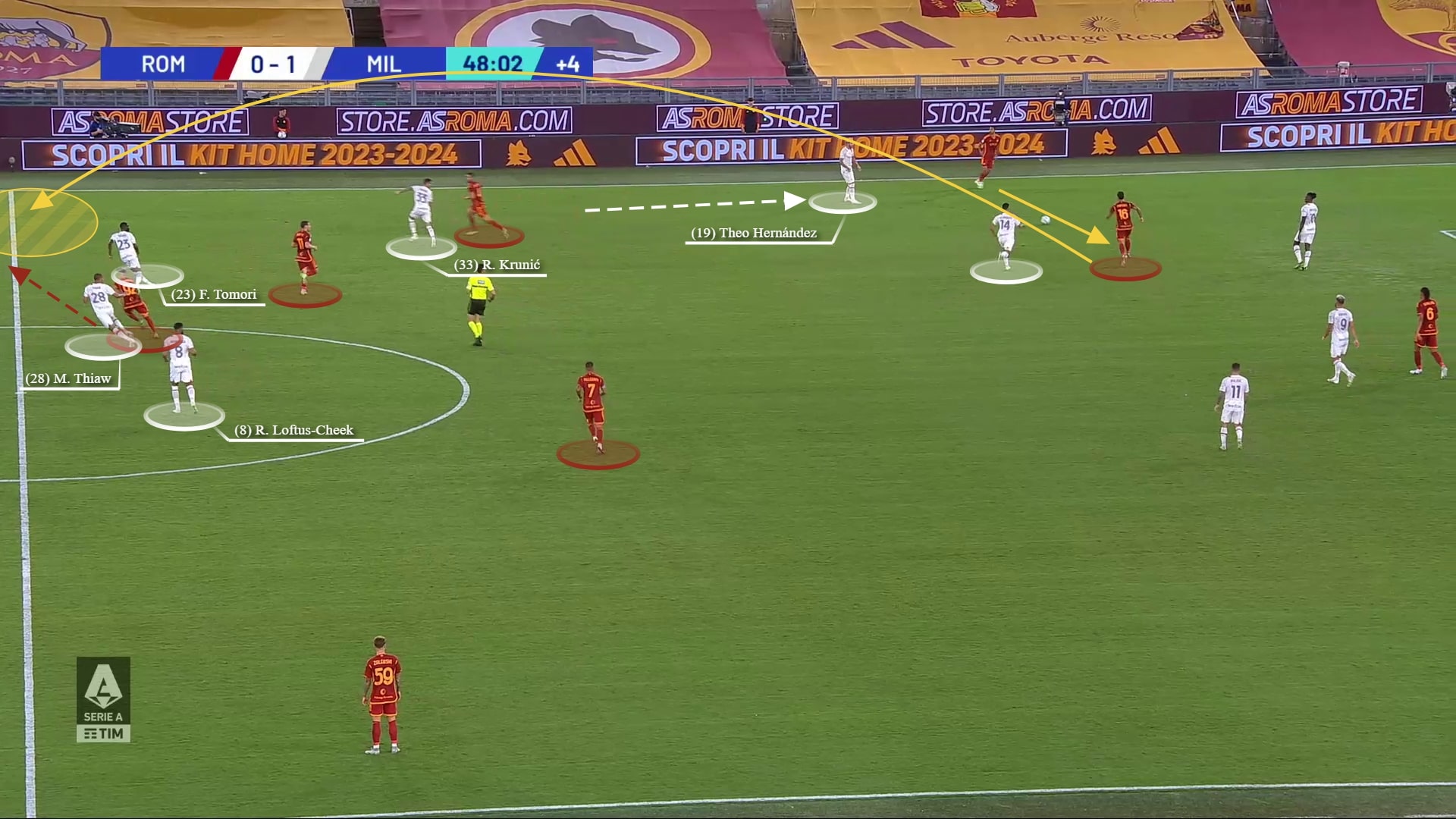 The above tactic was a frequent pattern of play Roma attempted to exploit the Milan fullback jumps but without any successful outcome.
Another tactic Roma used was to try and exploit the Milan weak-side. Here, early in the second half, Milan are pressing their direct opponents. Once Roma pass the ball to their right wing-back, Çelik goes long towards their forward line…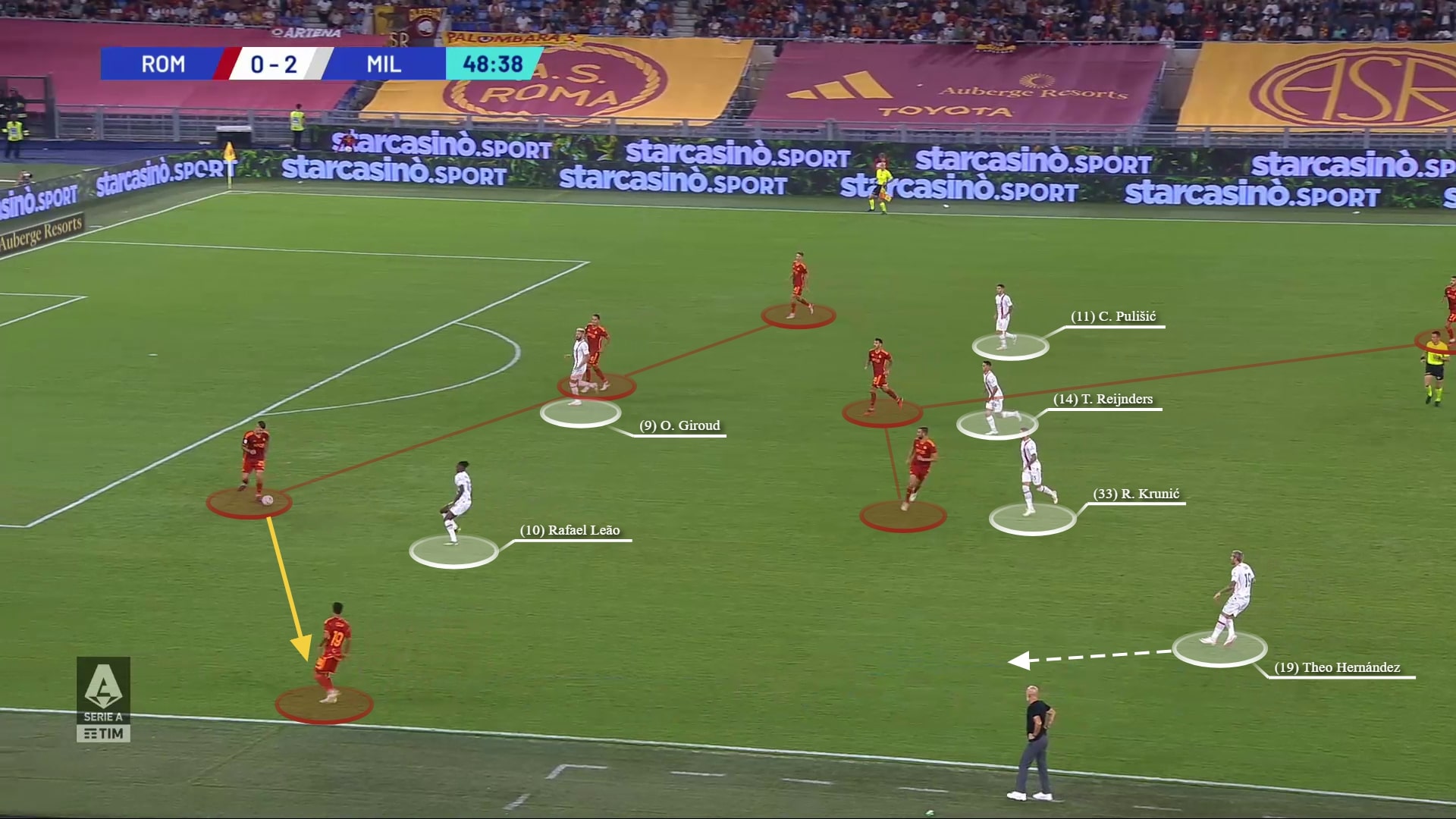 …Roma won first contact and the second ball, then immediately looked to switch to their left wing-back on the Milan weak-side. From here, Roma entered the final third but failed to create an attempt on goal.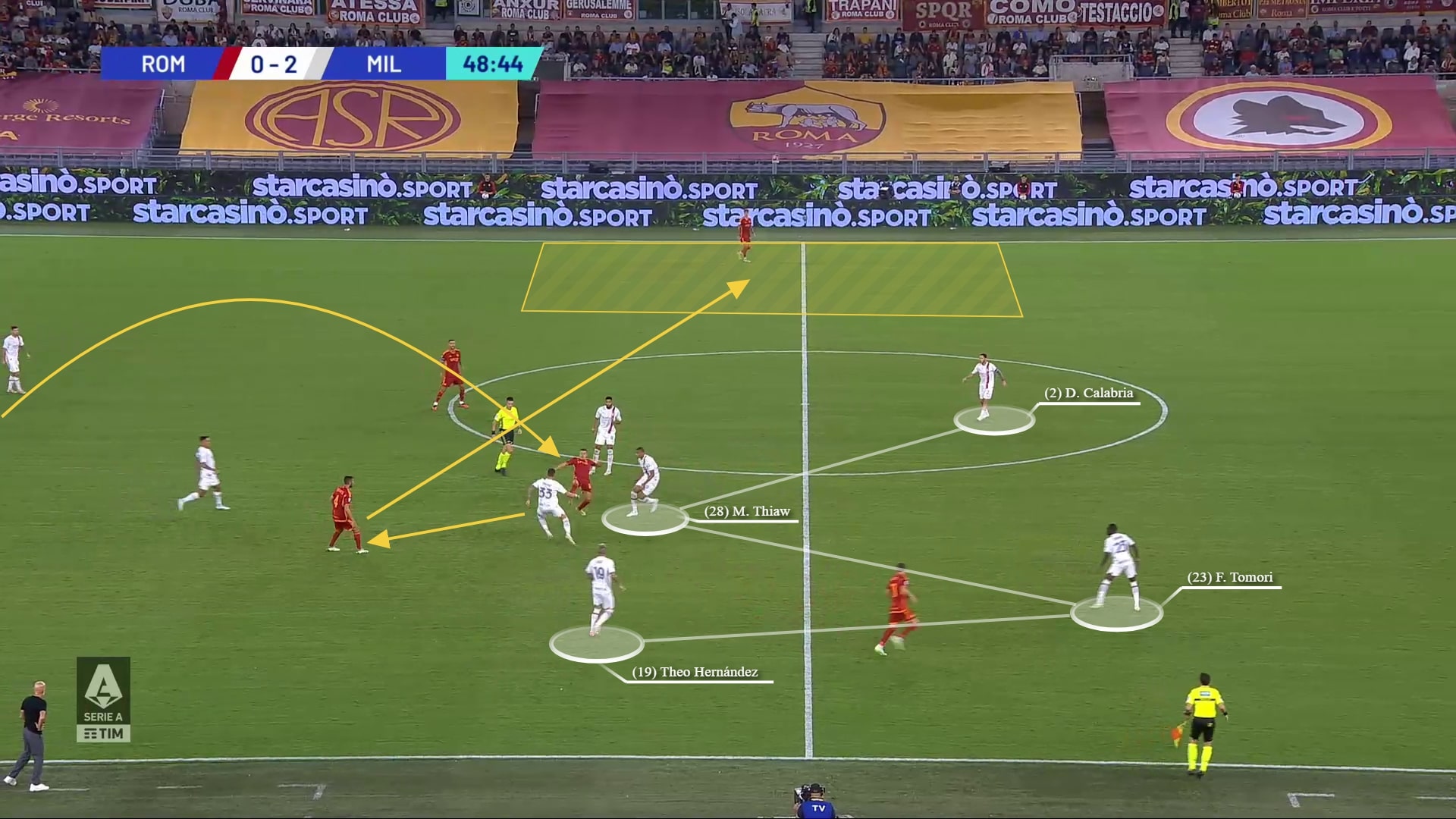 Less than five minutes later, a similar sequence occurred. The Milan forwards and midfielders are locked onto their direct opponents and Rui Patrício goes direct to their forward line…
…Roma win and then maintain possession before manufacturing an opportunity to switch play to their left wing-back on the Milan weak-side but again fail to capitalise.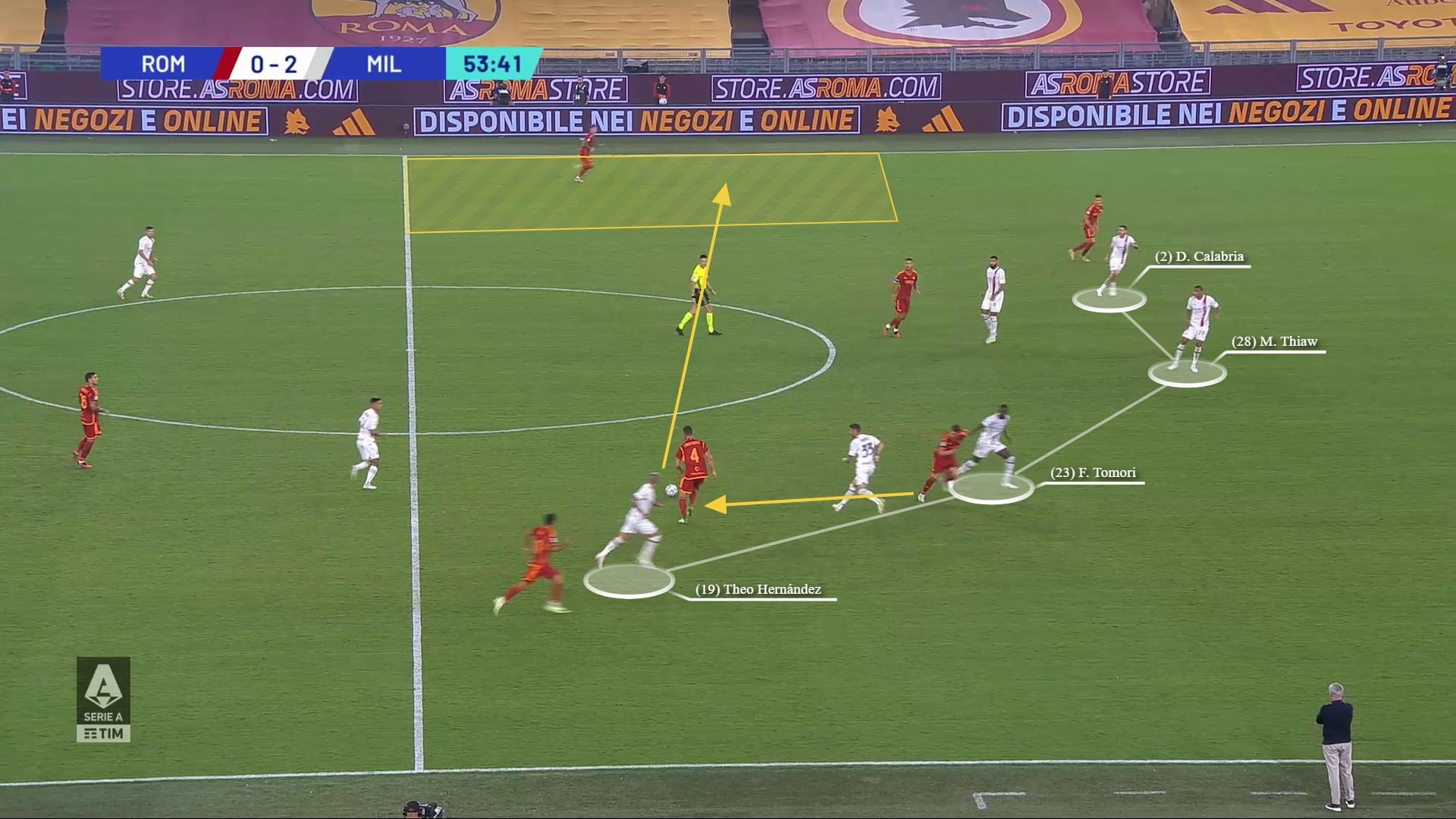 Looking ahead to Inter
With Inter and their back three and wing-back system up next for Milan, will Pioli stick to this out of possession approach or will Tomori's absence and Simon Kjær's inclusion impact their defensive gameplan?
Whilst this will be a multi-faceted match, with many other factors such as in possession approach, transitions and set pieces having an equal say in how the game will unfold, what Milan choose to do without the ball will be a fascinating storyline.
On the evidence from preseason and Serie A so far, it would appear this is how Milan intend to set-up against this tactical system. Therefore, if the plan is set, they will need to prepare for Inter attempting to exploit the weaknesses in this pressing scheme.
The pace of Denzel Dumfries into the space Hernandez vacates. Their superior technical ability (compared to previous opponents) to play through pressure and execute switches of play to the weak-side. The overall team's attacking threat and individual quality to create and finish goal scoring opportunities.
There are plenty of risks when facing Inter. But will the prospect of the rewards this proactive approach can bring be enough to tempt Pioli into going toe-to-toe with their city rivals? The wait to find out is nearly over.