AC Milan ended their 11-year wait for Scudetto thanks to a remarkable campaign in which they finished with 86 points and dethroned their city rivals Inter.
Everything seemed to align in the final stretch as Milan took advantage of the Nerazzurri's slip against Bologna to win their last six games and finish as the champions of Italy, but what has led to this successful season? Here is a review of Milan's 2020-21 season…
Tactical principles
Of course it would be impossible to highlight all of the tactics used in all matches, but here are some of the core principles used by Pioli as observed.
Pressing: The core of Pioli's principles are all about pressing. Pressing is defined as the attempt by a team to win the ball back when they are out of possession. Pressing can be aggressive like that of Jurgen Klopp's Liverpool or passive like that of Diego Simeone's Atletico Madrid.
Milan have over the course of the 20/21 season fine-tuned their pressing owing to injuries.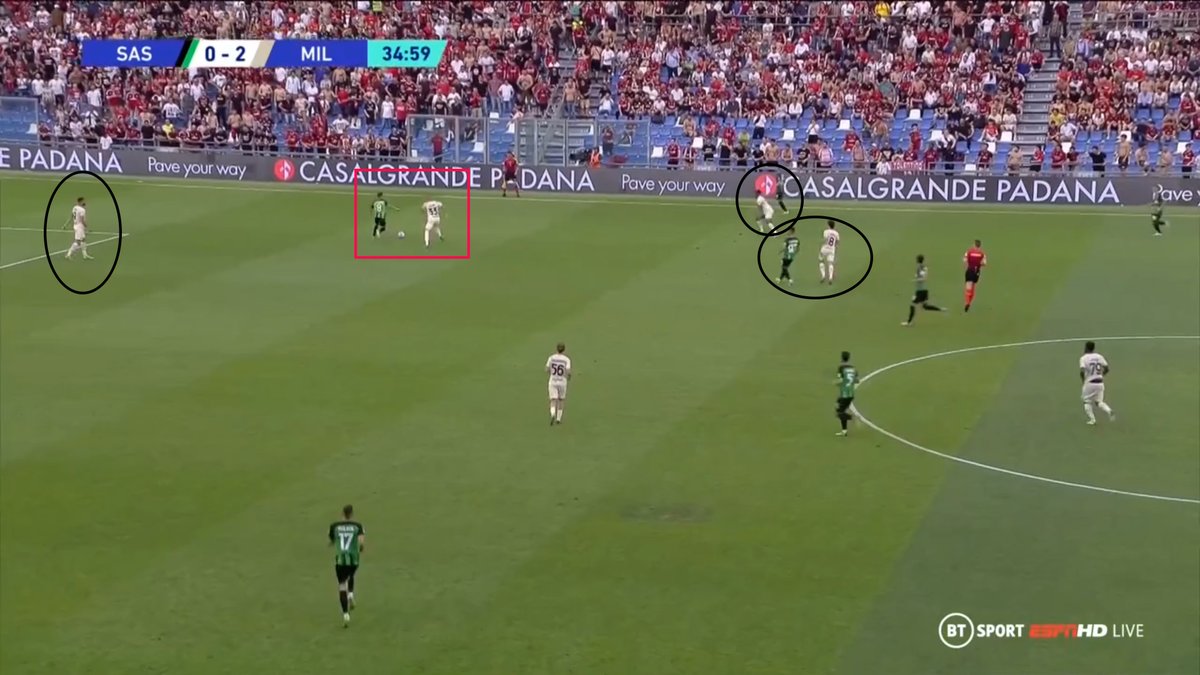 Milan use the principle where they man-mark the passing options of the opposition player on the ball, while the player in possession is pressed. The goal against Lazio is an apt example where Marusic's passing lane to Strakosha was cut off by Zlatan while Rebic pressed him.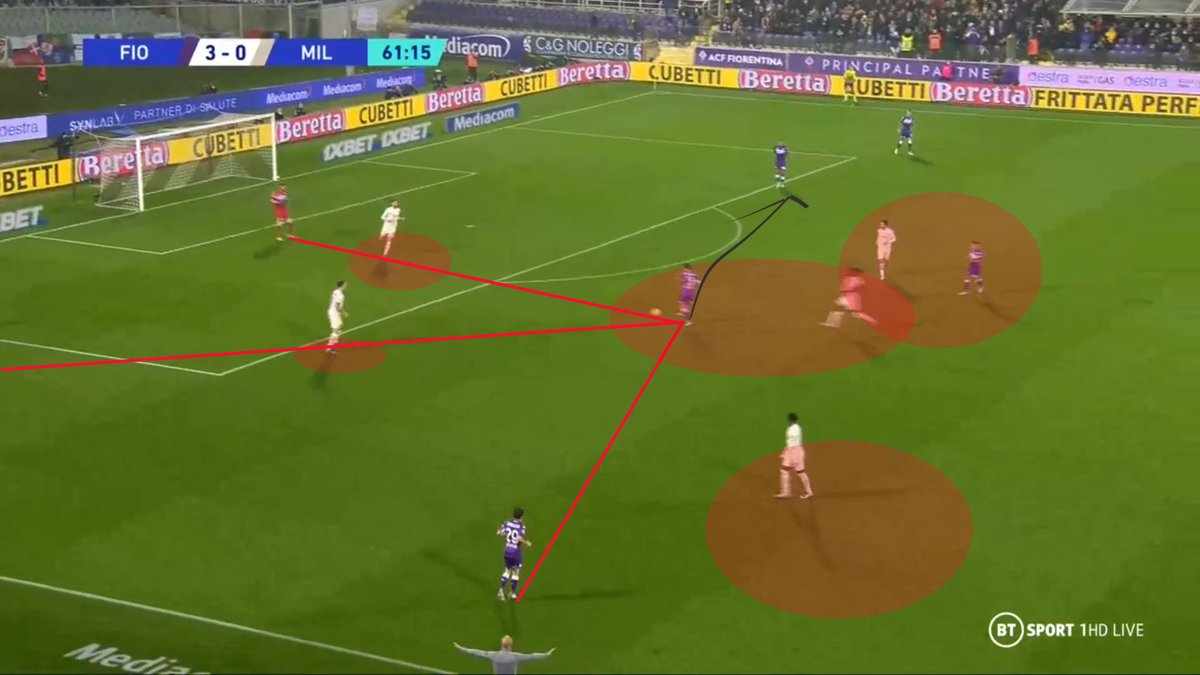 Milan also employ a form of horizontal pressing which is pushing opposition sides to the side of the pitch hence reducing the size of the pitch and squeezing the spaces.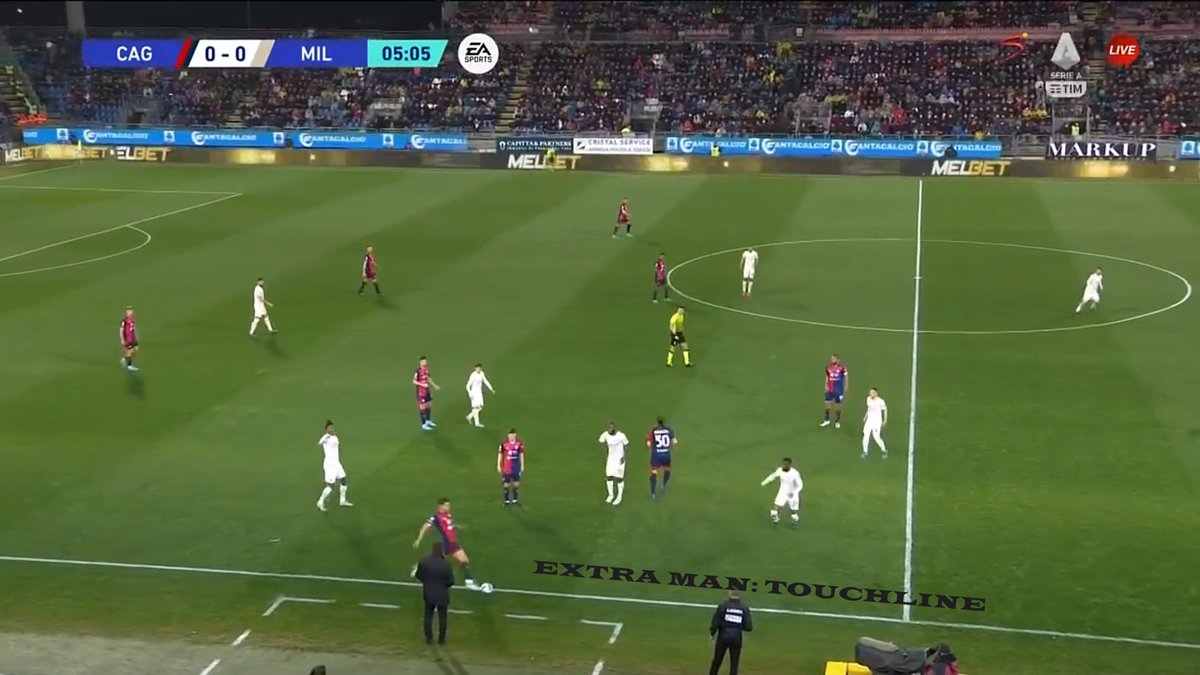 High line, aggression and recovery pace: To play a high line any team must reduce the size of the pitch, which helps to catch players offside. According to the official data, Milan's average line height was 51.8m, which is almost up at the halfway line as seen below.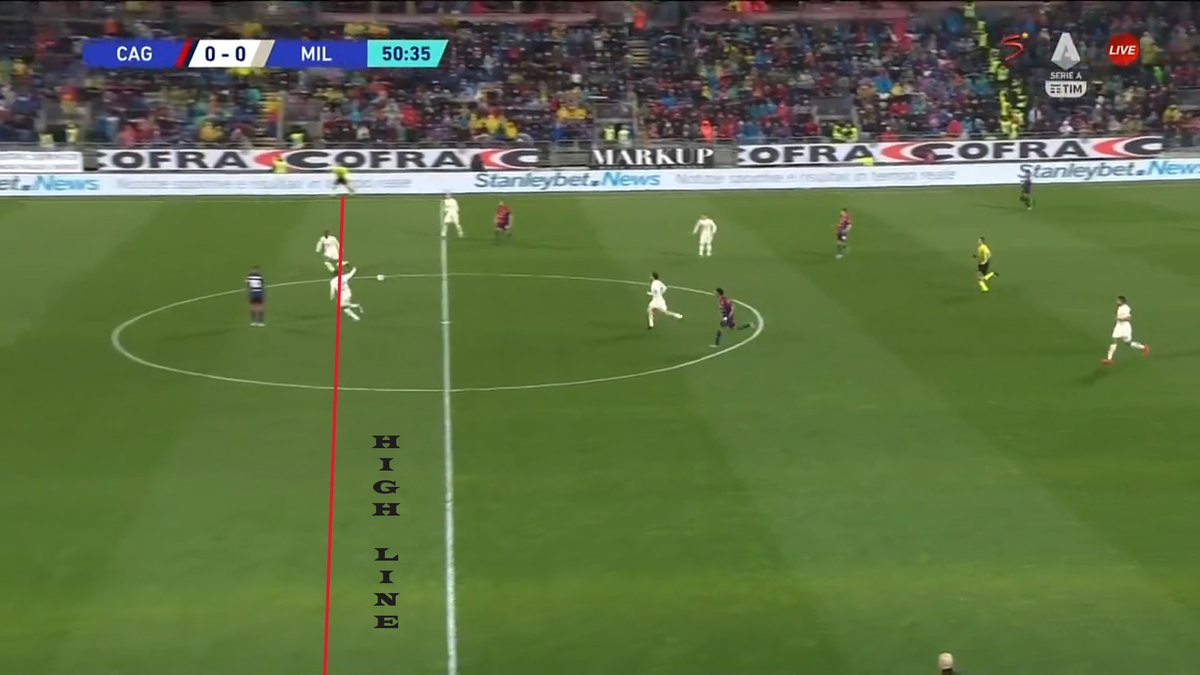 High lines are enhanced and made more effective by aggressive defenders. A big example was Kalulu;s pressing Caprari against Hellas Verona or Tomori, as seen playing close to the final third of the pitch.
Now the question arises, what happens when defenders are beaten by a long ball or quick counters? That's where centre-backs or full-backs need to show the pace to recover and settle into their defensive structure as practiced.
Inverted full-backs: To make use of his attack-minded full-backs – especially Theo Hernandez who has a lot of pace – Pioli would have them invert, which means they would ditch the traditional set-up of running along the sideline and have them come inside to the centre of the pitch instead. A perfect example of this was the goal away against Atalanta.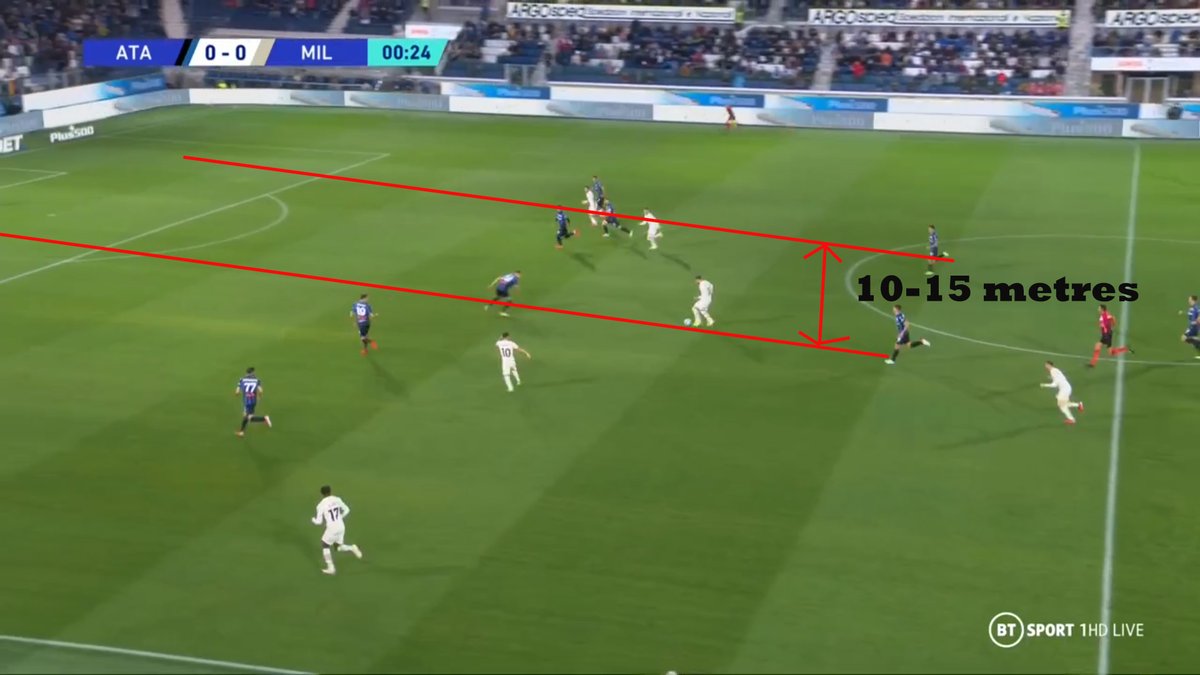 Even in the reverse fixture Pioli had Calabria invert to the centre creating a spare man in the middle, to confuse the opposition.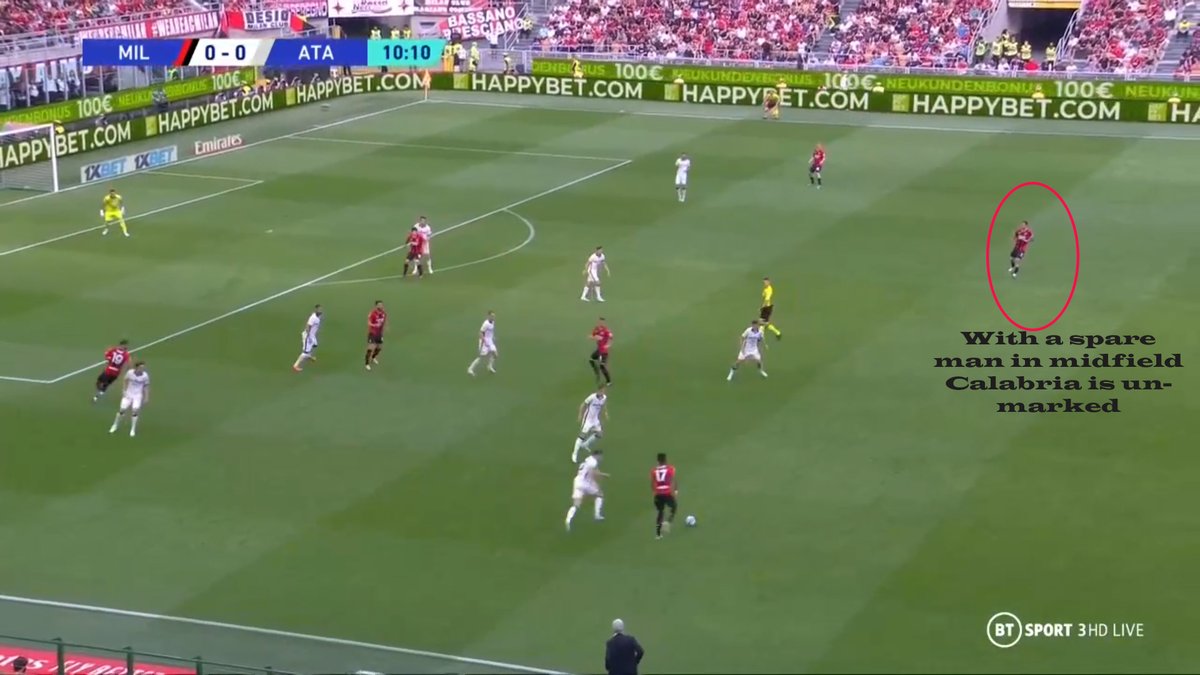 Positional rotations: When Milan had a full squad, Pioli would have his players use more of a zonal system changing positions often to aid build-ups and confuse markers. As explained above, Pioli loved to invert his full-backs especially against teams who played a three-man defence.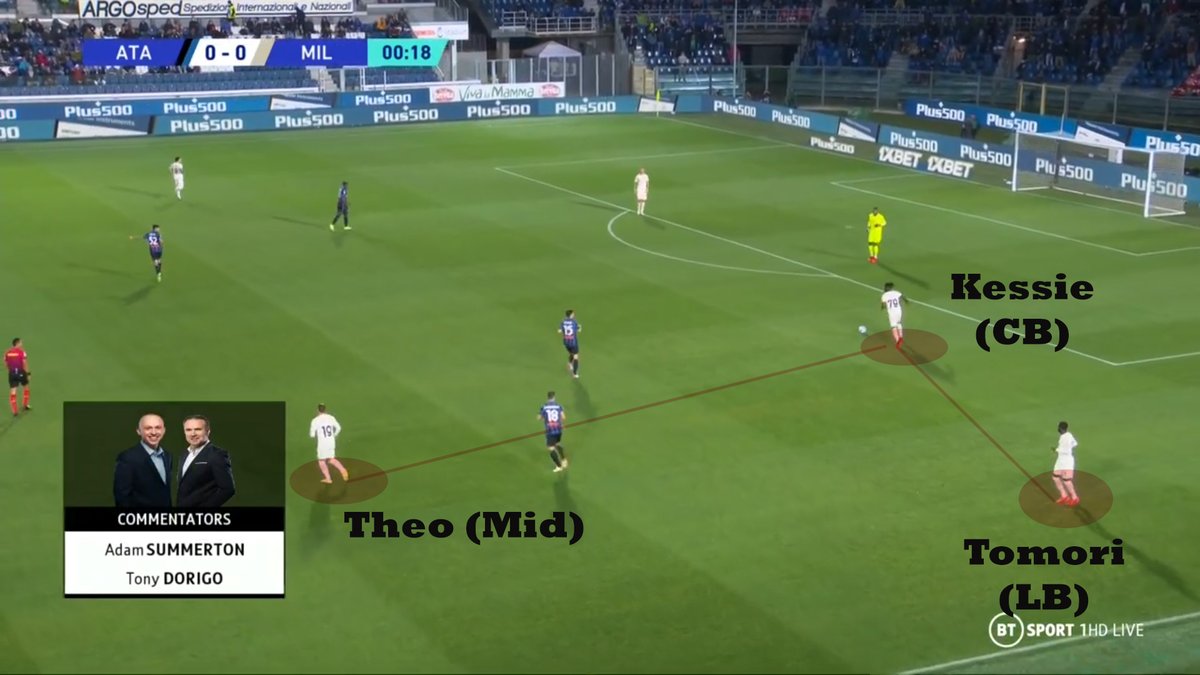 This was achieved with positional rotations between players, but once injuries kicked in it upset the rhythm as players were unable to understand each other's movements with the line-up constantly changing.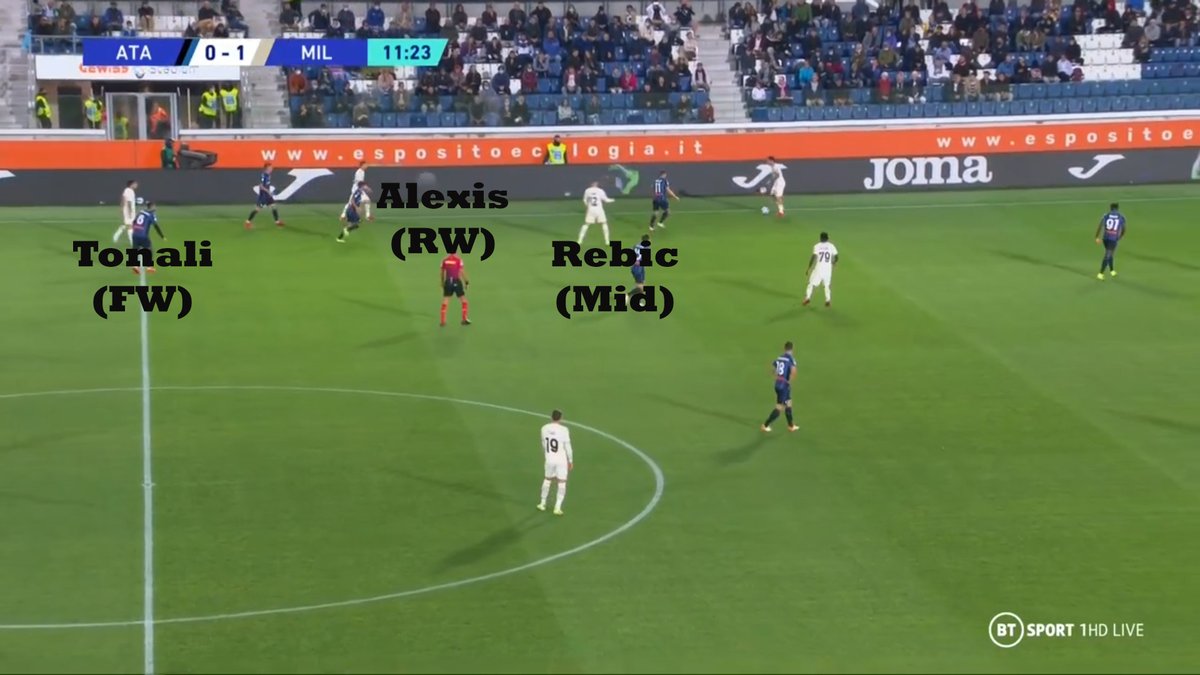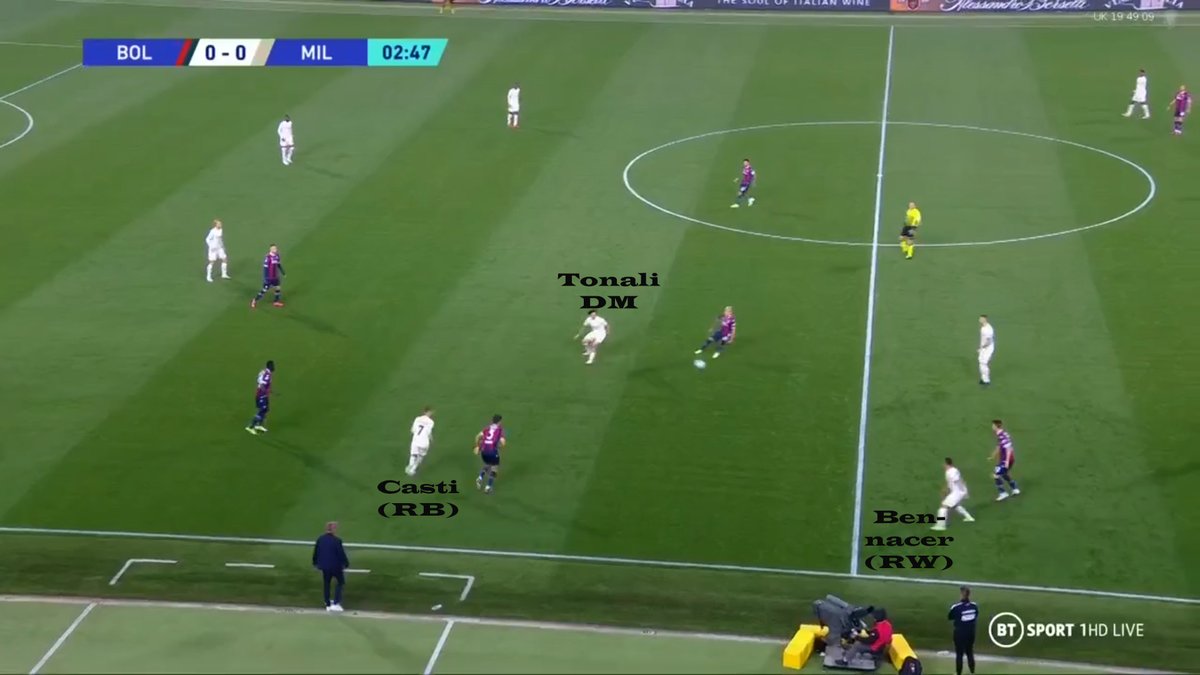 The 4-3-3: When Brahim Diaz fell flat, Pioli showed his tactical versatility by playing a disguised 4-3-3, fielding Kessie, Bennacer and Tonali together in what looked like a 4-2-3-1. Against Napoli, Milan filled the centre with numbers using Kessie as a mezzala to reduce the potential for numerical superiority in Spalletti's midfield. They would also perform passing triangles.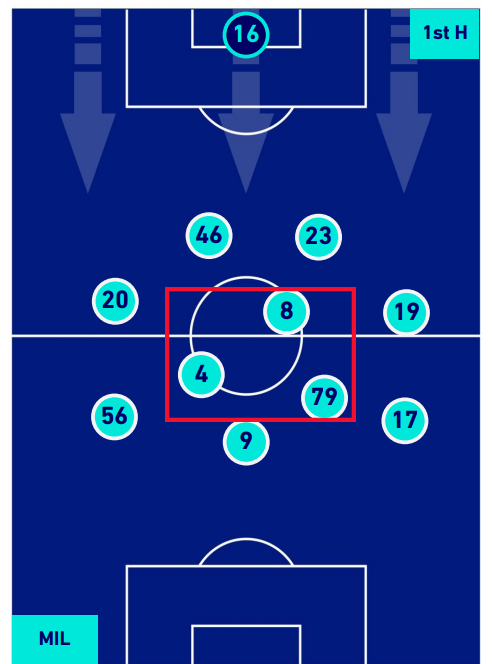 Three at the back: A change Pioli brought in compared to last season was to have a strict three men at the back, even when in possession. Owing to injuries, Pioli opted to have reduced intensity in the second half of the season.
One can see how Theo Hernandez is staying back while Florenzi is going forward. Milan chose to allow only one full-back to move forward at a time.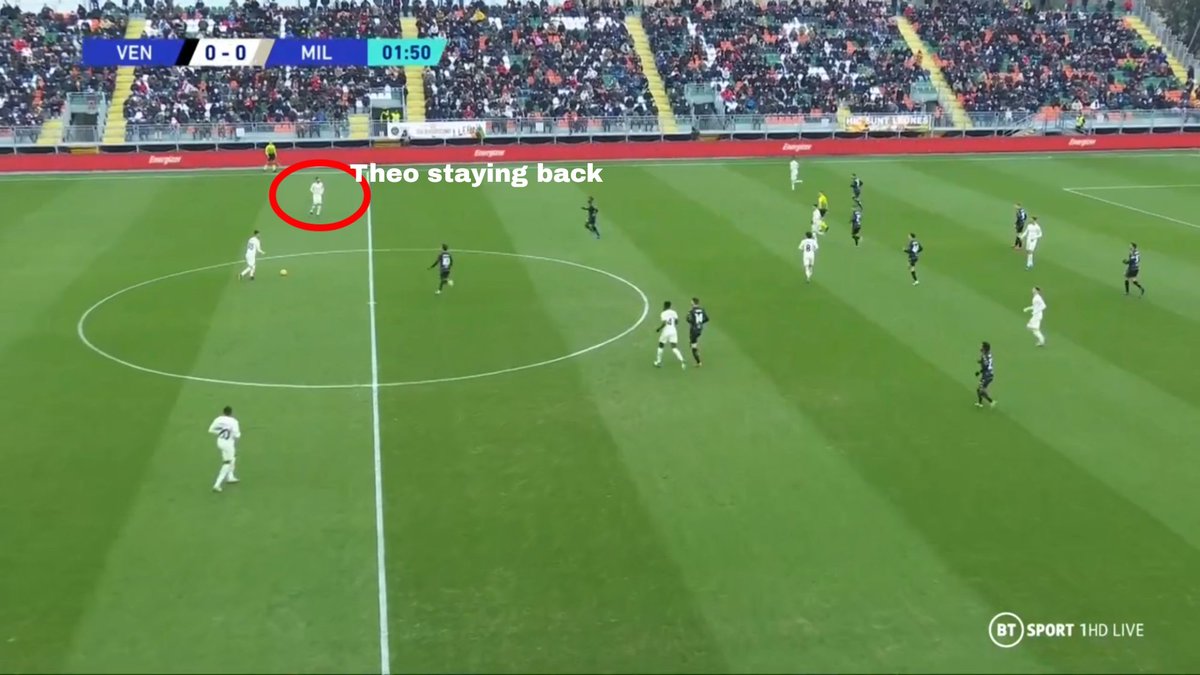 To aid splitting the centre-backs and increase the width of the pitch, Pioli had the full-backs stretch the opposition's allowing the wingers to come inside the pitch and occupying the half spaces. It was a complex operation and Milan executed it well.
Route one: Of course when things do not work you always have the age old method of sending long balls into the attack and having your attackers make the most of it. In the Sampdoria game, Milan perfected it by having Maignan play inch-perfect balls into the feet of Leao.
🦅 ➕🏄‍♂️ = ⚽@mmseize x @RafaeLeao7
.@acmilan
🔴⚫🔴⚫
[like and retweet are really apreciated]#acmilan #forzamilan #football #sempremilan #animation #rotoscope pic.twitter.com/vnEOk4QfAL

— SMKS (@smkstd) April 17, 2022
Passing combinations: Last but not the least, Milan had the ability to stitch together wonderful passing combinations like the one against Cagliari when Bennacer scored.
The data
As explained Pressing is one of the core principles of Milan. So how well do Milan do it in Serie A? Here is a graph to answer that question. PPDA (Passes Per Defensive Action) measures how many passes (with accuracy) teams are able to execute.
Milan rank fourth in Serie A in terms of the lowest PPDA when compared with how much passing accuracy teams achieve against them as explained by the graph.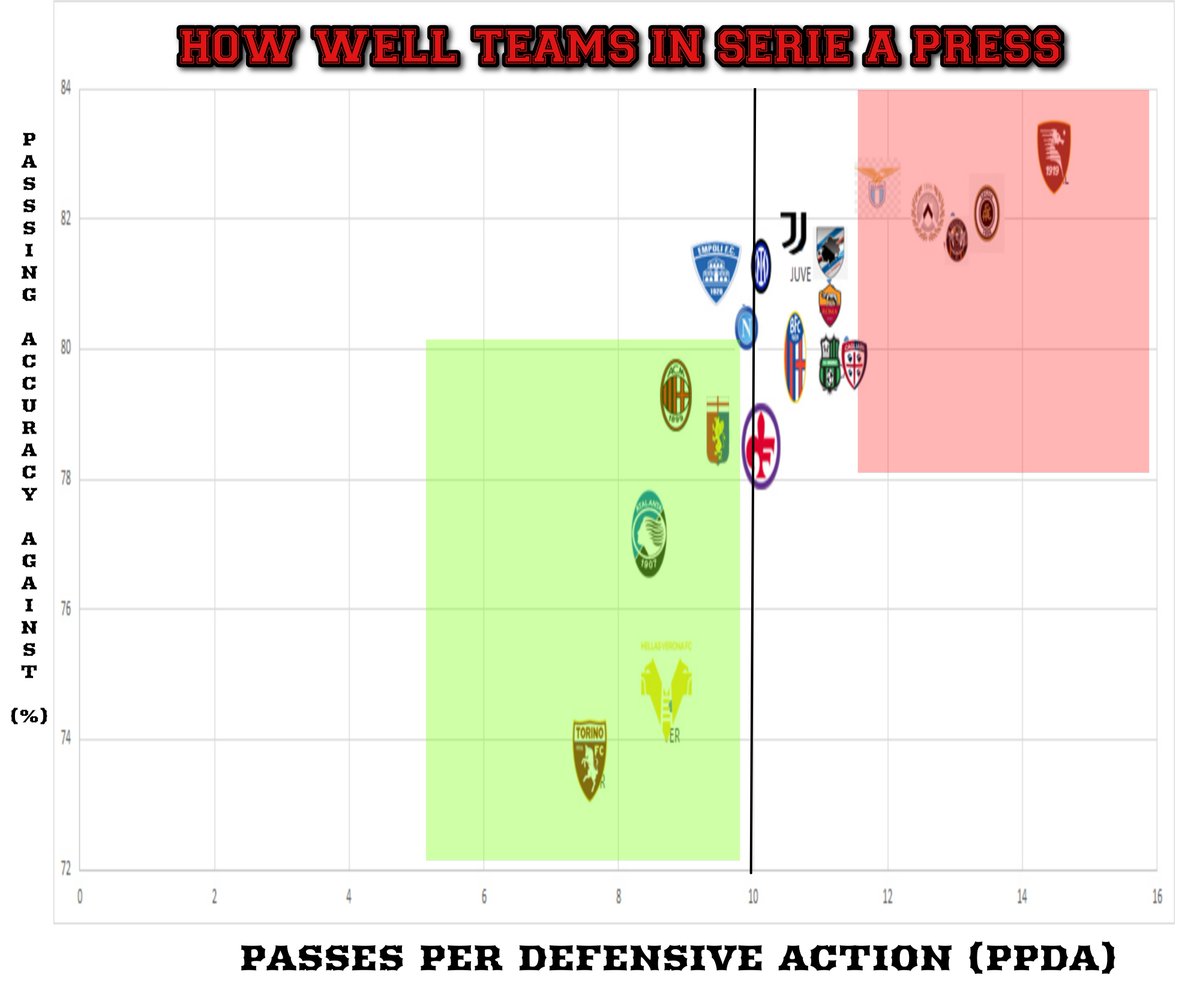 When looking at how well Milan do when compared to European teams, you can see Milan rank around the same as Manchester City, Liverpool and Bayern Munich, teams known for pressing their opponents.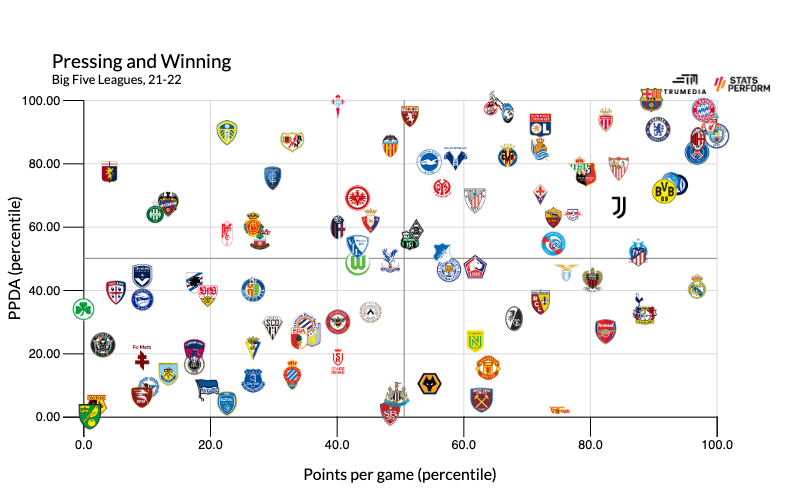 Where do Milan do their pressing? Or to be more accurate which areas of the pitch do Milan press? Here is a graph to clarify the situation. Milan press opposition all over the pitch but mostly higher up the pitch meaning they only allow opponents an average of 2-3 touches in their own half.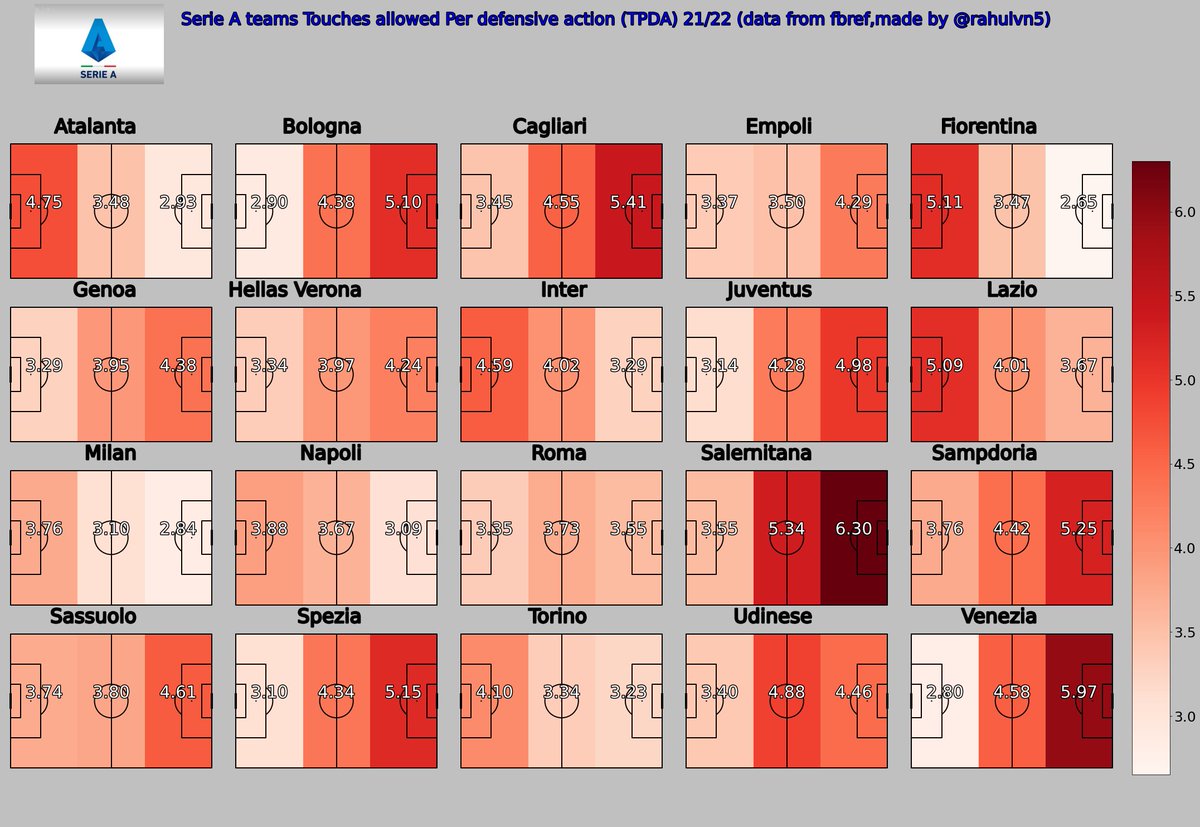 How good are Milan at evading the pressing from opponents? The graph below explains how many yards Milan can carry the ball when they are pressed showing they are one of the best teams at being press resistant.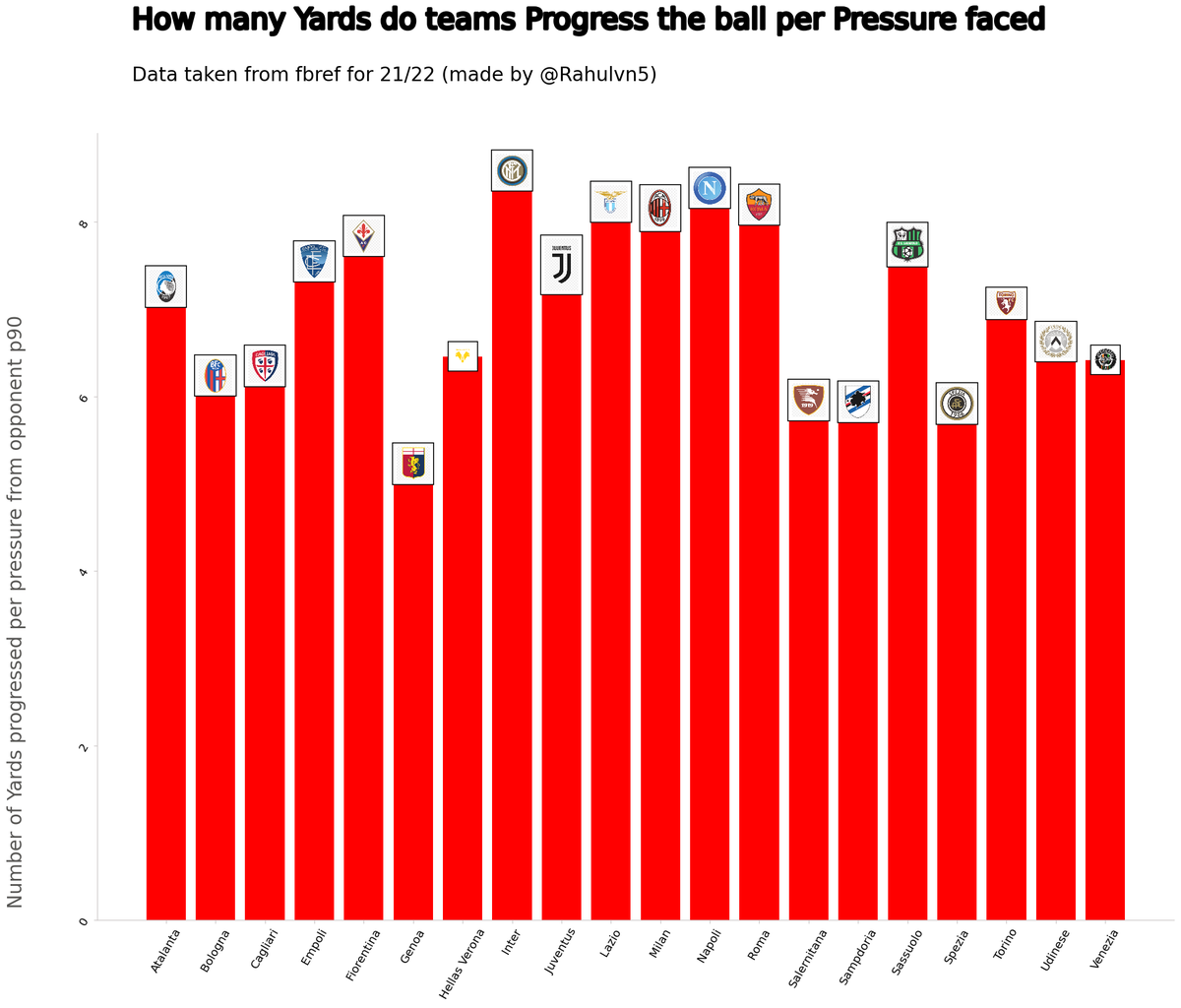 The stat xG or Expected Goals speaks about the quality of chances created while xGA or Expected Goals Against speak about the quality of chances conceded.
While Milan have the third-highest xG – meaning the Rossoneri were not creating high quality chances as much – Pioli's men have the best xGA in the league which means they rarely conceded dangerous opportunities.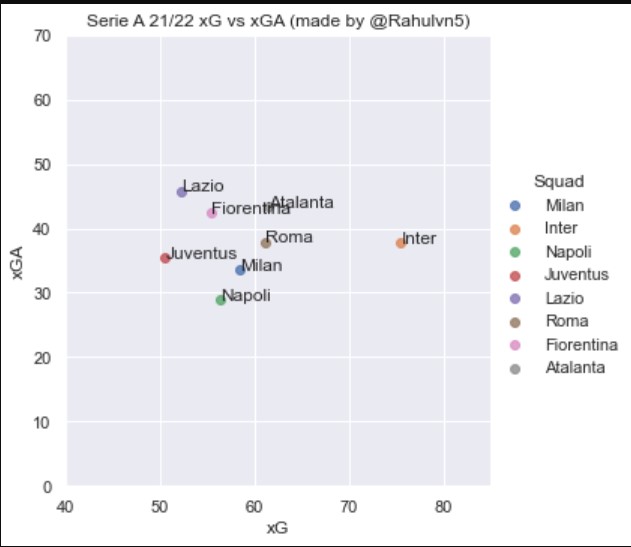 Other stats
There are a number of other interesting metrics that show how Milan set about playing this season.
Speed of the attack leading to goals:
Normal: 43
Slow: 03
Standard: 18
Fast: 7
Result of each shot:
Goal: 69
Blocked: 170
Saved: 127
Missed: 230
Time of each goal:
1-15 minutes: 13
16-30 minutes: 10
31-45 minutes: 9
45-60 minutes: 12
61-75 minutes: 10
75+ minutes: 15
Source of the goals:
Open play: 53
Corners: 4
Set pieces: 3
Direct free-kicks: 4
Penalties: 5
Other data:
Fastest speed in the league: Theo Hernandez – 35.67km/h vs. Cagliari
Furthest distances covered in a single match: Alexis Saelemaekers – 12.864m vs. Torino
Total distance covered by the entire team: 4050.774km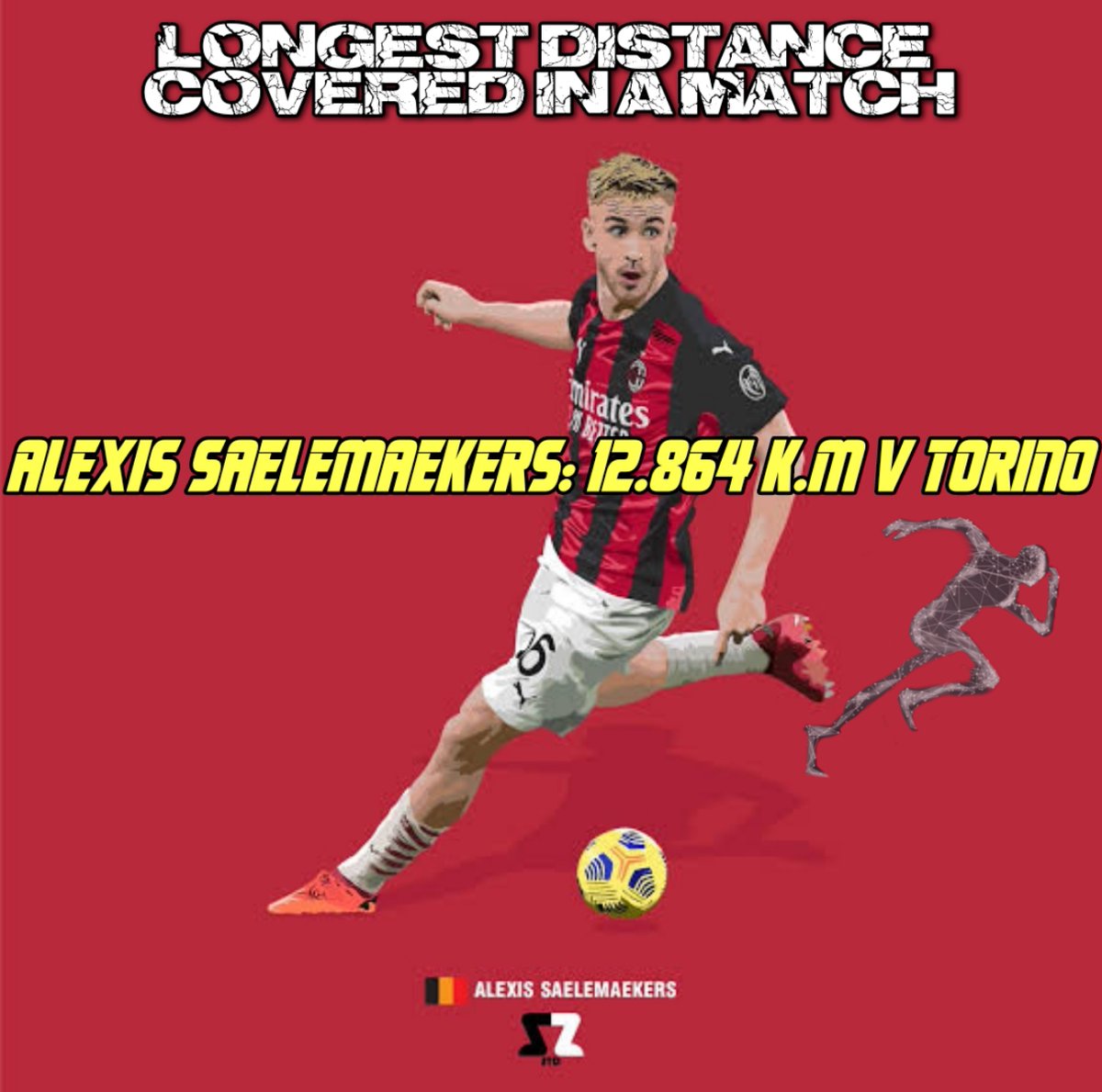 Conclusion
Like all fans and everyone at Milan, we have to hope that this is just the start of things and that there is even better to come yet. The finances are definitely improving and Elliott Management's aim of sustainable growth was certainly met while delivering success on the field.