What should AC Milan do with Alessio Romagnoli? This is perhaps the most difficult question for the management to answer. He is the club captain, deriving remarkable support from a large section of the fanbase – in stark contrast to the vehement criticism from others.
He isn't easily dispensable whilst also being an expensive substitute. This presents a deeply frustrating dilemma for the decision-makers at Milan.
Tactical quandary
Romagnoli's steep decline is often attributed to a loss of form and confidence. His apologists adamantly believe that he will bounce back to his days of yore, a time when the left-sided centre-back was recognized as among the top defenders in Serie A.
That is an arguably passionate, simplistic and problematic perspective. Romagnoli's displacement from the starting eleven is largely down to his playing style and its incompatibility with Head Coach Stefano Pioli's preferred approach.
Simon Kjær and Fikayo Tomori are exceptionally compliant defenders and perform uniquely interchangeable roles. Both centre-backs are aggressive pressers. When one charges out of defense, the other covers. Tomori uses his lightning pace, while Kjær relies on his positional intelligence to execute covering actions.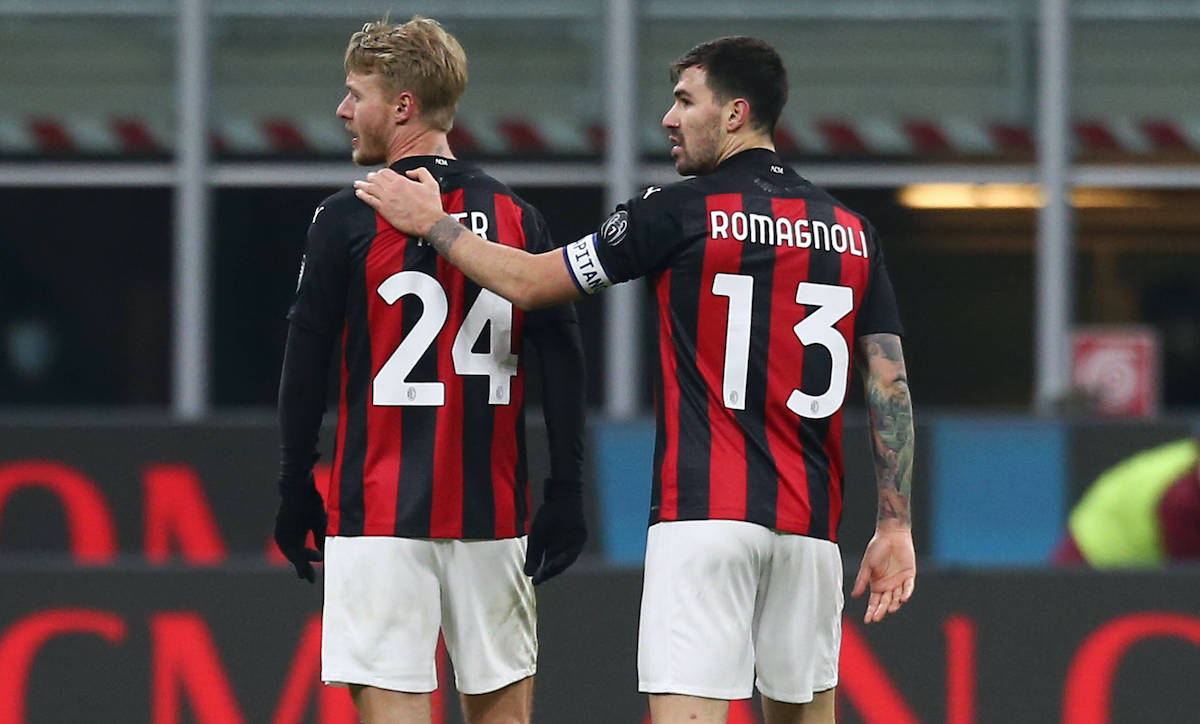 On the contrary, Romagnoli is a ball-playing centre-back who prefers to primarily play as a covering defender. He stylistically isn't comfortable stepping out of the defensive line and pressing attackers. Last season, Romagnoli averaged 8.02 pressing actions per 90 minutes, far lower than Kjær (11.05) and Tomori (13.3).
Pioli's system invariably throws a spotlight on Romagnoli's weaknesses. The 26-year old valiantly attempts to play in a manner that is antithetical to his natural form of defending, inadvertently failing in the process. He gets beaten for pace, is found pressing when he should be playing off an opponent, or drops back to the point of creating a goal-scoring opportunity for the attacker.
Romagnoli's 'loss of form' resulted in his Serie A minutes dropping by 38.3% in 2020-21. Niggling calf injuries played their part, however, the primary antagonist in Romagnoli's eviction is Tomori, the Englishman stealing the Italian's thunder almost instantaneously. Romagnoli started 35 league games for Milan in 2019/20, missing out on the last three fixtures due to injury. Last season, Romagnoli remained on the bench for seven of Milan's 38 league games, missing an additional eight on account of injuries.
Market demand
Romagnoli's plummeting stock combined with a rapidly declining circle of admirers is posing economic headaches for Milan. This summer, English clubs Manchester United, Arsenal, Leicester City and Tottenham Hotspur spent vast sums of money on securing central defenders. Going by media reports, Romagnoli's name was prominently absent.
If Milan were to use him as a bargaining chip, his formidable wages of €6 million gross per year would frighten mid-table clubs. With his contract expiring in June 2022 and Milan unable to cash in on him this summer, there exists a frightening probability of Romagnoli leaving the club for free at the end of the season.
Deal with the devil
Milan's failure to monetise the departures of Gianluigi Donnarumma and Hakan Çalhanoğlu led to universal ridicule. The unbridled derision aside, more importantly, the economic consequences of losing Romagnoli for free could be hard to digest.
The current priority on the renewal front is Franck Kessié. A key member of the first team, and on the back of outstanding performances, Kessié's valuation is considerably higher than Romagnoli's. Milan must ensure that the Ivorian is in the bag before uncertainties intensify.
Romagnoli's renewal must be taken up shortly after. Following the Donnarumma debacle, Milan might clench their fists figuratively, financially and physically, when they sit across the table from Romagnoli's agent Mino Raiola. But, this bitter pill is not just doctor-advised but mandated.
---
READ MORE: Dynamic Brahim and moments of madness – Tactical analysis of Milan's win over Sampdoria