With just three days until the first derby of the season between Inter and AC Milan at San Siro, the build-up continues to accelerate and intensify.
This morning's edition of La Gazzetta dello Sport (seen below) suggests that both teams will look to attack during the game and that Inter-Milan promises sparks in the middle of the pitch, because sitting back on guard would invite potentially overwhelming pressure.
On one side it will be Denzel Dumfries against Theo Hernandez, on the other Federico Dimarco against Christian Pulisic. An old and already incandescent rivalry, versus a first challenge in what will probably be a long series.
Inter's wide threats
The Nerazzurri wingers have started very strong this season: a goal and an assist in the league for Dumfries, who added another four assists in the Netherlands' recent two Euro 2024 qualifiers, while Dimarco has two assists in three league games.
Simone Inzaghi also enjoyed two very high quality replacements in Juan Cuadrado and Carlos Augusto on each flank, so the Inter boss expects his wingers to always be able to give one hundred percent, to help the Nerazzurri's game take off.
The instruction is clear: give everything you have until exhaustion and when your strength runs out, you raise your arm and leave room for those sitting on the bench, to still guarantee push, strength and quality until the end of the match.
This is why Dumfries and Dimarco can push without brakes, without thinking about managing their energy, both in a single match and from a full-season perspective.
Inter really seems to have made the real leap in quality compared to last season on the flanks, because in Inzaghi's 3-5-2 the real difference comes from having wing-backs who can come in and offer close to the same level.
It was clearly seen in the first three matches and which – in all likelihood – could be one of the decisive keys for the derby. Inzaghi's requests remain the same: Inter try to break through on one flank and Inzaghi wants the other wing-back to arrive into the box on the far side.
Dimarco is the player most inclined to try for an assist, while the Dutchman is the one who knows how to make his presence felt in the opponent's area the most, taking advantage of his size and height.
On the contrary, with Cuadrado and Carlos Augusto the game flows better on the right, with the Brazilian more prone to scoring and the Colombian setting up. On Saturday the interpretation will be more about forcing Theo and Pulisic to think about defending not attacking.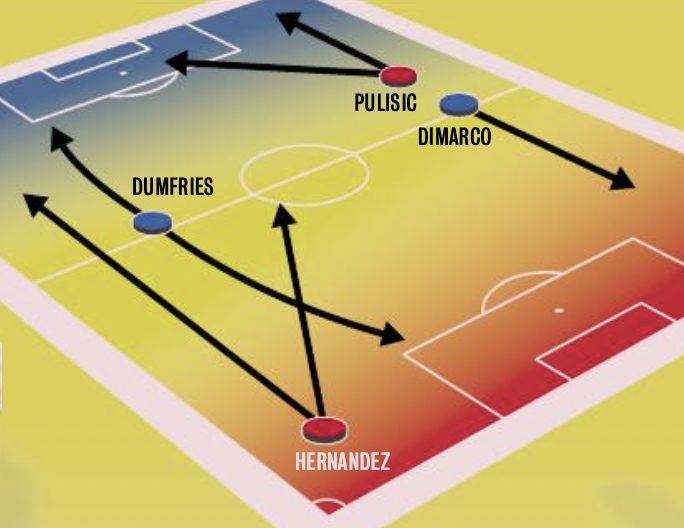 Milan's counter
Until the summer window, Milan were a team that attacked mostly down the left side with Theo and Rafael Leao. Work was done on the right side of course, but the talent and the threat was focused on the other flank.
The man who changes things was Christian Pulisic, who in today's Milan is not just the starting right winger, he is the player who reads attacking situations and helps Milan play their style.
Anyone who asks his team-mates what Pulisic is like almost always receives the same answer: 'Intelligent', 'Strong', 'He doesn't miss a ball'.
Pulisic started off great, and while he will not always be able to match the levels seen against Bologna and Torino, he can be a consistent key performer. In the derby, Pioli wants to overcome the inferiority that the right side showed at the beginning of the year.
Milan suffered in 2023 against Inter, mostly in the middle but also out wide, especially on Dimarco's flank. Pulisic can help in this regard too, as he and Loftus-Cheek can track back and cover to give Milan a new dimension in both phases.
Milan now have Davide Calabria playing inside on the right, while Loftus-Cheek pushes forward and tries to get involved in build-up play, perhaps to create space on the left side for Leao to operate in.
Calabria seems comfortable with these instructions given his past in the youth sector as a midfielder, and the derby will be a great test. The captain will often play in Mkhitaryan or Frattesi's area, so he will have to be efficient and tidy in possession to avoid dangerous turnovers of possession.
Even on the left, Milan's strong flank, things have changed. Leao is Leao and Milan just need him to be involved to be able to compete with Inter, something that influenced the two legs of the Champions League semi-final.
Pioli asks the Portuguese winger for a little more sacrifice now but continues to allow him to be free in an attacking sense. Theo Hernandez however has changed his approach.
In 2022-23, Pioli moved him from game to game: sometimes he used him as a traditional full-back, other times as an added midfielder.
Since July he has been asking him to alternate the two versions play by play and against Inter – considering that he will probably renew hostilities with Dumfries – it is likely that we will see a lot of things in between.
The bench
The alternatives available to Pioli also deserve a discussion. A year ago Pioli struggled to change the game, as he was only able to call upon players like Messias/Saelemaekers, Tommaso Pobega and Pierre Kalulu.
Today he has solutions especially on the flanks. When he turns around from watching the game, he will see Samuel Chukwueze and Noah Okafor on the bench and feels better, as well as Luka Jovic who is slowly adapting.
If at 7:20pm on Saturday he needs a little creativity, he will only have to lift a finger and point to the man he thinks can become a derby hero.