If there was any team that represented Italian football and took it to heights never seen before, it would be none other than our beloved AC Milan.
If anything Milan were the first team to bring European honours home and spark a tactical revolution in the form of Catenaccio that began Italian football's dominance in the 60's with the Grande Inter side and Nereo Rocco's Rossoneri side.
However, there came a time when Catenaccio had run its course and Italian football was waning. Milan had undergone a takeover from media mogul Silvio Berlusconi and he wanted to bring success to the red and black of Milan.
After a shock defeat to Parma over two legs in the cup which in the midst of a very turbulent period in the 1980s – a decade which saw Milan relegated twice – Berlusconi appointed Arrigo Sacchi as the coach of Milan.
It shocked everyone in the press as Sacchi had no great prior experience as a player or a coach, to which he famously retorted: "I never knew to be a jockey you needed to be a horse."
Sacchi was hugely influenced by Rinus Michel's and Johan Cruyff's passing football as well as the great Brazilian teams over the years. He wanted his teams not just to win but to entertain the fans, which was against the grain of Italian football in the 80's – a style immersed in Helenio Herrera's idea of defensive football and winning-to-nil.
In this article, we have a comprehensive look at the tactics and training methods of 'Prophet of Fusignano' with which he won one Serie A, two European Cups and two Intercontinental trophies.
Even today his theories and his ideologies are being applied by the likes of Jurgen Klopp, Ralf Rangnick, Hansi Flick and Julian Nagelsmann.
Tactical analysis
As mentioned earlier, Italian football was rife with Catenaccio, but its powers were slowly waning as coaches from other parts of Europe had found the solution to break the notorious tactic.
Catenaccio was a system that used heavy man-to-man marking and the idea of defensive full-backs, with the intention of always outnumbering the opposition team's attackers. There was often a spare defender called a Sweeper or Libero. 
Milan had the famous Cesare Madlini play as the sweeper and for Inter it was Armando Picchi. The formation for Catenaccio was 1-3-3-3 or a 1-4-3-2. The team would man mark the player win the ball back and counter-attack quickly, which usually depended on an intelligent No.110 such as Milan's golden boy Gianni Rivera.
Sacchi came to management with a totally different perspective. Having been influenced by Rinus Michels, Ernst Happel and Brazilian football he wanted to bring a different style.
In 1987 – when he was appointed the coach of Milan – he brought in Ancelotti from Roma, Ruud Gullit from PSV and Van Basten from Ajax. To understand his style of play it can be broken down into facets.
Formation
Under Sacchi, Milan preferred a 4-4-2 system which was very rare in Serie A up until that point. If Catenaccio was all about man-marking, Sacchi's system was all about zonal marking where players are asked to mark a particular area of the field rather than a player.
This is done to squeeze the space between the lines and win the ball back as quickly as possible. With this system the role of a Libero was eliminated, and Baresi was seen more as a proactive defender snuffing out attacks before they became dangerous.
Pressing and compactness
With Milan preferring to use zonal marking rather than man-marking, it was essential that they learn how to defend using cover shadows, or as it is now called cutting out passing lanes for the player in possession.
When Sacchi had his charges trained in shadow play on the training field, it was to teach his players to press structurally as a team by blocking off passing channels to force mistakes from the opposition players in possession.
One of the initiators of this press was Carlo Ancelotti, who Sacchi described as 'not the most physically exhilarating but played football in his head'.
Ancelotti often initiated the press when the ball was in midfield and with a few tactical tweaks it benefited Milan. Ancelotti would leave his position and press the player in possession and Baresi would often step out of possession to aid Ancelotti's movements.
To keep the defensive shape of the team and to initiate quick counters, Sacchi demanded high work rate from his wide men in Donadoni and Colombo.
One of the most important factors to play this press while maintaining a high line was that the team had to be compact on the pitch. There was not supposed to be not more than 15-20 metres between the 3 lines of players.
However, Milan were having issues adapting to Sacchi's ideas as it was a relatively new concept in Italian football, and with Ancelotti in midfield he was sometimes getting outnumbered or overrun. This culminated when the Rossoneri were knocked out of European Cup by Espanyol.
The turning point
The now famous moniker of the 'Three Dutchmen' was completed when Milan signed Frank Rjikaard in the summer of 1988. Rjikaard was the physical presence Sacchi's Milan had been missing to complete his side.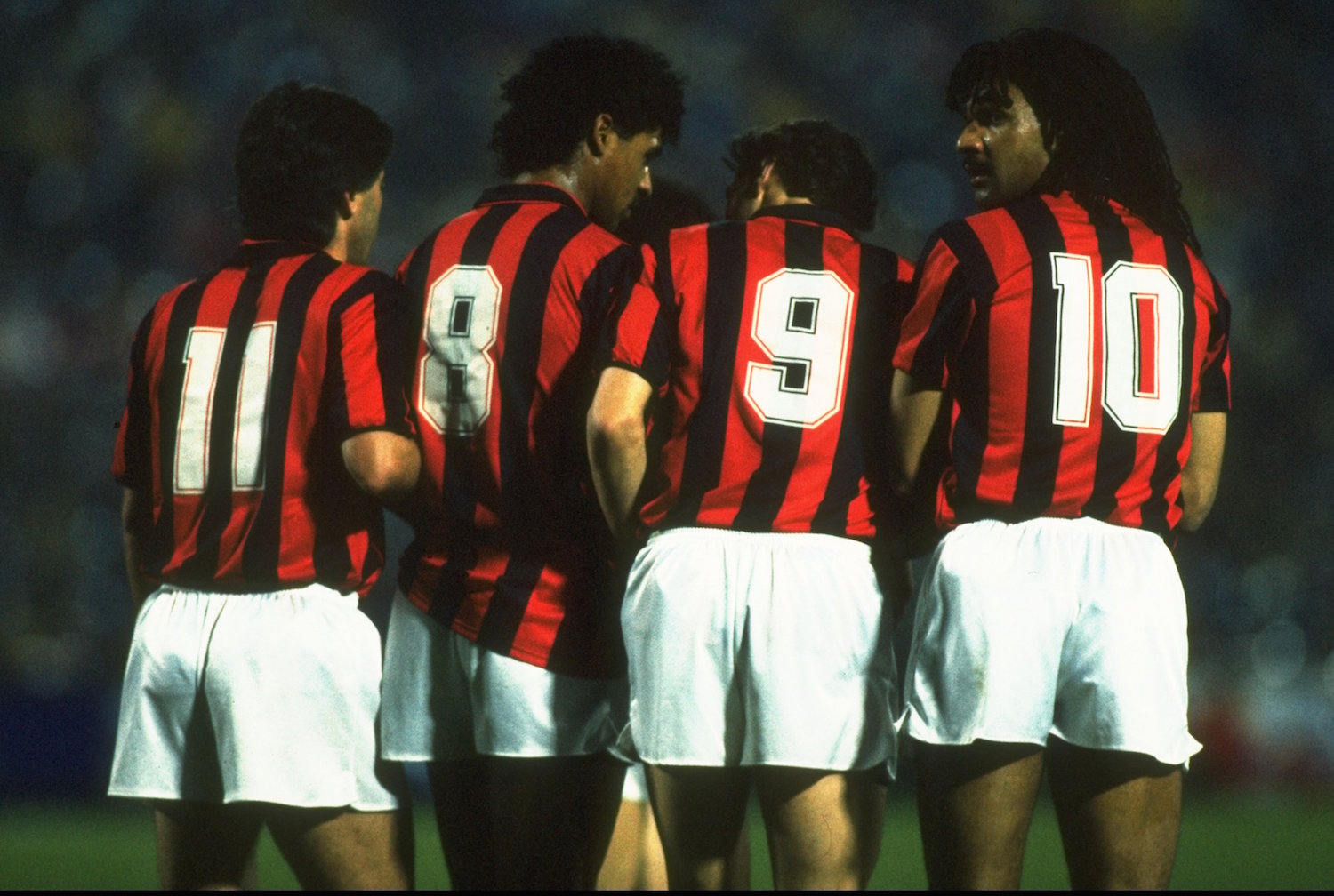 Rjikaard acted as a cover to Ancelotti. He could win tackles, press with high intensity, act as a shield to the back four and even make runs and act as a third man in attack.
His signing reduced defensive burden of Ancelotti and he was free to pick open the opposition with his array of passing ability. This also meant that Baresi did not have to step out of the defence to help Ancelotti and therefore closed any leaks or gaps in the back line.
The signing of Rjikaard also gave Milan the ability to press horizontally and press the wide-players or wingers, using the touchline as an extra man. Rjikaard would cover the space left by Ancelotti to press the wide man. Van Basten and Gullit would cover a back pass and Donadoni would prevent a switch of flanks.
The offside trap
Another weapon in Sacchi's arsenal was the offside trap. To prevent teams from advancing, Sacchi took advantage of the offside rules that applied in those times.
Milan's last line of defense as a whole would advance forward catching the opposition offside. Now this is a risky tactic as it needed a lot of co-ordination between the players in the last line of defence, because if it were not executed perfectly it would result in an easy 1-on-1 chance or worse.
Attacking phase
As Sacchi wanted his teams to play entertaining football, his mission was to put the ball in the back of the net as much as possible.
Initially in the 1987-88 season Carlo Ancelotti was the one who initiated the build-up play once Milan regained possession of the ball.
Ruud Gullit was the vital cog in Milan's attacks acting as the link-up between attack and defense. Once Milan won the ball they would find him with a vertical pass. He would drop into space or between the lines no matter how compact the opposition defence were, and team-mates did not have a problem in finding him such was his quality.
Once Milan signed Frank Rjikaard it freed Ancelotti from defensive duties. He would move further left from the centre while Maldini pushed up as an advancing full-back to become a passing option, with Colombo and Donadoni moving infield into the half spaces while width was mostly provided by Donadoni or Maldini.
Milan barely wasted time on the ball. They always tried to make their attack productive rather than play unproductive sideways passes. With Ancelotti carrying the ball out, Milan would play quick one-touch vertical passes often forming passing various passing combinations such as triangles. Width and crosses were provided by Maldini or by Donadoni.
As seen below, in the 1989-90 final against Benifica, Van Basten dropped from Point 1 to Point 2 to receive a pass from Costacurta. In this move he draws defender 1 out of position thereby creating space. Van Basten spots the lateral run of Rjikaard who ran into the space vacated by defender P1 and scored the winning goal.
Over time, with developing team chemistry and fluid play, Milan became unplayable and whenever Van Basten was injury free he would pierce opposition defenders with his deep runs or make space for team-mates with his intelligence off the ball.
Training methods
What Sacchi was attempting was a total revolution in the way players understood football. He therefore needed to design training methods which were unique, instilled fluidity and provided a crystal clear reflection of what he wanted.
One such method was shadow play, where players trained without a football. Sacchi would tell which position the ball was and players would align themselves as per the movement required to press or pass as per the movement practice.
Another method was to play with a numerical disadvantage which would make the players train extra hard. The best part of it all was that the players were extremely intelligent and physically able, as well as willing learners who practiced the movements to perfection.
Conclusion
When Bayern pipped PSG to win the UEFA Champions League 2020, you could see Bayern applying various concepts that Sacchi immortalised through his Milan towards the end of the 1980's and beginning of 1990's.
With sports medicine and training facilities not as advanced as modern day equipments, his physically demanding style of football took its toll on the players.
Sacchi left Milan for the Italian national team in 1991 and almost replicated the success of Milan with the Azzurri in the 1994 World Cup, only to be denied by Roberto Baggio's penalty miss.
He did come back to coach Milan for six months in 1997 but he could not replicate his earlier success with the club. This followed a stint at Atletico Madrid where he was unsuccessful, but Sacchi had already written his legend in the annals of football and modern managers such as Klopp, Flick, Naglesmann and Tuchel can be seen using his ideology to win matches.