Having already missed 10 matches due to a biceps femoris muscle injury or, you know, his thigh, Ismael Bennacer made his comeback in the 63rd minute of AC Milan's league win against Bologna.
He unfortunately missed the next match due to an unexpected fever, but this weekend he will be back, and Stefano Pioli will welcome into the fold a player that brings too much to count on one hand with his tenacity, aggression and technical ability being some of his many highlights.
Expected to already be in gear facing Spezia next Saturday, 22nd round. Let's jump straight as to why this is of great importance to coach Stefano Pioli's system…
Defensive stability
The Algerian midfielder displays a keen tactical sense, positioning as well as a knack for aggressively dispossessing opposing players especially when the team is holding a high line. Milan have sorely missed these characteristics and more than often find themselves facing a quick break due to some lenient midfield pressing at times.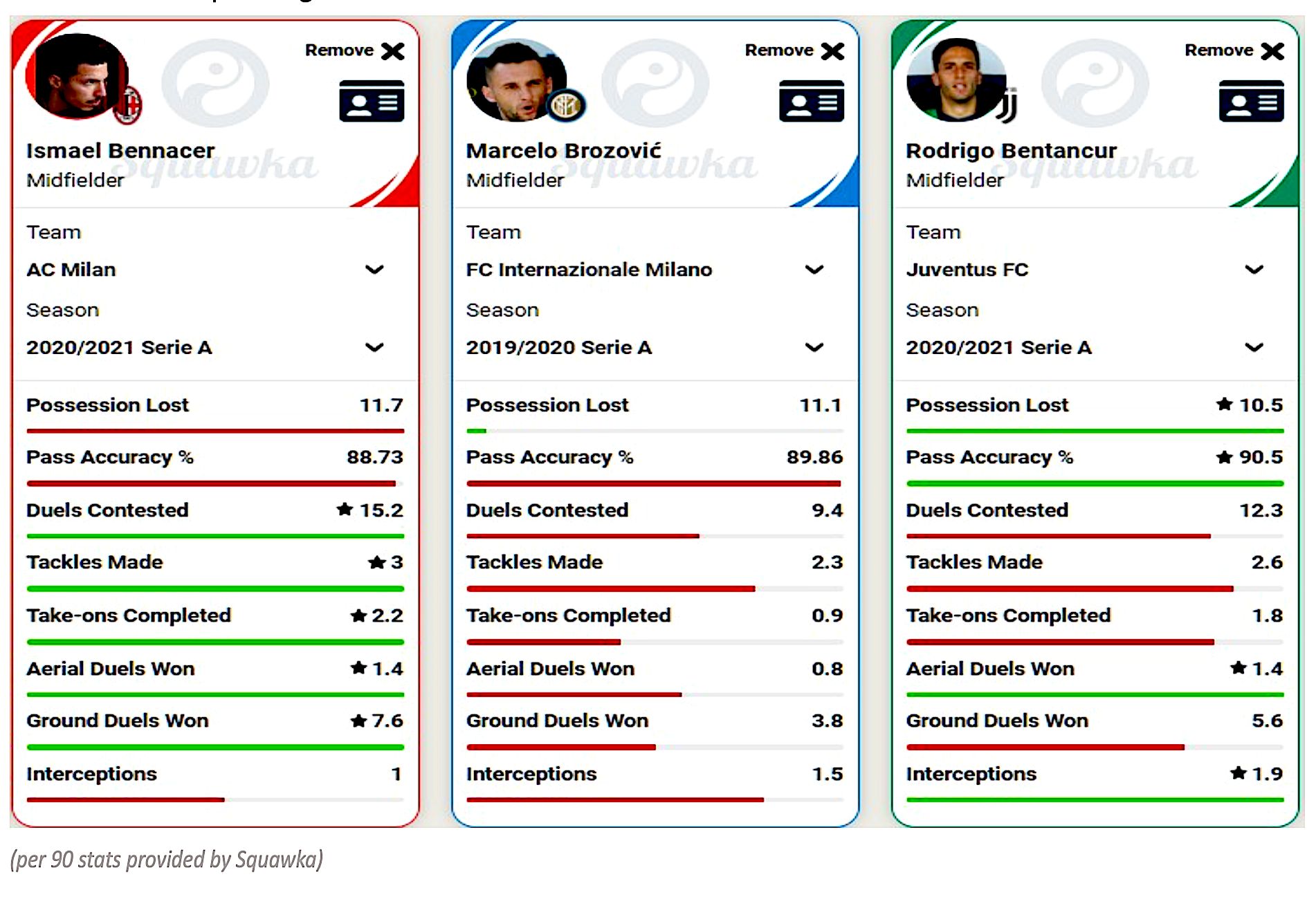 When compared to Marcelo Brozovic and Rodrigo Bentancur, Bennacer's stats shows his defensive superiority. Although the No.4 might relatively lag behind in terms of successful interceptions made, his tackling and ground duels more than make up for it, plus his surprisingly respectable aerial duels won. The last one caught you by surprise, so act impressed. The numbers above highlight more than his defensive aptitude, which brings us to our next point.
Press resistance
In addition to defensive quantity, his ball-keeping ability is where he really shines as a midfielder in a possession-dependent system. The player likes to take on his marker be it in the attacking third or a few yards from his own penalty area.
This proves essential at times, dragging pressing players out of their respective positions allowing his team-mates more space and consequently a much easier time on the ball.

(graph courtesy of fbref.com – full comparison here)
Compared to his team-mate and deputy Sandro Tonali, the ex-Empoli star is clearly more involved in the build-up, ball circulation and dictating the tempo, having more touches than Tonali in almost all areas. Isma also manages to cover a much higher progressive distance with the ball at his feet implying more positive play.
Fundamental piece
Stefano Pioli's system revolves heavily on – as countlessly reiterated no doubt much to your annoyance – possession. With that being said, Bennacer's involvement in all phases of the game is essential for exactly that.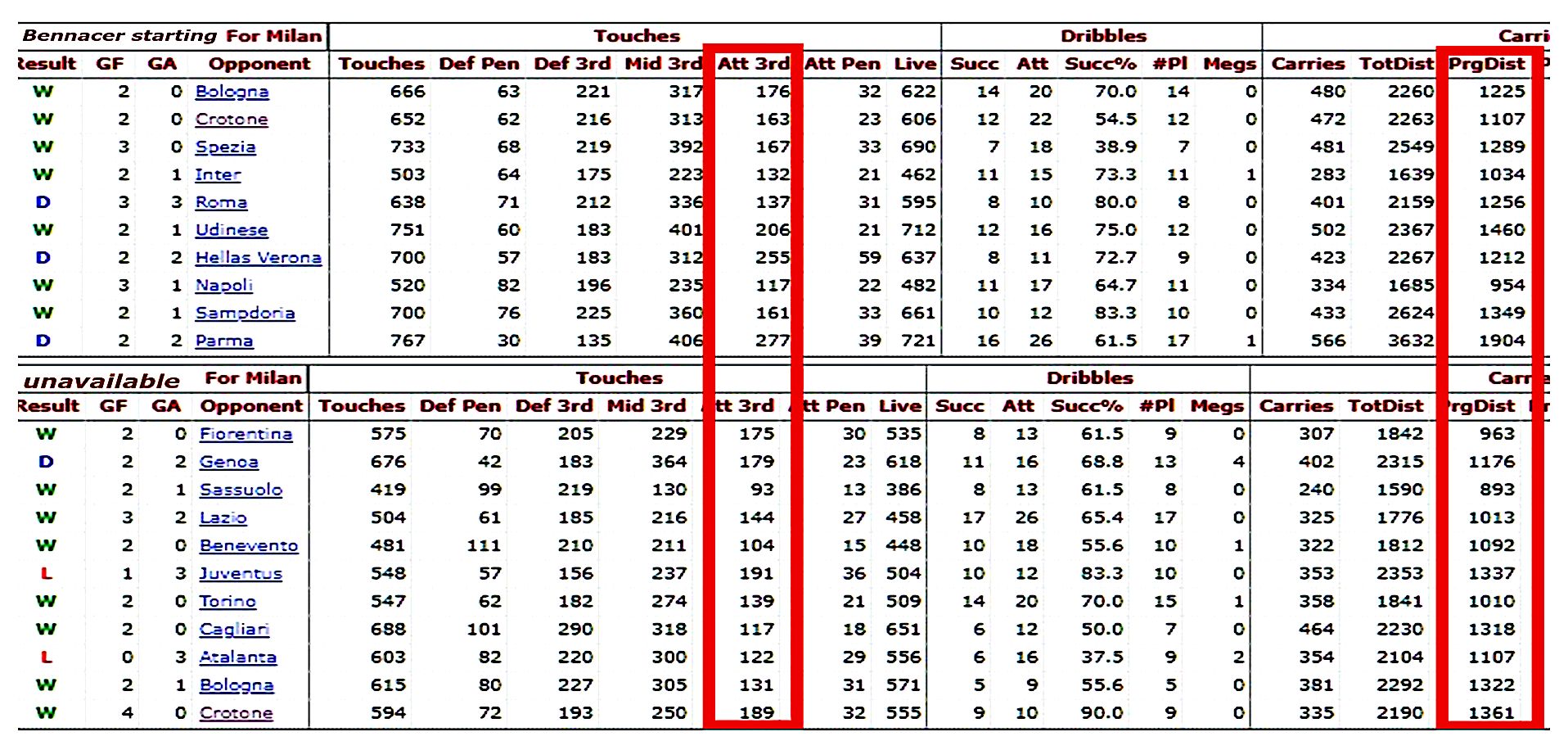 (graph courtesy of fbref.com – full comparison here)
Calling attention to the number of touches in the attacking third, the Algerian's presence is felt with the team registering 1791 touches in total in the 10 matches he started as opposed to the 1584 registered following his absence.
Progressive yards covered holding the ball while moving towards the opponent's goal clocks in at 12,790 before Bennacer's injury and 12,592 in total after. The recent match against Bologna (in which the 22-year-old played just 30 mins) was not include so as to further prove the importance of having such a midfielder present. Excuse the unsymmetrical aligning of the table as Hellas Verona ruin the day once again.
As we all know, football has always been a team sport, but as history proved time and time again, an individual could elevate a whole team's performance by making an impact even if not as vivid as, say, Diego Maradona dribbling past the whole planet on his way to goal, Davide Calabria marking out two wingers at the same time or Samu Castillejo single handedly bringing disco back.
A positive impact nonetheless, however dwarfing in comparison, is still immense, and Milan need everything they can get a hold of in these crucial times as they move ever closer to their target.
---
Want more Milan? Check out our podcast and sign up for notifications on our website for the latest Rossoneri updates. Take a look at our shop, and join in the discussion over on the Rossoneri Discord!