With the 2019-20 season having now finally come to the close, we can look back on a campaign which provided a rollercoaster of emotions.
To over-simplify, the team struggled up until Christmas, picked up the pace a bit before exploding after lockdown, winning nine out of 12 games and going unbeaten in that stretch.
That excellent run has probably saved a lot of the players in the list below as we give each player a rating out of 10 for the season…
Goalkeepers
Gianluigi Donnarumma (7): Gigio always wins Milan more points than he costs them, and this was another important season for his development. There are still some lapses of judgement in his game but he is maturing into one of the very best in the world. Get that renewal sorted.
Asmir Begovic (N/A): Only 128 minutes of league action to go off which isn't really enough. If Milan are on the lookout for an experiences and reliable deputy to Donnarumma though, Begovic makes more sense than Reina with his large salary.
Pepe Reina (N/A): Even less to go on than Begovic as he was loaned out to Aston Villa in January. It's time for him to go.
Antonio Donnarumma (N/A): Serie A has a heavy weighting in these player ratings which means it would be wrong to give Antonio a score despite his clean sheet in the Coppa Italia against SPAL.
Defenders
Davide Calabria (5.5): It could have been an even lower score for Calabria, who struggled for consistency all season, but the last three appearances he made have actually substantially boosted his score.
Andrea Conti (4.5): He had one ok performance followed by a disaster, and that was repeated throughout the season, when he wasn't injured at least. His cycle at Milan has come to an end, he should be sold.
Mateo Musacchio (5): Somehow made 17 appearances, with almost all of them coming at the start of the season before injury problems and the arrival of Kjaer bumped him down the pecking order. Another player whose time at Milan is up; he's just not reliable enough.
Leo Duarte (5.5): Arrived as an unknown quantity from Flamengo, and remains an unknown quantity. Lots of injury problems and mixed performances when he did get on the field. Gut feeling is still that he won't forge a successful career at Milan as a starter.
Alessio Romagnoli (6.5): There are games where he looked virtually unbeatable, but there were also occasions – against top sides like Inter – where he completely went missing. We need more consistency next season. If he can give a 7/10 every week, he will fall into the elite bracket in Serie A at least. He does suit the arm band though.
Simon Kjaer (8.5): Ibrahimovic and Pioli get discussed a lot in terms of being responsible for the turnaround, but there is a strong argument Kjaer's arrival was just as crucial. Solid in every way; physically imposing and an expert reader of the game. What a bargain that €3.5m fee looks.
Theo Hernandez (8): Amazingly he somehow struggled to get game time at first, but then he completely exploded. Dynamic, marauding, tenacious, fast, exciting – he's just a breath of fresh air. His defending even improved by the end of the season too, which is crucial going forward.
Diego Laxalt (6): Only played 170 minutes in the league, but that's just about enough to earn him a 6. Did particularly well when he started against Atalanta and everybody feared the worst. Probably leaving, but not a terrible back-up to Theo.
Ricardo Rodriguez (4.5): After being really good under Gattuso, he fell off a cliff as Giampaolo clearly asked him to do things he wasn't used to. The loan spell did him good, and now a permanent exit is on the cards after a turbulent three years.
Matteo Gabbia (6.5): Stumbled upon game time due to a defensive crisis earlier this year and snatched his chance well, showing excellent confidence and composure. Played well in the last three games and seems to have bulked out physically. Reads the game well – a bright future ahead.
Midfielders
Ismael Bennacer (8): Arrived from Empoli last summer after winning AFCON Player of the Tournament, and has not disappointed since taking the starting spot from Biglia. An absolute terrier in midfield, he chases balls and doesn't give up until he wins them. Also effective at driving play forward with tidy distribution. Sometimes guilty of jumping in too early or giving the ball away, but he will grow and develop.
Franck Kessie (8): Had this been before the COVID pause, it could have easily been a 5. Since then, he and Bennacer have formed one of the best midfield double pivots in Europe. The Ivorian is strong, tenacious and covers ridiculous ground. So important for the balance of the side and how they are able to attack teams like vultures.
The #ACMilan player to have covered the most ground per game on average this season was Franck Kessie.

The Ivorian played 3095 minutes and covered an average of 10.82km per match.

🏃🔴⚫️ pic.twitter.com/iykTiDUHPS

— MilanData📊 (@acmilandata) August 3, 2020
Rade Krunic (6): Actually looked like a very tidy player in the 530 minutes he played, but we didn't see enough to be impressed. He was brought in to be midfield depth and could still offer that if he can get over his injury problems. There may be better, younger options out there though.
Lucas Paqueta (4): It feels harsh to put a 4, but it just wasn't Paqueta's year at all. He was moved around position-wise but didn't impress anywhere, and it seems like his future is away from the San Siro. He is, however, the kind of player that could explode in the right environment.
Lucas Biglia (2): It honestly could have been a 1, that's how non-existent his contribution was. A ridiculous salary to spend so long injured, although that isn't his fault admittedly. He will leave on a free transfer and Milan will be left to regret a failed investment.
Hakan Calhanoglu (7.5): His attacking production in the final 12 games of the season was quite incredible, and it made up for a very inconsistent start and middle to the season. Calhanoglu seems to make Milan tick; when he has a good game the Rossoneri almost always win. Now he must carry it on into 2020-21.
Giacomo Bonaventura (6.5): If this is to be his last season in a Milan shirt, the way it ended is sad. The last couple of years haven't been the best in terms of playing time, but Jack showed – in 2020 in particular – that he can mould his game to accommodate for the pace he has lost because he still has the vision and technique to provide a spark.
Marco Brescianini (N/A): There were times late in the season when Milan were cruising to wins that would have been perfect for Brescianini to come in, but for whatever reason Pioli didn't use him. A loan spell might be in order.
Forwards
Zlatan Ibrahimovic (8.5): Will start with the bad: he was guilty of missing quite a few easy chances. The good outweighs it substantially though, as half of the positive impact was in his ability and the tactical dynamic he gave to Milan, while the other half was in the leadership, experience and mentality that he transcended to the squad. Without Zlatan, it could have been a miserable last seven months. Ten goals too, age really is just a number.
Ante Rebic (8): First half of the season could have been a 2 (or a N/A because he barely played), but in the year of 2020 the Croatia international has been unstoppable. Top scorer with 11 league goals and another player to benefit from Ibra's arrival. Works tirelessly, beats players with ease and has a knack of being right place right time. Get him signed permanently.
Rafael Leao (7): Probably deserves an article of his own after such an up and down season, but the bright signs we saw post-lockdown cannot be ignored. He is an edge-of-the-seat player and although raw and with plenty to work on, he is an asset for this team. We just need to settle on his position and let him develop.
Samu Castillejo (7): Was a breath of fresh air when he took the place of Suso in the XI as he actually had pace and the willingness to beat a man to the byline. Some more productivity and composure in front of goal would be nice, but his contribution to the way Milan play cannot be understated.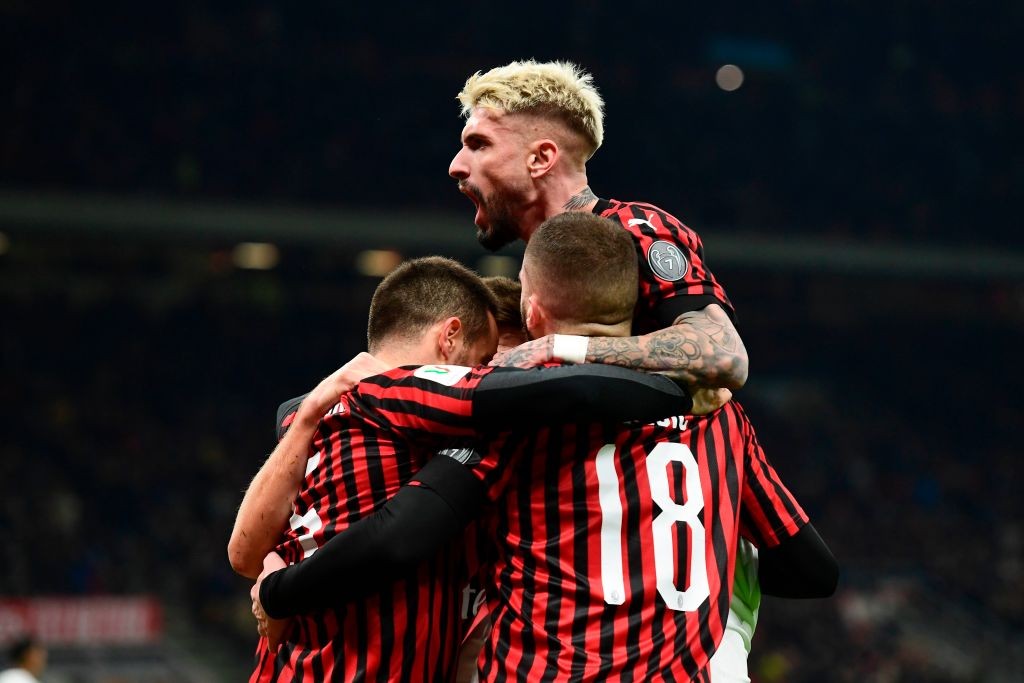 Alexis Saelemaekers (7.5): Not much was expected from one of Milan's more bizarre pieces of recruitment in recent years, but by the end of the season Saelemaekers had won fans over. He is so important for the shape of the side as he covers a lot of ground at both ends and injects energy and intensity to the right side. Technically not the most gifted, though it is important to appreciate his effort and enterprise.
Lorenzo Colombo (N/A): Could have given a 6 out of 10 but ultimately we didn't see enough of the young striker. Unless there are serious plans to promote him to the senior side full time and have him be Ibrahimovic's deputy, Colombo should be loaned out.
Daniel Maldini (N/A): The same as Brescianini really, he just wasn't given chances when he should have been, which is one of the only gripes fans can have with Pioli over the last few games. From what we did see he looks raw and a bit timid, not at all like he does in the Primavera. Another season there or a loan spell would do him good.
Suso (4): He was not having a fun time of things before leaving for Sevilla. Gets a 4 because Giampaolo was also responsible for moving him around, but it was the right time for Suso's Milan cycle to end. He had been figured out by the end, and is now struggling in Spain too.
Krzysztof Piatek (3): Also left in January after a torrid start to the season. Looked bereft of all confidence and as a result he appeared not to be trying as hard. It didn't end how any of us fans would have wanted, but he brought in important cash.