AC Milan have already been linked with an abundance of players despite the fact that the summer transfer market is in its infancy, and one of the hottest topics is regarding the centre-back role.
Just as it was during the January mercato when nobody ended up arriving to fill the void left by Simon Kjaer's long-term injury, it seems to be a battle between two players to become the Rossoneri's latest rearguard recruit: Sven Botman of Lille and Gleison Bremer of Torino.
For the last few weeks and even months it has appeared as though Botman would be making his way over to Italy for medicals and the signing of his contract ahead of joining Milan, however the inclusion of fresh competition from the Premier League has complicated things.
Subsequently, the idea of Bremer being an alternative target has emerged from several reliable sources, provoking a mixed reaction among the fan base. However, it might not be such a bad thing.
We must first of all operate under the assumption that Botman is indeed Paolo Maldini and Ricky Massara's first choice and has been since the winter, however he may become unattainable due to the fact that English clubs – especially Newcastle United – have much greater spending power at present.
It is likely therefore that they will try until the end to sign the Dutchman, but as any competent directors would they must have alternatives lined up who they are ready to pounce on if no progress is made.
There are reasons to be very calm and content if Milan do decide to fully turn to the Brazilian. Of course there is plenty working in favour of the Lille man such as the fact he has Champions League experience, he is four years younger, he has won a domestic league title and already has a relationship with Mike Maignan, but there are factors that point to Bremer being a very suitable candidate.
Experience
First of all, the 25-year-old is closing in on 100 league appearances for Torino (he is currently on 98) which shows that he is a centre-back who knows the league very well, compared to Botman who has played at Ajax and now Lille.
While Milan have had plenty of success with recruits from abroad and particular Ligue 1 (see Leao, Kalulu and Maignan), there is also an advantage to going for a player who has already adapted to his surroundings and the style of Serie A.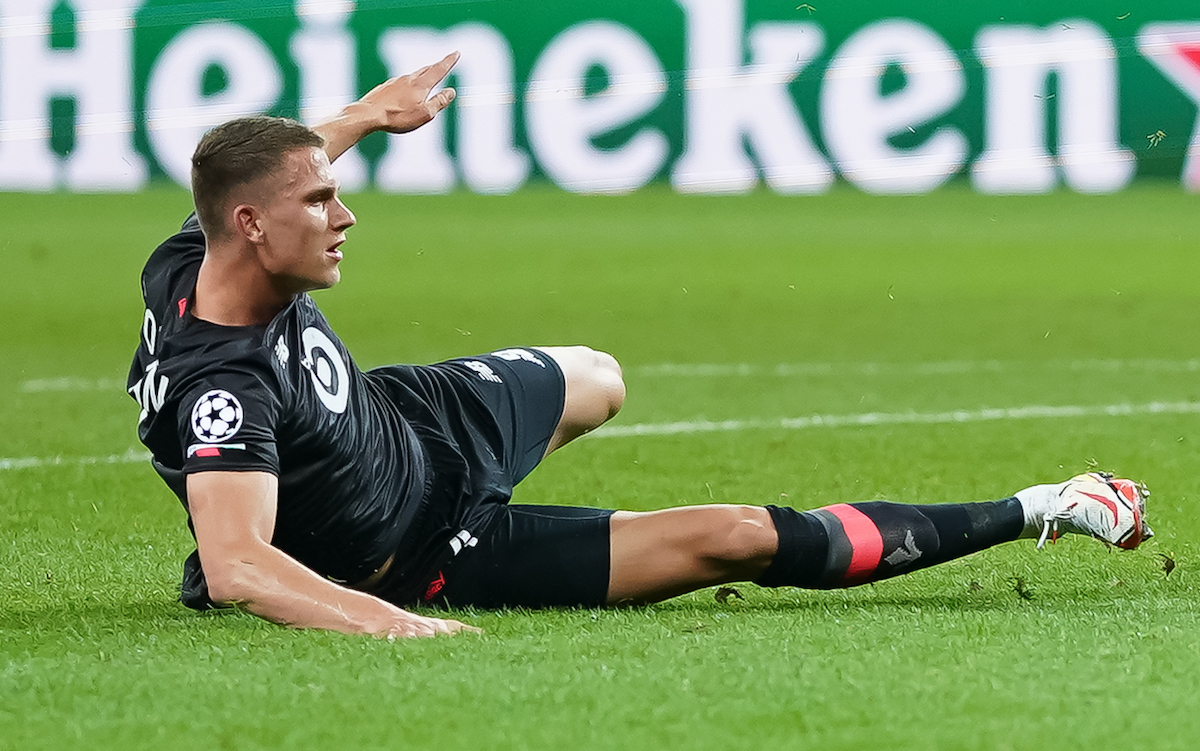 The Rossoneri have come up against Bremer multiple times and he is a very tough customer. Olivier Giroud was influential in the Scudetto win scoring in many big games, and even he labelled the former Atletico Miniero man as a 'great defender' after their battle. He was also voted the best defender in Serie A for 2021-22.
In addition to that, there is another 'domestic' element to consider: signing Bremer would remove Inter's top defensive target from the market, forcing them to change strategy at a time where there is a lot of confusion surrounding their financial sitaution.
Cost
There is also an economic factor to be examined when comparing the two targets. With the arrival of Newcastle and possibly other English clubs onto the scene, Botman will probably cost in the region of €35-40m.
It would of course be a statement investment if Milan did decide to pay the asking price and satisfy the player's dream of wearing the Rossoneri shirt, yet at the same time it would obviously eat up a larger chunk of the available summer budget.
Bremer's reported asking price is around €25m as per sources like MilanNews. Not only is that at least €10m cheaper than Botman would probably cost, but there is also the possibility that he accepts a lower salary which could offset not having the Growth Decree tax relief scheme that the Lille man would enjoy.
Moreover, Bremer's price could be lowered with counterparts who are no longer deemed essential to the project, with names like Tommaso Pobega (although he seems destined to stay), Rade Krunic and Matteo Gabbia springing to mind.
Even a preferential lane for loans like Lorenzo Colombo and Marko Lazetic could help engineer a cheaper deal on the cash sum side of things for the Diavolo, saving money to spend elsewhere and to reinforce the attack.
Characteristics
Our writer Rajath Kumar did an excellent analysis back in January on whether Botman would actually be a good fit for Milan and their new way of playing under Pioli, one that has become gradually more aggressive and proactive starting from the back.
There is actually data to suggest that Bremer is a player more natural and conducive to playing a high line as Milan have done with the Tomori-Kalulu pairing, which facilitates the entire pressing mechanism that worked so well in the title win.
Comparing the stats of the pair in their respective 2021-22 league campaigns (via WhoScored), Bremer comes out on top in tackles per 90 mins (1.5 to 1) and interceptions (3.2 to 1), which tends to suggest he is a more proactive defender.
Botman on the other hand made more clearances (4.5 to 4) and blocks (0.8 to 0.7) though there is not as big a margin in these categories, and they indicate more of a 'wait and cover' approach to the centre-back role.
It does seem that Botman is a better passer of the ball as he averages more passes per game (60.7 to 40.3) and a higher percentage completion (88.1% to 81.6%) compared to Bremer, as well as more long balls (4.1 to 2.6).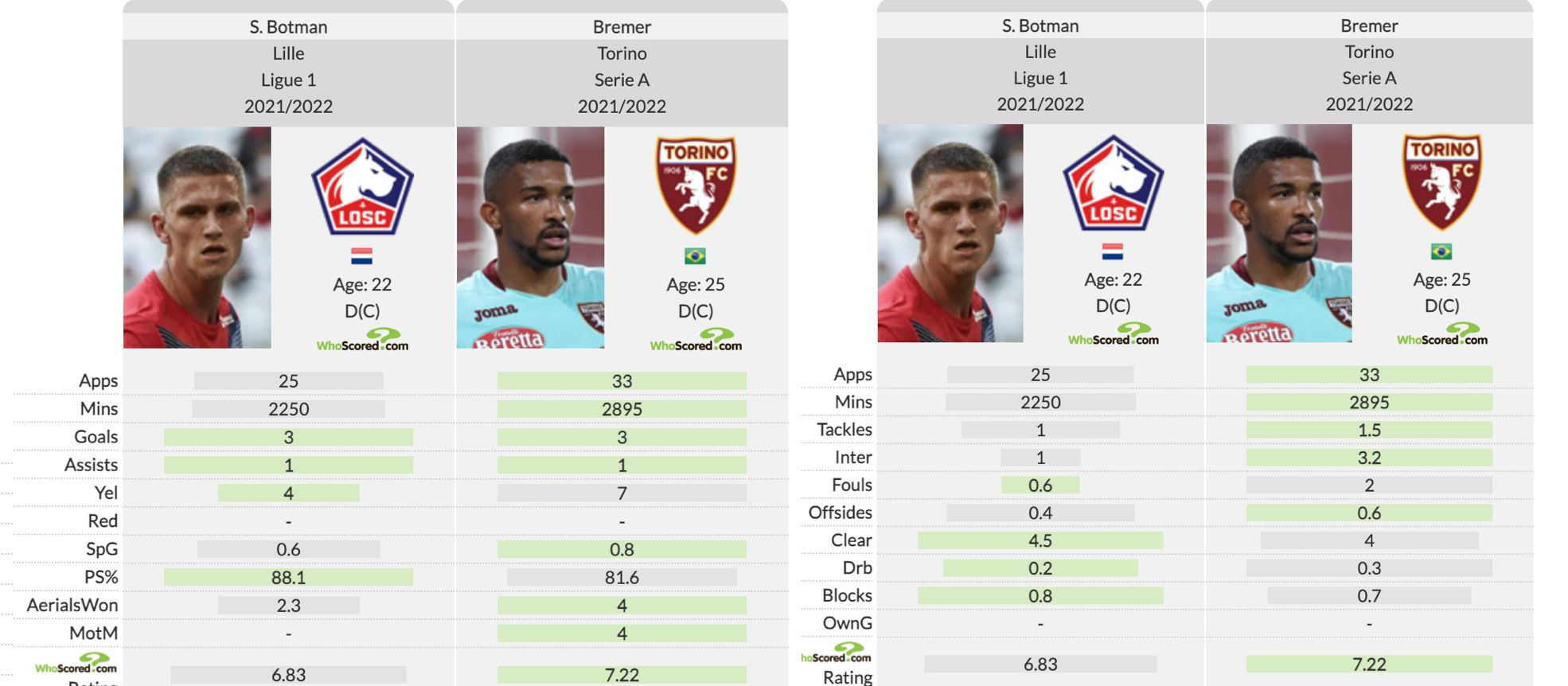 Milan already have good ball-playing defenders though, and while having more is never a bad thing it must be recalled how often the centre-backs split in Pioli's system to allow a midfielder to drop deep and distribute, so it is arguably not essential.
Neither are particularly rapid when it comes to recovery pace unlike Tomori and Kalulu, though Bremer does hold a clear edge in top speed and acceleration, something which may be going through Pioli's head.
One thing is for sure: if Milan end up with either of the duo they will have signed a fantastic defender with all the tools to succeed at a club like Milan. Sometimes missing out on a top target is not the end of the world – after all, we learned that when Tomori appeared after Simakan vanished.