The AC Milan squad got more useful minutes in their legs in the early hours of Friday morning (European time) as they drew 2-2 with Juventus in Carson, California.
Milan were twice ahead in the game, with both goals coming in the first half as Malick Thiaw's header from a free-kick made it 1-0 and Olivier Giroud's close range finish after an assist from the German restored the advantage.
They were ultimately unable to hang onto the lead both times though. Danilo equalised for Juventus not long after Thiaw's opener, stabbing home a corner that the Rossoneri failed to clear, and then it was Daniele Rugani whose header deflected in off Giroud to make it 2-2.
The final 35 minutes saw both teams make mass changes and in the end the tie was settled with a penalty shootout that Juventus won 4-3, but what did we learn from the third preseason friendly?
1. Live and die by the sword
The good news is that Milan seem to have figured out a way to make themselves more of a threat from set pieces. After Fikayo Tomori's header from Christian Pulisic's corner against Real Madrid, the positive signs continued.
The indications are that Milan are not only relying on exploiting the quality deliveries of Pulisic, Tijjani Reijnders, Theo Hernandez and others but they are also setting up in better positions too.
There is some innovation involved, with a front and a back group seen from corners to try and cause confusion with flick-ons and exploit opponents like Juventus who play a rigid zone system. The height of players like Thiaw and Ruben Loftus-Cheek helps too.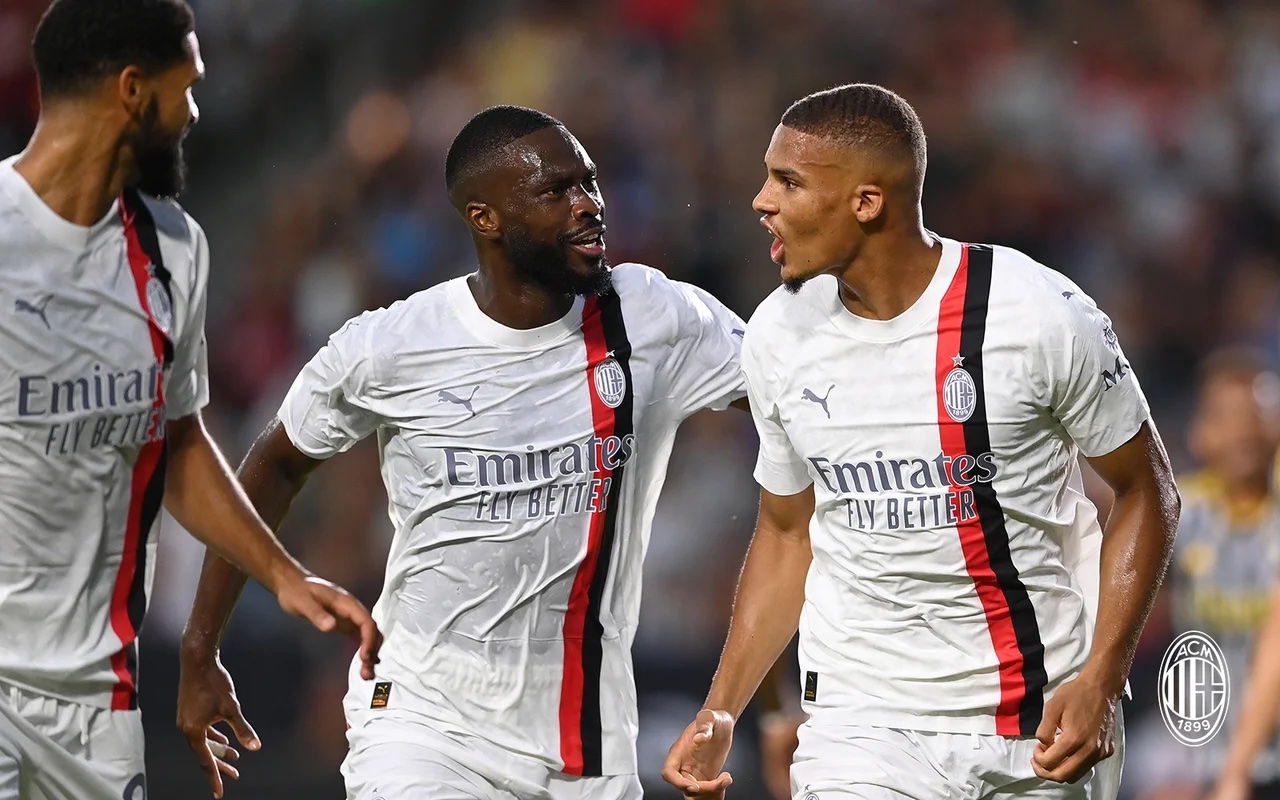 However, at the other end things still look quite worrying, continuing a pattern from last season where the Rossoneri really struggled to effectively defend set pieces time and time again.
For Juve's first goal, a flick-in from McKennie caused all kinds of issues and should have been converted by Gatti – who Loftus-Cheek failed to pick up – but eventually his defensive partner Danilo stabbed home at what was by then the third attempt.
It took just over two minutes of the second half for Juventus to get themselves level for the second time, when Chiesa's low free-kick was met by Rugani's stooping header, which deflected off Giroud and past Maignan.
It's the same old issues we are seeing: failure to pick up runners, confusion about the mix between zone and man-to-man marking and general flat-footedness when it comes to reacting to loose balls and rebounds.
2. Taking the Reijns
This is a crucial period for Tijjani Reijnders who is learning more about his new team-mates during the USA tour and also about Stefano Pioli's instructions from a tactical point of view.
The Milan boss deemed him ready to start from the first minute against the Bianconeri last night and he certainly impressed in the bursts we saw.
When he picked up possession and was awarded the time to surge into space, it could really be seen how and why he is considered such a fantastic progressor of the ball.
He also played a couple of enterprising through balls to Giroud that he was just a few yards behind – maybe with Noah Okafor those would be assists.
The Dutchman reflected positively on his performance in his post-match interview, while the Dutchman got a positive score in our player ratings and his highlights can be seen below.
We also once again learned a bit more about the composition of the midfield. Rade Krunic between Loftus-Cheek to the right and Reijnders to the left could very well be how the Diavolo start in that first game against Bologna in just under a month.
In possession, the Englishman could be seen pushing up to join the forward line in what looked like more of a 4-1-1-4, with Krunic sat in front of the defence, Reijnders as a go-between and Loftus-Cheek pinning the Juventus rearguard back.
The imminent arrival of Yunus Musah from Valencia could see a further tactical evolution from Pioli as he seems to want three mobile, physical midfielders capable of engaging in the press all over.
However, based on what we have seen so far, there is a clear attempt to limit Krunic's responsibilities as the deeper-lying player as he is not blessed with excellent distribution, moving the ball to the wings quickly and looking to find the two mezzala players pushing forward to support.
3. Defensive depth called into question
To some this may sound like an over-dramatic point to conclude on, but a quick scan down the social media timelines during the game highlighted that a lot of Milanisti felt the team are still nowhere near the levels we know they can be defensively.
That Scudetto-winning defensive quartet of Calabria-Kalulu-Tomori-Theo kept nine clean sheets in the final 11 games of the season and were arguably the most vital component of the ability to hold off Inter.
Those certainties vanished last season as Milan's defence went from lockdown to leaky, with Pioli even switching to a three-man back line at one point to try and stop the bleeding, at the expense of some attacking freedom.
That means there are some question marks that must be emphatically answered this season if Milan are to mount a serious title push, because letting in 43 goals (the most of any top four side) compared to 31 the previous season turned wins into draws and even defeats.
The centre-back position no longer looks as promising as it did. Tomori is showing himself to still be inconsistent and prone to lapses in concentration, with his starting partner Thiaw undoubtedly talented but still raw and having gotten a bit of a run-around from Chiesa.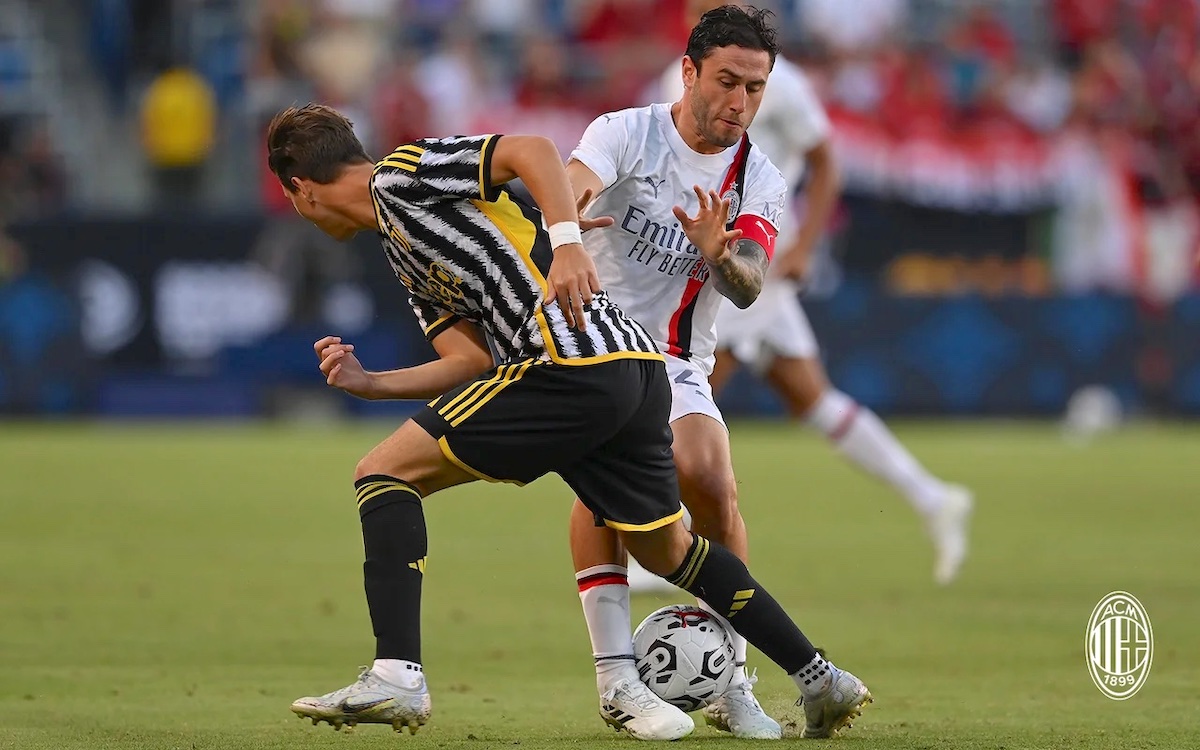 Pierre Kalulu hasn't been seen yet but was up and down in 2022-23, Matteo Gabbia has gone on loan without being replaced and Simon Kjaer – who missed the Juve game due to workload management – simply isn't reliable from a physical point of view.
At right-back, Alessandro Florenzi has missed big portions of the last two seasons and has had three surgeries (two on his knee) since arriving. Davide Calabria went off last night with thigh discomfort, leaving Alexis Saelemaekers to fill in at right-back again.
Then there is the deputy left-back issue, which seems no closer to being fixed despite Fode Ballo-Toure being entirely excluded and a number of targets being linked.
There is still over a month left in the transfer window to fine tune the squad and while the focus might be more on a No.6 or a young centre-forward to rotate with Olivier Giroud, Pioli might just be looking at the back four and asking for some depth.
The most obvious solution at present is to sign a central defender to increase the depth there, and allow Kalulu to play right-back as often as is needed.