We are now in the Christmas break, and we have seen a new Milan compared to previous seasons under Vincenzo Montella. The team has shown signs of progress in many areas. In particular, the style of play, the mentality, and the growth of young players. A lot of this is down to Coach Montella. 
Style of Play
For the first time in years, Milan is playing attractive and attacking football. It isn't exactly the possession football that we saw from Montella's Fiorentina in the past, but it's more based on quick counter attacks. Many of Milan's goals this season have initiated from the goalkeeper and centre-backs. The distribution of Paletta and Romagnoli has been sublime, whether on the ground or in the air.
From the defenders, the ball is usually played out on the wings where two of Milan's biggest threats play: Bonaventura and Suso. Since taking Niang's starting spot, Bonaventura has proven to be the more effective player. Suso and Bonaventura have been making magic for Milan. You always feel a dangerous attack coming up when they're on the ball, as they can dribble and make good crosses.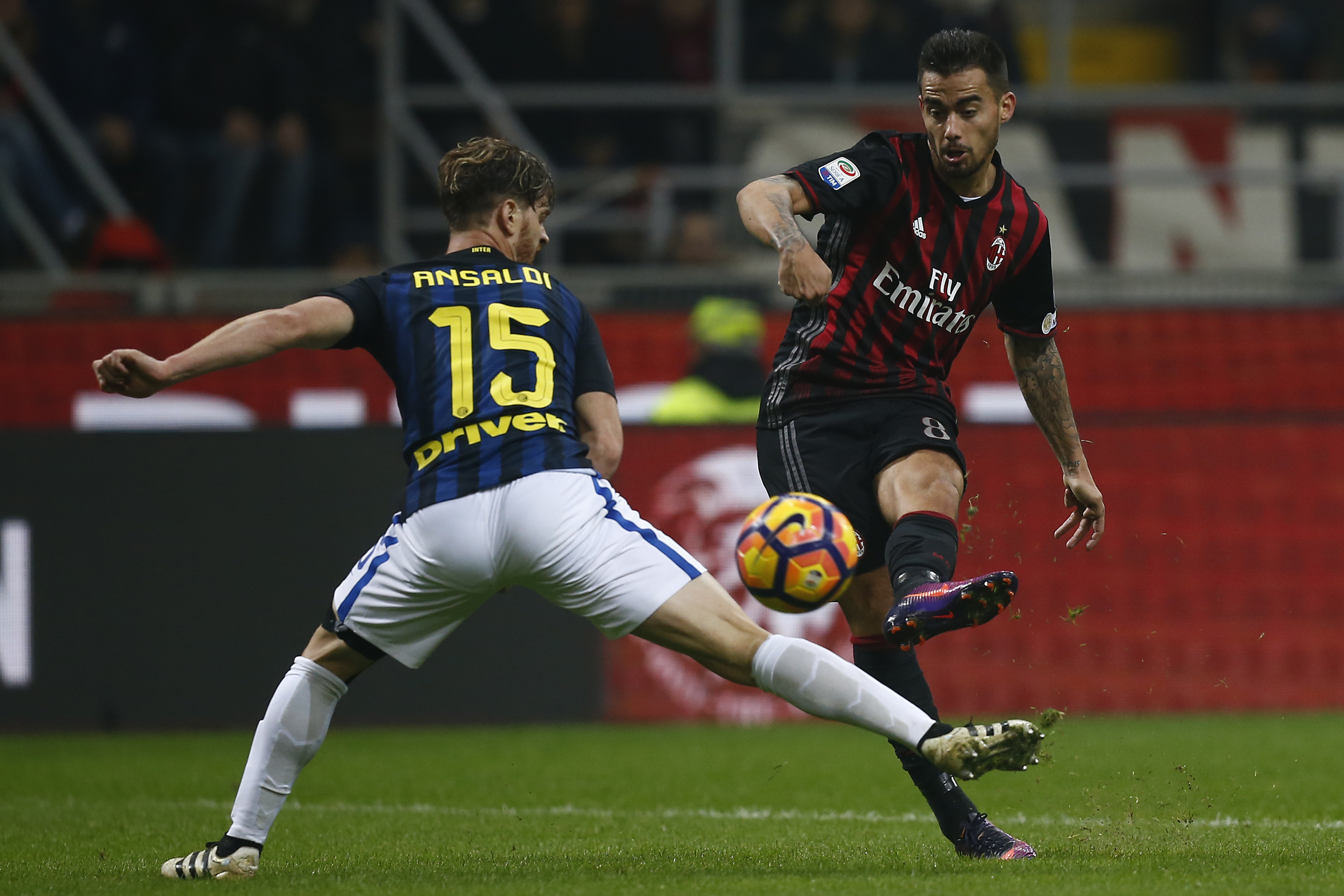 The team also looks more calm when in possession this season. They are able to play the ball around the back with ease and create precious space for midfielders such as Bonaventura to take advantage of. According to WhoScored.com, Milan have an 82% average pass accuracy this season. Under Mihajlovic, we saw far too many sloppy plays and easy loss of the ball. Montella's Milan is more based on making accurate, swift passes and creating space to make plays.
A prime example of Montella's style is Suso's first goal in the derby against Inter. The attack began with a throw from Donnarumma to Bonaventura. Bonaventura advanced and had options on both wings. When he got closer to the box, he chose to pass the ball to the right side to Suso. With a clever feint, Suso found space to cut in and beat Handanovic. Goals like that one have become more and more frequent this season with Montella's tactics.
Team's Mentality 
In the 2015/16 season, only once did Milan come back to win from being in a losing position in Serie A (against Frosinone). The team seemed to lose faith so easily after going down a goal. Montella has restored confidence in the team this season. Now, when Milan are in a losing position, the players keep their heads up and encourage each other to continue fighting for the win. The group is now calmer when they are losing.
So far, Montella's Milan has turned around a game from a losing situation twice (Milan-Sassuolo and Milan-Crotone). During Milan-Sassuolo, the team could've easily given up after going down 1-3. Instead, they continued to apply pressure on Sassuolo and played with a winning mentality that we haven't seen in a long time.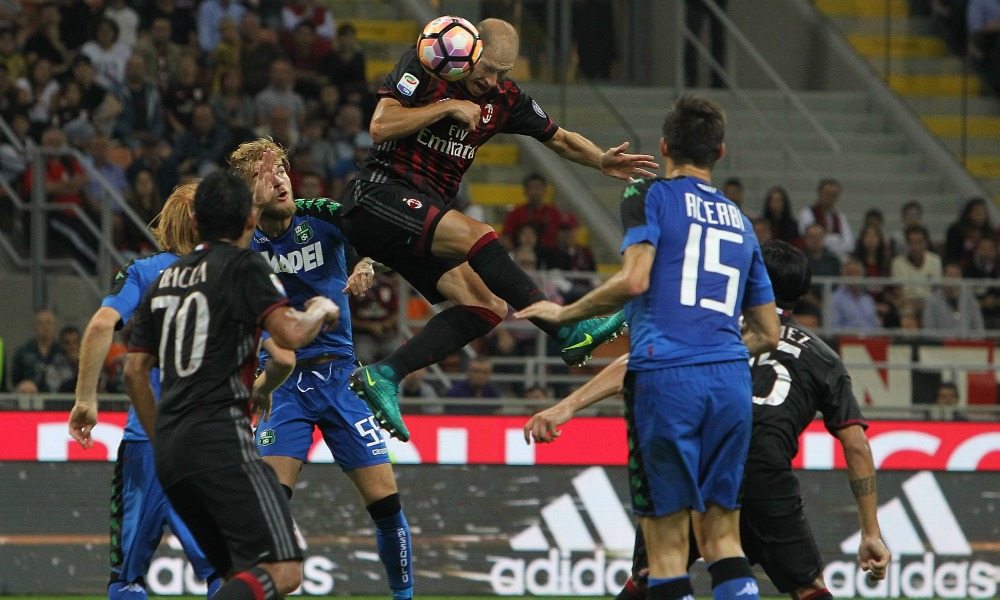 The reward was granted as Milan ended up winning 4-3 in spectacular fashion. Montella is making his players enjoy playing football. You can see just how happy and united they are by watching the training sessions and following the players on social media. The team is like a family, and all the players look focused on reaching the objectives for this season.
Growth of Young Players
The youth movement at Milan began last season under Mihajlovic and progressed into this season. Milan is loaded with young talent. Some players come from the youth sector such as Locatelli, Donnarumma, Calabria and De Sciglio, other young players who were not youth products include Romagnoli, Suso, Niang, Pasalic and Gustavo Gomez.
The average age of Milan's roster is 25.25 years old, but some starting line-ups fielded by Montella have been even younger. Coach Montella has given many of these players chances to prove themselves this season. In other words, he has turned these young and inexperienced players into a group of winners and believers. They have played with impressive personality and confidence, wanting to reach their full potential and prove that they can compete on the same level as more experienced players.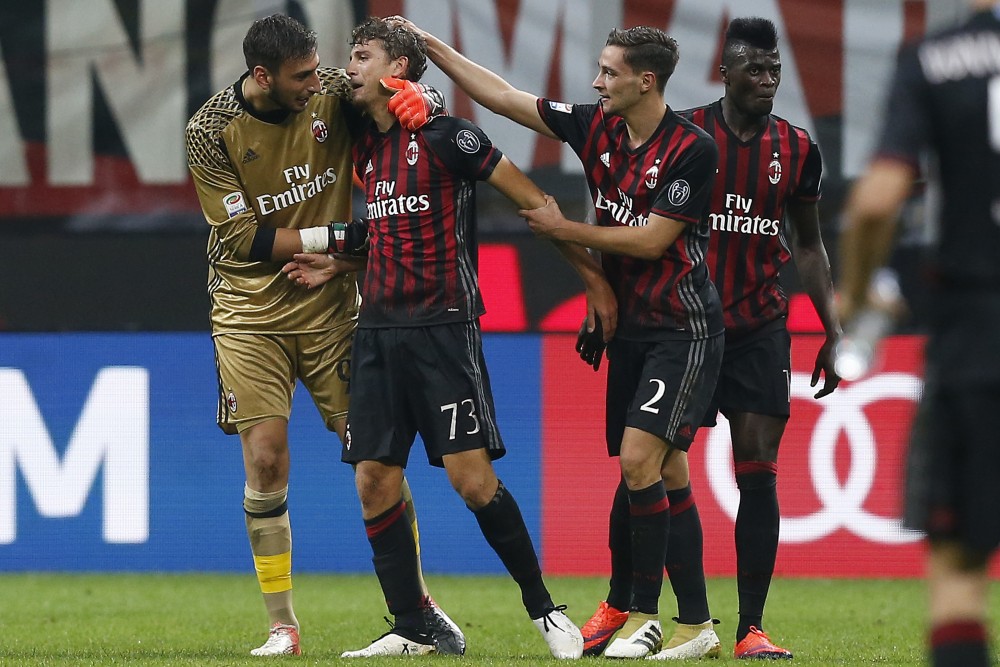 When you think about young players making the difference, the game against Juventus at San Siro comes to mind. After that game, Galliani said that a 17-year-old and an 18-year-old won Milan the game. He was referring to Donnarumma and Locatelli respectively. The playmaker, Locatelli scored a fantastic goal, and Donnarumma protected the result with an acrobatic save on Khedira's shot. That game was a sign of how talented Milan's youth really is, and how anyone can impact a game. Locatelli has filled the void left by Montolivo's injury very well. He has completed 81.4% of his passes (WhoScored.com) and does a lot of defensive work as well.
Donnarumma is simply unbelievable. He averages a 7.03 WhoScored.com rating. He is a tall, agile, and reliable goalkeeper at just 17 years of age. Suso has been one of Milan's top performers. He has registered 5 goals and 6 assists so far this season. Montella played a big role in developing these youngsters. He has chosen to continue playing them and has encouraged them to play without fear. Despite being so young, many of these players are used to or starting to get used to playing on a big stage.
In Summary 
After 17 games played, il Diavolo sits in 5th position with 33 points, including one game in hand. Milan have 5 points more than they had last season at this point. Montella has given Milan fans long-awaited optimism for the development and future of the club, with his new vision and fresh ideas. The decision to hire him as manager last summer was one that many questioned, but it certainly looks like it's paying off.