AC Milan dropped yet more points in the league over the weekend as they were forced to battle back from a two-goal deficit to rescue a point against Lecce.
Milan made the trip to face a Lecce side unbeaten in five – including back-to-back home wins against Atalanta and Lazio – knowing they needed a win to keep the gap to Napoli at seven points after their 5-1 spanking of Juventus on Friday night.
However, the Rossoneri found themselves two goals down after less than 25 minutes through an own-goal by Theo Hernandez and a free header, and though they got a point thanks to Rafael Leao and Davide Calabria's goals it was not the kind of performance that felt like a response to the defeat against Torino in the Coppa Italia and the collapse against Roma. Here are some observations…
1. Targeting Milan's shape and Calabria
One of the most important parts about pressing is that you do not give space to your opponent and for this you need to squeeze the space and stay narrow. This is an act that has to be done quickly.
Whenever Milan tried to press, it wasn't done quickly and Lecce would switch the play to Di Francesco whose pace was too much for Calabria, a defender not known for being the fastest or necessarily the best in isolation.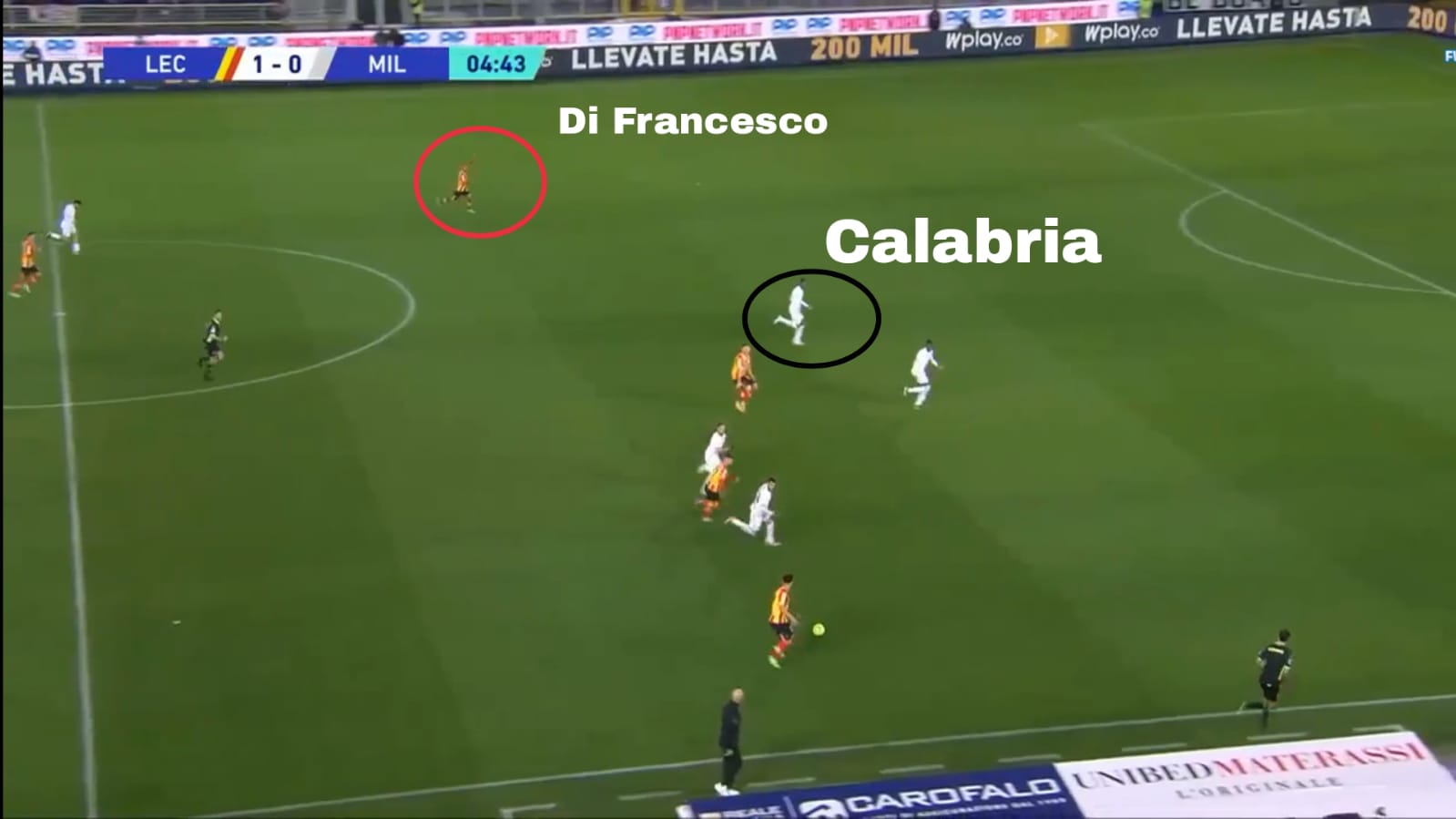 2. Physically beaten
Pioli's teams are always known to carry intensity and Milan's main strategy is to outrun their opponents to every ball, or at least it was during the post-lockdown resurgence and the Scudetto win.
However, there has been a notable drop off in the athletic performance this season and it continued against Lecce. The home side covered 3km more in total distance compared to Milan and it showed their commitment to not only match the Rossoneri, but overpower them.
A possible explanation is that Milan didn't want to exhaust themselves while keeping an eye on the Inter game in Saudi Arabia, and of course the team played 120+ minutes against Torino in midweek.

3. No press resistance
Milan are a team that likes to press a lot and dispossess their opponents, but in this game the roles were reversed. Milan were dispossessed eight times, two of which led to a shot.
It lends to the theory that what was once the biggest strength of Milan – that being the intensity to win the ball back quickly and counter at pace with vertical play – has now disappeared and sides are now capitalising on the drop off in performance in both phases.