91 years ago, one of football's most storied and majestic stadiums opened to the world. The stadium is home to one of European football's giants – AC Milan. From the first ever match played against cross-town rivals Internazionale to the previous weekend's win against Udinese, SempreMilan will be counting down the top 5 Milan matches played at this hallowed ground.
#5 — Milan vs Juventus (1984-85), Serie A
"Juventus-Milan is the story of football." — LNPA
We begin with a dramatic league clash between two bitter rivals. Hailed as the two greatest teams in the history of Italian football, this match however took place in the unlikeliest setting – a mid-table clash between fifth place Milan and seventh place Juventus. Juventus were experiencing a post-title slump after the previous double-winning season, while Milan were the relatively new boys on the block, after securing promotion back into the Serie A just two seasons prior. Juventus would then go on to win their first ever European Cup in their season of domestic decline.
Needless to say, the match featured a heavily star-studded Juventus team which comprised of Ballon d'Or winners Michel Platini and Paolo Rossi. Meanwhile, Milan combined home-grown youth products and newly acquired Italian players with the English duo of Ray Wilkins and Mark Hateley to face off against the champions.
Full Line-Ups:
Milan: Terraneo; Galli, Tassotti, Verza, Icardi, Di Bartolomei, Wilkins, Evani, Battistini, Virdis, Hateley
Juventus: Bodini; Scirea, Brio, Favero, Cabrini, Bonini, Tardelli, Boniek, Platini (c), Briaschi, Rossi
The game started off with an eruptious start, as Milan icon Pietro Paolo Virdis fired past Luciano Bodini to give the home side an early goal at the 3rd minute, scoring his 5th goal of the season to raise the hopes of the Curva Sud faithful. After having relegation to the Serie B forced upon the Milanese club as a result of the Totonero scandal, was this, as the Milanisti saw it, the just reward for their hardships and pain?
No, it was not.
In true Juventino fashion, the Bianconeri won a penalty just 9 minutes after Virdis' strike. Juventus captain Michel Platini stepped up to the penalty spot, ready to coolly slot home the 13th goal of the season. His thoughts were not on provincial matters like the easy game at hand. No, the back-to-back Ballon d'Or winner was eager to edge out his rival Alessandro Altobelli of Internazionale in the capocannoniere race.
He scored.
And as if tortured by the cruel humor of the gods, Milan suffered another goal by yet another Ballon d'Or recipient. Paolo Rossi, not wanting to be outdone by his captain, struck another blow against Milan, whose manager, the great Nils Liedholm, saw fit to play just two defenders against this Juventus team.
No, it can't end this way.
With just 6 minutes to half-time, Virdis took matter into his own hands, and doggedly ran against the formidable back line of Gaetano Scirea, Luciano Favero, Antonio Cabrini and Sergio Brio in a desperate attempt to level the score line against the enemy.
A brace.
That was what kept Milan in the game when referee Carlo Longhi blew the whistle to signal the end of regulation time. With the players entering the dressing rooms, Liedholm knew it was time to re-think his approach towards the game. It was winnable, and the Swede knew it.
1 minute.
That was all it took for for center-midfielder Agostino Di Bartolomei to put the home side up against the visitors again. Liedholm's gamble of flooding his line-up with midfielders paid off, and it was in the 46th minute that the game was won. The rest of the game eased by smoothly, with the six man midfield staving off any attempts at goal by either of Juventus' prodigious hit men.
Full Time: Milan 3 – 2 Juventus
#4 — Internazionale vs Milan (2004-05), UEFA Champions League Quarter-Final Second Leg
"I've played so many derbys, but those in Milan is a different thing." — Kaká
It would be remiss for any list of the greatest ever games in the history of San Siro to not feature any Derby della Madonina – the greatest football derby in the history of world football, the match against two European giants sharing the same stadium. This was the greatest stage for these two behemoths of Italian football to duke it out, the only stadium that carries the pride of two of the most passionate fan bases in Italy, and for some, home to the only cross-town match that was worth watching.
Derby days have always been a special affair in the hearts of supporters. This particular tie was made even more special to these two powerhouse teams – whilst they have won 8 European Cups between them, this was only the second ever continental tie the Milanese clubs ever had between them. With their first clash at the uppermost echelon of club football ended in two draws and Milan proceeding to the final back in 2003, and with the first leg of this tie ending in a 2 – 0 victory to the Rossoneri, the whole city was on the edge.
Will Inter, with their new signings Esteban Cambiasso and Juan Sebastián Verón, produce a shock result against the Italian champions? Or will Milan, a team utterly stacked in all departments with boundless talent, prove their supremacy over their city rivals once and for all?
This game was special. This game mattered.
Full Line-Ups:
Internazionale (4-2-3-1): Toldo; Favalli, Materazzi, Córdoba, Zanetti (c); C. Zanetti, Cambiasso; González, Verón, Van der Meyde; Adriano
Milan (4-3-1-2): Dida; Maldini (c), Nesta, Stam, Cafu; Ambrosini, Pirlo, Seedorf; Kaká; Shevchenko, Crespo
Already, this game seemed to be an uphill battle for the Nerazurri. 2 – 0 down at their own stadium on aggregate, and with the wrath of the Inter ultras raining down on the modest Inter team (5 years of not winning anything at the highest level would do that to you), all hope seemed lost for Roberto Mancini and his men.
So did this this game matter?
Of course it did. Chi ha bisogno, domandi. There was nothing to be lost from asking of a good performance against the all-conquering Milan. Never mind that Milan had won the Champions League and Scudetto in the past two seasons. All history was forgotten, and time stood still when the Derby della Madonina raged on.
30 minutes.
That's how long this game mattered. After a flurry of fizzed out chances, Milan finally took the game into second gear after a splendid strike by the (now) all-time top scorer in the fixture, Andriy Shevchenko. Milan were 3 – 0 up in the tie. Did the Interisti really want to suffer back-to-back quarter-final exits in the Champions League?
No, they were having none of that.
Tensions have been already building up in the Curva Nord, where the most passionate of Inter fans congregated to support their team. Flares have been lit, and were now thrown haphazardly and furiously around the stands by the Curva Nord.
Then it struck, the injury that killed the game.
It was in the final quarter of the game that the beautiful game decided to rear its ugly head. As fate would have it, Milan's number one shot stopper had been encamped between the sticks just in front of the Curva Nord. In the 72nd minute, after being frustrated the entire game by their team's lackluster performance, a wayward flare flung by a Nerazzuro struck the side of Dida's head, injuring the goalkeeper.
Over, just like that.
Now, German referee Dr. Markus Merk was having none of that too. After a quick substitution for Dida, the Brazilian underwent immediate diagnostics, and the referee came to a swift conclusion: the match was to be abandoned, and Milan were to be awarded a 3 – 0 win owing to the existing lead, as well as due to the fact that the flare was pelted from the Inter stands.
So it didn't matter in the end.
No, dear reader, the game didn't matter in the end. Just like how the three early goals scored by Milan in the final of the Champions League during that season did not matter in the end. Football is funny like that.
But hey, the match did give us an iconic image that will be viewed for generations to come.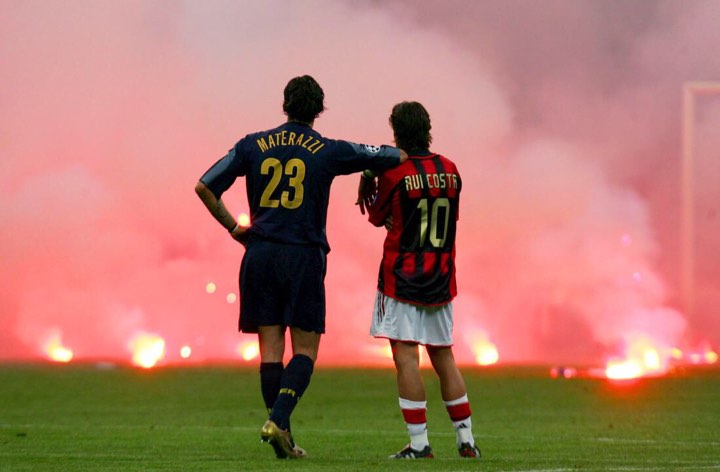 Full Time: Internazionale 0 – 3 Milan
#3 — Milan vs Real Madrid (1988-89), European Cup Semi-Final Second Leg
"I was looking at Real Madrid as the best of the best. And AC Milan, they also had good players when I was young." — Mario Balotelli
There exists, perhaps in no two clubs as strongly as in Milan and Real Madrid, a shared passion for heritage and greatness. It was in this pursuit of greatness – Real Madrid in their pursuit for their 6th European Cup, and Milan vying for their 3rd, that these two legendary sides met on one cold night in Milan to settle the road blocks in each others' path towards the coveted title.
Like the previous match review before this, the circumstances of this European Cup match was such that it was the second leg between the two teams. However, this tie was at a stalemate – the previous encounter between the two had left each team with a 1 – 1 draw to take home. This game was then the perfect setting for an unforgettable display of football to occur, for that was the minimum level required to defeat either of these teams.
Real Madrid rolled into the San Siro like a thunderous tide; the thrice back-to-back Spanish champions came in with their heads held high. This was not the modern day Real Madrid which was star-studded with foreign players – this was the Real Madrid with the fury of La Quinta del Buitre, a quintet of five home grown stars comprising of Emilio Butragueño, Manolo Sanchís, Martín Vázquez, Míchel and Miguel Pardeza, at its disposable.
As if like a monolithic stone to withstand the explosive talent of the Spaniard, Milan responded in kind with their own italianità – the great wall that was Giovanni Galli, Paolo Maldini, Franco Baresi, Alessandro Costacurta, and Mauro Tassotti. The stage was set. Never mind the three Dutchmen in red and black, or the German and Mexican in white. This was a match between Italy and Spain.
Full Line-Ups:
Milan: Galli; Baresi, Maldini, Costacurta, Tassotti, Colombo, Rijkaard, Ancelotti, Donadoni, Gullit, Van Basten
Real Madrid: Buyo; Sanchís, Gordillo, Chendo, Gallego, Míchel, Vázquez, Schuster, Llorente, Butragueño, Sánchez
The game opened to a loud chorus of 'You'll Never Walk Alone', a tribute by both home and away fans to the victims of the Hillsborough disaster that had happened just four days before the match. The final tune to the iconic song, however, was marked by a hushed silence. Not just a moment for the fallen football fans, it was akin to the silence before a grand theatrical performance: let the show begin.
Milan began; the home side, as was expected of them, started the proceedings. With fluid passes to all corners of the field, Milan stretched thin both the young La Fábrica graduates as well as the more senior members of Los Blancos. This was unlike anything that they have seen before. This was the San Siro, 73,000 strong fans, all aching to see a bloodbath.
It came out of nowhere.
The first blow is always the most shocking. As if the previous 15 or so minutes of calm, collected passing was a simple training drill, the ball fell into the graceful feet of one suave Italian midfielder. His name was Carlo Ancelotti, and he did not relinquish the Roma captaincy to come to San Siro and lose to this lot.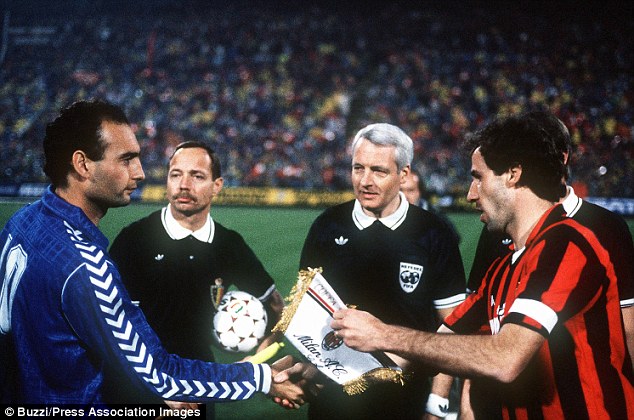 18th minute, that was when Milan decided to play. As if dictated by the metronomical director of their midfield, the entire posture of Milan changed. Suddenly, there was tension in the air. The atmosphere was electric. The rocket that was Ancelotti's right foot had beaten veteran keeper Francisco Buyo, and there was nothing he could do about it. The shot had seemingly came out of nowhere, from a little Italian man standing just past the half-way line.
Cacophony, absolute chaos.
As if the nationalistic angles to the script that was supposed to be this match were suddenly binned, a lion began roaring in the hearts of three men clad in red and white. It was not a Spanish lion, nor was it Italian. It was the Nederlandse Leeuw. The three Dutchmen on the pitch decided to take the game into their own hands. Where they previously had a sparse scoring record for Milan, Frank Rijkaard and Ruud Gullit slotted in a goal each in the 25th and 45th minute to give the home side a 3 – 0 lead at half-time.
Planned, absolutely calculated.
Arrigo Sacchi is many things. For some in Italy, he is seen as the godfather of Italian football, the one who revolutionized the 4-4-2 formation as we know it today. Only after the half-time break of this game, however, was he begun to be seen as one of world football's greatest managers.
The game completely changed after the whistle to begin the second half was blown. There was no more electricity in the air, no more heat or fury. There was only a sense of brooding, cold calma. Like clockwork orange, it was the Dutch forward Marco van Basten who laid siege onto the tired Real Madrid defense. Exactly 10 minutes after his goal, and in a symmetrical fashion, an Italian midfielder closed the account for Milan on that night. Roberto Donadoni made it 5 – 0.
Beautiful, absolutely beautiful.
Full Time: Milan 5 – 0 Real Madrid
#2 — Milan vs Manchester United (1968-69), European Cup Semi-Final First Leg
"This club is massive, probably the biggest I've played for. The only one that can compare is AC Milan." — Zlatan Ibrahimović
All dynasties eventually come to an end. This is a known fact. Manchester United of the 1950s was a wildly successful team in England. A team that had won 5 trophies during a six year period stretching from 1951 to 1958, until that one night in Munich. Disaster struck.
The Munich air disaster claimed the lives of eight Manchester United players, a young group that was supposed to be the nucleus of the greatest generation in English football history. Overnight, Manchester United fell into a slump that would take them years to recover from, and it was not until a new generation of Busby Babes that they were back to their previous strength.
And all it took then was two First Division titles and one European Cup to finally face Milan.
Milan of the 1960s was a team that did not play the way you'd expect a football team of that era to play like. Collected, refined, and tactical, Nereo Rocco created a well-oiled machine that he first tested at Padova: Il Catenaccio.
Il Catenaccio, or 'the chain', was a tactical system with a strong emphasis on defense. This implied a highly organized and effective back line defense focused on nullifying opponents' attacks and preventing goal-scoring opportunities.
And so, the stage was set. Manchester United, on due course to attempt a back-to-back European Cup win, came to Milan on a fine Wednesday evening to see what this continental tactical system was all about. To test Rocco's impenetrable defense, the Holy Trinity – Bobby Charlton, George Best and Denis Law – was the crux of the Mancunian battering ram. Against the golden boy of Italian football, Gianni Rivera, and his partner, Giovanni Trappatoni, it was going to be no mean feat.
Full Line-Ups:
Milan: Cudicini; Anquilletti, Malatrasi, Rosato, Schnellinger, Lodetti, Trappatoni, Rivera, Hamrin, Sormani, Prati
Manchester United: Rimmer; Fitzpatrick, Foulkes, Brennan, Best, Stiles, Crerand, Charlton, Morgan, Kidd, Law
A full house, a football-mad stadium, was what met Manchester United when they kicked off in the San Siro. Try as they might, and however powerful and graceful the Holy Trinity was, the Red Devils were no match for Il Diavolo, especially with a manager whose tactics could keep even the Devil shut out from Hell itself.
That was not to say, however, that Nereo Rocco's team was particularly defensive – you do need to score to win matches after all. What United manager Sir Matt Busby failed to account for was the pace and speed of the two wingers that cut just a little too much inside young Pierino Prati's space.
And it was over, just like that. Two strikes from the wingers – the Swede Kurt Hamrin and the Italian Angelo Sormani, was all it took to bring this new dynasty to its knees. The ageing 37 year old center-back Bill Foulkes and the inexperienced 21 year old goalkeeper Jimmy Rimmer were no match for the surprise that lied behind the chain.
Full Time: Milan 2 – 0 Manchester United
#1 — Internazionale vs Milan (2000-01), Serie A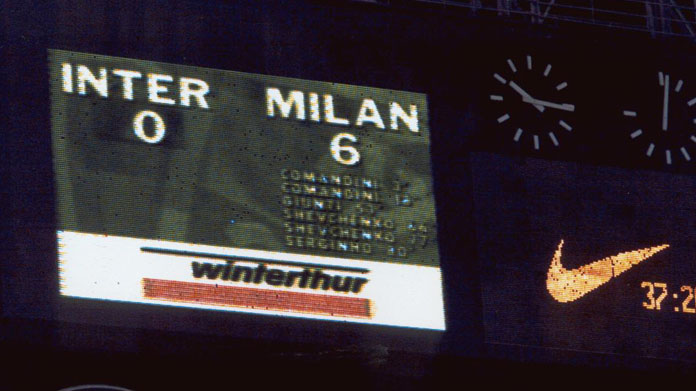 "Let the trophy never go to those lost people in blue in black, for they will always be the prey of mockery and delusion." — Curva Sud Tifo
Quite possibly the greatest local rivalry in world football returns to cap off our top 5 greatest Milan matches in the San Siro. After 29 game weeks of mediocrity, both teams return home, the one in red and black at 5th in the league, while the one in blue and black at 6th in the league. There was nothing to play for. No championships, no advancements in tournaments, for anything worth winning was out of reach that season for either Milanese team.
There was only one thing to play for. Pride.
Both teams had stumbled into a seemingly well-timed and well co-ordinated slump at the same time. Indeed, they were overshadowed in the league by encroachers from the south – Roma, Lazio and Parma, and their common enemy Juventus. It was at this juncture that both clubs met again for the second time that season. Both had pretty much secured a berth in the UEFA Cup the next season. This was just a formality, albeit an uncivil one.
Around the turn of the millennium, the city Milan found itself to lag behind other major Italian cities in terms of football. This was the era of Rome and Turin, not of old, washed-up giants like Milan and Inter. Neither clubs had a complete, scudetti-challenging team. For Milan, it had a great defense but only one Andriy Shevchenko up front to score goals. As for Inter, it had a great attack but only one great defender in Laurent Blanc to shore up the defense.
This promised to be a high-scoring game.
Full Line-Ups:
Internazionale (3-5-2): Frey; Ferrari, Blanc, Šimić; Gresko, Farinós, Di Biagio, Dalmat, Zanetti (c); Vieri, Recoba
Milan (4-4-2): Rossi; Maldini (c), Roque Júnior, Costacurta, Helveg; Serginho, Giunti, Kaladze, Gattuso; Comandini, Shevchenko
0 – 1
Like the other derby game on this list, this game began straight from kick-off. Gianni Comandini, with the force of a Jovian cyclone, shot the perfectly placed cross into the net. Goal. 3 minutes. All it took was 3 minutes to dismantle whatever system Nerazurri coach Mauro Tardelli must've thought he was using.
0 – 2
La potenza di Comandini. It was becoming like a training routine now, perhaps it was a well-drilled system of crosses from Serginho to Comandini. Either way, it was making the Interisti defense look poorer than a wall of training mannequins. Poor showing from the lads in blue. 17 minutes was the time taken from the previous goal to this one, with both scorer and assister bagging their second goal and assist of the season respectively.
Half-time. Tardelli wises up, and places a young Clarence Seedorf on the pitch, taking off the ineffective Luigi Di Biagio. His successor as the Inter manager, Héctor Cúper, will eventually trade Seedorf to Milan in exchange for Francesco Coco.
0 – 3
8 minutes. Only 8 minutes was needed to sink Inter even further into their own abyss, as interim coach Tardelli rethinks his plan. Sufficient changes, he must've thought, as he held onto that one final substitution that was allocated to him, as if he got extra points for that. Giunti scores, a well-placed free kick hitting the back of Sébastien Frey's net.
0 – 4
As if he was tired of servicing Comandini, Serginho turned his attention instead towards his strike partner. With a flick of his powerful foot, the Brazilian sends the ball rocketing into the air… right into the path of Shevchenko's well-timed head. Shevchenko could not just be a passenger on Comandini's ride, he was hungry for goals, and would do whatever it took to try and claw the capocanonniere title out of Hernán Crespo's clutches.
0 – 5
Deuce. Shevchenko, as if playing a training ground game with Comandini, leveled with the Italian on goals. This wasn't Inter 0 – 5 Milan, this was Comandini 2 – 2 Shevchenko. Tardelli and his men were simply bystanders to a friendly duel in their own stadium.
0 – 6
9 minutes left to the end of Inter's misery. Of course Serginho had to score – a hat trick of assists wasn't enough at all. Against Inter, even 6 goals wasn't enough. With a scoreline resembling a set between Rafael Nadal and an amateur tennis player, Mauro Tardelli and his men retreated to the dark, cold corner of San Siro where the Inter locker room was. He would inevitably be sacked just four game weeks later.
Full Time: Internazionale 0 – 6 Milan