AC Milan boss Stefano Pioli has not ruled out the possibility of a formation change, and Tuttosport have suggested three hypotheses this morning.
Pioli could change formation in the coming weeks if the 4-2-3-1 continues to bring less than satisfactory results, a report claims.
Speaking to reporters after the 3-0 derby defeat against Inter on Sunday, the Milan head coach was asked: "Could Milan review its formation given the difficulties that have occurred in the last period?"
Pioli replied as follows: "We'll see, everything is possible. From tomorrow we will make our assessments thinking about the best for the team."
Now, today's edition of Tuttosport has put forward three possible solutions, starting with the familiar 4-3-3. The back four would be Calabria, Kjaer, Romagnoli and Theo Hernandez from right to left, with a three-man midfield of Kessie, Tonali (in the centre) and Calhanoglu). Castillejo (or Leao) would be on the right wing, Rebic the left and Ibrahimovic down the middle.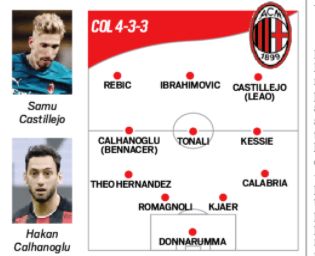 Next is the 4-4-2, which would see Mandzukic and Ibrahimovic as a powerful front two with Rebic and Saelemaekers on the wings, complimented by a midfield pairing of Kessie and Tonali (or Bennacer). The back four would be the same.
Finally, the more radical solution of a 3-4-1-2, which we suggested yesterday is something very much worth considering. A back three of Tomori, Kjaer and Romagnoli would be protected by a double pivot of Kessie and Tonali (or Bennacer). Theo and Calabria would be wing-backs, with Calhanoglu the playmaker behind Ibrahimovic and Leao.