The accounts for Milan's 2019-20 were released for public viewing by AC Milan – as is the policy of all private limited and joint stock companies – and popular Football Financial Analyst, The Swiss Ramble, spliced the company accounts.
He has analysed the club's performance in the onset of economic meltdown following the Covid-19 pandemic. In this article, we summarise the findings and give our verdict on Milan's performance off the field.
To give a better understanding, we have classified all the data under various overheads.
General outlook
Overall, Milan's loss before tax is reported at €192million for the 2019-20 financial year. It increased from €143m to that figure (€49m increase). The increase in the loss is mainly attributed to Milan's revenue decreasing by €56m even though Milan's expenses have decreased.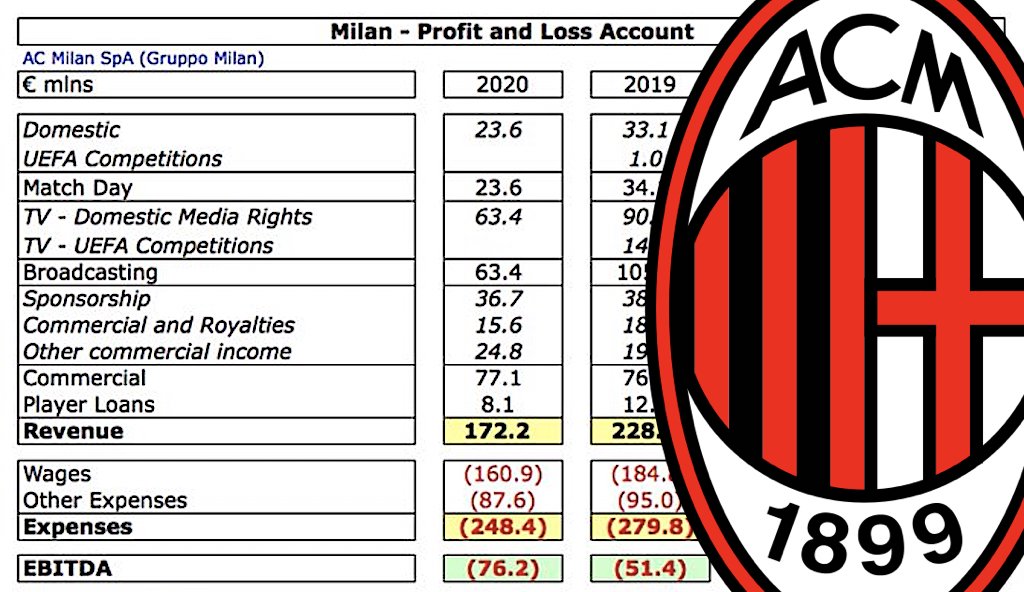 Milan's losses are the second-highest in Italy only behind Roma who recorded €204m, with Inter at €102m and Juventus €90m. In Europe, Milan once again only trail behind Roma in terms of highest losses, being second on the list.
With this year's balance sheet, Milan's accumulated losses for the last seven years have gone up to €735m
Operating loss – defined as the Operating Income minus Operating Expenditure (Operating income or expenses does not include player's amortisation, profit from player sales and disposal of assets related to extraordinary activities of a football club) – for Milan increased from €144m in 2019 to €202m in 2020. However Milan's, operating loss is not the highest in the league as pretty much all clubs in Serie A operate on loss.
TV revenue
Milan suffered the highest fall in Income in terms of TV broadcasting revenue. In the 2018-19 season the club earned €105m which was reduced to €63m in 2020. This fall can be attributed to a poor showing in the league, lack of European competitions and Coronavirus deferring payments from broadcasters. Some of the broadcasting revenue will be added to the 2020-21 season accounts.
When looking at the bigger picture, Juventus earned €166m, Napoli earned €121m and Inter €112m last season.
Matchday income
Matchday Income refers to the revenue received by the club when a match is hosted at the San Siro. Milan's matchday revenue reduced from €34m to €24m mainly due to Coronavirus preventing fans from entering stadiums and Milan not participating in the Europa League. Milan's €24m was only bettered by Juventus (€49m) and Inter (€44m).
This is despite Milan having the second highest average attendance (34,078) in the league behind Inter (41,558).
European participation
Each team is given prize money for participating in Europe along with a share of the broadcasting revenue earned by UEFA. The share is determined by performance in that particular edition and historical performance in the competition.
This is a metric we all knew the results even before the results were published. Milan's total earnings from Europe were zero from last season since Milan chose to sit out from Europa league and forego the minimum €15m the club would have received from group stage participation.
A great divide can be observed in this respect of Milan with the bigger clubs. Juventus earned €87m from a Round of 16 exit in the UCL while Inter earned €57m from a group stage exit, while Atalanta earned €57m for a run to the quarters and Napoli earned €70m for reaching the same stage.
With Milan not having qualified for the UEFA Champions league in the last seven years Milan's, total prize money accumulated from European competitions is €29m (€14m from 2017-18 and €15m from 2018-19). A comparison with Juventus, Roma and Napoli cannot be even thought of as consistent UEFA Champions League qualifications have earned them huge amounts of prize and TV money.
Transfers and player metrics
As a football club the main business revolves around dealing with football players. There are various costs and income involved with players and here we take a look at the performance of Milan under this overhead.
Amortisation, in layman's terms, is transfer fee of a player that is spread across multiple years. It is a fictitious calculation used for accounting purposes to calculate accounting value of a player as well as profit/loss on a player when he is sold.
For example, Calhanoglu's current Book Value is €2.8m. If Milan sell the player for €15m, Milan would make a profit of €12.2m (€15m-€2.8m).
In the financial year of 2019-20, Milan's total player amortisation increased by €14m to €95m. This can be attributed to the fact that Milan spent close to €80m last season reinforcing the team available to Marco Giampaolo with purchases like Bennacer, Theo Hernandez, Leao, Duarte and Krunic.
In terms of transfers, Milan made a net profit of €15m. The sale of Cutrone for €17m and Djalo for €3m brought in €20m profit while the sale of Piatek and Borini gave a loss of €5m. When calculated, net profit is €15m.
In terms of net spend (net spend is calculated as transfer fees paid minus transfer fees received), Milan have had the highest net spend in Serie A at €287m. This can be attributed to the purchases commissioned under Mirabelli and Leonardo, who squandered a lot of money meaning Milan have spent €515m in the last four years. Compared to this, the profit Milan have received from selling players is a paltry €72m.
While Juventus has the highest gross spend (€758m), the profit they made on player sales was €563m. This brought down their net spend to €195m hence showing a better financial balance.
Milan's transfer debts (transfer debt is amount owed by a club to the other club for the transfer of the player) reduced from €176m to 76m and now their net debt (amount to be paid minus amount to be received) is only€ 20m which is a very healthy financial indicator. Milan's €76m gross debt is relatively low compared to Juve's €301m, Roma's €191m and Napoli's €141m.
Another major source of income from transfer is loan fees, and Milan collected €8m last season which is second highest in Italy behind Inter (€9m) thanks to Icardi's loan to PSG.
Wage bill
Wage bill is often one of the most discussed and transparent overhead in the fan base. Milan's wage bill was described as terrible one that needed a lot of attention by incoming CEO Gazidis.
The Rossoneri's wage bill for the 2019-20 season fell by €24m (13%) thanks to players like Montolivo, Jose Mauri, Bertolacci, Bakayoko along with Borini, Caldara, Pepe Reina and Ricardo Rodriguez being removed mid-season. Despite this, Milan had the third-highest wage bill in Serie A only behind Inter and Juventus.
Wages to turnover ratio is a metric that is used by companies to measure the efficiency of the employees of the company. The lower the ratio the higher the efficiency. Milan's ratio fell from 85% to 93% mainly because of overall fall in revenue. This is one avenue Milan fans will look to improve in the coming season.
Commercial revenue
Commercial revenue can be described as the revenue obtained by the club through various sponsorship activities and sale of merchandise.
Milan's commercial revenue grew by a solitary €1m from the 2018-19 season. Despite Gazidis bringing in new sponsors, Milan do not have quite the brand appeal of Juventus (€186m) or Inter (€142m) who have been qualifying for Champions league consistently and have household names such as Cristiano Ronaldo and Lukaku.
Milan's Emirates shirt sponsorship – which was signed at €14m to be the exclusive sponsor – has been reduced to €10m giving space for Milan to obtain sponsor on other areas of the shirt making it brim with commercial potential. It still however does not reach anywhere close to the €45m given by Jeep to Juventus.
Debt
Debt can be described as the loans taken by the club through various means such as bank loans, unsecured loans (like the one taken by Yonghong Li from Elliot), loans from shareholders or bonds/debentures issued with financial institutions.
Milan's gross debt increased by €19m from €96m to €115m due to a liquid cash loan taken with Unicredit (Unicredit is a company with links to Elliot) for future TV revenue factoring.
The club's debt to various shareholders and bank loans taken by Berlusconi and the Chinese were paid off by Elliot.
Milan's €115m debt is in no way any close to the debts of other Serie A clubs with Inter reportedly having debts close to €500m, Juve €396m and Roma €318m. Inter have yet to publish their accounts so the debt level is still unclear.
And like any other loan, clubs have to pay a certain dividend (interest for bank loan). Milan's net interest is only €6m while Inter pay €23m, Juventus €15m and Roma €32m.
Effects of COVID-19
Like the impact on all of football's finances, COVID-19 has had an impact on Milan's as well. A separate niche was assigned on the balance to consider the impact Coronavirus had on the clubs accounts.
Milan have lost an estimate of €42m this season in which €26.9m is deferred, meaning it will be added to the next financial year accounts because of payments received after July.
Elliott Management
A lot of fans have called into question the intentions of Elliott Management with regards to whether they plan to help Milan achieve trophies or use them as a cash cow.
Under Elliott, Milan have significantly improved their finances especially in terms of club debts and transfer debts.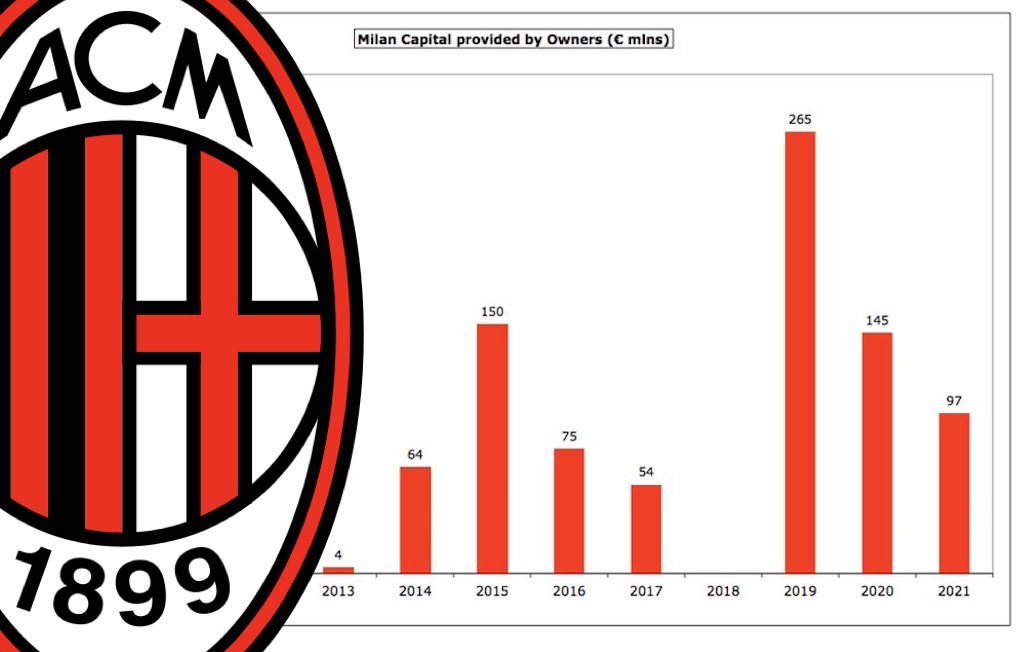 Elliot invested close to €145m during the 2019-20 season and €97m after the close of the 2019-20 season. They have in total invested close to €503m to revive Milan's rather ailing accounts. It clearly shows Elliott are following the path to help Milan become financially independent.
By bringing down Milan's gross debt from €220m under the Chinese to €115m at the end of the 2019-20 season, Elliott deserve credit.
Conclusion
What started off as a grim read seeing Milan having record losses at €195m showed light towards the end of the tunnel seeing some positive trends.
Milan's expected matchday income of €34m per season is a very poor return for a club with an average attendance of 53,000 (without COVID). Teams like Juventus or various EPL teams make double to what we make thanks to better stadium experiences and other commercial aspects inside the stadium.
Milan and Inter's joint project to build a new stadium is very crucial if both clubs want to compete with the financial bigwigs as well as the Premier League.
In terms of wages and transfers, Milan are still paying for the mistakes of the previous managements and will take years of corrective action. With Biglia, Reina, Suso off the wage bill, a huge load is lifted and it gives space for Milan to increase their wages to turnover ratio.
UEFA Champions League qualification is the key to achieve financial (as well as sporting) health. Along with the prize money and TV revenue, it brings prestige and attracts investors to invest in the club giving a boost to the commercial revenue side.
Last but not least, Milan need to be prudent with their transfer market activity. The club would need to sell their players and replace them adequately.
This for sure is a department fans wouldn't worry about given how the 'Three Ms' of Milan (Massara, Moncada and Maldini) have shown some cutting-edge technique to identify players and integrate them to build a winning side.
Once again, thanks to TheSwissRamble for all his work.