Milan were under pressure and after a string of poor results, the spotlight was beaming on Stefano Pioli and his players against Hellas Verona at the Bentegodi.
With Zlatan Ibrahimovic, Theo Hernandez, Hakan Calhanoglu, Ante Rebic and Ismael Bennacer all missing due to injury, fans were not at optimistic heading into a game against a side that had won three and drawn one of their last four home games, with the tie having been against Juventus.
Milan had a real problem beating Udinese's low block in the midweek game so Verona – who suffocated Milan in the 2-2 draw earlier in the season – promised to be a tough task as they also play a 3-4-2-1 and pride themselves on organisation.
Changing approach
A major reason why Milan were unable to break down Udinese was their slow nature of passing and not being decisive on the ball. With Verona not defending as deep as Udinese, Milan were able to open up their opponents easier. In the build-up to Krunic's free-kick goal – as seen below – the Bosnian exchanges a wonderful one-two with Meite which was facilitated by the latter's excellent movement.
Verona were using a midfield press where the relevant wing-back and one of the double pivot would form a narrow block and not allow the pass to progress.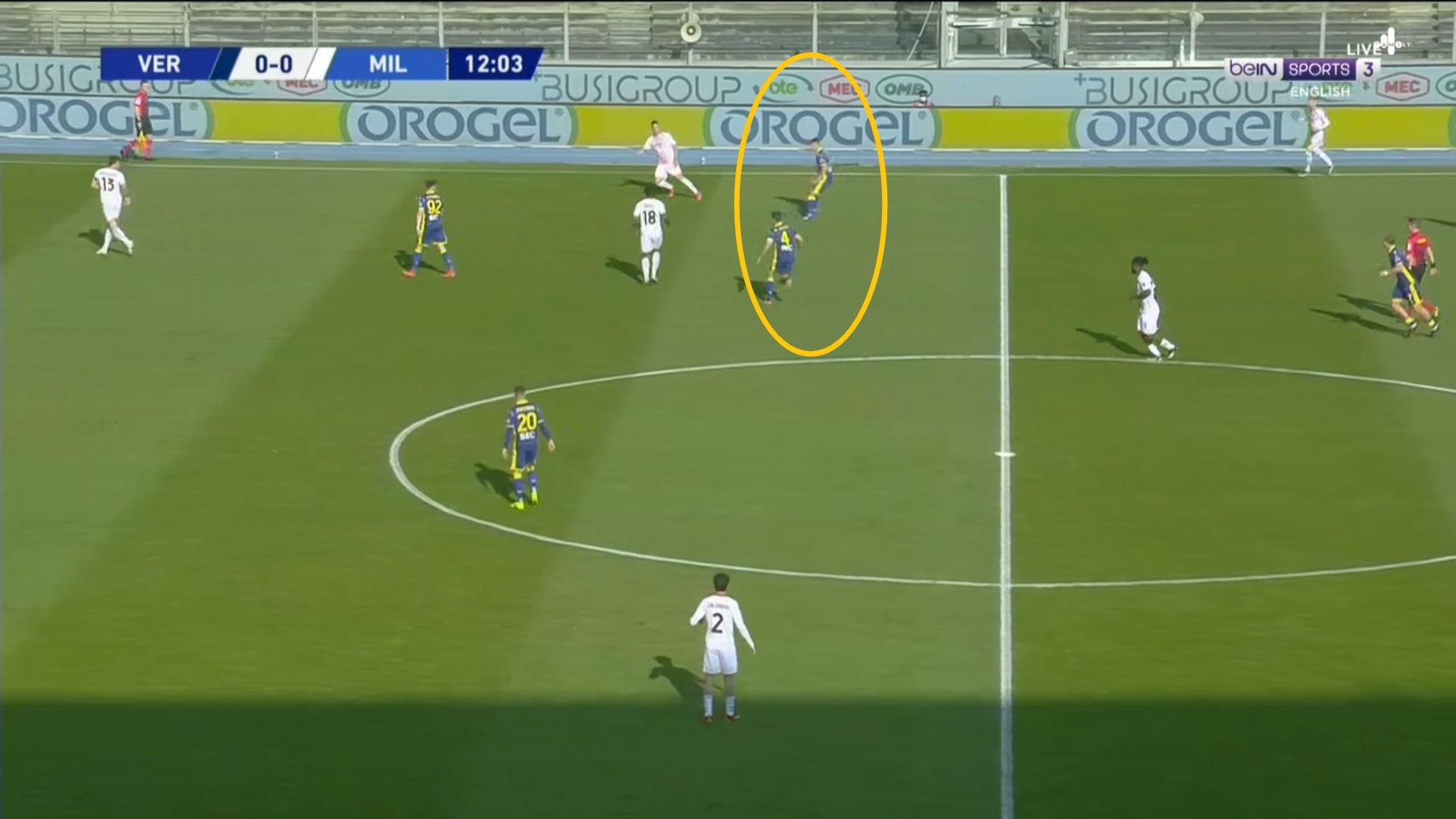 In the reverse fixture, all of Verona's chances came via Zaccagni who gave Calabria a torrid time, and this time they planned to overload Calabria by having a 2v1 on him. However, he was always assisted by Saelemaekers which kept Zaccagni quiet on the left wing for Verona.
Playing a three-at-the-back means very few positional rotations are possible. Most of Verona's limited chance were created by interplay between the overlapping centre-back and the wing-back. Below, Ceccerini goes forward with the ball and Veloso covers the space.
Zaccagni – once the ball moved upfield – would tuck in allowing Lazovic to make overlapping runs and Zaccagni would act as the second striker with Barak given a free role.
Fluid formation
Here's the special thing about Milan's formation yesterday: the Rossoneri played without a real formation in attack. Leão played as a false nine and this allowed our players to rotate positions. Watch the sequence of play below…
Here is another instance. Kessie is playing as a centre-forward (marked in red), Leão is playing as a right forward (not in the pic), Meite as a defensive midfielder (yellow), Dalot as a left winger/left wing-back (blue) and Saelemaekers is occupying a #10 role. This shows Pioli's principles against Verona were more fluid than positional.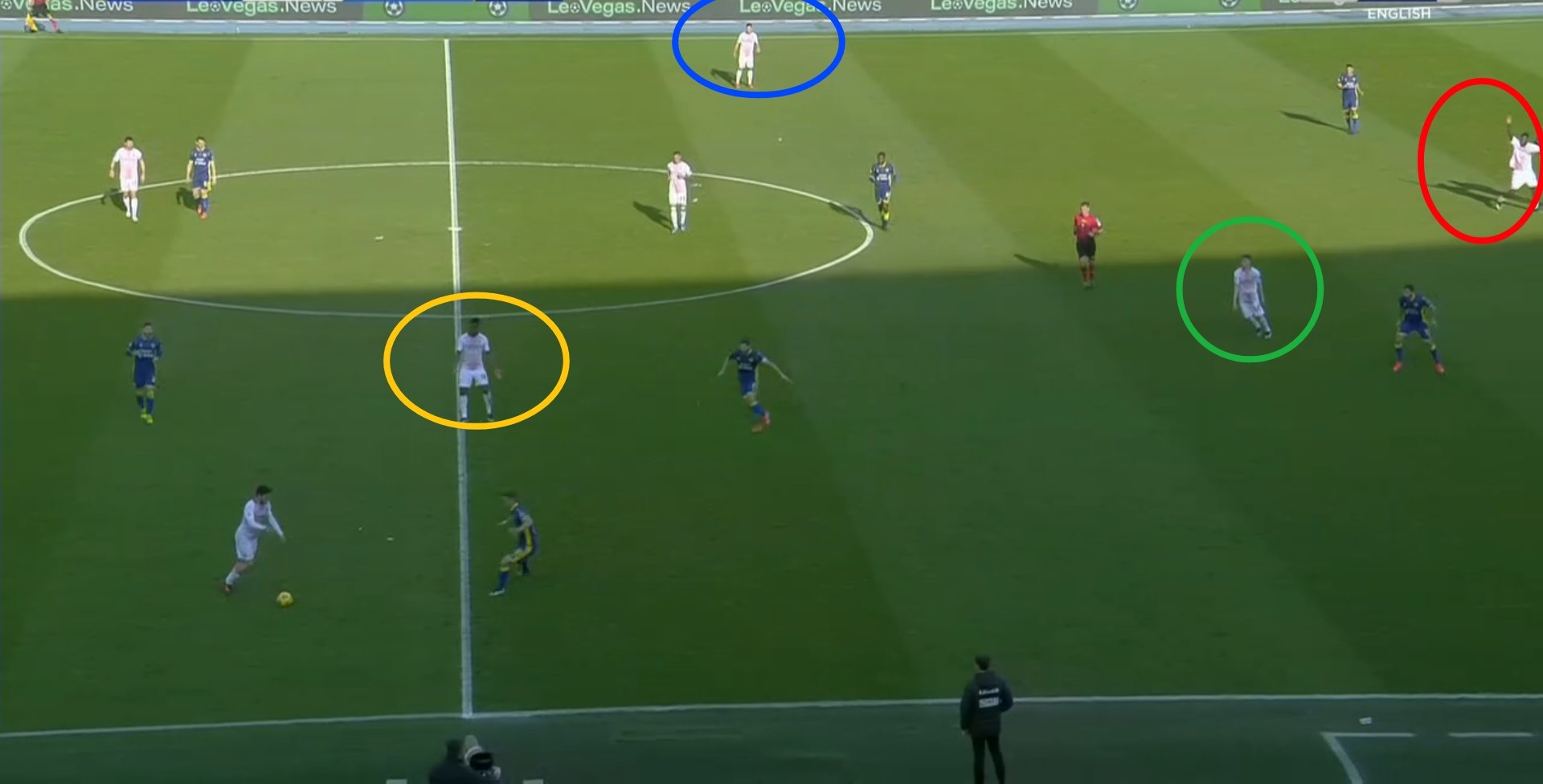 Here you can see Castillejo playing as the lone centre-forward while Leao is challenging two Verona players for the ball on the wing.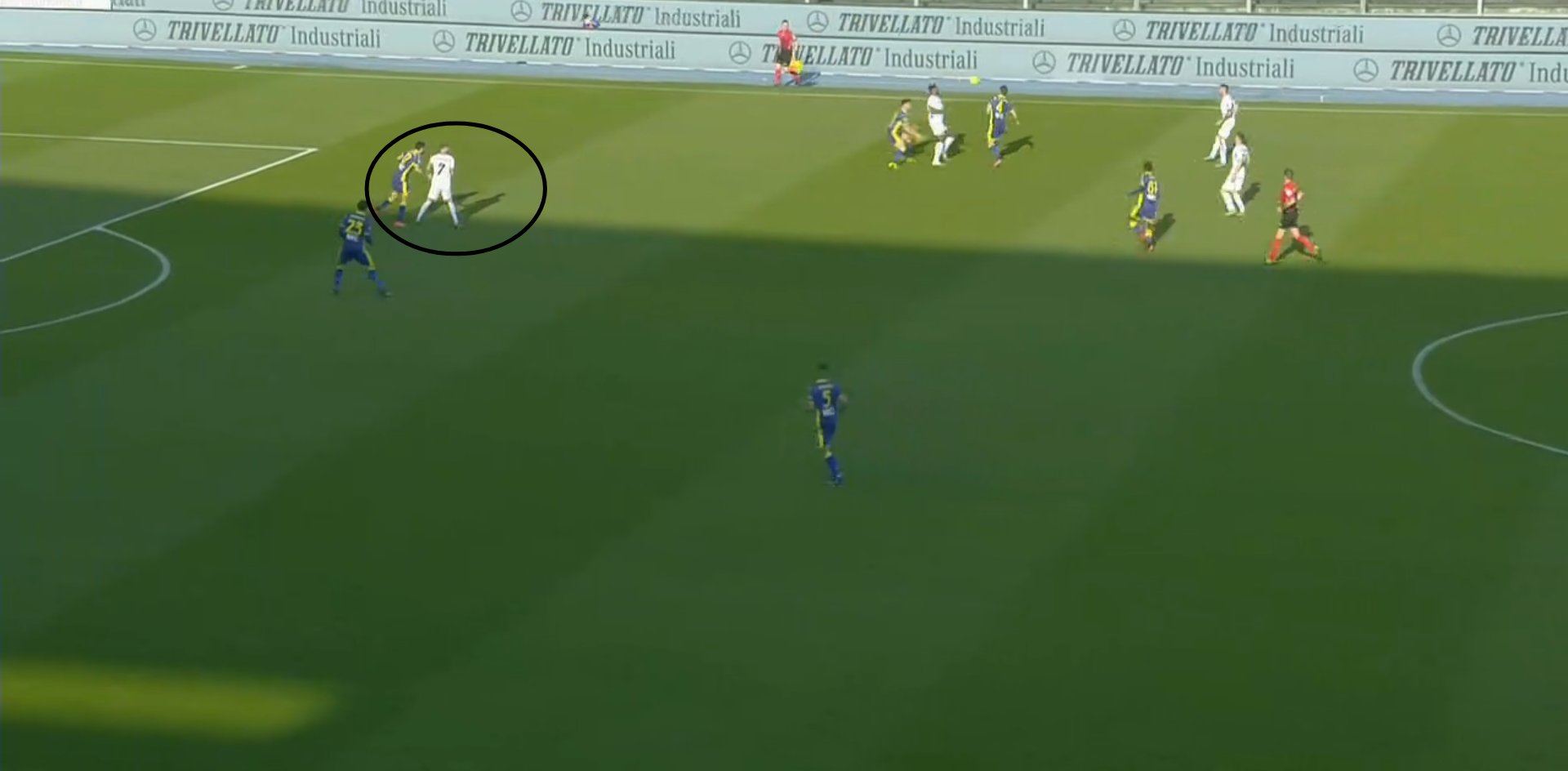 Forging openings
Dalot's goal was achieved as a part of fluidity in our build up plus the space between the lines with Juric pushing his players up to get level on the scoresheet.
Juric introduced a few subs which changed the formation from 3-4-2-1 to a 3-5-2 but Milan were already in control and shut up shop for a crucial 2-0 win at the Bentegodi.
Conclusion
One of the criticisms that we have levelled at Milan in recent weeks and against teams who play a low black and/or a three-man defence is that there seems to be no Plan B, and instead the team leans on the same formula which leaves the hopeless if it doesn't work out.
The stand-out from the game against Verona was that we saw Milan have a tactical identity without their talismanic players, and they pulled out a fantastic performance, remaining solid at the back while showing enterprise and creativity at the other end to seize the initiative against a tired side and register a big three points.