As we head towards the summer window, the speculation surrounding AC Milan's potential transfer activity is beginning to intensify.
There are now a number of different reliable sources reporting that the Rossoneri want to sign a new centre-forward this summer; a young profile capable of alternating with Zlatan Ibrahimovic – who looks set to renew for another year – allowing him to manage his work load before taking to baton from the Swede when he retires.
There have been four names in particular that have been linked by multiple outlets over the past couple of weeks, namely Fiorentina's Dusan Vlahovic, PSV Eindhoven's Donyell Malen, Torino's Andrea Belotti and Benfica's Darwin Nunez.
Are any of them the right profile? Below we compare the four strikers and see if they are the perfect match for Milan…
Background 
Vlahovic: Born in Belgrade, Vlahovic played for the youth academies of Altina Zemun, OFK Beograd and Red Star before joining Partizan in 2016 as a 16-year-old. He became the youngest scorer in club history and scored in a cup semi-final attracting the interest of Arsenal, Anderlecht and Juventus before signing a five-year deal with Fiorentina back in 2018. He has also represented Serbia from U15 level upwards.
Malen: Born in 1999, Malen played in the youth academy at Ajax for eight years until 2015 before transferring to Arsenal, where he appeared in the Youth Premier League, the FA Youth Cup and the UEFA Youth League. Malen was sold by Arsenal to PSV Eindhoven in late August 2017, where he has been ever since, having represented Netherlands from U15s to the senior side.
Belotti: The now-27-year-old Belotti began his career at local side Grumellese before moving to AlbinoLeffe as a 14-year-old. His exploits there (14 goals in 39 games) earned him a move to Palermo, where he spent two seasons before moving to Torino in 2015 where he has been ever since. He has played for Italy at U19, U20, U21 and full international level.
Nunez: Also born in 1999, Nunez played for La Luz, San Miguel de Artigas and Peñarol in his native Uruguay. He broke into the first team with the latter, scoring four goals in 14 games and persuading Almería in Spain to take a punt on him. After a season, he joined Benfica for a club record fee of €24m.
Playing style
Vlahovic: The most striking thing about Vlahovic is undoubtedly his size, standing at 6ft3 and with an imposing physical frame. While that comes in very handy for some of his strengths such as winning physical duels and hold-up play, the 21-year-old is excellent with his feet for a big man and has a real ability to 'quarterback' attacks as a point of reference.
He can drop in deep to receive the ball and distribute but is also very confident in the dribble and uses his physique to go on marauding runs that can earn crucial yards. Vlahovic is surprisingly fast and agile too meaning he can operate almost as a complete centre-forward, even if parts of his game are still raw like his touch and decision making.
Malen: The Dutchman is certainly more of a mobile forward than Vlahovic given his ability to play on either wing or down the middle, a bit like his compatriot Memphis Depay. His speed and acceleration make him a nightmare to mark as do his runs off the shoulder of the centre-backs, and his ability to interchange with the other forwards – as we have seen Rafael Leao do – means he is even harder to track.
His range of finishing is also impressive. A penalty box marksman by trade, he is capable of scoring a wide range of goals including headers, where his movement comes into play. As a forward who relies so much on anticipation, the worry has to be that he could be marked out of games by better defenders in Serie A as we have seen with Leao.
Belotti: Of the players mentioned, Belotti has had the most time to refine his game. The one thing that has been key in his development has been his tendency to drop deeper and deeper season by season and – like Vlahovic – try to quarterback the attacks as a deeply influential centre-forward rather than the pure finisher he was five years ago.
Given Torino's struggles particularly this season, he is having to drag the team by the scruff of the neck, being as impactful as possible with the captain's armband on. The 27-year-old's performances speak for themselves though as he continues to show his pace, power, intelligent movement, ever-improving hold-up play and his finishing.
Nunez: The youngest of the bunch, Nunez is probably most similar to Vlahovic as he is a tall and strong but ultimately well-coordinated forward who uses his surprising pace as a weapon. He drops deep to make sure he is always an option and relies on movement to be a threat.
He can be the target man type, rising high to win aerial duels, but then also the predatory type of forward that makes runs in behind for flick-ons. The Uruguayan keeps things simple when he does get on the ball, and is refining his game playing in his third country in three years.
Statistics
Vlahovic: Vlahovic has 20 goals and four assists in 70 appearances for Fiorentina, but that doesn't tell the whole story as it is in under 4200 minutes. He is currently having his most prolific season yet for any club, with 12 league goals and 2 assists in 27 appearances, following on from 6 last season. This season in Serie A he averages a goal involvement every 145.2 minutes.
Malen: Currently on his third Eredivisie season in a row hitting double figures, last season was the real breakout for Malen even though it was lockdown-shortened, as he amassed 11 goals and 5 assists in 14 games. That came after a campaign with 10 goals and 5 assists in 31 games in 2018-19. This season, Malen has shown he has recovered well from a serious knee injury 15 goals and 6 assists in 26 Eredivisie games – a goal involvement every 91.85 minutes.
Belotti: The Italy international has scored double figures in league goals for six seasons in a row now. The 2016-17 season was when his name really exploded, after 26 goals and 4 assists in 35 league games, and he has followed that up by scoring 10 league goals the next season, 15 the next and 16 last season. He has 11 goals and 6 assists in 25 Serie A outings this season – a goal involvement every 125.8 minutes.
Nunez: The 2019-20 campaign was the real breakout for Nunez as he scored 16 goals and added 2 assists in 30 games in the second division for Almeria during a season which saw them fall agonisingly short of promotion. With Benfica in the Liga NOS he has 4 goals and 7 assists in 20 appearances – a goal involvement every 144.2 minutes.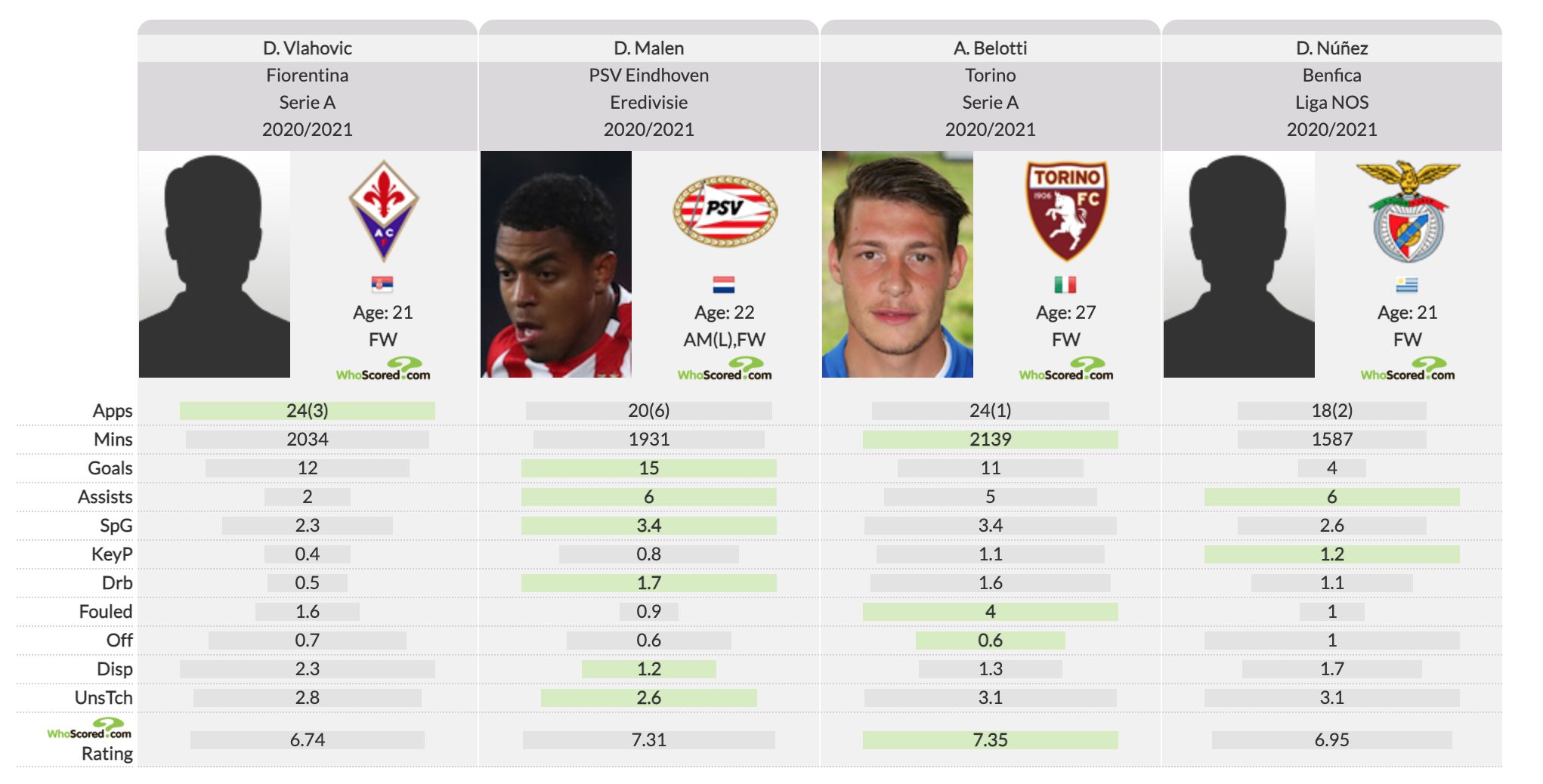 Looking at a comparison between the quartet based on this season, it is striking that Malen comes out on top in almost all categories including goals scored, assists, shots per game, dribbles completed, amount dispossessed and bad touches per games. Belotti draws the most fouls and is offside the joint-least, while he also has the highest overall WhoScored rating. Finally, Nunez makes the most key passes and has most assists.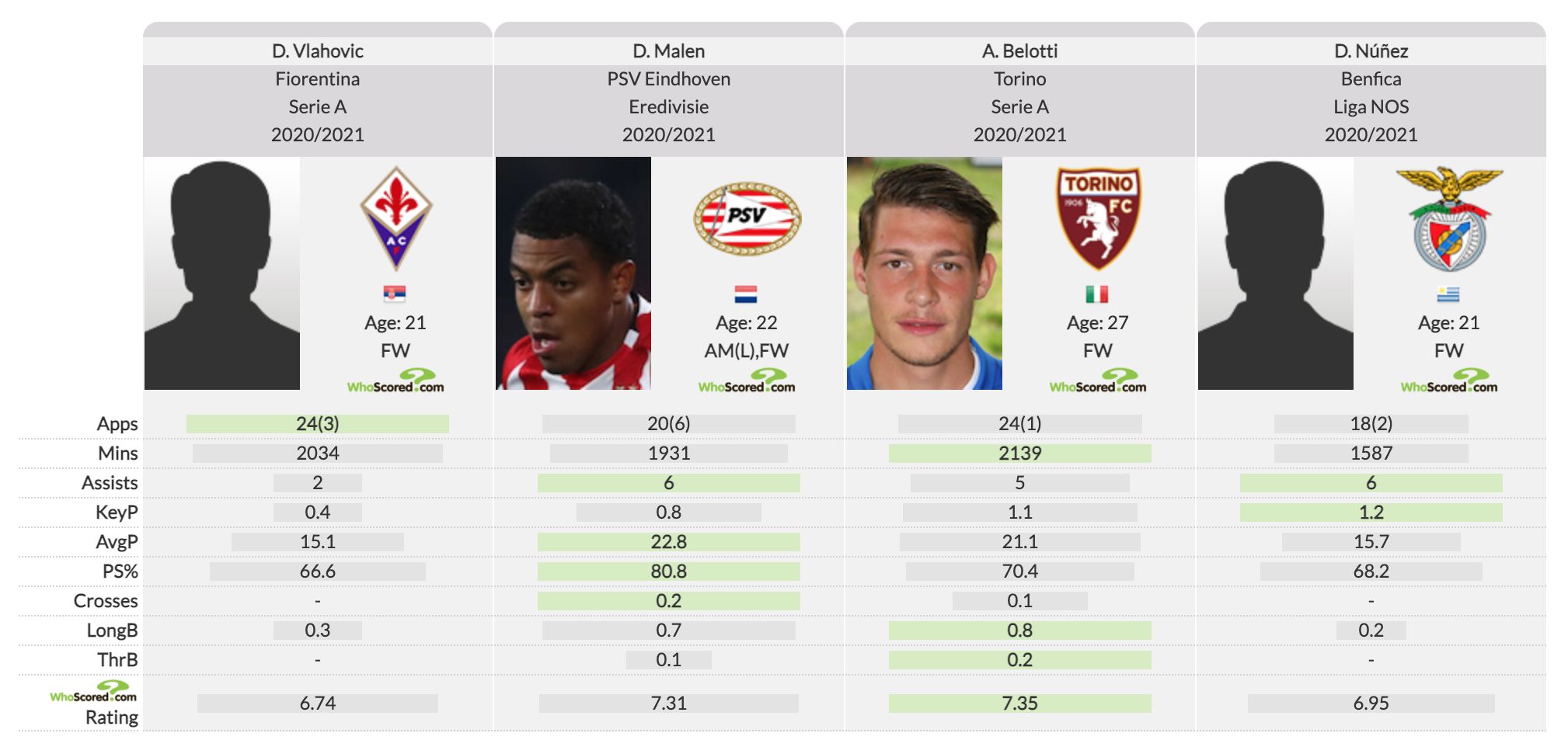 Malen also comes out on top when it comes to average passes completed per game, pass completion percentage and accurate crosses, but Nunez has the most key passes and Belotti prevails in long balls and through balls completed.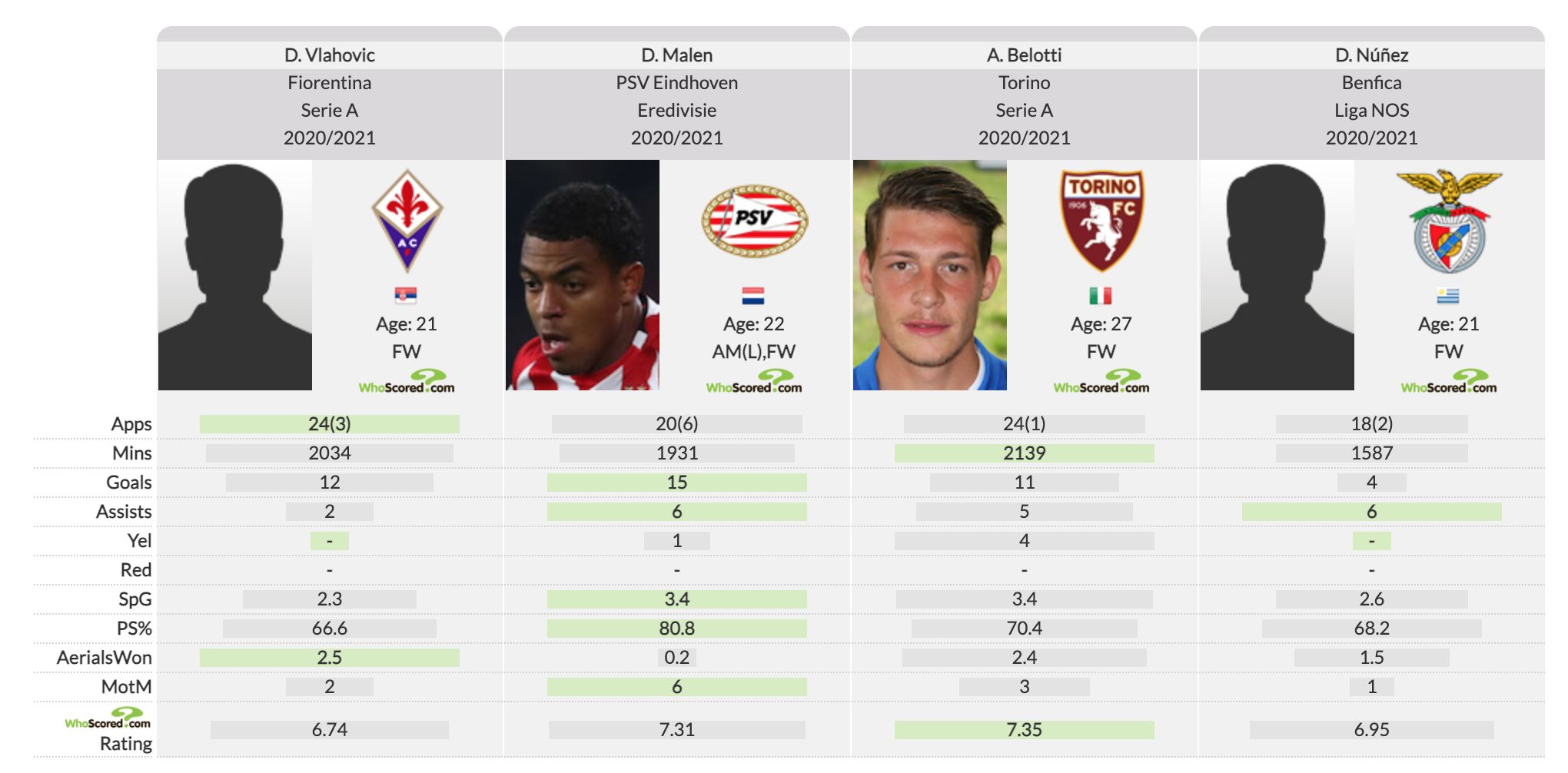 Cost
Vlahovic: The latest rumours suggest Vlahovic would cost €40m this summer given his development and his potential, although the fact his contract expires in June 2022 suggests he could be available for cheaper if he has no intention of renewing. It is a sizeable investment, but for a player who could be the ideal heir to Ibrahimovic in terms of characteristics and has over a decade of good years in him, it is a tempting investment.
Malen: Multiple reports are suggesting that Malen would cost €30m in the upcoming mercato and is attracting interest from a number of clubs. This is obviously a more affordable price tag than Vlahovic's, but comes with the risk of him not having played in Italy or a top league for that matter, and having just come back from a long-term knee injury albeit hitting good form.
Belotti: There have been suggestions that Belotti – whose contract expires in June 2022 – could push for an exit this summer especially in the event of relegation and could cost €25-30m. That amount for a player who is already a leader, has a proven Serie A goal scoring record and has a few good years left in him could be very tempting, but he is five years older than the next-oldest player on the list.
Nunez: Finally, Nunez could apparently cost €50m this summer which would net Benfica a nice gain considering the fee they paid. For the most unproven striker of the bunch but perhaps the biggest wild card, it seems like a steep amount, however good relations with sporting director Rui Costa could help.
Conclusion
Milan really need to decide the path they want to go down before deciding who is the right profile for them based on playing style and obviously the economic factor. From a mentality and experience standpoint Belotti is the most ready-made replacement, while Vlahovic and Nunez certainly fit the technical mould better as natural target men.
It could be that Pioli sees some value in the idea of having a mobile centre-forward able to cause problems with movement and who can press at speed, so Malen might be the right man and his scoring record is the most impressive. Either way, it seems like there are plenty of possible options for Maldini and Massara to stew over.