In a race to keep Champions League qualification hopes, alive Milan faced Pippo Inzaghi's Benevento on Saturday night, a side in a battle of their own to avoid relegation.
The last time Benevento visited San Siro to face Milan, they came away with a 1-0 win, but this time they would not have the same fortune on their side as the Rossoneri emerged 2-0 winners thanks to goals from Hakan Calhanoglu and Theo Hernandez in each half.
Milan lined up in their usual 4-2-3-1 while Benevento shifted to a 4-4-1-1 in order to have a more narrow approach against Stefano Pioli's side, perhaps having seen what other teams have succeeded in doing so far this season.
Setting the tone
The Diavolo – who looked languid and lacklustre against Lazio – had a bright start thanks to Zlatan Ibrahimovic operating between the lines drawing defenders out or causing confusion as to who the defender should mark.
It was one such move followed by passing combination that led to the opening goal with a wonderful bit of link-up play involving Saelemaekers – tucking in from the right – and Calhanoglu who provided the finish from the kind of area he needs to be in more.
A very distinguishing feature between the Milan of 2020 and Milan of 2021 is how often the team used to create short quick passing combinations very often to open up the opposition defences, often which disappeared this calendar year.
The Saelemaekers role
Saelemaekers, as mentioned previously, is a very positionally aware player whose movement off the ball and ability to drag players to create space is brilliant, but he lacks technical skills on the ball. He played as an inside forward all match, acting as the link for passing combinations.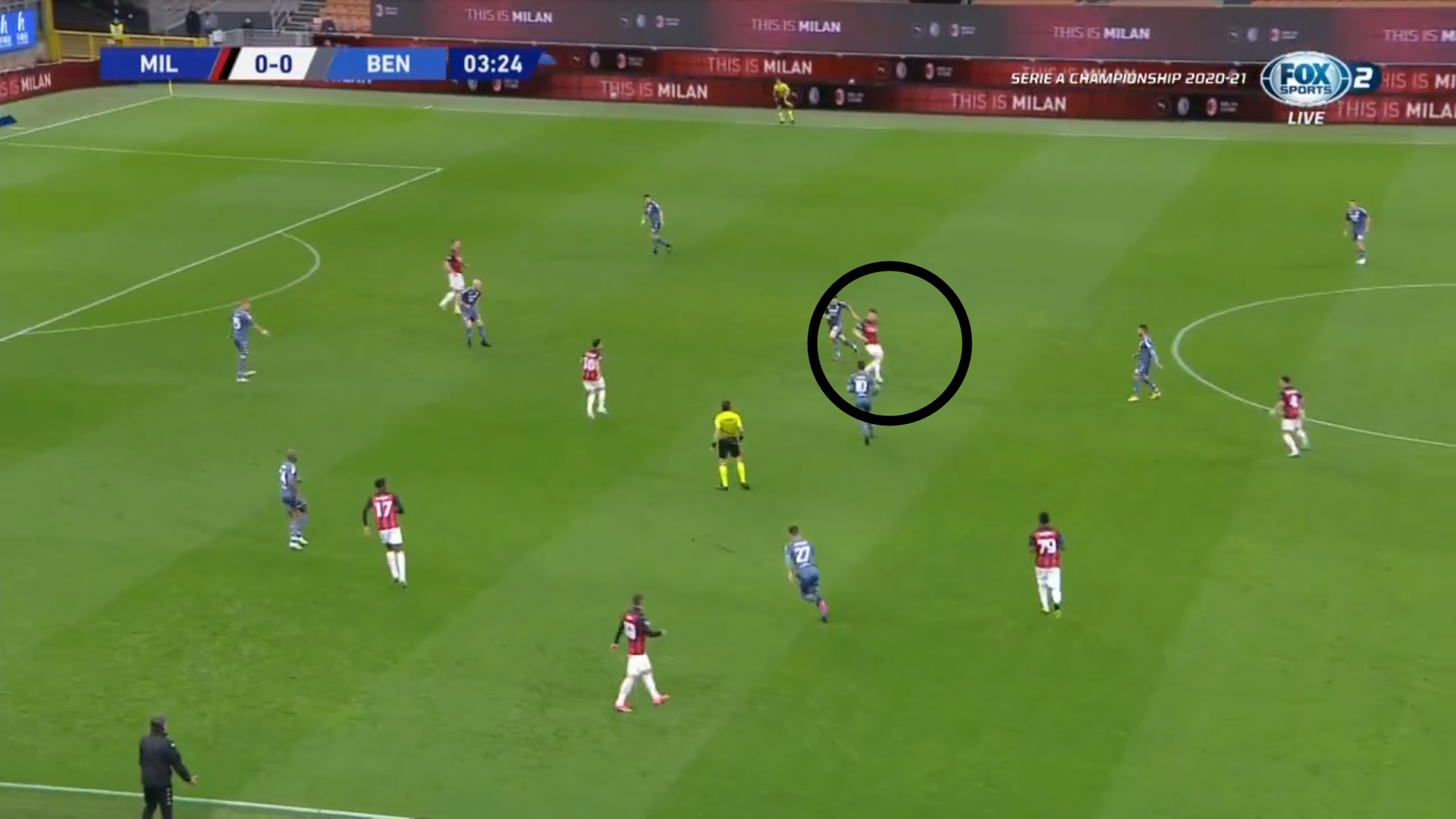 Crossed wires
A very disturbing feature that did emerge was how Ibrahimovic was always coming out of his position into midfield to facilitate play since Calhanoglu was being pressed by Benevento, and he isn't press resistant as has been mentioned before.

In the move below, you can see how Leao had no centre-forward to aim his cross at from a dangerous position because Ibrahimovic was arriving from deep.
It even created a conflict with Calhanoglu and Ibra almost occupying the same position on the field.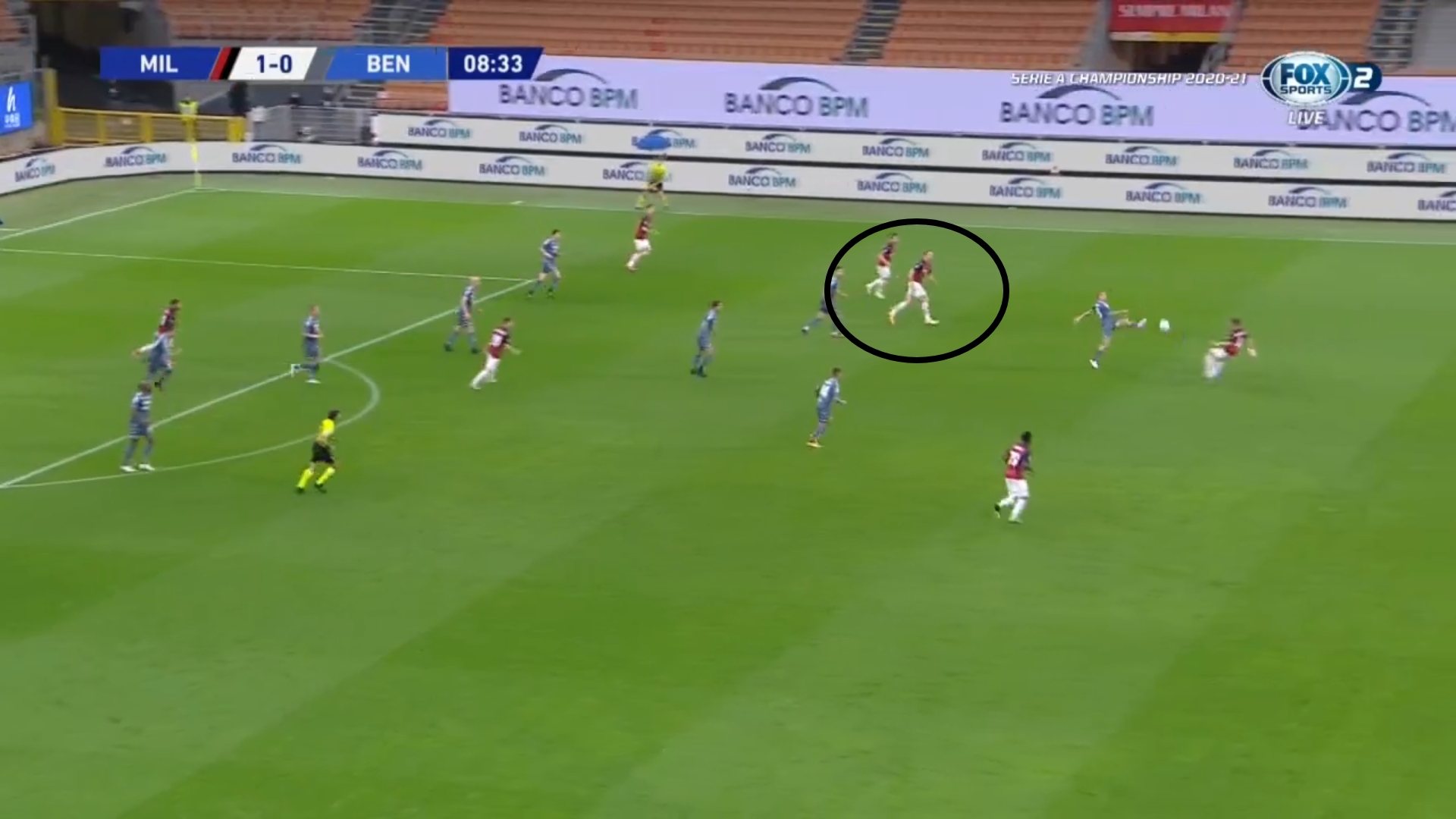 Familiar wastefulness
Another worrying element from the game for Milan was their decision making in their final third. The Rossoneri had five-on-three situations in some cases and still couldn't find a way to capitalise on such an overload.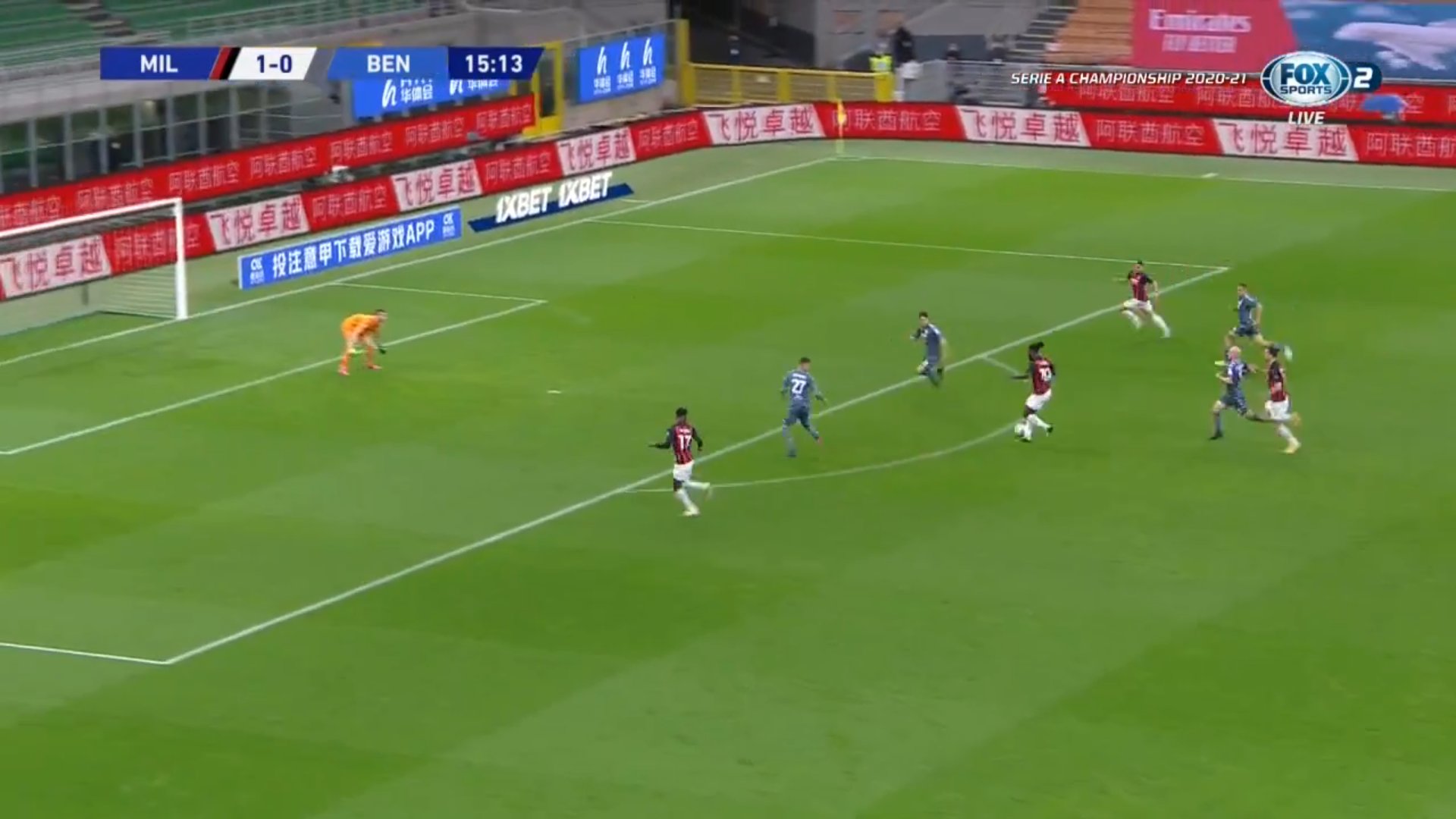 Pippo's approach
Benevento defended kept their shape and defended in a 4-4-1-1 with two tight lines of four men, often being very narrow.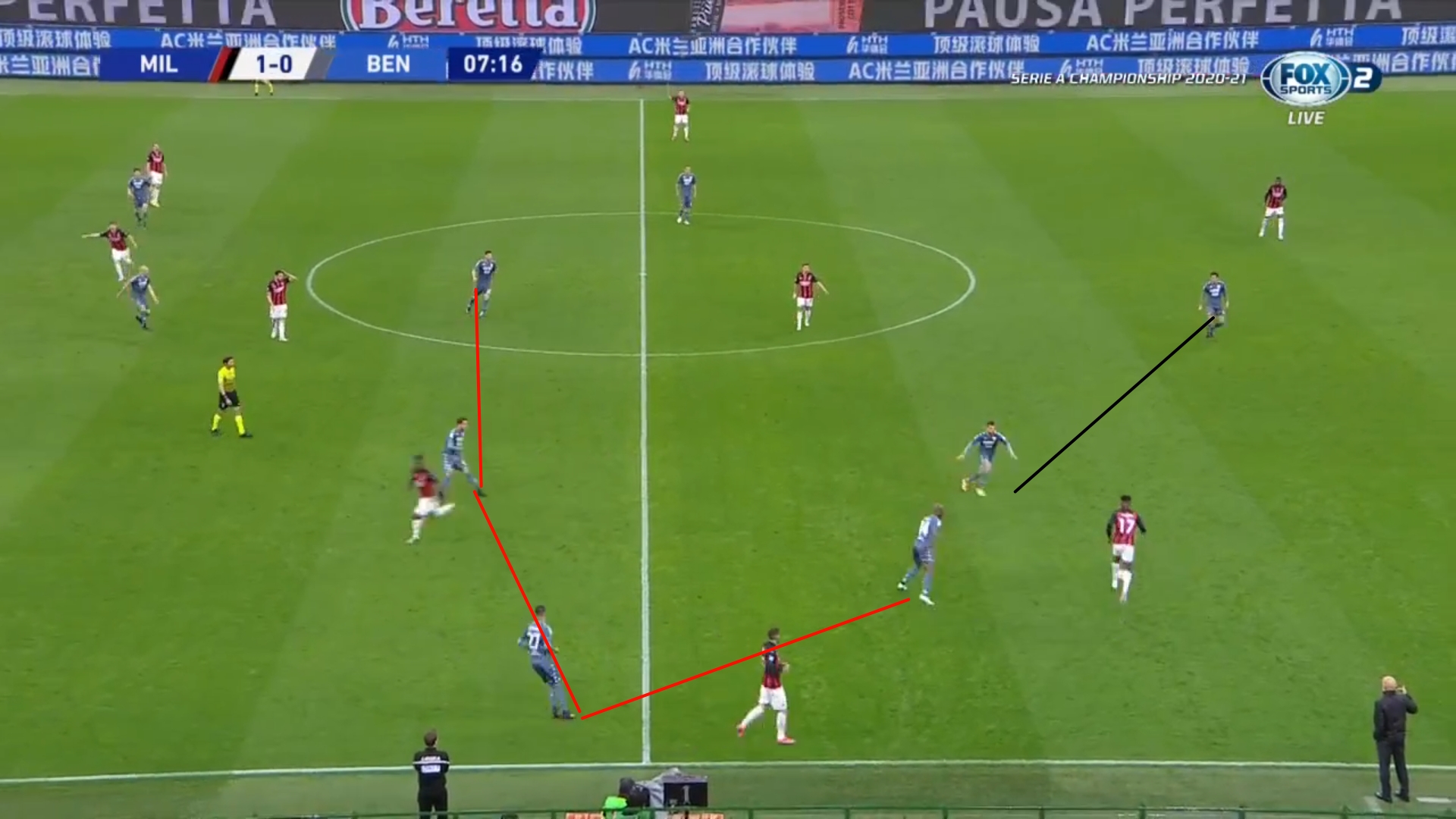 The away side overloaded half spaces and put encouraged a lot of direct balls into the box to trouble Tomori and Romagnoli. In the situation below, Romagnoli's marker pulled him out of position and Bennacer missed his man making it a two-on-one against the Englishman.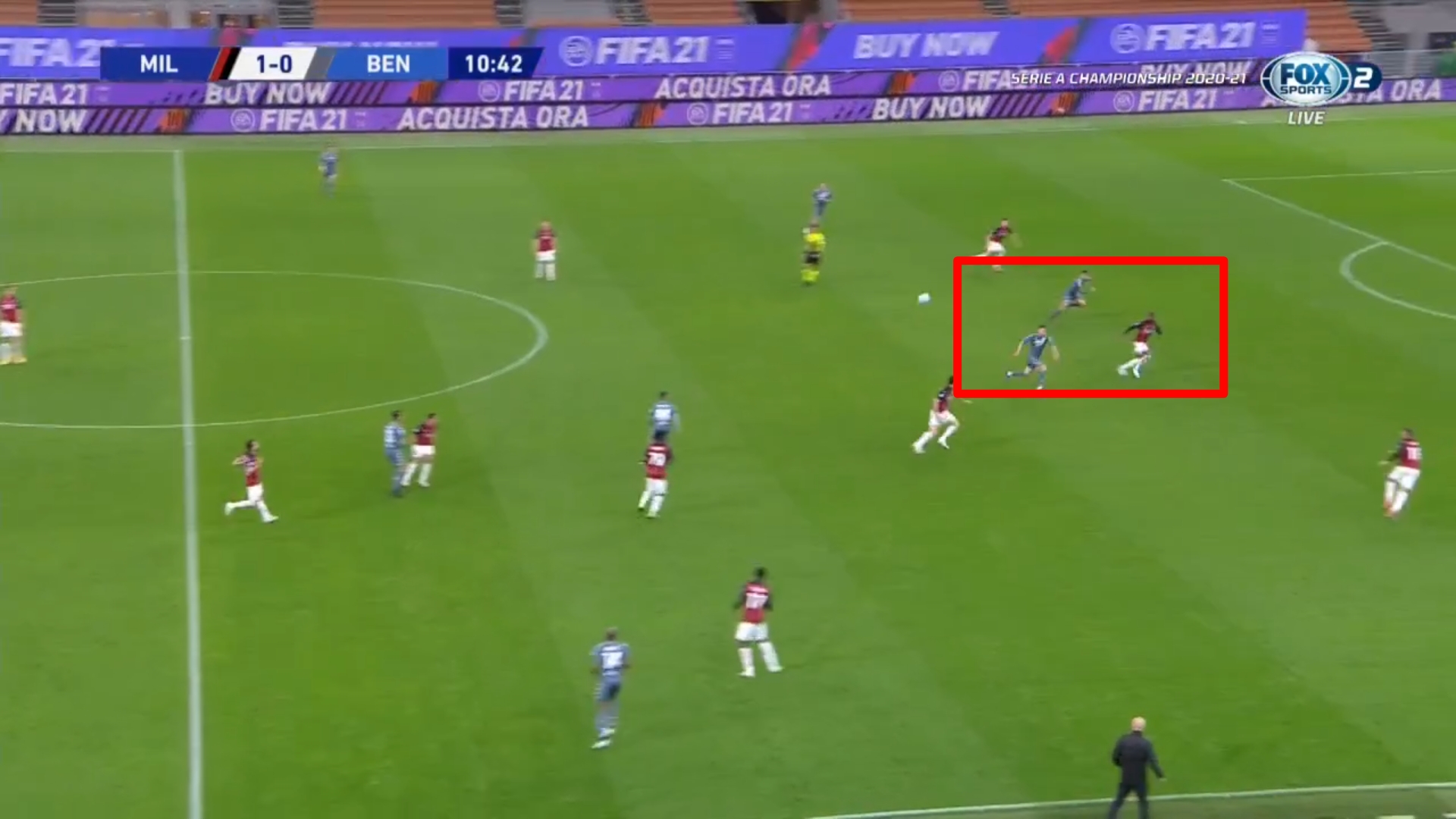 A prime issue problem of the double pivot is that an opposition trequartista can easily find space between the lines when the double pivot move in tandem to press the opposition.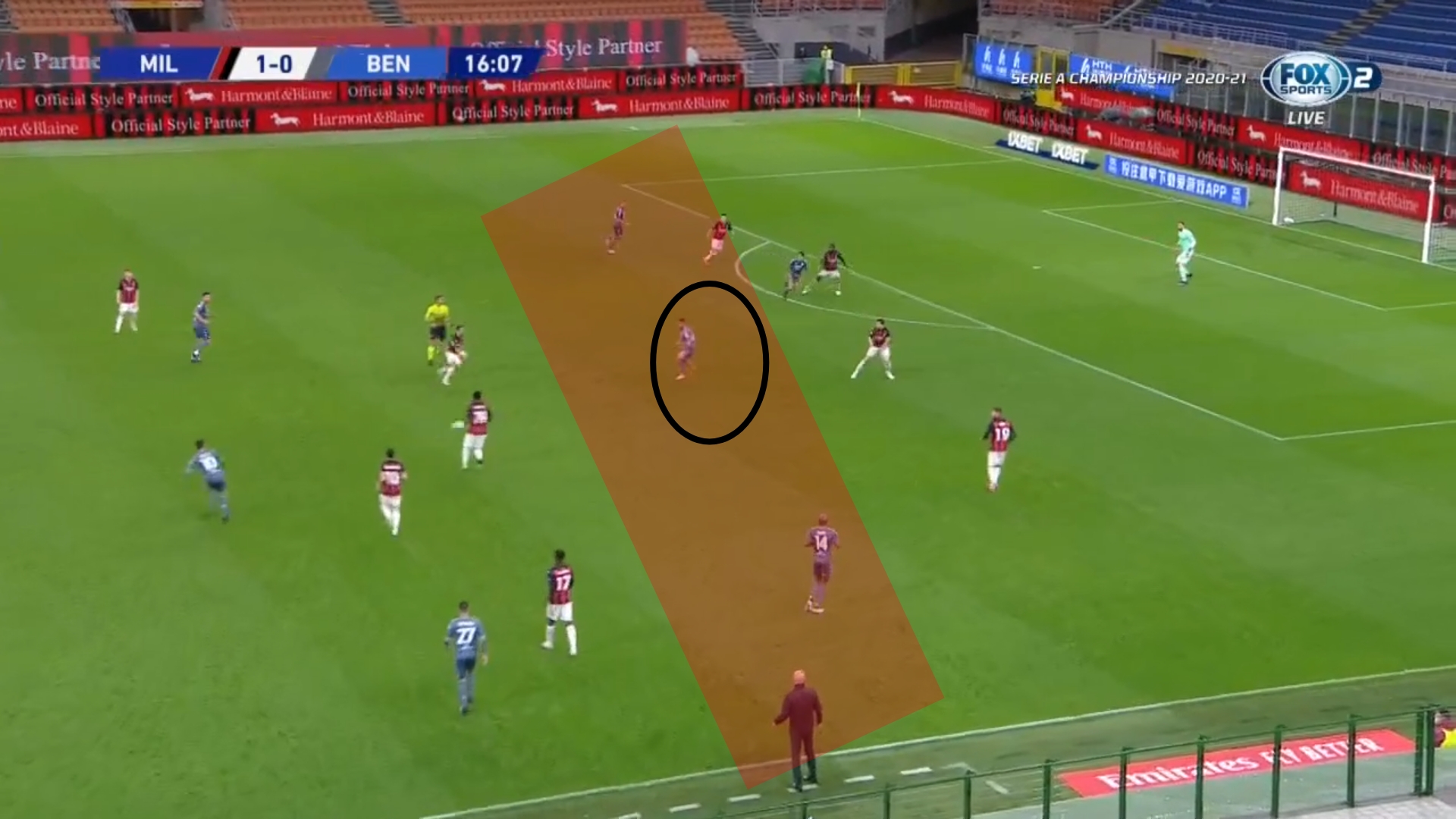 As explained earlier, Benevento were playing a very narrow midfield to prevent Milan from playing through them as in any team that attempts to park the bus.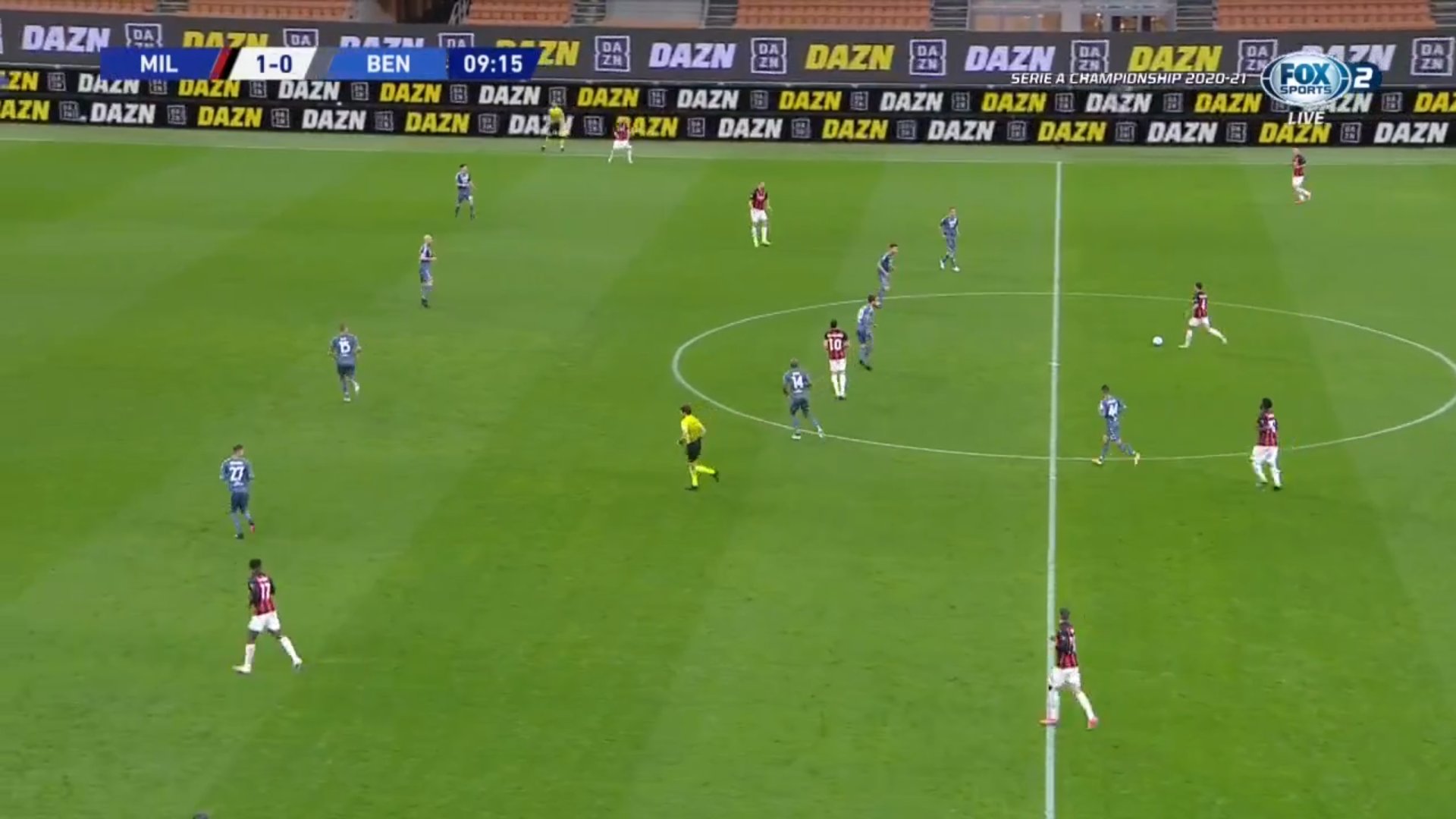 In the second half, Benevento changed their approach since they were not able to breach Milan's narrow 4-4-2 by having Depaoli overlap Dabo and cross balls into the box for Gaich/Lapadula to get on to.
Benevento's most potent weapon this season has been their lightning quick counter-attacks and one such counter was stopped by Tomori recovering well to stop Gaich.
The data
Football has become a numbers game and data analysts crunch said numbers to make a fair reading of the game.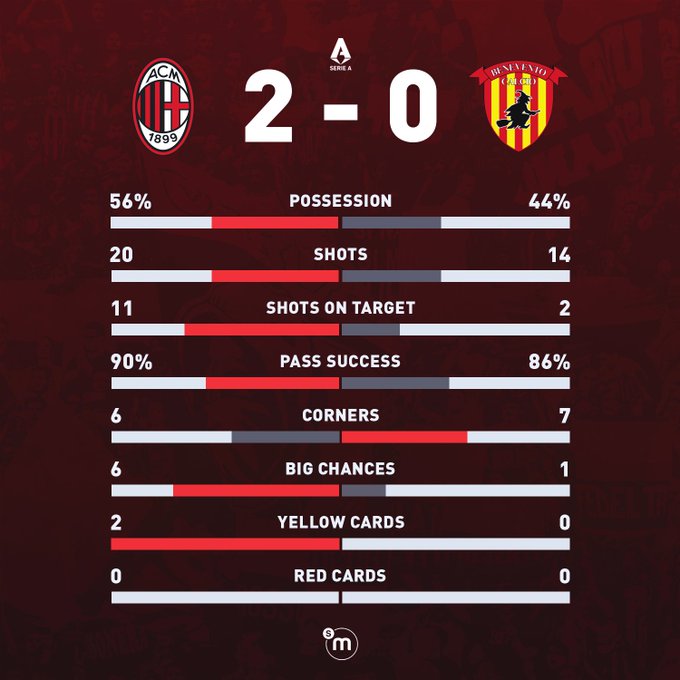 Milan – when in possession – pushed up very high in the second half which was a rather high press, unusual of the team in 2021.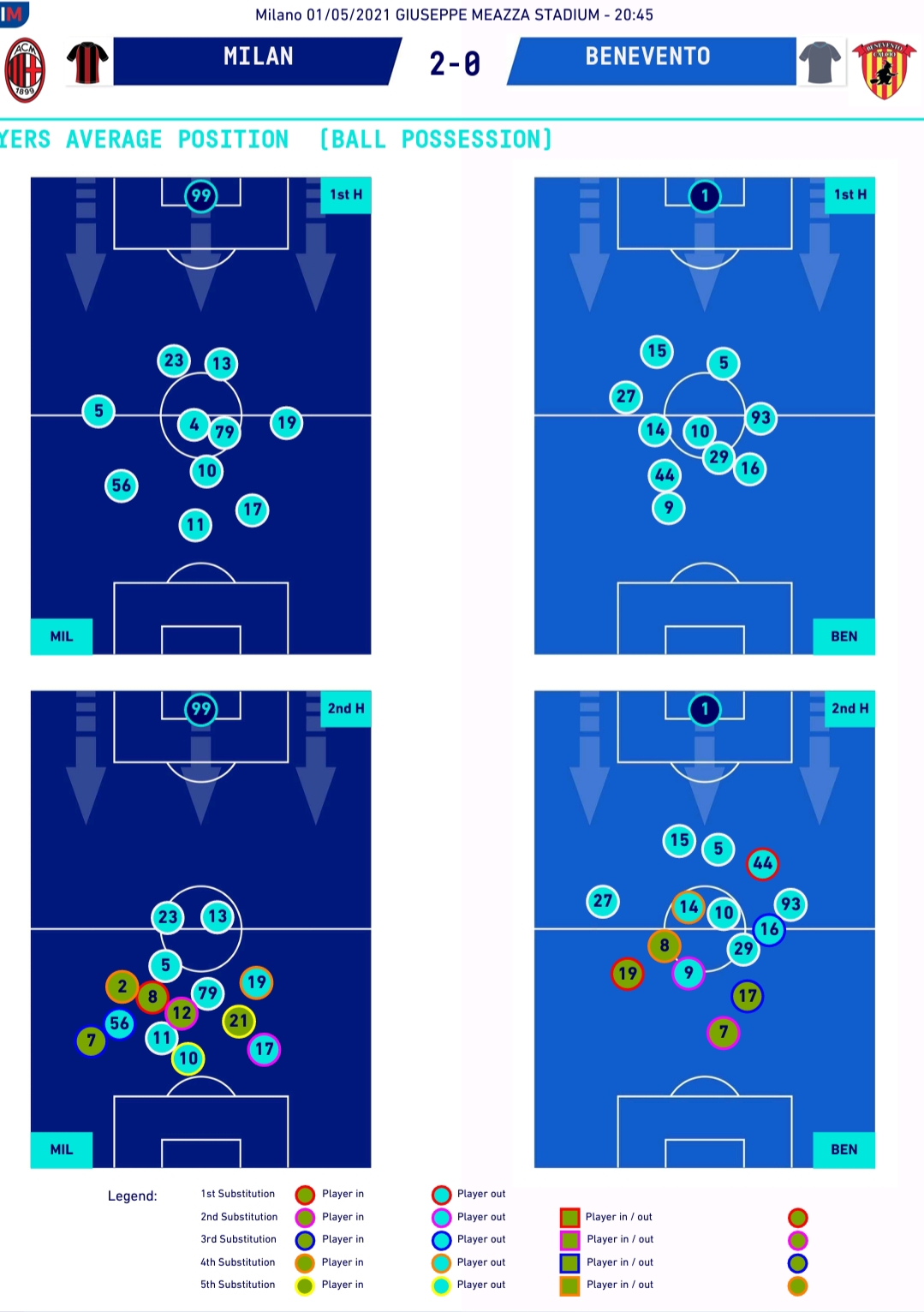 The heat map of both halves are very similar which is a bracing sign that Milan tried to utilise all areas of the field and attempted to avoid being lopsided. Benevento meanwhile tried to use the central areas a bit more.
Athletic data for the players but also the total distance covered by the team is a clear indicator of the falling levels of physicality of this team. They used to average over 110km in ground covered per game, but they are now showing less than 110km with 107.94km clocked against Benevento.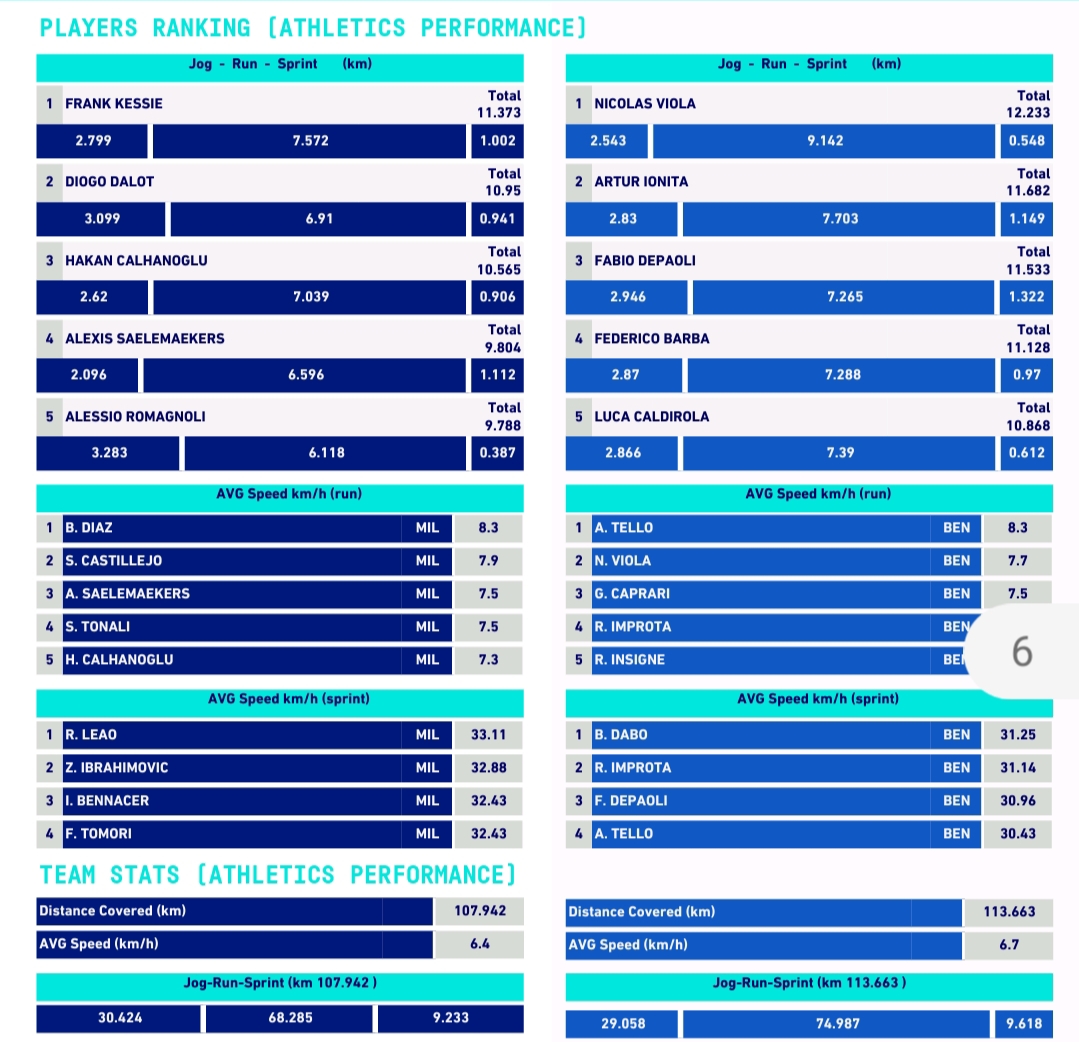 Conclusion
It was far from the polished performance that Milan fans hoped for after back-to-back defeats against a side that has won once since January 4. It was a comfortable win, and the return of the high press was good to see, but ultimately the feeling is that certain issues must be ironed out to clinch top four – particularly in time for the games against Juventus and Atalanta.