Twenty-seven-year-old Portuguese international midfielder Bernardo Silva has been linked with a move away from the 2020-21 Premier League champions Manchester City.
Silva has already been used as a potential makeweight in transfer negotiations to help City snare Harry Kane from Tottenham, but Silva was not prepared to move to the North London club.
His place as a first-team regular at the Etihad Stadium looks in jeopardy following City's capture of Aston Villa icon Jack Grealish for a British transfer record fee of £100m. Silva, who has been with City for four seasons since signing from Monaco for a fee reportedly in the region of £43.5m, has made 132 competitive appearances Pep Guardiola. Having made the grade in his homeland with Benfica, Silva shone like a beacon during a three-year stint in Monaco, signing permanently after a successful year-long loan.
Silva's displays in the UEFA Champions League for Monaco against Manchester City caught the eye of Pep Guardiola and his team. Having helped Monaco to knock out City, Guardiola returned in the summer of 2017 to bring the Portuguese ace to Manchester. In the 2017-18 campaign, Silva became a hugely integral player, featuring 53 times and more than any of his teammates. He made a similar 51 appearances in 2018/19 and in the 2019/20 campaign, Silva was nominated as a Ballon d'Or candidate as a hallmark of his progress.
During the 2020-21 Premier League season, Silva played just 26 league games, which suggested that his influence on the City squad was beginning to wane. The writing was on the wall this summer when City's interest in Jack Grealish was revealed.
Grealish plays in a similar vein to Silva, with the ability to play wide or cut in from the flanks and cause havoc as an inside forward. Silva still has four years remaining on his existing deal at the Etihad Stadium, but that hasn't stopped the Citizens touting the Portuguese to some of Europe's biggest clubs this summer – including the Rossoneri.
Reports coming out of Manchester suggest that City have offered Silva to Milan on a two-year loan, at a cost of £15m. The deal would also include an obligation for the Rossoneri to buy Silva permanently at the end of the loan for an additional £30m – thereby ensuring City get their money back on their previous investment to Monaco.
Committing around £45m for a single player is a substantial investment for AC Milan and that sum of money does make a move for Silva extremely complicated. Nevertheless, Silva's agent Jorge Mendes was in Manchester recently to try and help his client find a way out of City to ensure he's playing regular first team football ahead of the 2022 FIFA World Cup.
What Silva could bring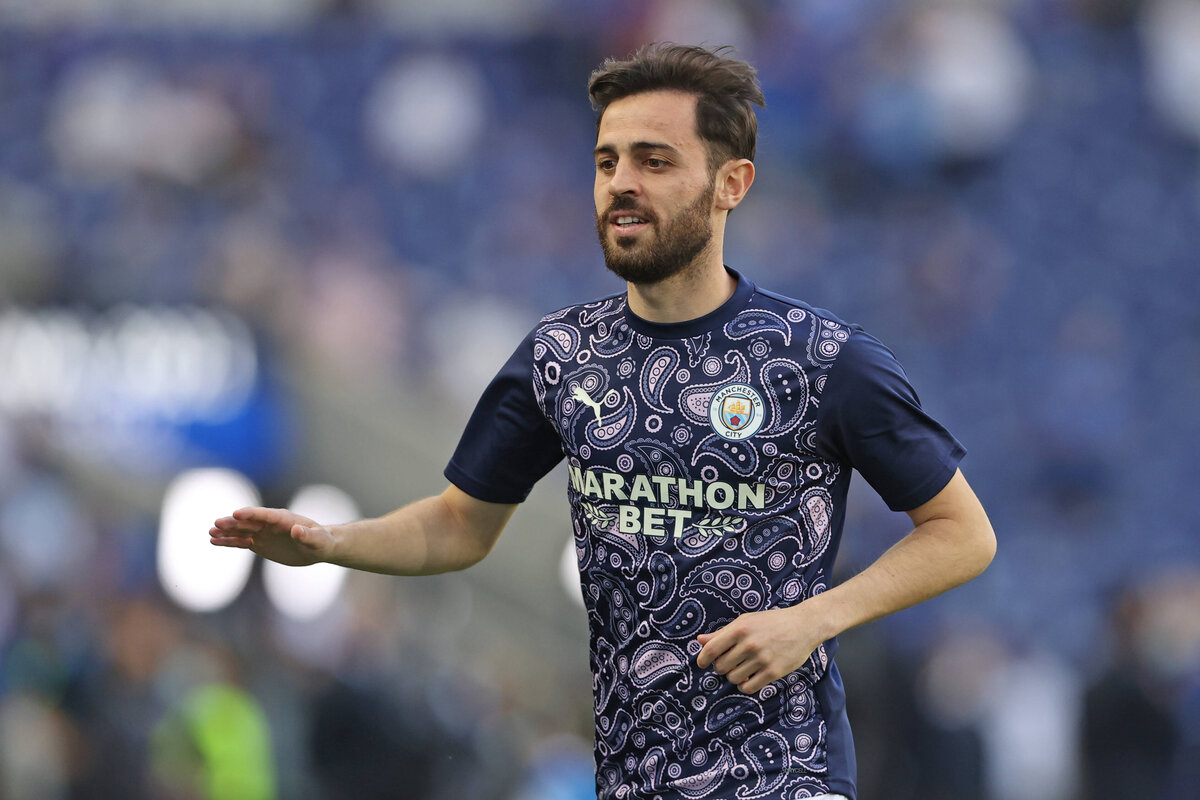 There has been a feeling within the Manchester media that City and Guardiola should look to retain the services of Bernardo Silva, even if they captured Jack Grealish. That's how highly regarded the Portuguese is amongst the Manchester press and the supporters alike.
Grealish's arrival saw City's price shorten considerably in the Premier League betting markets for the 2021/22 title and although Silva's departure would have little effect on City's EPL futures odds, there is no doubt his left foot remains one of the most feared in European football. His arrival at the San Siro would be a serious statement of intent from the Rossoneri.
Of course, if Manchester City are serious about bringing Harry Kane to the club before the closure of the August transfer window, allowing Silva's departure would free up much-needed additional funds to complete the transfer that would almost certainly smash their transfer fee paid for Grealish.
Bernardo Silva is a supremely talented midfielder, but it's his work ethic and desire which makes him the complete player. In fact, without his determination and never-say-die spirit, Silva would be half as valuable as he is today.
For teams that look to press the opposition high into their own half, Bernardo Silva is simply perfect for this approach. He has seemingly never-ending stamina and it's this drive and work rate that has endeared him so much to the Manchester City faithful. He would be equally as popular at the San Siro – particularly if his attributes could help turn the Rossoneri from Serie A contenders to champions elect.
Silva's creativity and flair could also help to lighten the load on Brahim Diaz, who has been snapped up for another two-year loan spell from Real Madrid. Diaz is expected to be the Rossoneri's top assister in the 2021/22 campaign, but Silva's potential arrival would certainly give them multiple outlets in the final third.
It wasn't just his breathless commitment to the high press that saw the Manchester City fans take him to their hearts. It was his ability with the ball at his feet too. The left-footed playmaker has exceptional vision and a weight of pass like few other players in world football.
If the Rossoneri were to come up against lowly-ranked sides in Serie A who adopt a low block with packed backlines, Silva's ability to play slide-rule passes and unleash attacking wing backs has helped City in some of their tightest games through the years. Bernardo effectively assumed the mantle of City legend David Silva when he left the Etihad Stadium, becoming Guardiola's creator in chief.
The Portuguese's adaptability is another reason why he is in such high demand throughout Europe. The Portuguese is adept at playing on both sides of the pitch, meaning he can play in either inside forward role or as a number ten. Silva could even be utilised as a deep-lying playmaker due to his stamina and work rate.
When you consider that Silva has that jack-of-all-trades versatility, combined with the talent to execute his skills in big-game scenarios, it's easy to see why he's been the fulcrum of Manchester City's success in recent seasons.
Some City fans think Guardiola would be mad to let him go, but if Silva fears his game time could be compromised by the arrival of Grealish, Guardiola may have no choice but to accept Silva's wishes and allow him to leave for pastures new.
---
READ MORE: Tactical quandary, market demand and a dangerous precedent – Analysing Milan's Romagnoli dilemma