AC Milan have the chance to put a bit of breathing room between themselves and the rest of the group when they welcome Lille to San Siro in the Europa League.
Lille did well last season to finish fourth in Ligue 1 having lost key performers like Nicolas Pepe and Rafael Leao in summer 2019, and it saw certain new stars emerge like Victor Osimhen (now at Napoli), Yazici, Soumare, Renato Sanches, Jonathan Ikone and Tim Weah.
That is why it is perhaps no surprise to see them flying high in Ligue 1 once again, as they currently sit second having not lost any of their opening nine games and having won five of them, sitting a point behind the early pace-setters – you guessed it – Paris Saint-Germain.
You can read our match preview here for the full build-up, but we spoke to journalist and Ligue 1 expert Adam White on what Milan can expect from Thursday night's opponents.
What were your reactions upon seeing that Lille and AC Milan would be facing off again?
"Excitement – for the games with Milan and the draw in general. At one time this might have been a solid Champions' League group. The Champions' League meeting in 2006, when Lille became the first French team to win at San Siro, is still fondly remembered locally and has been covered in the Lille press during the build up."
Could it be a big advantage for Lille to play in front of an empty San Siro?
"Perhaps. It's obviously preferable from an away team's stand-point – not to face a full San Siro. Although both teams should be used to playing in virtually empty stadiums by now so 'advantage' may be too strong a word at this stage. It may instead prove something of a 'leveller' however.
Lille have had a good season domestically so far, what has been the foundation of their recent success?
"Yes, absolutely. They're still the only undefeated side in Ligue 1 and sit second as it stands. Their recent improvement has been down to manager Chrisophe Galtier and some intelligent scouting and squad building led by Luis Campos as Sporting Director.
"Lille came close to relegation before Galtier – formerly of Saint-Etienne – was appointed but he's moulded an efficient, versatile and dynamic attacking side who play a pacey and direct style. Their deep squad doesn't rely on any one player and has been heavily influenced by Campos who famously laid the groundwork for Monaco's title winning team in 2017.
"Young and cost effective but talented players are unearthed from less fashionable markets such as Ligue 2, Belgium, Turkey or Portugal, developed and often sold on. Gabriel and Napoli's Victor Osimhen being two obvious examples."
Which Lille players should we be looking out for?
"Although Renato Sanches, winger Jonathan Bamba and Gabriel (now at Arsenal) have been standout players under Galtier, LOSC's team ethic is a strength. Former Southampton and West Ham United defender Jose Fonte's leadership has been key too but given his possible absence and more rotation for this game others will come to the fore.
"Sven Botman – Gabirel's replacement – has been impressively solid so far this term, right-back Zeki Celik is one of Ligue 1's best and both commanding keeper Mike Maignan and forward Jonthan Ikone have become France internationals in recent times."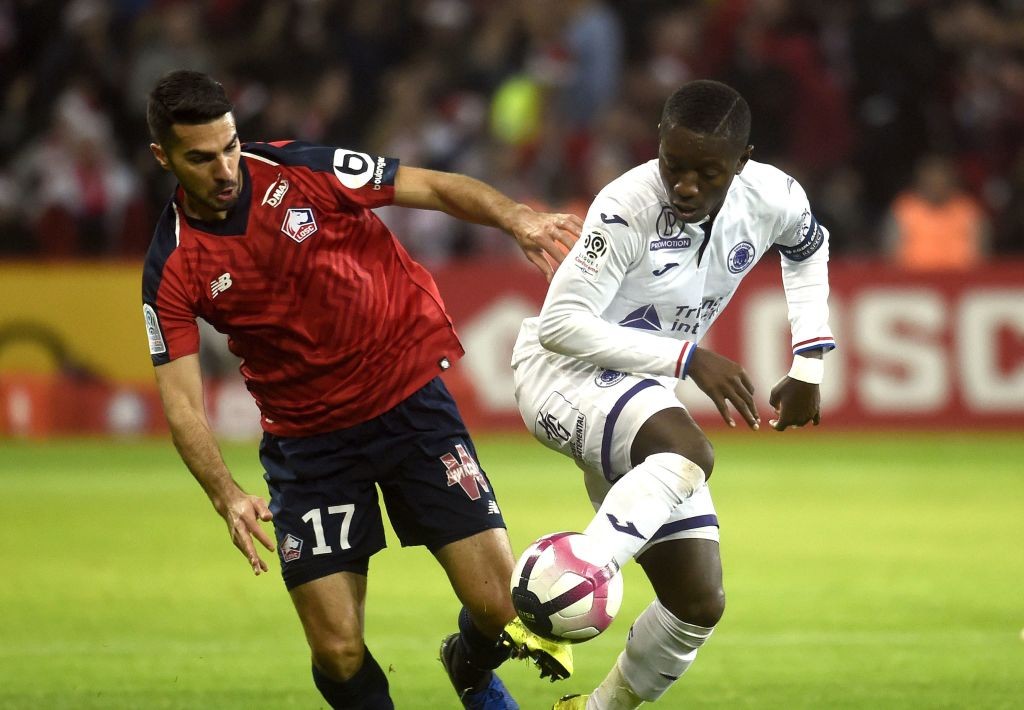 What kind of a game are you expecting between the two sides and how do you think Galtier will set up?
"Hopefully, an open one. Given their pace and direct style, Lille are naturally set-up to counter swiftly and effectively. The wide men, usually Bamba and Brazilian Luiz Araujo, in Galtier's aggressive 4-4-2 will be particularly dangerous. Lille are well-organised defensively too, which might make fashioning chances a difficult task for Milan should LOSC get in front."
Milan have been linked with Boubakary Soumare in recent weeks, what do you make of those links?
"Unsurprising given the player's situation at the club. Soumare's stock was far higher around 18 months ago but he's lost his place in Galtier's first choice team with the form of Sanches and the low-key excellence of Ligue 1 stalwart Benjamin Andre usurping him.
"Given his quality and that potential for improvement remains, his game time is way below expectations and other clubs will see the chance to pick up a fairly cheap option with class and sell on value. Milan won't be the only ones keeping an eye on him."
Finally, a prediction for the Lille starting XI and for the full-time score…
"Lille have rotated noticeably across their previous two Europa League games this season, so it would be reasonable to expect the same here, meaning the likes of Soumare and record signing Jonathan David (who's fallen out of the side having failed to score as yet) will be looking for minutes.
"On outcome, this should be a fun watch, so maybe a score draw. 2-2."
Issue Three of The Modern Footballer, Get Football's 130 page European football guide of which Adam is editor, is out now and can be found here, and on Twitter at @GFFN and @ModernBaller.