Ahead of AC Milan's Europa League last 16 second leg against Manchester United, WhoScored have picked out two interesting head-to-head battles.
Although they will be on opposite flanks tonight, both Theo Hernandez and Luke Shaw will be tasked with defending well and creating. In terms of stats, Theo has five goals to Shaw's one, while both have six assists this season.
The Frenchman has 2.5 dribbles per 90 compared to 1.0, but the Englishman has 3.4 key passes per game compared to Theo's 1.4. Shaw also has more accurate crosses per 90 (2.0 to 0.6) though Theo comes away with the higher overall rating at 7.24 to his opposite number's 7.03.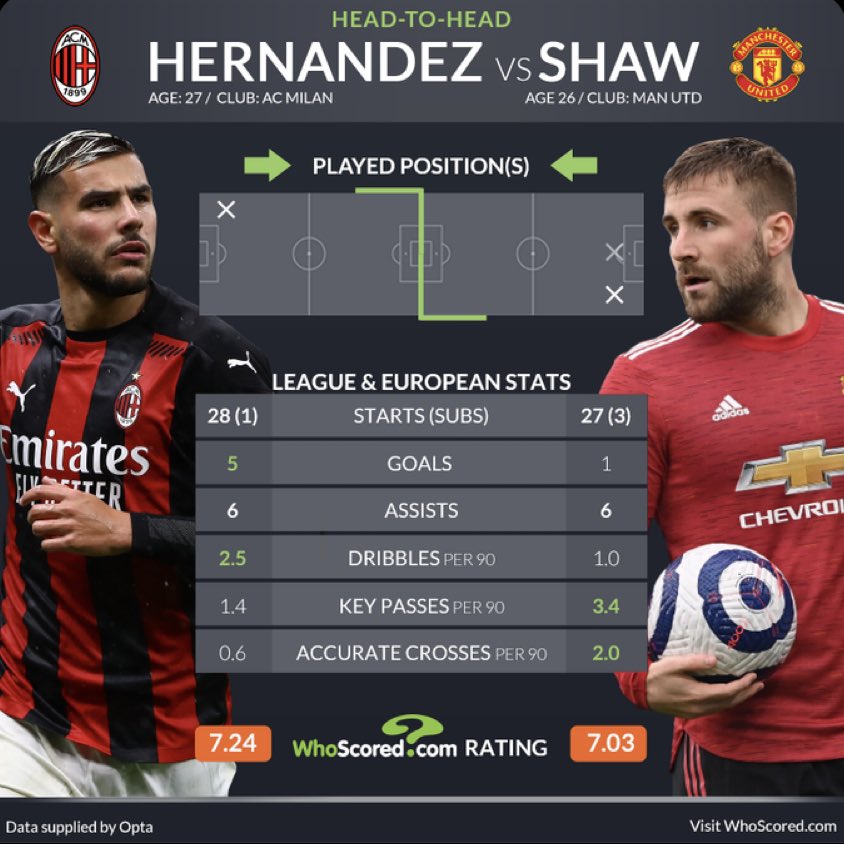 Now we have the most interesting battle: Hakan Calhanoglu vs. Bruno Fernandes. Bruno has 22 goals to Calhanoglu's 8 and 12 assists to the Turk's 2 (he has 11 on Transfermarkt), but he has also played 14 more games with injuries hindering Calhanoglu's campaign.
Fernandes has 3.4 shots per 90 compares to 2.7 for Hakan, but the 27-year-old prevails in key passes (3.6 per 90 to 2.9) and accurate crosses (2.8 to 1.3), though Fernandes has the higher overall rating (7.52 to 7.20).