Milan's youth academy is undeniably not what it once was. A youth program that once produced the likes of Paolo Maldini, Giovanni Trapattoni, and Demetrio Albertini has in recent years failed to produce stars for the Rossoneri first team. The best player it has manufactured in recent years is Pierre-Emerick Aubameyang, and he is not even a member of AC Milan's squad, shipped off to Saint-Etienne in 2012 as a failed product (we all know how that turned out).
However, despite this apparent "lost generation" of youth players, the current crop of youngsters plying their trade in Milan's Primavera side shows a lot of promise. Several of them are already regulars in the Rossoneri matchday squads, and one, Gianluigi Donnarumma, has risen to the senior side's first-choice goalkeeper. One such player, lining up for Cristian Brocchi's Primavera team, is striker Patrick Cutrone.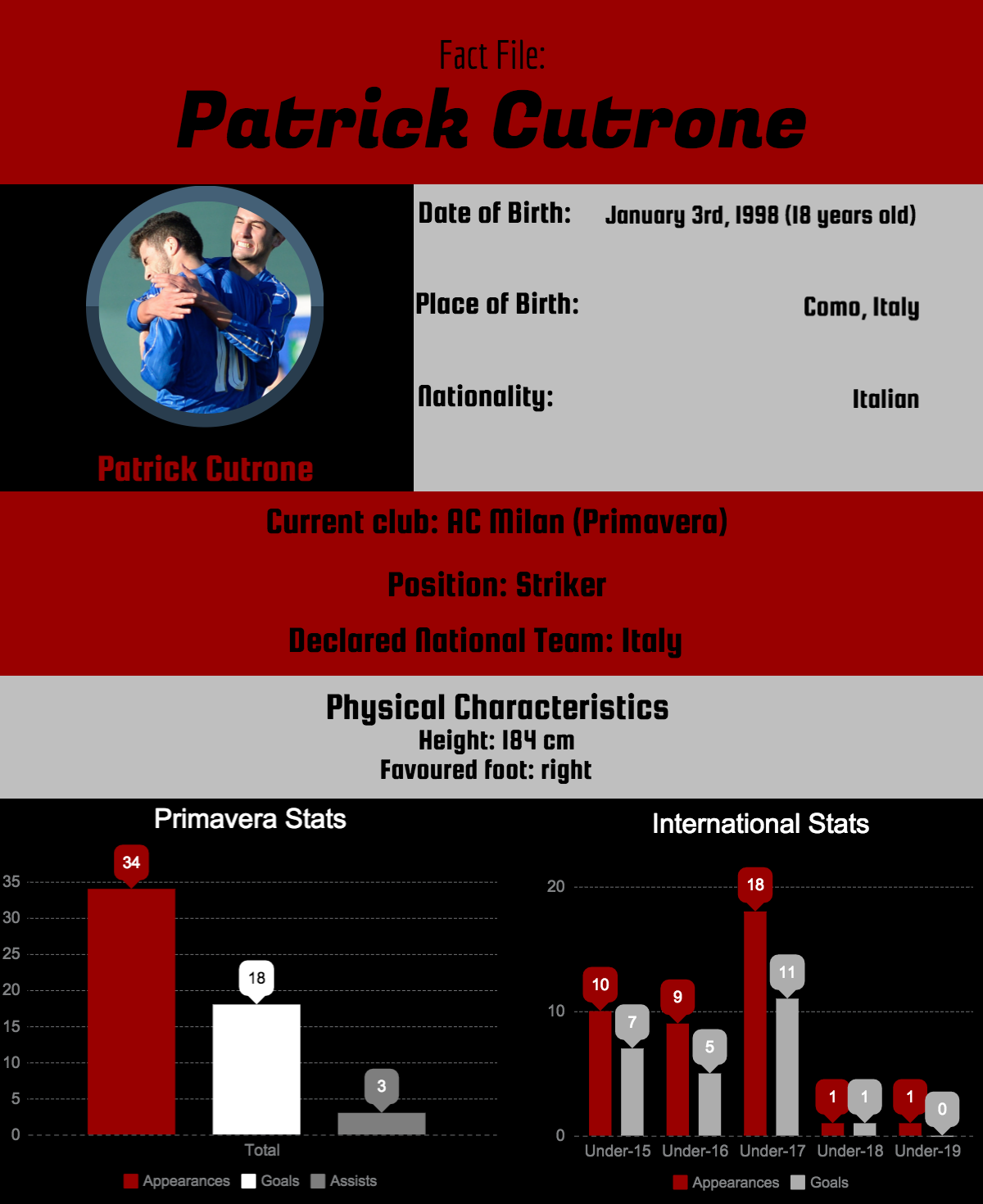 THE STORY SO FAR
Cutrone's career has thus far been a very short one. Coming up through the ranks of Milan's youth setup, he was a natural goalscorer since the very beginning. Scoring for fun in the lower youth leagues, he made his Primavera debut in April of 2014. He began establishing himself as a solid Primavera striker in winter of the same year, as he went on to score eight times in 11 matches starting in November of the 14/15 campaign. The highlight of his season came against Brescia, a 5-0 drubbing of the Biancoazzurri in which Cutrone scored a hat trick.
This season has yielded even more dividends for the young forward, and he currently sits on an 11 goal haul from 15 games, placing him joint-third in the capocannoniere charts for the 2015/16 Campionato Primavera Girone B. His performances have heralded him as one of the top under-19 attacking prospects in Italy, and it is a mantle he has thus far upheld.
Despite being only 18 years old, Cutrone is already an international veteran. He made his debut on the world stage a month after his 15th birthday, with the Italian under-15 national team. He was a prolific goalscorer during his 10 matches with the side, netting on seven occasions. Such a return led to Cutrone earning call ups from Italy's under-16 and under-17 teams before his 16th birthday, becoming a regular goalscorer for both groups.
With the under-17s the youngster travelled to the 2015 UEFA U17 Championships, and featured regularly as Italy failed to make an impact on the competition. Most recently, he made his Italian under-19 debut in February of this year, coming on as a substitute in a friendly against France.
FAULTS AND FORTES
Cutrone's stellar scoring record speaks volumes about the quality of the player. His prolific nature across multiple levels of the Italian domestic youth pyramid and on the international stage leave no illusions as to whether the youngster is a capable striker. Brilliant with his head or on his right foot, Cutrone's powerful strikes and pin-point headers have been the bane of Primavera goalkeepers for the past season and a half. Fearsome in front of goal, the 18-year-old's already well-developed poacher's instinct has been instrumental in his consistently high-level performances.
Aiding him in his attacking ventures is a stellar set of physical characteristics. At 184 centimeters he is far from dimunitive, and he uses this height advantage to get the best of the shorter-statured youngsters tasked with marking him. While in professional football many central defenders are substantially taller than Cutrone, his refining of his aerial ability will surely come in handy once he steps up from the Primavera.
Coupled with his skill in the air are his pace and strength. While he isn't capable of maintaining high running speeds for long durations, his quick bursts into the box are quite often lethal. Meanwhile, his big frame and knowledge of his own strength provide him with tools to get away from defenders and muscle his way around in the box during set pieces or offensive plays.
As is the case with any youth player, Cutrone still has many underdeveloped and weak qualities to his game. One of the biggest ones is a fairly apparent lack of technique. He can run fast on the ball and send laser-accurate shots past goaltenders of all shapes and sizes, but when it comes to his skill in possession, the youngster sorely falls behind his contemporaries. He looks clumsy when forced to make inventive decisions with the ball at his feet, and as a result is not reliable in tight situations. In a league with tough defenses and close marking, Cutrone will be unable to work any of the magic he has showcased over the past year and a half.
Cutrone is also lacking when placed in one-on-one situations, particularly with a keeper. While he is able to somewhat deal with outfield players by bursting past them, when coming up against a confident goaltender he on many occasions seems to stutter. When placed in such a situation he often holds the ball too long, and as a result sends it wide or else straight into the hands of an onrushing keeper. Distribution is another area that leaves much to be desired. His passes are rarely precise, and as a result he leaves the job of delivering to his supporting midfielders. While as a target man he is not required to dispense the ball to other players, not being able to field consistently accurate passes hurts his all-around game.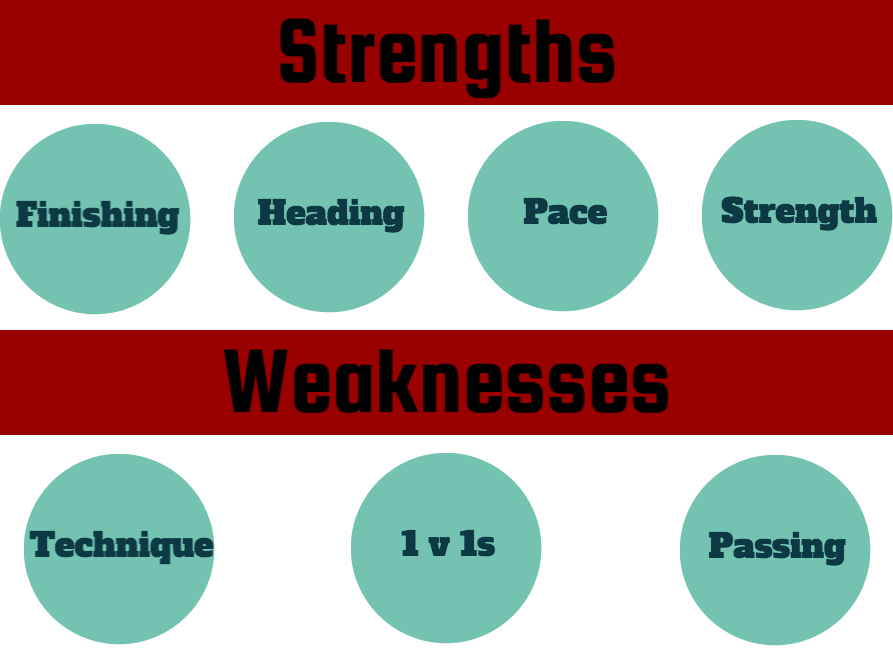 WHAT'S IN STORE
For the near future, Cutrone is almost certainly going to continue development in Milan's Primavera setup. He has not yet established a consistency in goalscoring over the course of several seasons, and therefore it makes sense for his growth as a player to stay with the youth team. However, if he continues the trend of stellar returns in front of goal, a loan spell at a Serie B or lower team could certainly do him good.
After several more years of maturation, and with what looks like several vacancies up front for Milan a season or two down the line, it would not be far-fetched to place money on Cutrone becoming a regular in the Rossoneri first team. It is going to take a lot of progress in a short amount of time from the youngster to reach this level, but he has shown that he is no stranger to challenge.
Breaking into the senior Azzurri will be a much greater challenge for Cutrone. With a saturated pool of young strikers ready for the call up, the youngster will have to put in some truly spectacular performances over a long period of time if he intends to become the next leader of Italy's front line.
Big things are coming from Milan's Primavera bombardier. Keep an eye out for him.