AC Milan completed their eighth signing of the summer last week as Yunus Musah joined on a five-year deal from LaLiga side Valencia.
On their official website, Milan stated that they are pleased to announce the signing of Musah on a permanent basis, with the 20-year-old having signed a contract with the club until 30 June 2028.
According to Fabrizio Romano, the transfer is worth €20m including bonuses which continues a theme seen with the signings of Christian Pulisic, Ruben Loftus-Cheek, Tijjani Reijnders, Noah Okafor and Samuel Chukwueze for a similar amount.
As is customary for a new signing, Musah spoke to Milan TV about the move in general and his preferred position. He also explained why he chose the number 80 and revealed that he used to joke about coming to Milan with Gennaro Gattuso.
What can Milan expect from Musah? We have analysed the 20-year-old in detail.
Back story
Musah was born in New York City while his Ghanaian mother was on vacation in the United States, with his father also being the same nationality, but he grew up in the Castelfranco Veneto region of Italy where he played for Giorgione Calcio 2000 as a child.
When he was nine, Musah and his family moved to London and he joined Arsenal's Academy where he stood out in for his physical attributes and his determination, particularly excelling at U16 level.
However, in the summer of 2019 the decision was made to leave the English capital and join Valencia where – at the age of 16 – he began with the reserve team in the Segunda División B making his debut in September of that year.
Javi Gracia became head coach in the summer of 2020 and he spent preseason with Valencia's first team, making his LaLiga debut at 17 years and eight months in a win over Levante. In doing so, he became the first Englishman and American to debut for the club.
In November 2020 – aged 17 years and 338 days – Musah became the youngest non-Spanish player to score for Valencia with a goal in a draw against Getafe breaking the previous record held by Lee Kang-in.
He made 33, 29 and 32 league appearances respectively from the 2020-21 season onwards as a member of the first team at the Mestalla, before deciding to join the Rossoneri.
Growing up, Musah was eligible to play for the United States, Ghana, Italy, and England as an international because of his place of birth, the nationality of his parents and where he grew up.
While at Arsenal he chose England, making his debut with the U15s in 2016 and then going on to play for the Three Lions up to U18 level. He was also called up to the U19 squad in October 2020.
However, the next month he accepted a call-up from the USA to play against Wales and Panama as part of a young group that the United States Soccer Federation wanted to entrust.
Although Musah had made his senior debit for the United States, England senior manager Gareth Southgate attempted to persuade Musah to play for England.
"We're monitoring him. He's been with us in the last couple of months and we'd very much like his future to be with us," he said.
Nonetheless, USMNT assistant manager Nico Estévez and manager Gregg Berhalter held frequent conversations with Musah and his family, then in March 2021 he officially declared for the USA.
Playing style
Musah's key attributes can be summed up in a few bullet points based on the role he has played both for his club Valencia – who have struggled in recent seasons – and for his country.
1v1 and dribbling: Usually midfielders are not expected to be strong in their 1v1's but Musah is really exceptional in terms of beating his man.
In the 2022-23 season he attempted 4.57 1v1 attempts per 90 and succeeded in 2.57 attempts, a better number than some of the wingers at Milan. He is a very strong dribbler and likes to carry the ball from defence to attack.
— Rohit Rajeev (@keralista_v2) August 10, 2023
His dribbling skill gives him the ability to resist pressing from opponents.
— Rohit Rajeev (@keralista_v2) August 10, 2023
High turnovers: One of Musah's strengths is winning the ball back high up the field. Turnover refers to regaining possession near the opponents' defensive third, which is a very effective defensive action when it comes to creating quick counters.
Given how Milan are leaning on Rafael Leao and Samuel Chukwueze down the flanks, having ball-winners can help pin the opponent back in their own half.
Even if they park the bus, a turnover near to the opponents' goal can create an opening for a counter as players wont have time to get back in their defensive positions.
Interceptions: Musah is not a tough-tackling midfielder but his defensive side relies more on interceptions. He has the tactical understanding to position himself in the right places and intercept passes.
— Rohit Rajeev (@keralista_v2) August 10, 2023
Playing out from the back: Whenever the opponent presses his team, Musah acts as a passing option to relieve his team-mates from the pressing of the opponent. His spacial awareness is really good as he can find space between the lines.
— Rohit Rajeev (@keralista_v2) August 10, 2023
Victim of instability: Given the issues at Valencia, Musah has been used all over the pitch by coaches since his promotion to the first team from the U18s.
You can see that a wide variety of positions that he has played in making him sort of a utility man for the six different head coaches he has played under, which becomes eight if you include the USA.
Aerial ability: Standing at 179cm Musah is not aerially dominant and does not participate much in aerial duels.
Statistical comparison
It is quite hard to nail down a player that Musah is similar to because of all the aforementioned factors when it comes to the different roles he has been used in and the different contexts too.
However, the Renato Sanches seen at Lille looks very similar to the American in the sense that he is not a player who does a lot of tackling, but he racks up plenty interceptions and likes to dribble the ball from midfield to attack.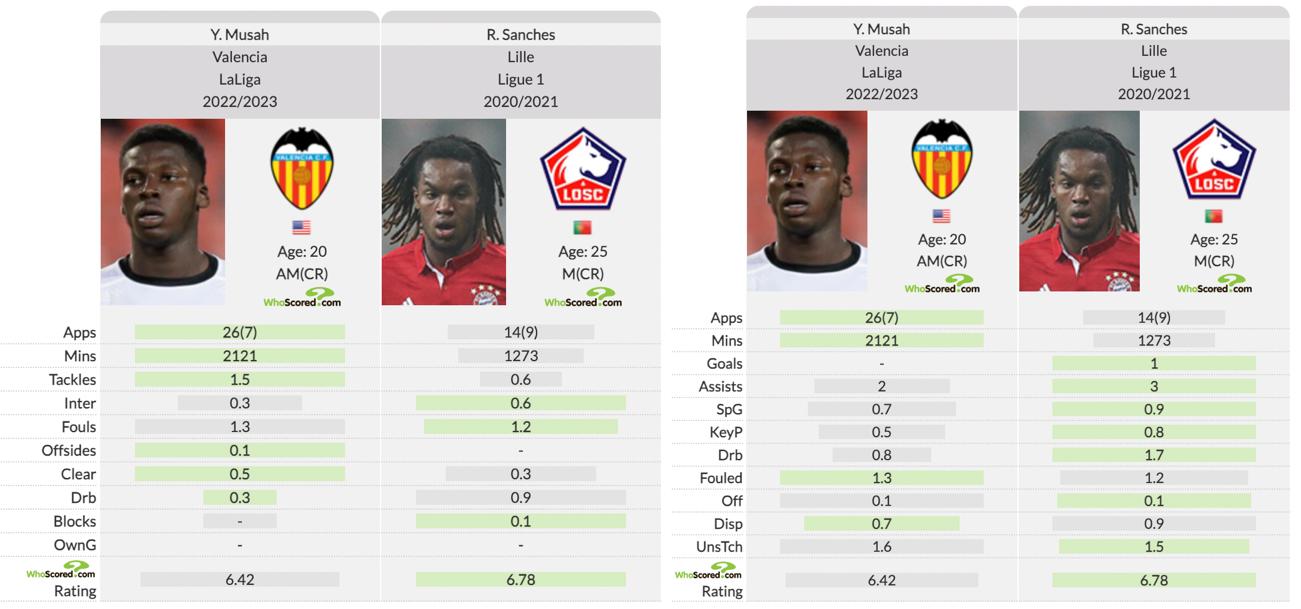 Musah still has a lot to improve to get to Renato's level, particularly when it comes to using the ball once it has been recovered. When comparing the passing stats of the two, it becomes obvious where the latter excels and where the former must be refined.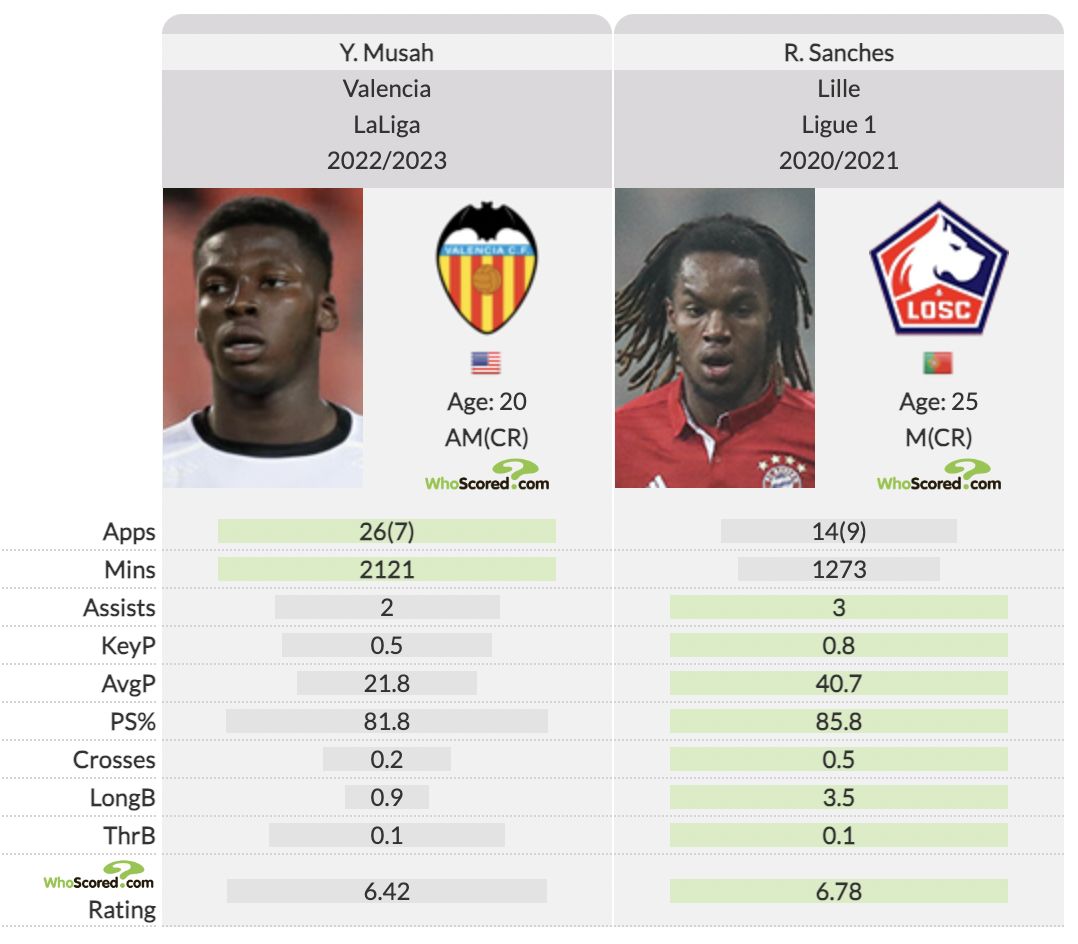 What is interesting is that Milan were heavily linked with a move for the Portuguese midfielder firstly when he was at Benfica and then before he went to Paris Saint-Germain.
It could be that the mould of midfielder Sanches is and the areas he excels have long been identified as being the right complimentary piece for the midfield double pivot or trio that Pioli intended to build all along.
Looking at the FBRef per 90 percentiles which compares Musah with other central midfielders in the 'top five' European Leagues including the Champions League and the Europa League, there is some interesting data.
He ranks high in tackles won, % of dribblers tackled and challenges lost (lower number the better) but is among the worst when it comes top blocks, interceptions, clearances and errors.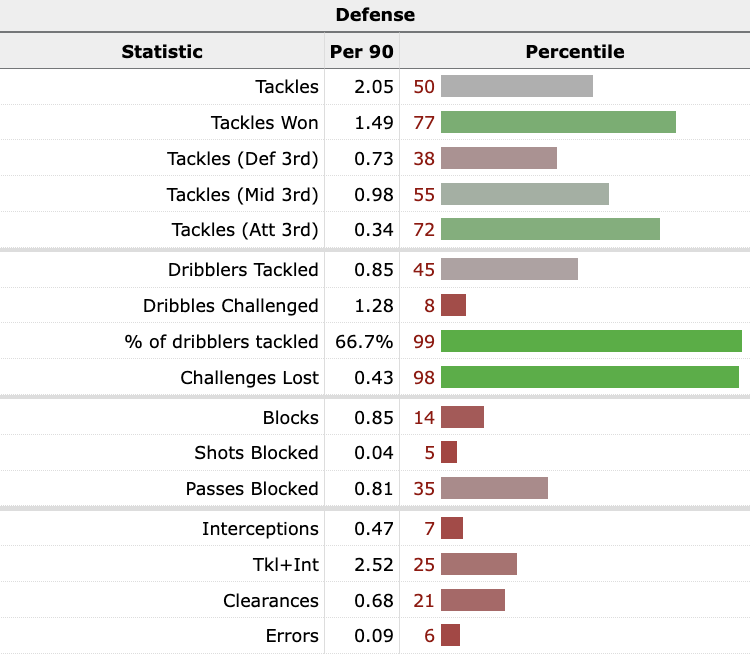 This paints the picture of a player who is incredibly busy and attempts to do everything through individual duels rather than through patience, positioning and anticipation, making him particularly suited to being part of an organised press.
In possession, the former Arsenal academy man is proficient in take-ons attempted, the success rate of them, progressive carries of the ball (into the final third and penalty area of the opponent) and progressive passes received.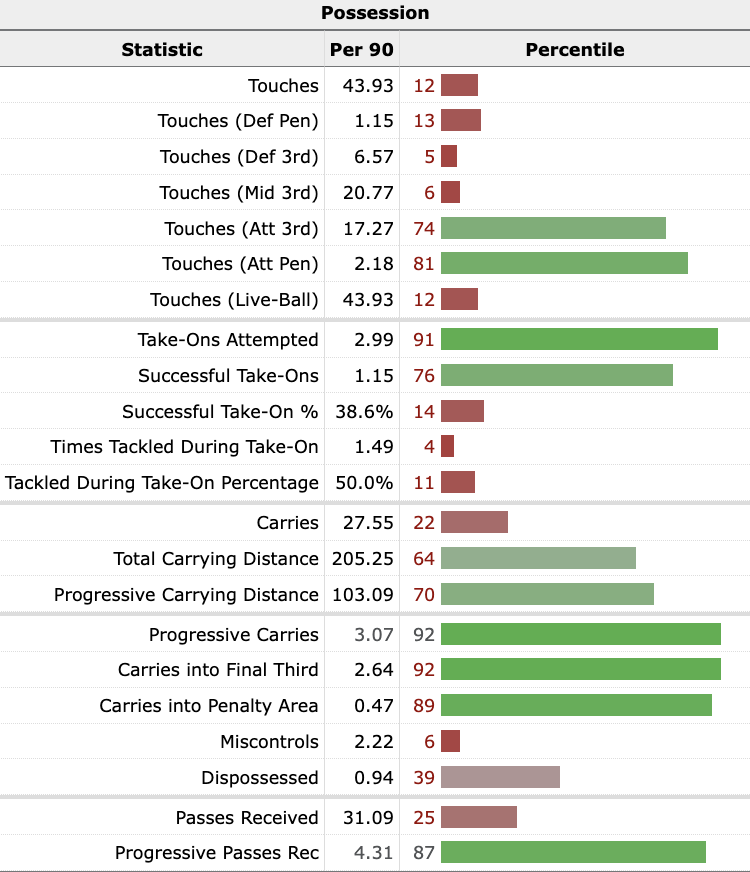 With these numbers we are starting to form the picture of a player who tries to do everything with the ball near him or at his feet, more of a busy and bustling runner in possession than someone who will release a perfect through ball.
Conclusion
It is extremely difficult to predict what sort of role fits Musah the best given how he has played a variety of positions. He seems good to be a box-to-box player but also could adapt himself to do well in front of the defence in a midfield trio that likes to press.
Musah needs to inculcate a bit more pressing and work rate into his style of play but the hope has to be that it will come with time and adaptability to a team with more ambition and quality.
Ultimately he has over 100 senior appearances at the age of 20 which not many players can say, and by the end of his five-year contract at Milan he still would be on the cusp of his prime years.
Transfer rating: 6.5/10